2020 Branding Trends: Camping & Outdoor Promotional Products
Now that the country is slowly reopening amidst this ongoing health pandemic, a lot of people are starting to venture out of their homes more frequently. Since they have been cooped up inside of their homes for the last few months, these individuals are now turning to the great outdoors as the solution to their quarantine fatigue.

In fact, about 43 percent of people have reported that they plan to do more outdoor activities this summer. And one of the biggest emerging trends is people going camping since this allows them to experience the outside world while also easily maintaining social distancing guidelines. 
To help take advantage of this big 2020 trend, you'll want to make sure that  branded outdoor products is a part of your promotional strategy. That is why this article is here to help list some of the best camping promotional products that you can offer employees, customers, and any other group of people. 
Custom Coolers & Grilling Accessories
Even if someone is just going day camping, they are still going to be in need of some delicious food to enjoy while amongst nature. This will require the use of something like this Koozie® Portable BBQ with Kooler Bag. 
In the main compartment is an insulated PEVA liner that can contain up to 12 cans at once. This will help to keep drinks nice and cold, even during the hot summer days. Also inside of this main compartment is a small portable charcoal grill that is capable of cooking four hamburger patties or several hot dogs at once. This is far more efficient than trying to cook everything on a stick suspended over a fire pit. And to go with these tasty foods, the individual can fill the portable cooler bag with condiments to keep them nice and cold as well. 
To help easily transport the entire thing, there is a removable and adjustable shoulder strap. So it can be used at home, at a campsite, or even on a hike.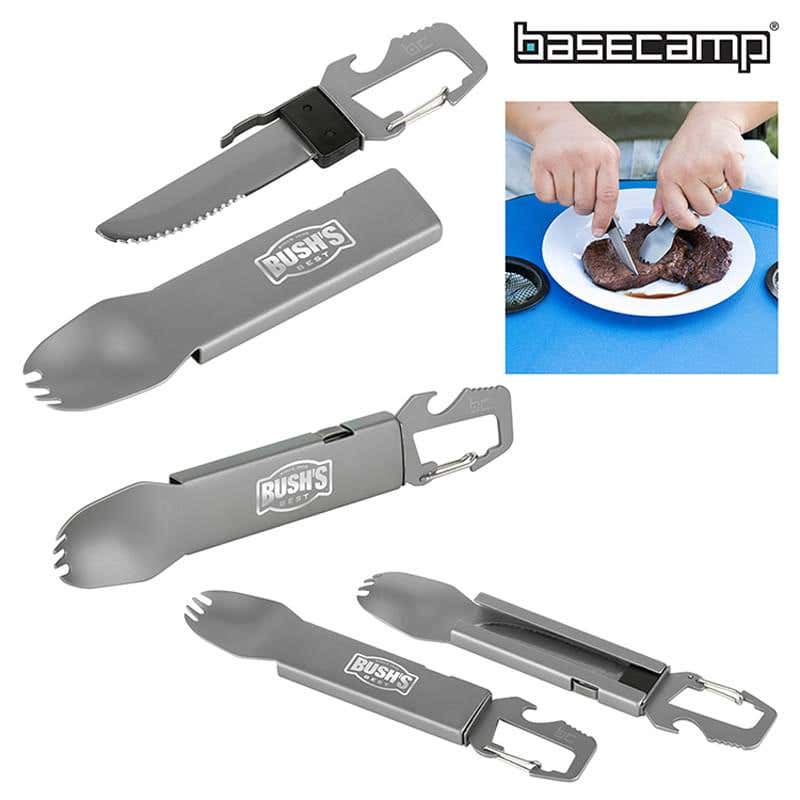 When someone is planning on going camping for at least a couple of days, they will probably need more than a portable grill. That is where this Koozie® Kamp Cook Set comes in handy. This set of cooking equipment contains ten pieces of cookware in total. 
One of the biggest appeals is the stainless steel cooking pot and lid that allows someone to be able to cook vegetables or more liquid-based meals like soups or chilis. And when it comes to sitting down and enjoying the meal, there will be four handy multi-colored cups and four plates. Storing and transporting this set of cookware is incredibly easy because it all fits perfectly inside of the cooking pot and comes with a black mesh bag for easy handling. Not only do all of these products have impact-resistance, a high melting point, and odor-resistance, but they are also dishwasher safe. 
But even with this incredible cookware, eating the food is going to be quite difficult without the proper utensils. Luckily, there is this Basecamp 5-in-1 Utensil Set to help solve this issue. The multi-use utensil set includes a product that is able to perform as a fork, spoon, serrated knife with PVC cleeve, bottle opener, and carabiner. Therefore, no matter what someone needs, they can break out this 5-in-1 stainless steel utensil set and begin eating without any issues. Although this is perfectly food-safe, it is not dishwasher safe and will need to be washed by hand. 
---
Flashlights
Unlike being in the city, a person can't just wander outside at night and still have sufficient lighting from street lights. When someone is camping, the only source of light once the sun goes down is often the moon, which doesn't provide very much lighting at all. Therefore, they are going to need some way to help ensure that they can see where they are going at night, which is possible by providing them with a high-quality branded flashlight. 
One of the best examples of this is the High Sierra® Carabiner Hook Flashlight. This compact COB carabiner hook flashlight is able to provide exceptional lighting while also being incredibly easy to store in the vehicle or taking on the go. With a simple on/off button and included AAA batteries, this stylish flashlight is good to go right away.
There is also the High Sierra® Bright Cree Zoom Flashlight. With 3-watts of power, this incredible durable flashlight is able to provide up to 87 lumens to help sufficiently illuminate the path ahead. It also happens to be water-resistant, which is an essential quality for anything that is going to be brought on a camping trip. Transporting it should be a breeze thanks to the carabiner clip and removable spring clip that is able to be transitioned between the front or back positions.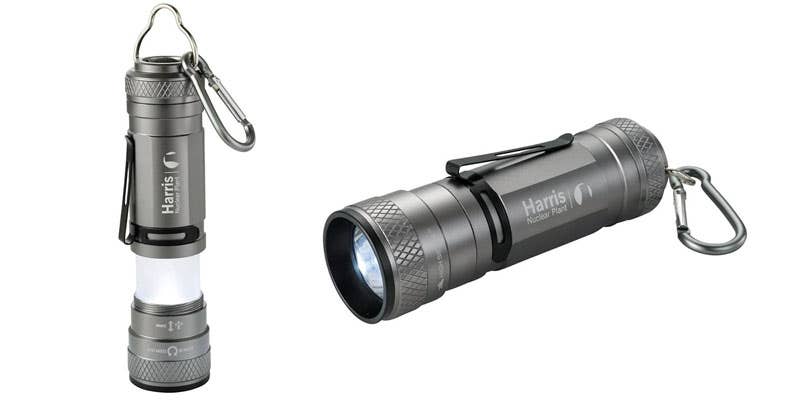 Different situations are going to require different levels of light. And to help prevent someone from blinding themselves when getting up to go to the bathroom in the middle of the night, this flashlight can be used in three different modes. At the low level, the strength of the light is half of its strength on high. Plus, there is also the SOS flashing mode that comes in handy if someone needs to get the attention of another person in the middle of the night. Just like the other flashlights on this list, this item already comes with its required AAA batteries so it can be used right away.
Although it's not technically a flashlight, this High Sierra® 20 LED Super Bright Lantern works just as well when camping, if not a little better. Rather than being useful for just one person, this heavy-duty lantern can be set down on a table and provide enough light for several people. But if the individual decides to take it on the move, then they will be able to do so with ease thanks to the dual option handle and hook. 
It will proficiently light the path ahead at all times thanks to its 20 LED lights that are able to cast wide rays of light outwards dozens of feet, which makes it even easier to see the customizable logo on the front of the lantern base. This product can even help someone avoid getting lost thanks to its built-in compass. 
Basecamp Acadia Casual Camping Tent
One of the most basic elements of a camping trip is a tent. Therefore, it can be very helpful to distribute this Basecamp Acadia Casual Camping Tent to individuals this summer. This isn't just any old tent, it uses superior materials to create an exceptional camping product. 
To start with, the water-resistant easy-open material is able to create an accessible tent that is still able to provide sufficient protection from the elements that people often have to deal with while camping. There is also a double-layer zip open door with a polyester outer layer and a mesh inner layer that pairs with the mesh vent to create a very ventilated tent. This will help to avoid moisture build-up inside the tent and will help keep it cool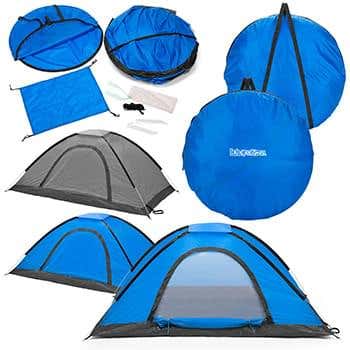 during the day. 
Campers also won't have to worry about any gusts of wind ruining their outdoor experience since this tent features a fiberglass pipe frame that is able to withstand whatever Mother Nature can throw at it. Plus, there are also four ropes and eight stakes to help further secure the tent in place. 
When not being used, the tent can be conveniently packed away in the polyester carrying backpack that allows for easy storage and transportation. Both the tent and the carrying case will be available in either blue/black or gray/black colors and can feature your brand's logo front and center.
Basecamp Fire Starter Multi-Tool
No camping experience is complete without a fire. But not everyone knows how to easily start a fire in the wilderness, which is why having this Basecamp Fire Starter Multi-Tool is such a benefit. Not only does it come with a convenient fire starter but it also has ten other useful tools that someone might need during a camping trip.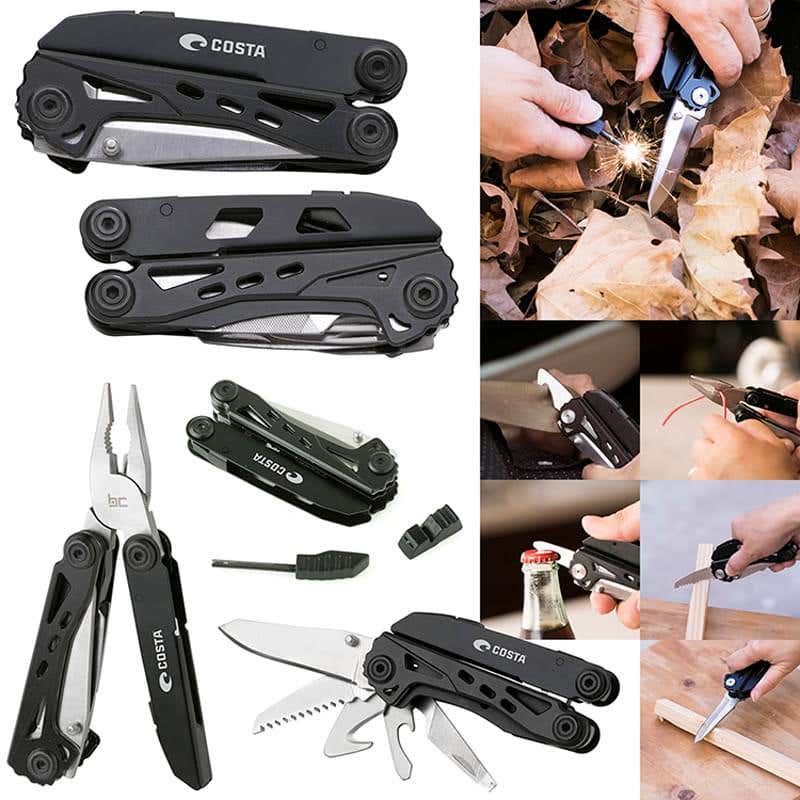 The stainless steel product includes some needle nose pliers, regular pliers, wire cutters, locking knife, can opener, flat screwdriver, file, wood saw, bottle opener, seat belt cutter, and fire starter. So no matter what someone needs, they can simply bring out this multi-tool and get to work. Even when someone isn't camping, this is still a great item for them to have access to and you can even customize it by putting your brand logo across the handle. 
All of these various items can be used to help elevate the quality of any camping or other outdoor experience. So through the use of these products, you can use them to help associate your brand with enjoyment and dependability. If you are interested in ordering these items or any other branded camping supplies that we offer, then make sure to visit iPromo where we offer a countless number of customizable camping gear.