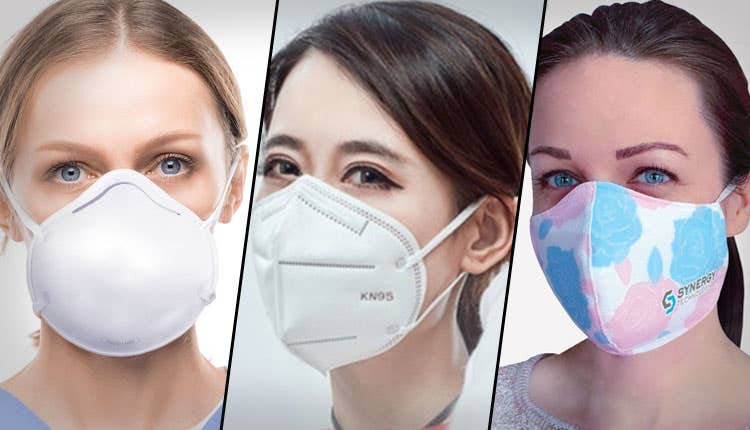 One of the best ways to take care of yourself, your customers, and your business right now is by distributing face masks. This guide to CDC approved medical N95 NIOSH masks to the daily wear KN95, 3 ply disposable, and cloth masks to help promote safety, health, and ultimately enhance your brand.
Support Your Team & Essential Workers
When out in public, you have likely noticed a surge in shoppers wearing masks. The COVID-19 pandemic has caused individuals all around the world to wear masks to prevent becoming infected or spreading the coronavirus. According to the Center for Disease Control and Prevention, as well as many local health districts, essential workers are not the only individuals who should wear masks. The average person, regardless of age, should also wear face masks when out in public.
Research shows that as many as 50% of people are asymptomatic when they are infected with COVID-19. This means that they experience very little to no symptoms of the virus. While they do not need medical attention and may feel healthy, they are still carriers of the virus and can spread it to high-risk individuals.
While face masks are just one way to limit the spread of the virus, there are several product options for you to wear. Let's take a quick look at some of the different types of masks available and how each varies in protection, design, and more.
N95 Masks
N95 masks offer the most protection, which is why they are reserved for frontline and essential service workers. They offer protection from airborne hazards, which makes them an essential piece of gear for those who are in direct contact with individuals exposed to COVID-19. This type of mask has been evaluated, tested, and approved by the National Institute of Occupational Safety and Health (NIOSH), which is a United States federal agency that makes recommendations to prevent work-related illness or injury.  The CDC does not recommend the general public wear these types of masks.
These masks are made with a high filtration system, which can prevent approximately 95% of small particles from entering your mouth or nose and only allow particles smaller than 0.3 microns to move through the mask. N95 masks are also tight-fitting, and they create a seal around the nose and the mouth area. This keeps the particles away from these critical areas on the face. However, to receive this level of protection, these masks must be fitted and worn properly. The N95 NIOSH Certified Face Masks, for example, features a headband design to provide a more comfortable, tight fit as well as a glue-free design.
Luckily, these masks have small valves which makes it easy for the wearer to breathe when wearing them. Plus, when wearing these masks for long periods of time, they do not cause excess sweat on the face.
---
KN95 Masks
Unfortunately, there is a great shortage of N95 masks. It is difficult for essential workers to access these products and receive the protection they need as they enter environments with a high risk of exposure.
The solution: KN95 masks. These masks are a suitable alternative for N95 masks. These masks are regulated by the Chinese government and are similar to N95 masks. For example, the KN95 Respirator Face Mask is made from a mesh nylon material, which makes this mask breathable and cool. A tie-shape ear design helps keep this facial covering on and ensures it is comfortable for a full day of wearing.
Due to the shortage of N95 masks, the CDC has stated that KN95 masks can be used as a substitute for N95 masks and the Food and Drug Administration (FDA) has recently announced these masks can be used in healthcare facilities. Both products filter approximately 95% of all particles, which is one of the most effective mask types for filtering particles and airborne hazards.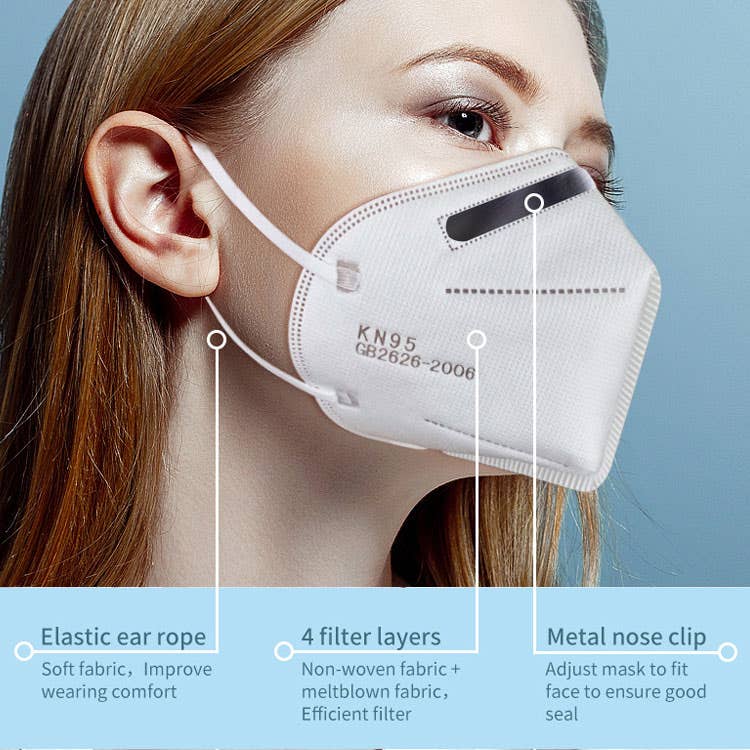 KN90 face masks are similar to KN95 except for one major difference – they only filter 90% of all particles. While this is not as high of a success rate as the KN95, it is still effective in high-exposure environments. For young children, this type of mask can provide adequate levels of protection, as long as it is properly sized for their faces. However, most face masks are designed to fit adults and do not provide the tight-fitting design that young children need.
To solve this problem, consider the KN90 face masks for kids. This type of face mask features an elastic fabric to stretch around young children's faces and the comfortable design makes it much easier to keep these masks on. Kid-friendly designs also make them more exciting and appealing to younger generations.
---
Disposable 3-Ply Face Masks
Disposable 3-ply face masks have been cleared to use by the FDA. While they do not provide the same level of protection as N95 masks, they still offer protection to essential workers against large droplets and sprays. Essential workers and healthcare workers wear these masks when working directly with patients in healthcare facilities. They can also wear these masks when in contact with the general public.
Disposable 3-Ply Face Masks, also known as surgical masks, are made with non-woven fabric and include materials such as polyester, polyethylene, or polycarbonate. These masks are made in multiple layers and can vary in thickness.
Surgical masks vary from N95 and KN95 masks as they do not provide a tight fit. However, they are still effective if worn correctly. These masks are disposable, meaning they should only be worn once. After the first use, the mask should be immediately discarded.
One benefit of purchasing and giving disposable 3-ply face masks to community members and essential workers is you can add your own brand or logo on these masks. Utilizing these customization options is a terrific way to give back while also promoting and marketing your company.
---
Cloth Masks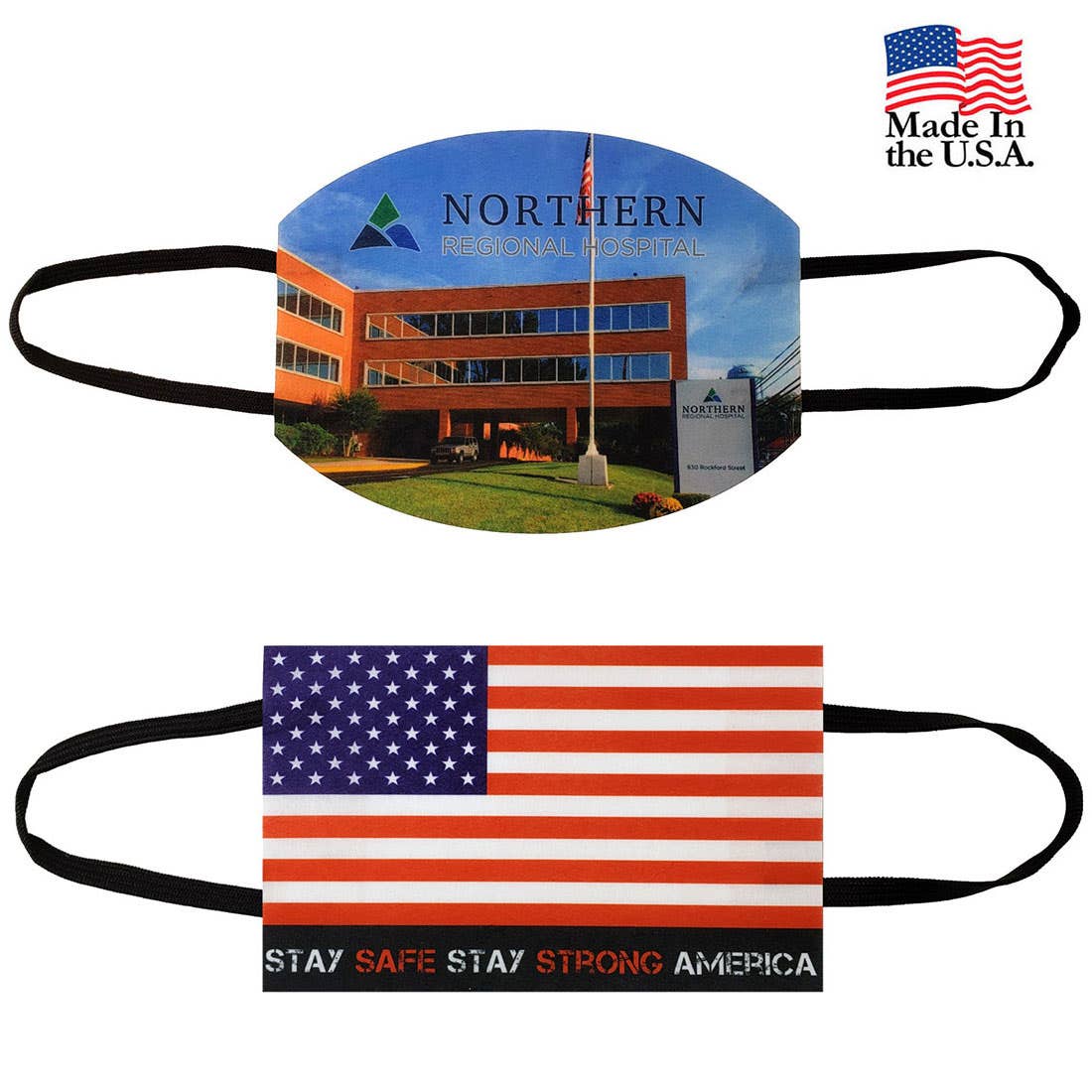 Due to the shortage of face masks, many individuals are scrambling to find some form of protection against the virus and other illnesses. Cloth masks are highly recommended for those that do not have other forms of face coverings and this mask type is not recommended for essential workers. The CDC says that these masks do not prevent the wearer from getting the virus but it can limit the spread of COVID-19 and other illnesses. These masks should be worn correctly by covering both the face and the mouth.
When wearing a cloth mask, the mask must fit tightly around the face. The mask should include multiple layers of fabric and be highly breathable. The CDC has released several guidelines to help you properly sew this type of face covering.
While giving face masks is a terrific way to give back to the community, some products can be a terrific component to your marketing campaign. For example, a cloth face mask can be used over and over again and is an effective way to protect others and to market your company. Health experts believe the coronavirus is not going away for some time, making these masks useful and welcomed. The custom microfiber face mask is just one example of both a washable and reusable mask. You can choose from a selection of colors and can easily apply your company design or logo on the front of the mask.
The Custom Econo Full Color Cloth Masks are perfect if you want a logo and design with lots of color, style, and text. Your design will cover the entire exterior of the mask, giving the wearer a custom product and your company an excellent marketing opportunity. Plus, if you don't want to worry about a full face mask, consider customizing face mask snaps and hook ear savers, which can provide some relief to those workers who are wearing masks for hours each day.
Keep in mind that just because you choose to wear a mask, you must still follow all safety guidelines. Wearing a mask is just one step to keeping you and others safe. You should also obey all social distancing guidelines and be diligent with hand washing and disinfecting your environment. Also, limit all contact with your face, even when wearing a mask.
---
The Takeaway
No matter if you are looking for promotional products to improve the health of others in your community or you simply are looking for ways to give to essential workers and those working the frontlines in your community, face masks are an item that everyone will appreciate. They are in great demand, difficult to find, and essential to use. These are items that will not be sitting in a closet unused. They will be used right away and can help save the lives of many. They are just one tool to help flatten the curve of COVID-19.
When it comes to giving the gift of health, a face mask can be the protection that someone needs. Swing by and check out our selection of various face masks today.