Create Your Own Corporate Holiday Gift Bags, Boxes and Baskets
As we head towards the end of the year, many businesses are starting plan out their corporate gifting strategies. This takes on a lot of different forms, from creating effective holiday marketing to making sure your infrastructure can handle the additional pressure of increased customers. We are also likely to head into a unique holiday season, both in terms of increased online shopping as well as different types of gifts being purchased. 
The landscape of corporate gifts is changing as well. Of course, businesses still want to give out gifts to their employees and loyal clients. In this situation more than ever, it's important to show thanks to the people that support your company. However, the large corporate mixers and parties that are a staple of the season are likely to be off-limits for the time being. In addition, a sizable portion of the workforce is still working from home, meaning that gifts need to fit these settings. Here's a look at how custom gift bags, boxes, and baskets can fit the bill.
Why Gift Bags And Baskets?
Always usable: Office supplies are a favorite gift for a lot of corporate holiday gifts, but not everyone is back in their conventional office. The same applies to outdoor gifts. Items like food or drinkware are always usable.
Decorative flair: When it comes to corporate gifts, the packaging the items come in is every bit as important as the items themselves. You have a lot of leeway to set up a gift basket or bag in terms of aesthetics.
Easy to customize: The main goal of a corporate gift is to show your clients or employees you are thinking of them. This means you not only need to provide a thoughtful gift but also remind them who it came from. From custom boxes to labels to ribbons, there are plenty of branding opportunities on a gift basket or bag. 
Creating Custom Corporate Gift Boxes
So, without the ability to physically hand off gifts and some of the conventional options not being appropriate, businesses need to be more thoughtful in terms of the type of gifts they are providing. 
Of course, creating custom gift baskets at scale can be difficult, especially if there are dozens or hundreds of people on your corporate guest list. We understand the struggle with that type of undertaking here at iPromo, and have created a solution to make corporate gift baskets your own. This service enables you to actually individually pick out the different gift items you want for your gift box, and we will assemble it for you.
Our custom kitting support doesn't stop there. On top of custom contents, we can also customize the box itself with a unique thank you card as well as your brand logo sticker on the front of the box. With decorative packing paper and a sturdy lift-top box, this really feels like your clients/customers are opening a gift at their doorstep, rather than simply bringing in another package. Show the people close to your business that you care and are thinking of them this holiday season. 
On top of being thoughtful, our service has a lot of practical benefits as well. For example, a lot of people you have on your gift list may be working from home. By working with us, it's easier to ship gifts directly to customers with different addresses, as opposed to processing every gift to each person on your own. Make sure that everyone gets their gift on time with our support!
Pre-Built Bags & Gift Baskets
This unique solution is great to make corporate gifts your own, but in some cases, you may need a more conventional gift basket, package, or bag. In some cases, it may just be more efficient for you to use our pre-built, ready to ship kits. In other cases, someone may have been added to your gift list at the last minute, and you want to make sure they get something. Our selection makes it easier by having great selections that don't require you to manually select different items. We also have bags and baskets in all sizes, with you being able to include as much or as little as you wish. In addition, we can help you add a little custom flair to still make for a branded gift. Here's a closer look at some of our standout offerings.
Traditional Trail Mix with Square Magnet
Trail mix has likely become a lot more popular over the last few months. For people going hiking, it's a great way to grab energy quickly, but it's equally as useful for people in their home offices trying to power through to that next deadline. Show you are thinking of that with this 4 oz. package. Note that this mix contains:
Peanuts

Raisins

Chocolate chips 

Peanut butter flavored drops

Milk chocolate candies 
As a result, be mindful of sending this gift to people with sensitivities to milk, soy, or peanuts.
Be sure to apply your brand logo with full-color printing, so your customers think of your business the next time they go for a snack.
---
Drinkware is a staple corporate gift, and if you find it's been working for you, why look elsewhere? This gift basket is packed with drinkware products and accessories. The full list of contents includes:
Two DRK1280 16 oz. bottles available in six colors

Bags of gourmet coffee and tea

Two hot chocolate bags
Each item is individually packed in custom crinkle cut paper, with over 10 colors to choose from. You can also apply your company logo to the bottles with screen printing.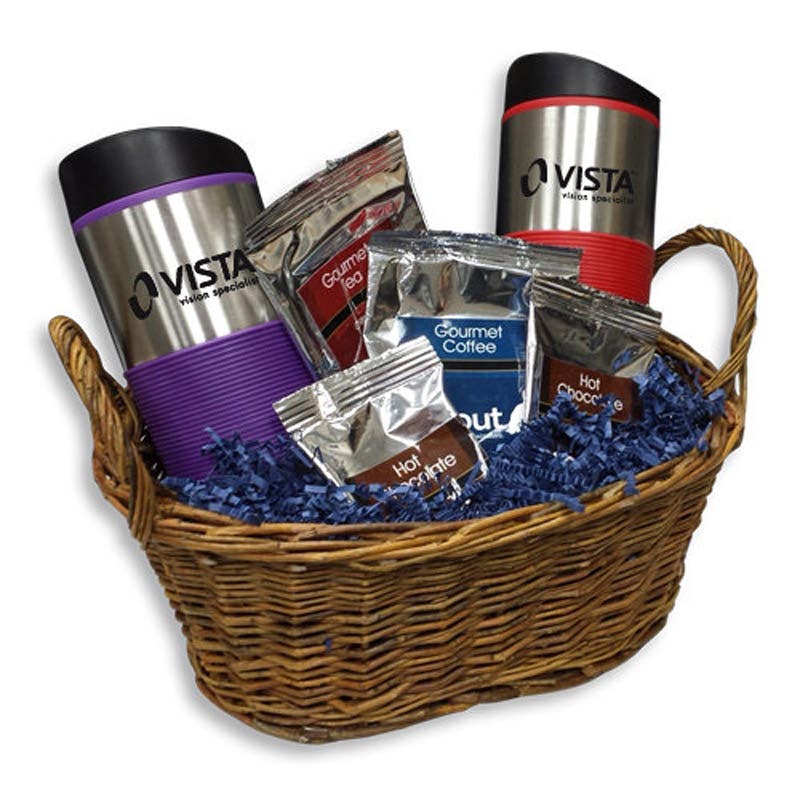 ---
Trying to make a big impression with your customers or employees? You'd be hard-pressed to find something better than this tower. The top box of the cookie tower contains a blend of 16 milk and dark chocolate meltaways. On the bottom, you have a mix of 24 cookies, including the following flavors:
Peanut butter

Macadamia nut

Oatmeal raisin

Chocolate chip
Add some customized flair to this basket idea by adding your brand logo to the ribbon wrapped around the boxes.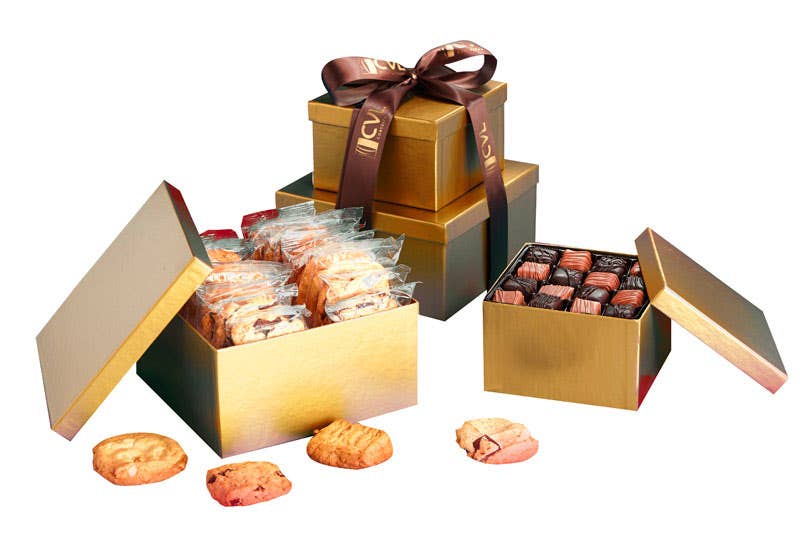 ---
The Executive Gift Box – Almond Butter Crunch & Caramel Cashew Turtles
Some people may have a sweet tooth, but aren't necessarily a fan of the conventional chocolate bar. This gift box offers a variety of different options that are slightly off the beaten path. This gift box includes your selection of the following:
Caramel popcorn

Chocolate chip cookies

Mini chocolate covered pretzels

Sea salt caramel

Mixed nuts

Almond tea cookies

Cashews

Chocolate almonds

Almond butter crunch

Pistachio
The elegant smart box also provides a great package for whatever you choose. By using hot stamp printing, you can imprint your logo elegantly on the top corner of the gift box.
---
Everyone can use a little bit of added calm, and there's nothing quite like a cup of tea to help in this regard. This box contains a mixture of six gourmet tea bags, with flavors like pomegranate, lemon honey chamomile, and mango green tea. You can add your brand logo to this package with either hot stamp or full-color printing. 
---
This is going to be a unique holiday season, and you want to go above and beyond when it comes to corporate gifts for employees and clients alike. Because of this, it's a good idea that you take the time to not only seek out quality gifts, but to also consider customizable options to show people in your business circle that you are thinking of them. At the same time, ready-made kits allow you to buy and roll them out quickly, so all of your needs are covered. At iPromo, we work hard in order to make sure that you have all the gift basket and bag options you need to wow the people on your list this season.