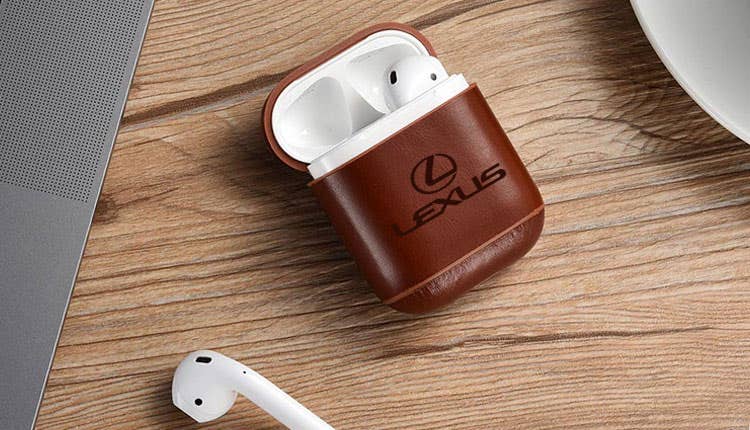 Custom Apple AirPod Skins For An Easy Branding Win
Personalized AirPods cases are wildly popular, why not have them be adorned with your company's logo?
Custom AirPods skins are great corporate gifts that not only look great, but they keep AirPod cases clean while adding an extra layer of protection. At iPromo, we offer a wide variety of styles and colors to match your branding needs. To help you get started, these are the 6 most popular cases that also seamlessly fit both AirPod models.
TPU Leather Case
The TPU leather case is a stunning design made of PVU leather. Your logo can then be intricately etched directly onto the front surface to create a precise design no other company can replicate. There are five colors available: beige, black, blue, brown, and burgundy to offer more of a range that will best suit your company's style.
With the snap closure, your earphones have no chance of sliding out of the case, better protecting your valuables in the long run. You can purchase these top-of-the-line cases for as low as $5.99. The custom AirPod cases feature an opening at the bottom, making it easier to charge while still being attached to your device.
---
Silicone Case
The silicone custom AirPods skins offer a sleeker design to promote your brand. The screenprint technique allows for artwork to be permanently applied by using a printing press with absolute precision.
The numerous colors of silicone that include black, blue, green, pink, purple, red, white, and yellow are each more vibrant than the last. The snap closure can secure your earphones, while the opening at the bottom allows for seamless charging. These cases can be purchased for as low as $3.49 and as high as $4.99.
---
Vegan Leather Case
For a modest price range between $5.49 to $7.99, these vegan custom AirPods skins can be purchased. The stunning craftsmanship of these pouches along with the detailed laser engraving located on the front will allow your brand to shine.
Available in the shades black, camel, coffee, and red, these sophisticated holders add a more refined design to a regular case. Made of a vegan PVU leather that includes a snap closure, this case features an opening at the bottom for the charging port, making it far easier to charge the earphones located inside.
---
Plastic Case
Plastic branded AirPod cases are an outer covering that highlights the logo more than anything else. The clear coating gives the case a surrounding cover to protect any damage from occurring to the actual device. For as low as $3.79 and as high as $4.49, this plastic case can still show off your brand with relative ease.
The clear case comes with your company's artwork permanently applied by a printing press to the front of the pouch, making it easier than ever to show off your company's logo. An opening is located at the bottom for the charging port.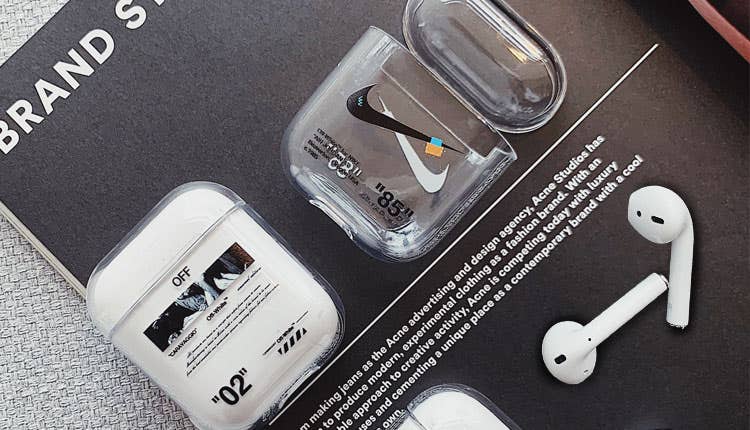 ---
Silicone Case With Carabiner
The silicone case with a carabiner protects your earphones from dirt, dust, and scratches. This pouch comes with an aluminum carabiner that can hold your headphones easily while attaching to a handbag or backpack. The pouch features a cut out port, which allows you to charge your branded AirPod cases with it on.
This silicone pouch comes in six colors: black, white, lime green, orange, red, and royal blue, making it easier to fit with anyone's color preference. For as low as $1.99 and as high as $2.13 this portable case can be yours.
There is also an option to purchase the silicone case with a carabiner and LED light indicator. This option comes in eight colors: blue, green, pink, purple, red, yellow, black, and white. These lighter colors are available for as low as $3.99 and as high as $5.49. The carabiner can conveniently hang from multiple bags. The LED indicator lets you know when your headphones are charged and ready for you to take on the day.
---
Leather Case
If you're looking for the sleekest design possible, the leather custom AirPods skins are the way to go. They come in beautiful shades of black, blue, brown, orange, and yellow that are both high-quality and long-lasting. Made from real leather, these cases can be purchased starting for as low as $9.49. The LED indicator light can be seen on the front of the case, as well as the laser engraved logo.
At iPromo, don't forget you can also get custom AirPods allowing you to print your logo directly on the actual AirPod charging case and even the AirPod stems. But Custom AirPods skins are a great option to customize AirPods while being more cost effective.