Build Cult Like Brand Loyalty with Engraved YETI Gifts
Why laser engraved YETI tumblers, cups, mugs, and rugged tumblers are reigning gold standard for business gifts.
To make the seamless transition from season to season, you need reliable drinkware that can keep your drinks hot or cold for throughout the day. Our custom YETI shop has customizable cups, tumblers, and mugs that will do just that. Wherever these engraved YETI products go with your employees, the more your brand's visibility will be spread farther.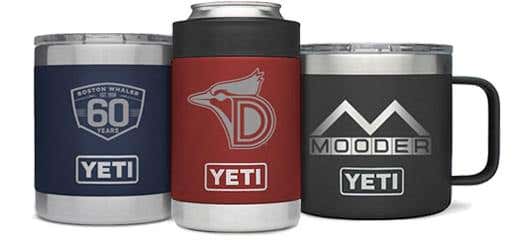 Why Are YETI Products So Popular?
YETI has become an extremely reliable brand with only the best coolers, tumblers, and cups in stock. Since the cooler weather is coming, their lines of cups, mugs, and tumblers have been selling like crazy because of their ease to keep liquids warmer for a longer period of time. The sleek finishes, creative designs, and numerous colors on all tumblers and mugs can make anyone fall in love with their products.
What Kind of YETI Products Are Available?
YETI has a large variety of products available. Not only do they sell reliable coolers that can withstand the elements, but they also produce incredibly dependable tumblers, mugs, and cups as well. iPromo has several of these products in stock that you can get engraved for low prices.
Custom YETI Rambler 20oz Tumbler
The YETI Rambler 20oz tumbler is the average size to easily hold most drinks. The sleek body is crafted from stainless steel and is double-wall insulated, meaning your beverages will stay icy cold or piping hot longer. The clear lid lets you check in on your drink status at any moment while still producing a tasteful design.
This tumbler comes in multiple colors: black, reef blue, river green, purple, clay, sand, charcoal, seafoam, silver, white, and red. Your brand's logo is precisely etched onto the front surface of the tumbler, allowing your company to truly shine. These engraved YETI tumblers can be purchased for as low as $44.59 each.
---
YETI Engraved 10oz Stemless Wine Tumbler
A stemless wine tumbler is what everyone needs during the warmer months to keep their wine staying cool. These revolutionary tumblers are made of stainless steel, which is unconventional when it comes to wine glasses. Most of the time, wine glasses are broken on pool decks or boats because of how easy it is to shatter glass. Now, with the YETI engraved 10oz stemless wine tumbler, you can enjoy your wine in any situation without having to worry about broken glass.
These engraved YETI wine glasses come in stunning colors that everyone will love: black, silver, seafoam, sand, reef blue, pink, navy blue, canyon red, brick red, and white. Your logo will be engraved right above the YETI logo on the front of the glass, so everyone can associate your brand with the best quality products available.
---
YETI Rambler 14oz Mug
The YETI Rambler 14oz mug is equipped to handle any camping excursions you have in the future. It is the toughest camp mug on the market today. Traditional camp mugs are usually only insulated once, allowing for cold or hot air to still reach the liquid inside. The YETI mug is double-wall vacuum-insulated that will protect both your hands from the contents inside and liquids well-insulated.
This camping mug comes in black, silver, seafoam, and navy blue for added style. These engraved YETI mugs are created by engraving the logo directly onto the surface of the mug, making it more durable and longer-lasting than a printed design. For as low as $36.99 this product can be yours.
---
YETI Rambler 10oz Lowball Tumbler
The YETI Rambler 10oz lowball tumbler is the perfect on-the-go reusable cup. The stainless steel design will seal in your liquid's ideal temperature and keep it that way for longer than traditional drinkware. Regardless if you're enjoying hot chocolate on a cold winter day, or an alcoholic beverage by the campfire, you're sure to have a great sip every time.
Your logo will sit centered above the YETI logo, associating the two brands for more people to see. These engraved YETI cups come in seven colors: olive green, black, seafoam, navy blue, silver, white, and sand.
---
YETI Rambler 30oz Tumbler
If you've got a long day ahead of you, the YETI Rambler 30oz tumbler is the ideal cup to have. These tumblers store more liquids than their counterparts, but will still use the same double-wall vacuum technology to lock-in your drink's ideal temperature. The stainless steel will protect your drink from any dangers, while the MagSlider lid acts as an additional barrier of protection.
Available in olive green, black, seafoam, silver, white, sand, and reef blue, these colors won't crack, peel, or fade even after excessive use. The logo is engraved on the top half of the cup, still centered above the YETI logo located at the bottom.
How Do YETI Products Build Brand Loyalty?
The question is how do engraved YETI products build brand loyalty? It's easy. YETI has become a widely known brand across the globe and having your brand's name attached to something as iconic as their products will market your company better. People see the name YETI and they want to start a conversation. This will help you market your company better by associating it with such a high-quality brand like YETI.
Why Should You Co-Brand With YETI Products?
All YETI products are reliable and durable for anything that comes their way. They will help cut down on environmental waste, are well-known products, and can be used over and over again. With various types of coolers, tumblers, cups, and mugs that range in size, there's no other reason why you would need another brand of drinkware products ever again.
Custom YETI drinkware and coolers can be purchased and engraved with your company's logo with iPromo. Contact us today to find out how you can purchase engraved YETI cups, mugs, and tumblers for your employees.