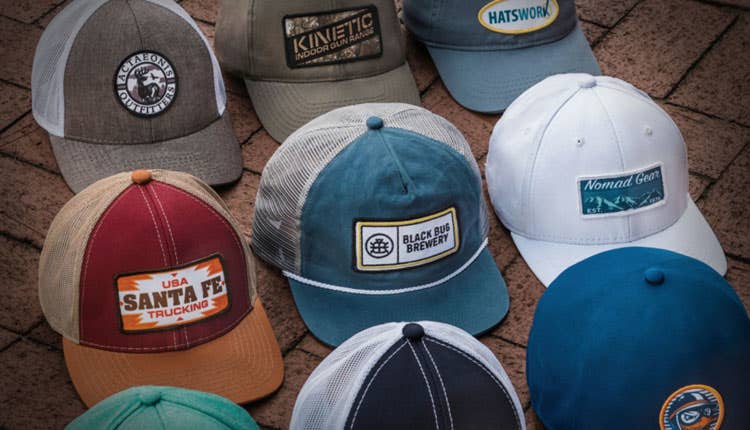 Custom Embroidered Hats Do The Heavy Lifting for Your Business
Personalized baseball caps & trucker hats are a must for any modern promotional product campaign
Hats don't have the throw-away feature of a business card. At iPromo, we know what works. We've been around the promotional block since 1999, and one of the biggest lessons we've learned is that reusable, functional promotional gifts perform and provide a return on investment.
Custom hats work so well because they're received as higher value gifts than pens, balloons and sweets. This immediately signals to your customer an appreciation for your business. Thus increasing the perceived value of the brand and making it more enticing.
Also, the gift receiver becomes a sort of brand ambassador. Every day they wear your hat is another day that new people will be exposed to your brand, its logo and slogan. We'll be showing you how to go a step further and provide helpful design ideas for your hats so that they make maximum impact.
If not designed well, you'll be faced with a lot of people thinking: I wouldn't be caught dead in this! So while hats can be a wise investment, that only applies if people want to actually make use and wear your hat.
Let's get into design options to create apparel that will boost brand awareness.
We'll also be revealing which hats will work best for your business. And yes, it really does matter! We'll get into the technicalities in just a bit but here's a lowdown on how simple it is to order your own custom hats.
1) We convert your digitized files into embroidered designs.
2) Then it's off to our embroidery machines which read your file, either .jpg or .png.
3) All that's left is for us get your hats delivered get sent to you, ready to fulfill their marketing potential!
Logo and artwork
We've simplified the process of designing a custom hat, so you don't have to invest a chunk of time in attaining this effective marketing tool.
You can either upload an artwork file or simply type the text you'd like for us to embroider.
Artwork and color
Color is vitally important when designing a hat. A lot of our customers want to go all-out with the colors to stand out. But you need to take into account your end user preferences. You may very well have a younger demographic that will be happy to wear orange camo print, but it's often better to compromise.
Choose a unisex tone and focus your color on embroidery. This draws the attention to your logo.
When designing the front panel, we suggest placing the logo front and center for maximum visibility!
Text
Including a slogan depends on what you want to achieve with your purchase. Depending on how loud your artwork is, you may not want to detract from your logo with text.
If you do choose to include text, keep it short and sweet and straight to the point. Having too much content in a design leaves less of an impact than a unified message. So it's best to ensure that the text and your artwork match up to create a memorable impression on passer-by's.
Embroidery
When designing a hat, it's best to aim for symmetry when designing your hat so that when you look at it head on it doesn't look lopsided or squished to one side.
All of our hats have different profiles sizes, which is the area of the hat that can be embroidered. It's a good idea then to have a look at a couple of options before deciding which would best encapsulate your look.
Also, be sure to submit an image that fits the dimensions of the hat. The last thing you want is to receive an order of caps that have a stretched logo on the front. All of our ranges give the embroider dimension capacity in inches in their description, so you can use your photo editing software to set your image to the same size.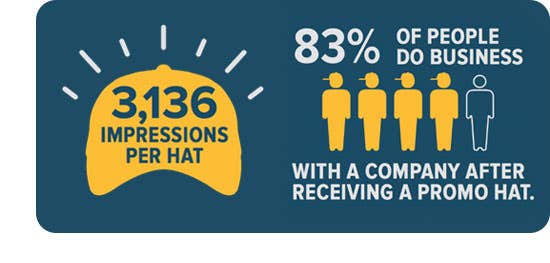 That way you can rest assured that your order will arrive just how you want them to look!
The Branding Potential of Custom Hats
They don't just keep the sun out of people's eyes or warm up chilly ears.  In a study, as many as 83% of respondents answered that they were more likely to deal with a company from which they received a promotional or business gift. So here's how these promotional giveaways work hard for your company.
Visibility
Defining a brand requires consistency and repetition. The average person is exposed to 5,000 ads per day, so they need to see yours quite a few times in order for it to be familiar. We, as humans, have become adept at blocking out the noise, so settling on a logo and using it at every available opportunity is essential. Hats aside, your logo can be placed on letterheads, email signatures, pens and flash drives.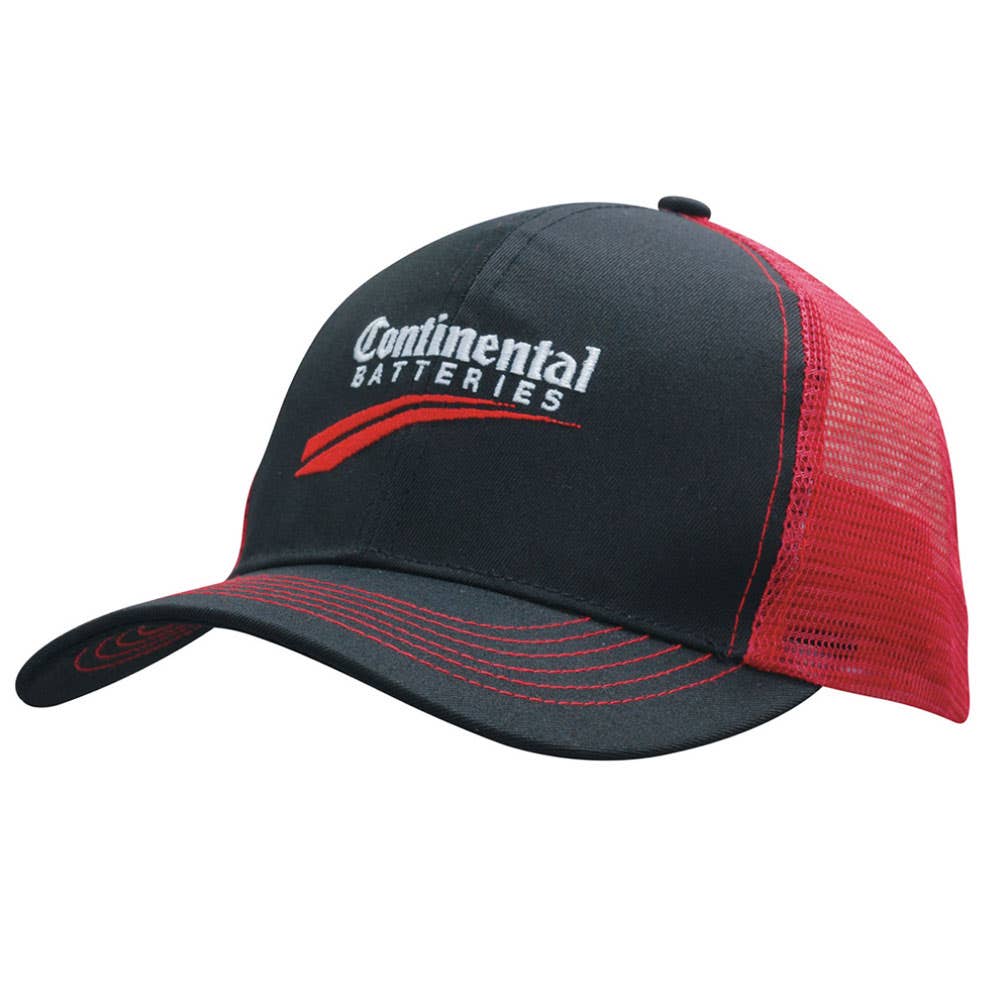 Brand visibility doesn't happen overnight, but promotions and freebies are an excellent, proven method of extending your reach, settling into your niche and sourcing new customers.
Functionality
Gifting business partners with custom hats are the ideal way to strengthen the connection. It's a gesture of goodwill and shows that your company has values beyond your bottom line. Small acts of kindness in the corporate world can help you in years to come and is a sound investment.
Unique branding
Every business seems to be screaming on social media the past few years. IT can be easy to forget how effective off-screen advertising can be. Every company has a Facebook account, but you may not have many competitors gifting hats to say thank you. It's much more personal and, of course, makes your brand memorable.
Affordability
Investing in apparel can be expensive. And it's also tricky, people are all different shapes and sizes, never mind their individual style. That's why we recommend if it's your first dive into clothing-based promotions that you start with headwear.
Custom hats are affordable, one size fits most and a great entryway into this promotional gateway. And you're not skimping on any of the benefits to yourself or your customer. You get to have walking advertisements, and your customers get to flaunt your walking around.
The custom hat for your business
This is a versatile number and is one of our best sellers this year. The style is current, and if your market is teens, college students or young adults, then it's a solid choice. This hat can be worn year round because it's lightweight. This also ties in with the athleisure look that's massive on social media.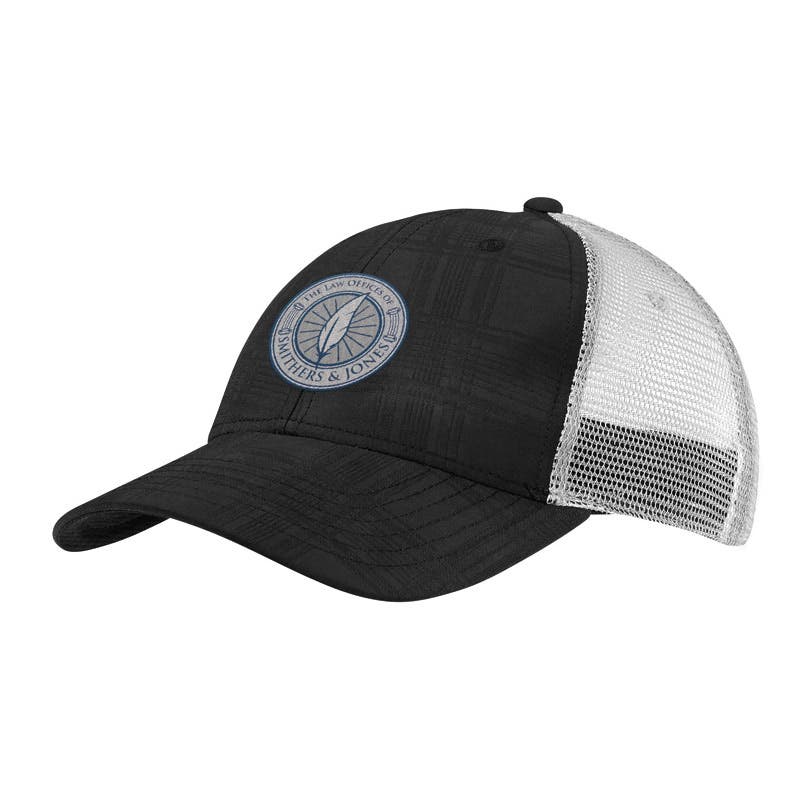 This range is much more old-school fitness and can fit a broader niche. This is functional fitness apparel at its best.
It's designed to deliver simple but essential criteria for an outdoorsy hat. It protects your eyes from the sun, includes a mesh design to prevent overheating and has an adjustable headband, so it doesn't fall off. By ticking these boxes, people will associate this high-quality product with your brand. It's a no-brainer. If you're looking to impress clients, customers, or employees, then this custom snapback is a good contender.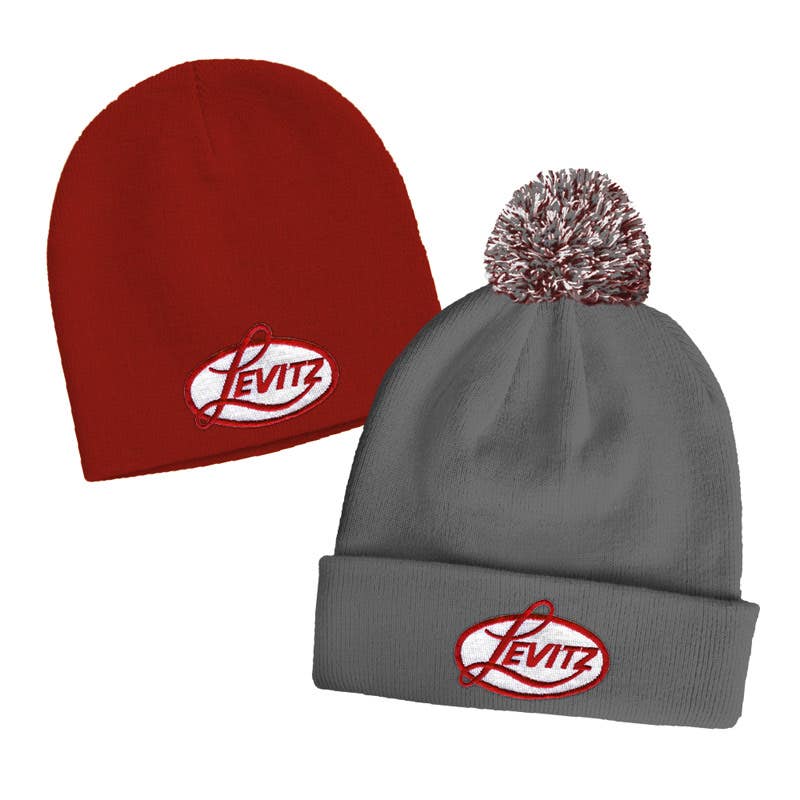 Obviously, these are great if you're in a cooler climate, as you're freebies will spend less time in the wardrobe and more out in the light of day!
The weathered look
Vintage is very much in! This style is ideal for businesses that have a broad age demographic. It's stylish but not trend-driven meaning that those in the older age range will also be more than happy to receive and make use of this hat.
Best places to give away your custom hats
These are popular choices to bring to expos, trade shows and fairs. They are a talking point and will bring people to your stand.
Equally, they're great for corporate Christmas gifts and can be added to thank you hampers. They can be slotted into customer's orders. People love receiving freebies, and this technique boosts customer loyalty.
Hats are also super practical for your employees. They help cement camaraderie, make your team feel part of a community. You can give these out on a reward basis or even to thank your workforce at the end of the year. Another practical benefit of dispersing branded hats among your employees is the raised awareness it will bring.
Your brand can be seen in public transport during commute times and during your workers' leisure time. The more people wearing your promotional gear, the better. Custom hats, think Red Bull, are known to become a fashion trend in and of themselves. So the sharper the design, the better chance you have of this happening.
Mix it up!
A great technique is to mix and match your promotional items to provide maximum visibility. We offer promotional items that fit every lifestyle. An excellent method of capturing an audience is to give them a choice of freebies. This doesn't mean you have to blow your marketing budget, but next time your business is at an expo, consider purchasing a range of promotional items rather than larger order of a single product. This can be custom hats, lighters, flash drives, pens, or any combination of our promotional range.
If you want to boost brand awareness and recognition for all of the right reasons, then investing in high-quality custom hats is a wise business move. We've got almost twenty years experience in providing companies with promotional items that convert customers. Check out our entire headwear stock here.