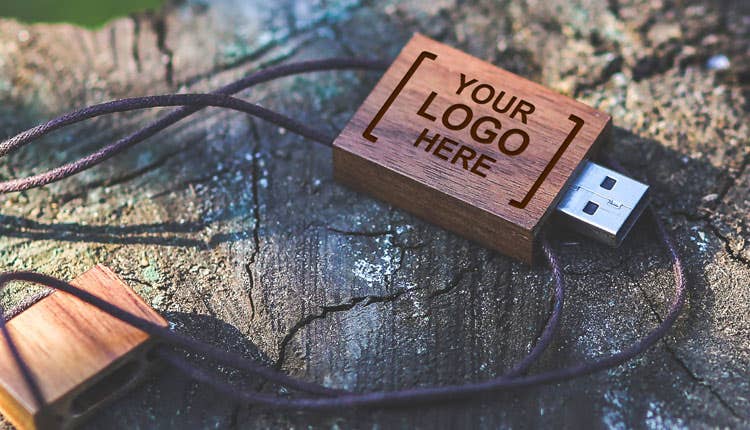 Bulk USB Drives – 10 Actual Cool Uses in 2020
USB drives are still valuable to have around the office, but they also make great promotional items that can serve well to draw in new clients and boost your brand awareness well into 2020.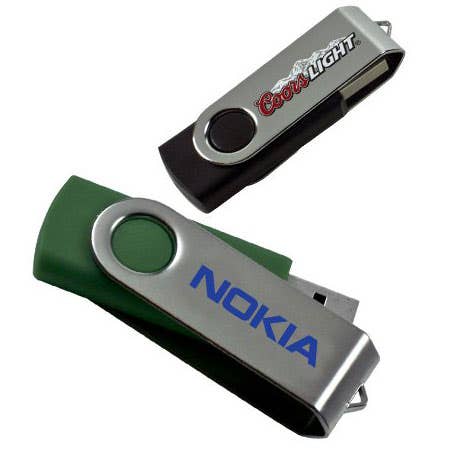 Bulk USB drives are the ideal promotional items. They're small and lightweight, easy to take to conferences, exhibitions, and events (and also won't burden the people you hand them out to). In addition, they're actually useful to the recipient, so they'll use them (and therefore inadvertently promote your brand) rather than shoving them in a drawer somewhere never to see the light of day again. Also, they come in a variety of colors, shapes, sizes, and styles meaning you can find the perfect one to match your brand!
Of course, to make the most of your custom USB drives, you'll need to think creatively. That's why we've put together a list of the 10 best ways to use them in 2020, so you can make the ultimate branding impact.
---
---
1. To Share Exclusive Content
Bulk USB drives are ideal for storing exclusive pieces of content to share with a large number of prospective clients, potential new customers, or to keep those who have already used your products or services coming back for more. Whatever you're selling give recipients a sneak-peak of what's to come. People love to receive something limited or exclusive; it makes them feel oh so special, so offer your
customers a branded USB preloaded with goodies such as music, pictures, video clips, speeches, informative articles and other exciting, attention-grabbing pieces of content and you are sure to impress.
2.To Store Your Business Presentations
Even in 2020, there are still places that have bad internet connection, meaning files stored in the cloud are useless. That's why having your presentations stored on a USB is a great idea and always a safe backup. You can also hand out your bulk USB drives to participants at the end of the event or meeting, and they'll be reminded of all the great things you had to say. You could chose custom Lanyard USB flash drives style to fit in with the corporate nature of the event and for easy portability.
And why not send it out to anyone who showed interest in the event but couldn't attend through direct mail? Since bulk USB drives are so small and lightweight, you can get creative with your mailers and they will surprise your customers and prospects receiving a physical piece of mail instead of the all too common email blast. These small personal touches can go a long way in customer loyalty.
3. As Your Business Card
Pre-load your custom USB drives with all your business contact information, and you never need to worry about people losing your business card again. Think about it, what's going to look better, fishing a crumpled copy of your business card from a crumb-filled pocket, or handing over slick, branded USB drives where all your information is neatly stored in one place?
Presenting your contact information in digital format makes it so much more accessible, and by choosing a business card style USB that perfectly reflects your business whether that's smart and sophisticated or something quirky and fun, you are sure to make a lasting impression on the recipients.
4. As Your Resume or Portfolio
A flash drive can be useful for those just getting started in their industry, or who want to expand their reach. Storing your resume or portfolio on a USB that reflects your business and what it's about is a smart and unique way of reaching out to people, networking and showing recipients what you can do.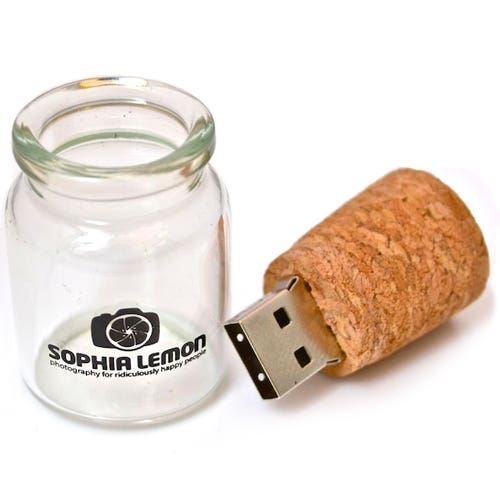 Bulk USB drives for photographers are the best way store your portfolio of previous work, any details of past and current projects and even testimonials and reviews, making it a one-stop-shop for all the information new customers, clients, employers, and business partners need to know to be sold on you and your company. Not to mention, bulk flash drives are super affordable and customizable making them perfect for photographers.
5. To Give Away A Gift, Prize, Or To Simply Say 'Thank You'
Let's face it; everyone loves a freebie and USB drives are perfect devices to store discount vouchers, promo codes and surprise giveaways.
You could even create a prize draw, giveaway or competition and give out custom USB's to potential customers with one or more containing a special gift. This will generate interest and get more people happy to take the USBs off your hands. This will create brand awareness regardless of whether they are the lucky winner or not!
Of course, many people would consider a USB itself a gift, so why not give them out to customers as a thank you for being loyal to your brand? You can load a thank you card and message as well as pictures and information relating to your business which will reinforce positive feelings about your brand and make your customers more likely to return.
6. To Share Industry Information
Another excellent use for custom USB drives is to store lots of industry-specific information on them and hand them out to people who will benefit the most from that knowledge. This could be marketing collateral, manuals or how-to guides in any format (think video, infographic, audio file and so on) to help customers learn about your products and services. Doing so replaces the need for bulky, often overwhelming instruction manuals that can frustrate customers and aren't very environmentally friendly either.
Sharing industry information can also be useful if your business deals with clients who aren't as familiar with the industry as they could be. Giving them branded USB drives breaking down essential and critical information will show that your business goes over and above to help their clients and that's something that will create a lasting impression on those that are new to what you do.
7. As Swag Giveaways
Who doesn't love a good bit of swag these days? Giving away bulk USB drives as swag works well if your target audience is younger – perhaps college or university students. Combo USB drives that double as a
pen or a colorful USB wristband, or lanyard can be very effective, and every time the recipient uses it, they are not only being reminded of your brand but also promoting it every time they use it.
8. As A Welcome Package For Clients And New Employees
You can use bulk flash drives to introduce new clients and employees into your company. This is a creative, environmentally friendly, and intelligent way to store orientation packages, employee information and handbooks, any forms that need filling out, welcome letters, policy documents, location maps and so much more. It's an efficient and unique way to introduce new members into your company and will give a great first impression of your brand and business from the get-go. Combine your flash drives with other great promo items to create the ultimate welcome swag pack!
9. To Launch A New Product Or Service
If you are about to launch and new product or service, you'll no doubt be trying to think of every which way you can to promote it successfully. Branded USB drives can be a great addition to your marketing strategy, and you can get creative by choosing a USB design that best reflects the new product or service you are presenting to the marketplace.
Perhaps you're in real estate? Why not choose a USB in the shape of a key? Perhaps you're a sports clothing business? You could choose a USB in the shape of a trainer! Load the drive with tonnes of helpful information about your new product as well as any promotional offers or discounts and you'll be generating lots of interest and buzz in the lead up to launch day.
10. For Recruitment Purposes
Finally, you can use bulk USB drives to recruit new people to your business. Hand them out at recruitment fairs, events and exhibitions to promote your brand and include lots of information about why your company or institution is ahead of the competition. Using USB's in this way can help to attract both new potential employees but also new clients and customers as well.
Custom USB drives have been one of the most popular items in the promotional products industry and will continue to be in 2020 and beyond. It is important to remember, however, that using custom USBs to promote your brand should be done strategically and with a purpose in mind for the most significant impact. Businesses should consider the kind of messages they want to communicate as well as their target audience and then choose your design, branding, and information stored on it to carefully align with their goals. Bulk USB drives are brilliant at promoting a business as well as boosting its reputation.