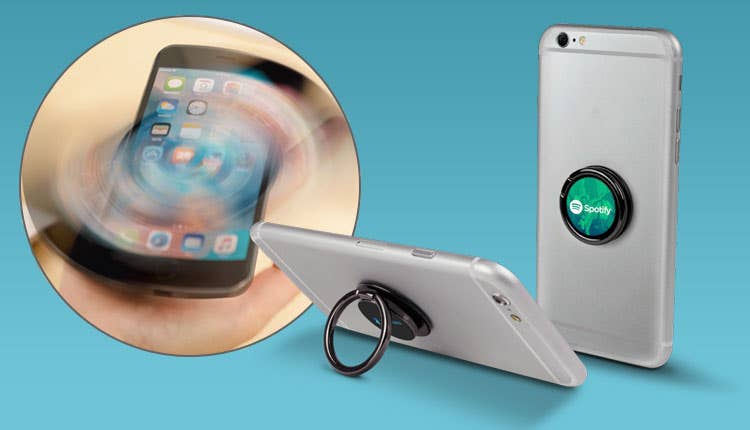 Custom SpinSockets: The Hottest New Phone Accessory
There are new products hitting the market every day that are intended to increase the overall experience users have with their smartphones. It can be overwhelming to sort through the best of the best, particularly since there are so many choices. That's why when we find a real winner, we want to make sure we share it with you.
Enter SpinSockets.
This new product is fun, easy to use, and a great way to increase the abilities of your smartphone. It also provides business owners with the perfect promotional product marketing opportunity. Let's take an in-depth look at what makes SpinSockets the hottest new promotional phone accessory on the market.
Custom SpinSockets – iPromo from iPromo on Vimeo.
A Truly Gripping Product
Promotional SpinSockets are great because they provide multiple improvements to the overall experience of using your smartphone. A SpinSocket is a tiny circular device that is made of metal. It is applied to the back of your smartphone using sturdy 3M adhesive. After it has been added to the back of your phone, you can use it
as a secure grip for any of your phone related activities. It makes holding onto your phone while texting, taking photos, and answering calls a whole lot easier. There's no worse feeling than having your smartphone slip out of your hands and fall towards the ground. Thanks to SpinSockets, you can dramatically reduce the chances of that happening.
Standing Strong
Viewing content is a big part of owning a smartphone. Accessing entertaining videos and awesome photography happens with the simple tap of the screen. However, one downside to the current smartphone design is that it can be challenging to find an easy way to view content. Physically holding the phone in your hand while you watch videos might work for shorter 30 second clips, but for longer content it can get quite tiring. When you add a SpinSocket to your phone, you can use it as a stand that allows you to prop up your phone and enjoy your favorite content. It stands your phone up on any flat surface so that you can sit back and watch without limitations.
Spinning is Fun
We've already mentioned that SpinSockets are great stands and grips for your smartphone. However, there's another way that SpinSockets improve your smartphone. Do you remember fidget spinners? They were those tiny spinning plastic devices designed to provide a fun and entertaining way to reduce stress and anxiety. The same concept of fidget spinning applies with SpinSockets. They are fidget spinners that provide tons of fun after they have been installed on your smartphone. If you were looking for a way to make smartphones even more addictive than they already are, SpinSockets are the answer!
Promotional Marketing Potential
SpinSockets are an amazing product that have a lot of promotional marketing potential. This is something that everyone wants and can use, which means each custom SpinSocket offers prime real estate for advertising your brand or business. iPromo can help you add high resolution full color imprints of your logo on custom SpinSockets so that you can use this great product to elevate your brand.
Using promotional products to grow your business is a tried and true marketing concept that can make a big impact. A SpinSocket is a product that will put a smile on your customer's face while making their lives easier by improving the ways in which they use their beloved smartphones.
SpinSockets are the hottest new phone accessory with tons of potential for promotional marketing purposes. You can't lose by choosing this product for your next promotional marketing campaign. It's a fidget spinner, a phone stand, and a grip that will forever change the way we use smartphones. If you're looking to capitalize on the concept of using phone related promotional products to grow your brand, the SpinSocket is clearly a great choice.
However, if you are seeking lower cost alternatives, iPromo has got you covered. The Insignia 360 Magnetic Phone Stand and Phone Stand Atsy are sleek and stylish alternatives that work as a grip and a stand for your smartphone. These products will cost less than a SpinSocket, but still provide a great marketing opportunity for your business.
Contact iPromo today to take advantage of the immense marketing potential that SpinSockets offer!