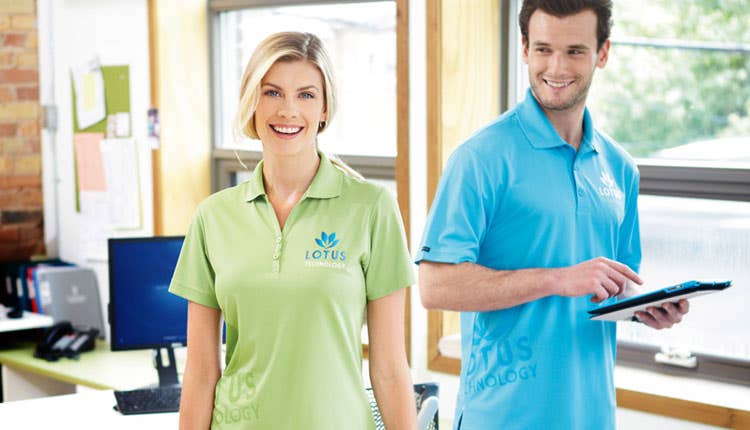 Definitive Guide to Custom Apparel Sizing for Women, Men & Unisex
Sourcing branded corporate apparel for your team is often a size guessing game. One trick is to use our simple unisex shirt size conversion chart to determine the clothing sizes that fit your company.
Works for a Wide Range of Individuals
Getting custom apparel created for your marketing and promotional needs can be beneficial in a variety of ways. When given to customers, it's a great way to get your brand in front of a large crowd, and not only at a particular event. If done right, then people have the opportunity to wear this clothing wherever they go. This means you can be seen at sporting events, grocery stores, school visits, wherever!
Custom apparel can be a good way to get your brand in front of customers and seen by others, but it can also be a great way to create a uniform look for your employees. Whether they are going to events or heading out to make sales calls, make sure they represent your business and brand by looking amazing. Having branded clothing can accomplish this goal.
Finding the Right Sizing
When it comes to getting custom clothing, there is a lot you need to consider. The first is how to do the sizing. People come in all shapes. They have a variety of preferences of how they like their clothes to fit. If you were so inclined, you could do personalized orders and ensure that everyone got exactly what they wanted, but this could end up costing you a lot of money. Instead, understanding apparel sizing and making a general decision based on that might be more beneficial. Below are the different sizing options that exist when it comes to clothing sizing.
In essence, there are three different types of sizing: men's, women's, and unisex. Within each category, there are different options. You have the option of creating branded clothing that falls into any or all of the categories listed below. It will all depend on what you're creating and how you want to offer it.
---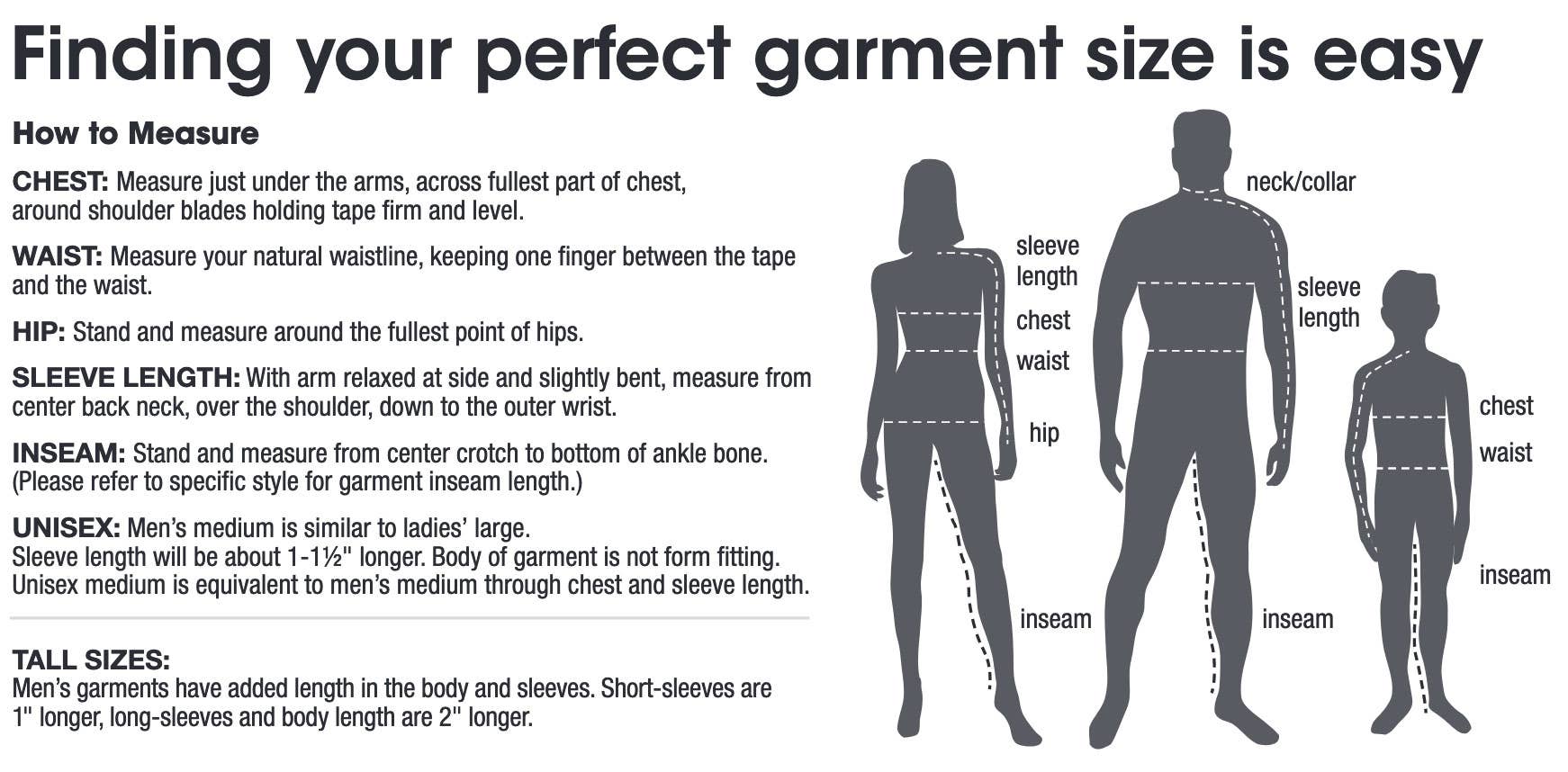 ---
Impacts on Sizing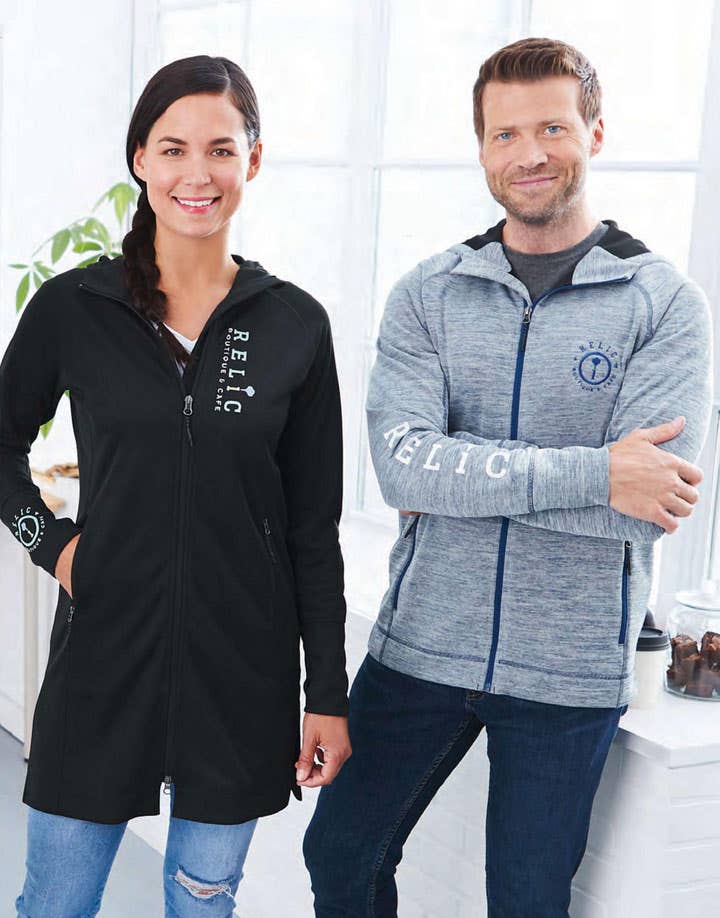 Before getting into the different types of sizing that exist, it's important to remember that these are just guidelines. Again, people come in all different shapes and sizes, and some have preferences on how tight or loose they want their clothes. In addition, the type of material a t-shirt is made out of will also have an impact on custom clothing size.
Some of these impacts include the fabric content or make up of the shirt. If it is made from 100% cotton, the chances of this shrinking when placed in the dryer is a high possibility. That means that if a person picks a shirt true to their size and then washes it, it may not fit like it used to. If the shirt is mixed with some other fiber, such as spandex, it may not shrink when washed and it may also have a little more flexibility and give when a person wears it.
Informing people of the material the clothing is made out of can be helpful when determining what size they should get for their clothes. In addition, it's also helpful if they know whether the sizes are men's, women's, or unisex.
---
Men's Sizing
When it comes to men's sizing, there are three different options: regular fit, slim fit, and oversized/relaxed fit. For regular fit, this includes an extra 1 to 2 inches of circumference from standard body measurements in the bodice or sleeves. Slim fits true to size or slightly less of a person's actual chest or bust measurements. Oversize or relaxed fit has an extra 2 to 4 inches of circumference from standard body measurements in the bodice or sleeves.
To determine what size a man is and what their standard size t-shirt would be, measurements would need to be taken 1 to 2 inches below the armpit for the chest, approximately 1 inch below the navel for the waist, and around the largest part of the hip for the hips. Men's sizes generally range from small to XXL and beyond.
---
Women's Sizing
When it comes to women's sizing, the different fit options include missy, junior, and contemporary. For missy fit, this is often designed for a traditional customer and it is less fitted. For a junior fit, these shirts are designed close to the body. For a contemporary fit, this is designed to fell between the missy and junior fits and is cut close to the body but doesn't rise as high as a junior fit.
To determine a woman's t-shirt size, the measurements that are taken include the chest, which is measured around the bust at the apex; waist, where the measurement is taken at the smallest natural point; and hip, where the measurement is taken around the largest point. Sizes within this category include XS to XL and beyond.
---
Unisex Sizing
If you find yourself asking, "What is unisex?" the answer is: unisex sizing is when the same cut of clothing is offered on a broader size scale. This can include XXS to XXL and beyond. This type of clothing can be worn by both male and female customers. When designing shirts, this may be the best way to get the right sized fit because the range of what is available is larger. It could also help you reduce costs, which is always beneficial when creating a marketing campaign that is cost effective.
To determine t-shirt size when it comes to unisex clothing, the same measurements for both men and women listed above would be used. Of course, there is a different unisex t-shirt size chart, and an example of that is included below.

If a person isn't exactly sure how this converts to their size, below is a unisex shirt size conversion chart to help everyone understand what size they might wear in a unisex t-shirt.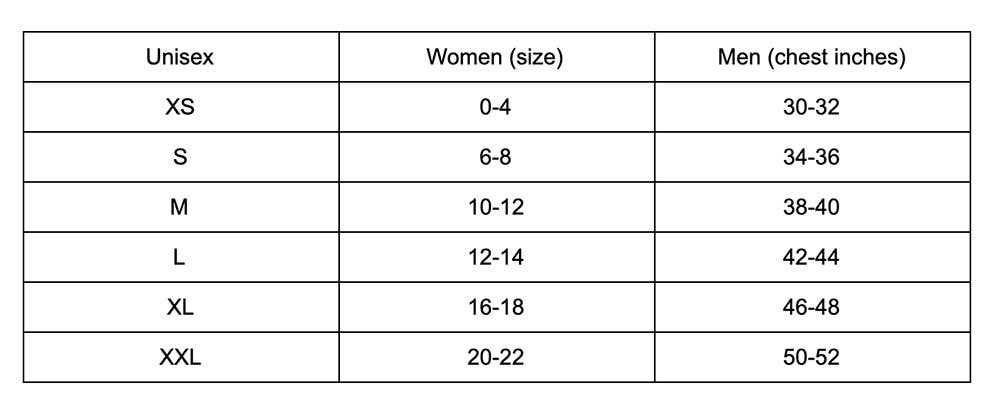 When Should You Offer Unisex Sizing Instead of Gender-specific Items?
The world has been changing, and part of that change is the notion of gender. As lines between each gender become more blurred, the fashion industry has answered by producing products that reflect its fluidity. In other words, products that don't conform to one gender or the other, but can flow easily between. If you are wanting and willing to be part of this movement, you may consider offering unisex sizing for all your branded t-shirts so that customers and employees can find the one that fits them best.
Having unisex sizing for clothing can also make ordering simple and cost effective. More often than not, ordering in bulk will often get you a discount. Since people can come in so many different sizes and there are different options within the men and women's sizing categories, it may be easier to offer a unisex sizing option.
A Wide Variety of Options
When it comes to offering custom apparel to customers and employees, t-shirts aren't the only option, although they are the most popular option. They are easy to create and hand out, and they can appeal to a wide range of people. If you decide that you want your employees to wear branded clothing, you could also go with something a little more formal, such as polos or dress shirts.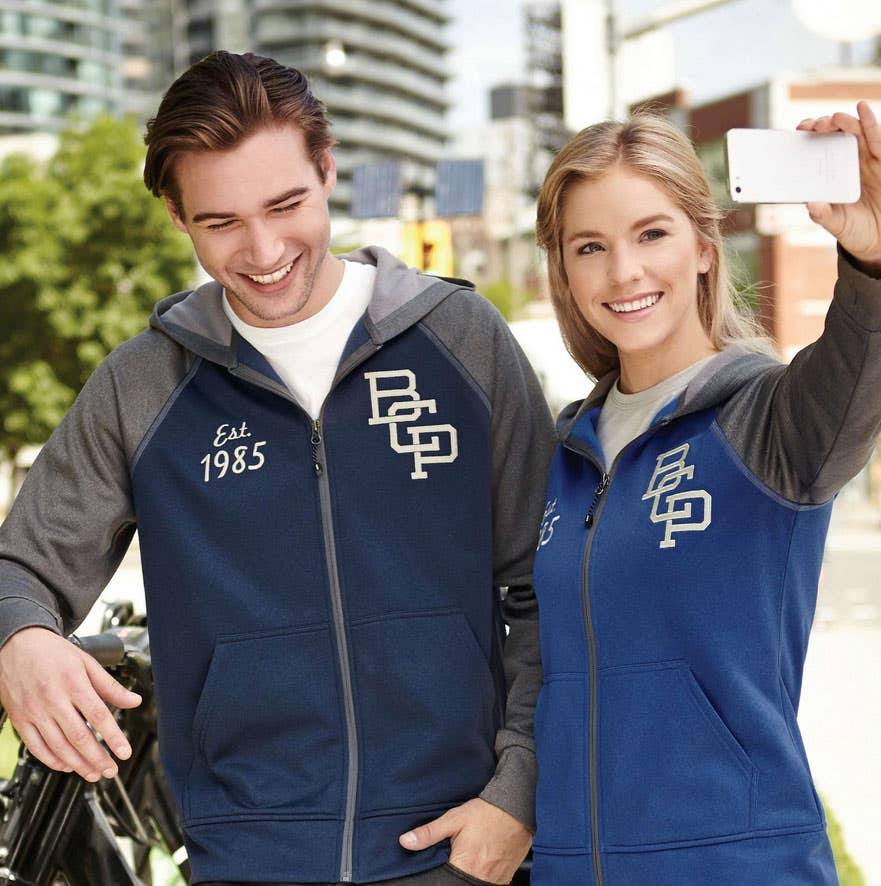 Of course, these can also be created and handed out as giveaways to customers. It will depend on where you're at and the type of customer you are targeting. Not everyone likes t-shirts, and they may not wear them. They may also wear dress shirts and polos to different places, which means your logo and/or brand will be seen by a different set of eyes.
When it comes to deciding what type of shirt to get, all of them can come in either gender-specific sizing or unisex sizing. You'll need to determine who your audience is and what you think they will want to wear. While unisex can be appealing to a wide range of people, some people don't like the fit. They may prefer a tighter fight, and that may be something that can only be accomplished by getting gender-specific sizing.
Promotion for Anywhere
The great thing about shirts is that they can be a great promotional tool that can be handed out anywhere. Whether at a conference or event or just in your office, shirts are something that people can't ever have too many of. When it comes to getting a custom shirt, working with a company that specializes in custom orders and custom clothing size can be advantageous.
In some cases, you can order as few as 12 t-shirts or even just one polo. Your logo can be added to the clothing through screen printing, embroidery, or sublimation. You may even be able to get them on rush, depending on the design and how many you need.
If you're ready to take the plunge and get some custom clothing, contact iPromo today. We have a wide range of shirt products available in a variety of apparel sizing to fit all of your needs. From employees to customer giveaways, we can create the apparel that will get you noticed.