May 31, 2023
Get Noticed: The Best Swag for Conferences to Make an Impression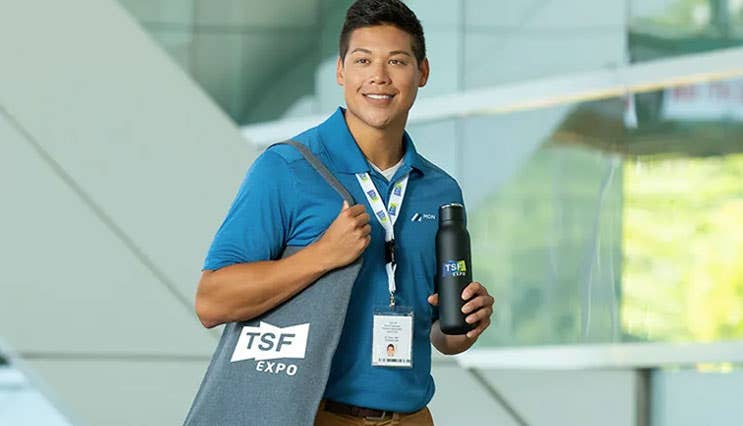 Trade shows and conferences are excellent platforms for brand promotion and placement. The best swag for conferences will grab people's attention and make tangible and lasting impressions on conference attendees to turn them into customers after the show is over.
If you plan it right, visitors will take home your swag and use them every day. They will remember your brand while simultaneously promoting it among their social circles.
If you're looking for proven high-quality bulk promotional items for your next conference giveaway, here are the ten best conference swag 2023 products you can customize.
The best swag for conferences reflects your brand's quality and reliability through top-notch functionality and style. This zippered polyester tradeshow tote bag is a fantastic conference swag item as it is high in quality, durability, functionality, and style.
It is crafted from premium polyester with a PVC coating, making it durable and long-lasting. Your visitors can use it to carry around brochures and other promotional materials during the conference and continue using it long after the event ends.
The tote is available in six attractive colors. You can print your logo or design on the front pocket for everyone to see. Its zipper closure keeps all its contents secure when on the move.
The bag has a metal key ring attachment on the front pocket for conveniently carrying keys. The side mesh pocket has an elastic top that will keep water bottles secure. It also has polyester web carry handles for maximum comfort and convenience.
If you're looking for a smaller promotional product that your booth visitors can easily carry around at conferences, get this bound hardcover journal with a phone holder. Visitors can use it to take down important notes and contact information at conferences and seminars—all while remembering that the practical gift came from your brand.
The high-quality journal has 192 perforated, ivory-lined pages with colored edges, giving it a classy and premium look. This will encourage conference attendees to use it often and keep it with them long after the show is over.
It has dated pages for daily journaling and extensive note-taking. It has a colored ribbon bookmark that makes it easy to flip to the last-used page and continue taking down important notes.
The journal can easily double as an organizer. It has a universal smartphone holder and an RFID-protected card slot for credit cards. The elastic pen loop is a nifty storage solution for the ballpoint pen that comes with the journal. These features help users keep all their essential accessories safe, secure, and accessible.
The journal is available in five eye-catching colors—so you can match the color to your brand.
Debossing your company name and logo on the top of the journal above the pocket will help recipients remember your brand for years. This kind of customization also serves as a silent marketing tool. Everyone who sees the journal will learn about your company, thus increasing brand exposure.
In the digital age, data rules the world. So, people can never get enough data storage solutions like USB flash drives. This Crystal iLight-Up USB Flash Drive is one of the best conference swag items you can give booth visitors. USB's have been around forever, but continue to be an ultra useful and secure way to make your important data portable like marketing collateral from your company to hand out to potential clients.
You can laser engrave your company logo on the zinc alloy and acrylic body in a subtle tone-on-tone pattern to promote your brand on the go in a unique and modern way. This high-tech swag for conferences lights up and highlights your logo when plugged in. Choose from four fun LED light colors to accent your branding.
Pens are some of the best bulk promotional items you can hand out as conference swag. You can be sure that your audience will put them to good use. Everyone can always have a pen handy for daily writing tasks.
The Uni-Ball® 207 Fashion Pen With Grip is functional and stylish, making it perfect as a conference item. With a point size of 0.7mm and pigment-based gel ink that bonds well with paper, this refillable pen delivers vibrant and clear lines.
The Super Ink™ flows smoothly and evenly, does not fade, and remains legible even when it comes in contact with water. Its excellent grip offers superior writing control and comfort, which enhances the user's experience.
You can pad print your logo on the clip of the pen and choose from eight different colors to match your brand colors.
If you want a conference swag item that serves as a high-quality reflection of your brand and creates a long-lasting impact on customers' minds, get this insulated water bottle. Its sleek and stylish body and impressive capacity of 22 ounces make it a winner among conference swag items.
It is made of premium 18/8 grade stainless steel, so it is highly durable and sturdy. The double-wall copper vacuum-insulated body keeps beverages cool for 48 hours and hot for 12 hours. It also prevents condensation on the bottle's exterior. It has a durable powder coating that increases its shelf life even further.
The bottle has a wide mouth for easy filling and pouring. It comes with a screw-on, spill-proof stainless steel lid that prevents leakage. The lid also has a sturdy stainless steel hand loop for portability.
The water bottle comes in a wide range of stunning colors. You can screen print your logo on the body for optimal brand visibility wherever they go long after the show.
Another practical yet stylish conference swag giveaway that your booth visitors will love are the Strideline Full-Color Business Crew Socks. These premium crew-length dress socks are made from high-quality terry cotton, micro polyester, and spandex for maximum comfort.
These socks are unisex and available in a vast array of gorgeous colors with a standard size that fits most people. You can offer them to men and women with different tastes, style preferences, and foot sizes.
You can print your company logo on these fully customizable promotional socks in full color. So many people will see your branding when they are worn out and about.
The high-quality digital ink used in Strideline's proprietary printing process prevents fading and distortion of your brand design when the socks are washed or worn. The ink also creates a rich and vivid print, which highlights your branding further and makes it look crisp and clear.
PopGrips are highly popular among the masses nowadays—and for good reason. They work as a phone grip and a media stand, so they are a multi-purpose commodity. They also make for thoughtful and functional promo products you can offer your audience at conferences and trade shows.
You can print your brand logo in full color on the top of the PopSockets® Enamel PopGrip for high visibility on prime branding real estate on the back of the phone. Its 3D hand-polished metal and enamel top enhances your branding and makes it look more high end and elegant.
Moreover, you can opt for full-color custom backer cards or distribute PopGrips in beautiful packaging to highlight your brand messaging.
This enamel PopGrip's repositionable gel allows it to easily stick to the back of phones. Users can type with one hand, take photos, and watch videos hands-free. They can also remove the top of the PopGrip to use their phones' wireless charging feature.
Sticky notes are popular stationery items that people use in their offices and homes. So, why not offer your conference attendees a notebook filled with beautiful pastel-colored sticky notes and lined journal pages?
The Tuscany™ Sticky Note Book has many ruled pages, colored square notes, and colored paper sticky notes to help users stay organized. Its soft Italian PU faux leather cover gives it a classy look that's great for sophisticated business crowds.
It is available in three colors. You can deboss your company logo on the front pocket for great brand visibility.
Corporate gift boxes are an excellent way to deliver a curated collection of thoughtful gifts that will charm your booth visitors as a contest gift giveaway or raffle prize. The Corkcicle® Welcoming Wonder Tumbler Gift Box includes a set of exquisite gifts that are sure to impress the recipients. It includes a 16-ounce Corkcicle Wonder Tumbler, berry nut mix, salted caramel almond cookies, and cucumber apple cold brew tea.
The Corkcicle Tumbler keeps drinks ice cold for over nine hours, which will make it the new go-to insulated tumbler for your conference visitors.
The tumbler comes in four different colors that you can choose from to suit your branding needs.
Hand sanitizers have become a ubiquitous item in the last few years. It is especially needed when people are mingling with large crowds at conferences and trade shows. Offering hand sanitizers in your conference swag gift box or as a standalone gift will show your customers you care. Hand sanitizers will be a must-have at every conference moving forward, so give the most useful and portable option available on the market with your logo on the side.
This 1-ounce hand sanitizer comes in a pretty silicone holder that your business partners and clients will love to own. You can also choose from a wide range of eye-catching colors to accent your company logo in full color on the side to show prominently.
This hand sanitizer is lightly scented and has a 62% ethyl alcohol content. It has an adjustable loop attachment for easy portability and convenience. Moreover, it fulfills FDA requirements, which ensures everyone's safety.
Wrapping Up
Picking a product to give away as conference swag can be tricky and time-consuming. But with our handy guide on the best swag for conferences, you should be able to choose the perfect promotional product that will delight and impress your customers.
Choose any of the above products or combine a few to create a curated corporate gift box that your audience will love. You can also call us at 888-994-7766 for personalized requests or more information on our products.
Visit our website and check out our other promotional products for your business needs.