June 6, 2023
The 7 Best Custom Sports Backpacks For Your Team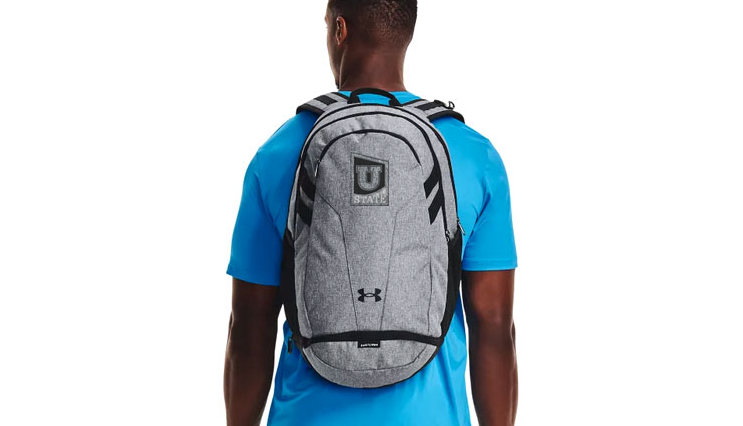 In today's competitive and fast-paced world, where professionalism and brand representation are the order of the day, having the right gear to showcase your business is essential. And finding the right customized solution to meet your team's functional needs can make all the difference in helping you showcase your brand identity. That's why we are here to welcome you into the world of custom sports backpacks.
Custom sports backpacks offer a unique opportunity to have an extension of your team uniform outside of the game wherever they go. Whether you're a school team performing competitive indoor or outdoor sports or a sports organization that wants to showcase your brand, this customized gear not only enhances your team's unity but also leaves a mark on anyone who comes across your brand.
With carefully selected custom sports backpacks, you can leave a lasting impression on whoever they run into on a daily basis. These backpacks are more than just a stylish accessory or utility gear; they serve as a powerful branding tool, allowing you to make a statement about your team's identity and professionalism.
In this guide, we'll explore seven of the best custom sports backpacks carefully selected to meet the standards of your brand's objectives. You'll discover the features, designs, and personalization options to complement your team's success.
Gear Up In Style With These 7 Best Custom Sports Backpacks
The polyester front zippered backpack with a carry handle combines style and functionality, making it a perfect choice for sports brand promotion. It is designed for everyday use and sturdy enough to carry laptops, books, and other personal effects. Made from 210D polyester, which is heavy-duty and highly durable, this backpack is suitable for an array of outdoor applications and is guaranteed to be in its owner's life for a long time.
This high-quality polyester makes the backpack lightweight, easy to carry, and resistant to wear and tear. You would also be glad to know that the bag is waterproof and resistant to wrinkles and fading, so your brand design won't clean off anytime soon. And its adjustable web shoulder straps and carrying handle provide a comfortable grip when wearing or carrying it. It also has a front zippered pocket, allowing for easy organization and retrieval of your items as well as extra security for your belongings.
The polyester front zippered backpack with a carry handle can be easily customized with your sport logo or design using a screen print method. Your team won't have to worry about maintenance because the backpack can be cleaned easily with a wet cloth and air-dried. Additionally, this backpack comes in about ten colors, giving you a range of customizable colors to choose from.
The Atchison brand is known for its high-quality and stylish bags. And the PeeWee backpack is no different with its modern-day style. Although the backpack is smaller than other backpacks, its compact nature makes it suitable and convenient for those who don't want a lot of weight on their backs. If you want to express your brand's commitment to uniqueness and performance, this backpack is the way to go.
Despite its small size, it has sufficient space to accommodate all your belongings, such as a large zippered main compartment with an interior organizer that can contain a small laptop, tablet, and books. And an additional smaller zippered pocket on the front for smaller items like your phone, wallet, or keys, plus a side mesh pocket for water bottles.
The most exciting feature of this backpack is the headphone port that adds fun to your sporting activities by allowing you to listen to music on the go. The padded back panel and adjustable shoulder straps ensure you don't quickly get fatigued while carrying your backpack.
Atchison PeeWee backpack is made from 600D polyester and ripstop polyester, which are strong, highly durable, wear and tear-resistant, and lightweight. And from six fun colors to choose from, your logo can be screen printed on the wide imprint area to showcase your brand, products, and values.
The heathered polycanvas backpack with front zipper offers durability and a unique textured appearance as it is made with a blend of polyester and canvas materials. The heathered polycanvas comes in beautiful colors, making an excellent backdrop for your logo or design. And if you're not big on washing bags regularly, this one won't give you any stress as it can be spot-cleaned and air-dried.
With a double-zippered main compartment, the backpack offers ample space to carry large items, helping organize your belongings. It also has a large front pocket with a hook and loop closure for easy accessibility, which can be screen printed to display your brand.
A leatherette lash tab used for fastening equipment is located at the front of the bag so that your team can securely attach their water bottles, sneakers, and other gear. The heathered polycanvas backpack also has a padded back, adjustable padded shoulder straps, and a web-carrying handle to keep you comfortable and prevent strain on your shoulders, back, and arms while wearing or carrying it.
The Columbia brand is known for the style and functionality of its outdoor gear, and its Zigzag™ Computer Backpack incorporates these features, making it a great gift for your sport team's awareness. The backpack is made with 100% polyester with PU coating providing durability, and lightweight and waterproof benefits, making it suitable for outdoor activities in various weather conditions. The Zigzag computer backpack is one of the largest in this lineup, with the ability to contain up to 15 laptops.
One of the two main laptop compartments contains a padded and fleece-lined laptop sleeve to hold and cushion your laptop or other gadgets securely. In addition, two internal zippered pockets and two front accessory pockets help keep other belongings organized, and you can keep your water or liquids snugly in the two water bottle pockets.
To enhance comfort while carrying it, the backpack features a flat padded bottom panel and adjustable shoulder straps. You will quickly grab everyone's attention through visual branding by embroidering your logo or design on the front of this backpack, as it comes in three monotonous colors, including black, grey, blue, and camo.
As the name implies, the Ergonomic Two-Tone Computer Backpack was designed with ergonomic features to enhance comfort during extended wear. Thus, the backpack has soft, padded shoulder straps to reduce strain on the shoulders and back and distribute the bag's weight evenly across the body. The straps can also be adjusted to accommodate different body types, heights, and preferences.
The two-tone design with different color combinations adds a stylish touch to the design. And you can choose from five combinations, including black and blue, black and orange, black and red, black and gray, and gray and lime green. Each provides an excellent backdrop on which your logo or event can be screen printed on the bag's front pocket.
To ensure durability and water resistance, the backpack was made with durable ripstop and 600 Denier polyester body fabrics, typically used to make boat covers. Hence, this bag was designed to withstand rugged and harsh conditions. The material is also mildew resistant, retains its color for a long time,  and is ergonomically vented for airflow. This means your logo will look great along with the bag for years to come. 
OGIO® is a renowned brand known for its durable and functional bags, and the Logan computer backpack is one to use if you want your team to be associated with quality and professionalism. With a high-quality design and versatile function, this backpack has an interior padded laptop compartment and a tablet sleeve to accommodate and securely protect your laptops. The two main compartments are large and spacious, making it an excellent promotional item for your team members to organize their sport essentials.
The Logan backpack was designed with optimization in mind, as it has an additional front compartment with a deluxe organization panel, zippered pocket, and key fob hook to keep your items organized and secured. For comfort during extended wear, the backpack has ergonomic padded shoulder straps and a padded back panel with moisture-wicking air mesh to quickly remove sweat or other liquids to the outer surface and dry it rapidly to prevent it from saturating the fabric.
This backpack is made with 840D poly dobby with PU backing, ensuring durability, water resistance, and easy maintenance as it can be spot-cleaned and air-dried. The material, which comes in five vibrant colors, gives the back a textured look on the surface and can be embroidered with your team's logo or design on the side pocket.
7. Under Armour® Hustle 5.0 TEAM Backpack
The Under Armour® brand has a reputation for its high-quality backpacks for sports teams and athletes, a great brand to associate with if you want to be known for the same. And its Hustle 5.0 TEAM Backpack, made using state-of-art technology, offers a range of features to meet the daily needs of active team members.
The bag is made from 100% polyester that is highly durable to withstand the daily demand of active users and has water-resistant properties to protect the contents from moisture, particularly on wet days. It comes in three colors, black and silver, navy blue, and gray, on which your design can be embroidered to stand out on the front of the bag.
The backpack also features a breathable mesh back panel & adjustable, HeatGear® shoulder straps for added comfort while carrying and even weight distribution. The adjustable UA strap clip ensures your backpack is securely attached to your body, while the top grab handle makes it easy to carry.
The main compartment has a spacious interior with a soft-lined sleeve that can hold up to a 15″ laptop, making it ideal for carrying all your work essentials. The backpack also features two side pockets for water bottles and a large, gusseted front shoe pocket at the bottom of the bag to keep shoes or dirty equipment.
Equip Your Team For Success With Custom Sports Backpacks
There are many benefits to investing in custom sports backpacks, as they make excellent walking billboards to increase your brand awareness for your team and ensure they are always ready on the go with the right gear. These practical items can be used for daily activities, increasing your team's exposure and enhancing its visibility when given out to your team, and allow your supporters to also carry them around.