June 3, 2018
Honest PopSocket Reviews From 3 Of The Most Influential YouTube Channels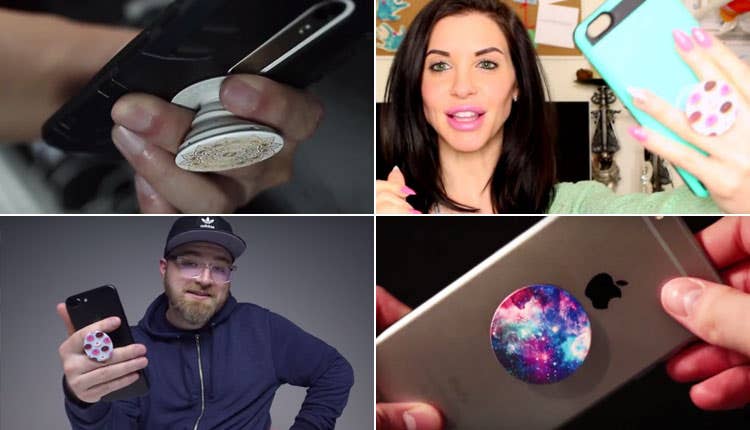 Imagine finding a way to make your smartphone more user friendly and functional than it already is. It's hard to fathom, since smartphones are specifically designed to be user friendly. However, with an amazing tiny adhesive device called a PopSocket, you can make this idea become reality!
A PopSocket grip is a stylish phone accessory that makes using your smartphone much easier. They are tiny, collapsible, and expandable, they provide a sturdy grip so that you can take photos and send texts effortlessly, and they also function as a stand that allows you to easily view video content on your phone. Did you know the average person looks at their phone 344 times a day? Facts like that highlight the significance of a great phone accessory like the PopSocket.
iPromo has been creating custom promotional products for our clients for years, and we are proud to feature custom PopSockets as one of our most popular promotional products. Choosing a product like this on prime mobile real estate to increase brand recognition and say thanks to your loyal customers is certainly a great business decision.
Custom PopSockets display your logo, branding, or message clearly as it is applied to the back of your target market's smartphones. We're not alone in expressing our love for PopSockets, as there are several extremely popular YouTube Channels that have featured this incredibly useful and powerful branding machine.
Kimberleigha
First up is Kimberleigha, a self described Creator, Mother, former lawyer, and CEO/Founder of Kimbyr.com, a phone-case fashion company. With over 28 million views on her channel, Kimberleigha clearly knows a thing or two about phone fashion and accessories! Her channel focuses on inspiring others to become the best versions of themselves while providing information on some of her favorite products. Her charming personality is one of a kind!
She has created a bunch of PopSocket related content, including this video entitled "PopSockets – The Best Phone Accessory Ever!". In the video, she shares her love for this amazing product and how it has changed the way she uses her phone. She even mentions a creative use for promotional PopSockets, as she uses them to easily mount her cellphone in her new car.
Unbox Therapy
Unbox Therapy is another great channel that has discussed PopSockets and their numerous benefits. With over 18 million subscribers, Unbox Therapy's unique voice and charisma are a powerful force in the YouTube community.
In his video "4 Cool Gadgets Under $10" he states that PopSockets are "Very comfortable, oh my goodness this might be exceeding my expectations, I might be converted! Oh my goodness it's a stand too! It's unbelievable!" Strong praise from a man who really knows his gadgets!
Alex Hong
Last up is Alex Hong's video entitled "PopSockets Review: More than Meets the Eye". In the video, he mentions how much he loves the grip aspect of PopSockets and how much easier it makes taking photos and selfies.
Alex's favorite use for the PopSocket is when he is lying down in bed. He avoids "painful" phone drops while lying down by utilizing the PopSockets grip capability. He also touches on using PopSockets as a stand for video calls and watching video content. Alex describes himself as "Just a regular guy from Singapore who's crazy about phones." He clearly knows a good product when he sees one!
PopSockets are a truly great product that can transform the way you use your phone forever. Choosing a custom PopSocket as a promotional product is a fantastic idea, due to the usefulness and customization that turns their phone into a walking billboard for your company or organization. As you can see, even the most influential YouTube Channels see the benefits that PopSockets provide. If you'd like to learn more about how iPromo can customize PopSockets for you, check them out here, live chat or contact us today.