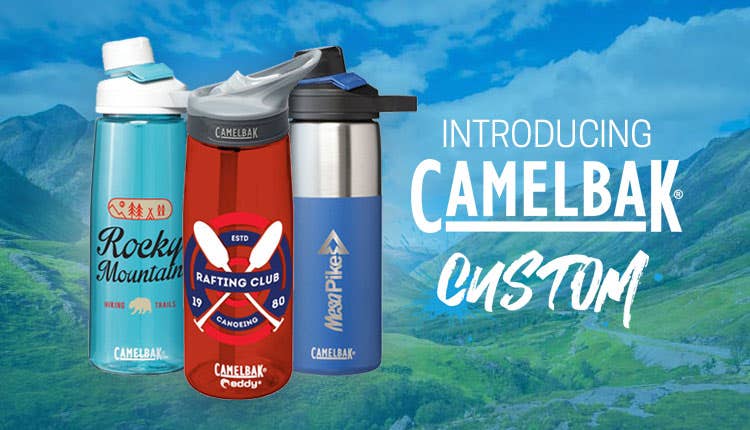 Introducing Custom CamelBak Water Bottles
CamelBak is a brand that's synonymous with high-quality hydration products, particularly packs and water bottles. A longtime favorite in the drinkware industry, CamelBak invented the hands-free hydration category and has been a global leader in innovative hydration products since its inception.
It's no surprise that CamelBak was created by hard-core adventurers and athletes who needed a more efficient way to hydrate. To this day, the brand continues to find innovative ways to expand and improve their product lines.
CamelBaks are the go-to hydration products for any activity. Their two most popular products are reusable water bottles and hydration packs. Reusable water bottles are the perfect sidekick to accompany you to your daily destinations — the gym, work, school, airport, etc. They're a great way to stay hydrated throughout the day, whether it's after a yoga class or on the way to work. Camelbak's hydration packs are targeted toward more rugged adventures – an epic hike, intense triathlon, mountain biking, climbing – any sort of activity that benefits from hands-free hydration. They're designed to make drinking more efficient—you don't have to stop or even slow down to take a sip. An essential hydration solution for anyone on the go, CamelBak water bottles have truly become a daily staple.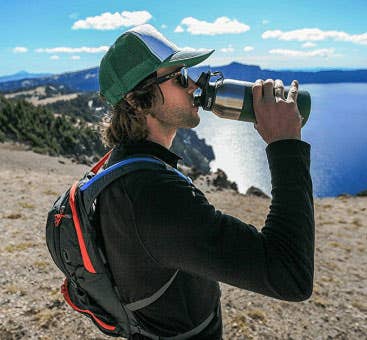 Aside from their excellent quality and utility, the CamelBak brand is committed to making a positive impact on the environment. By creating reusable water bottles, they help reduce the amount of plastic contributing to the word's landfills and oceans. CamelBak's 30-day pledge states that Americans will save approximately $25 and 18 plastic bottles from filling up landfills by using a Chute water bottle for 30 days.
All of the aforementioned reasons are why it's incredibly exciting that personalized CamelBak water bottles are entering the promotional industry. You can now get customized CamelBak bottles adorned with your logo to give away to your customers. A great way to promote your business, this is the kind of promotional product that is a high-quality, useful gift that will be used for years to come. iPromo is currently offering 4 different types of personalized CamelBaks all of which can be customized to your unique needs.
CamelBak Eddy 25oz
The classic CamelBak water bottle, the Eddy is perfect for all every day and outdoor activities. It's shatter, stain and odor resistant, and has a convenient screw-on lid with a spill-proof valve and one-finger carry handle.
You simply flip it open, bite the valve, and sip, no tipping needed. With plenty of options for personalization and lots of space for your logo, the Custom CamelBak Eddy is a useful promotional product that can be used every single day.
CamelBak Chute 25oz
This convenient water bottle comes equipped with many useful features. The custom Camelbak Chute has a handle designed to comfortably carry the bottle with two fingers, an angled spout that provides a high flow of water without spilling, and a tether that secures the cap to the bottle for easy drinking and refilling.
This is also the water bottle that CamelBak recommends for their 30-day pledge. A durable sidekick for any daily or outdoor activities, this Camelbak custom sport bottle comes in a variety of colors to match your company's look and personality.
CamelBak Rouge
The Custom Camelbak Rouge is a lightweight bike hydration pack that feels light and stable on your back. It has a 2.5L Cruz reservoir that can be easily refilled on the go. It delivers more water per sip, and has convenient pockets for storing adventure essentials like extra gear, food, layers, and bike tools.
This hydration product is an ideal giveaway for outdoor and athletic companies, or for businesses that have an active customer base. With a range of colors and customization items, it's a durable and useful gift.
CamelBak Classic
This resilient hydration pack is where it all began–it's the original product that put the CamelBak brand on the map. The custom Camelbak Classic is the quintessential hydration pack with a Crux reservoir for faster water flow so you never have to stop or slow down to drink.
It includes spacious pockets for storing outing essentials like keys, layers, your phone, and snacks. A backpack and water bottle in one, it's the ultimate accessory to any adventure. The custom Camelbak Classic is a useful, durable giveaway to help power your customers' active lifestyle.
Custom Camelbak Products
When it comes to choosing the most effective promotional products for your business, it's always best to find a high-quality item that your customers will use frequently and keep for years to come, in turn keeping you top of mind. What better to way to do so than with CamelBak custom bottles? They are the perfect sidekick for any adventure, workout, commute, or daily activity.
Check out iPromo's website to browse our selection of promotional CamelBak water bottles, and see all of the different ways you can personalize them for your business.