Custom Apple AirPods Are the Ultimate Employee Gift
When it comes to daily essentials that make incredible gifts, customized apple airpods should be at the top of every list. Incredibly useful, innovative, and designed to the highest quality standards, this is a premium promotional product that will definitely impress your customers and employees, and something they will use literally every single day. With the 2019 holiday season right around the corner, we couldn't recommend a more memorable giveaway gift than branded Apple products!
If you're not yet familiar, Airpods are another one of Apple's ingenious products. They are innovative wireless earphones with highly-intuitive features that take them far beyond the league of standard ear buds. After an easy one-tap set-up, AirPods remain constantly connected to your devices.
They come with a high-speed charging case that rapidly powers them up to 5 hours of battery life on one charge, and you can always ask Siri where the battery level stands! When you take the branded AirPods out of their charging case, they automatically turn on and connect to your iPhone, Apple Watch, iPad or Mac. Want to use them across multiple devices? No problem, they seamlessly switch between them.
Airpods can sense when they're in your ears—they start playing audio automatically when put in, and they pause when you take them out. The sound quality is consistently rich AAC audio across all of your devices. And best of all, you never have to worry about untangling headphone wires ever again.
AirPods Pro now feature wireless charging capabilities, noise canceling technology, advanced Bluetooth technology, and longer battery life. The Bluetooth upgrade allows for a longer range, faster data transfers, and even quicker pairing. Powered by the all-new Apple H1 headphone chip, AirPods use optical sensors and motion accelerometers to detect when they're in your ears. Whether you're using both AirPods or just one, the H1 chip automatically routes the audio and engages the microphone.
When they say good things come in small packages, AirPods are no exception! Despite their small size, personalized Apple Airpods offer a surprising variety of options for customization. You can do an imprint on the charging case, or the actual airpod itself, or both! iPromo's standard pricing includes a custom one-color logo imprint on one location of your choice.
However, if you want to take your branding to the next level, we offer full-color imprint options as well, and you can also place custom logo imprints on both the AirPods and the charging case. Concerned about minimums? Don't be. For Apple Air Pods and other high-end promotional products, we offer minimal order quantities, starting at just 12 custom air pods.
While promotional Apple Airpods may be a slightly more expensive giveaway option, the quality and branding impact speak for themselves. These are truly a premium promotional product—they're ideal for executive gifts, contest giveaway prizes, customers, and prospects.Gifting branded Apple Airpods to your clients undoubtedly elevates your company and creates a memorable impression. Talk about wow factor! If you want to send a big message with one promotional product, there's no better way than with personalized Apple Products—they immediately set your company apart from the competition.
Looking for our entire collection of high-tech promotional items including Custom Apple Products? We've got plenty of options. Look no further than our dedicated Custom Apple, Google and Amazon Products page.
When it comes to creating a big impact, there's nothing quite like putting your logo next to some of the highest-quality retail products on the market, and aligning your brand to theirs. Some of our customer's favorite high-tech products to customize include the Amazon Echo Dot, the Amazon Fire TV Stick, and the Google Home. Here's a brief overview of the three of them: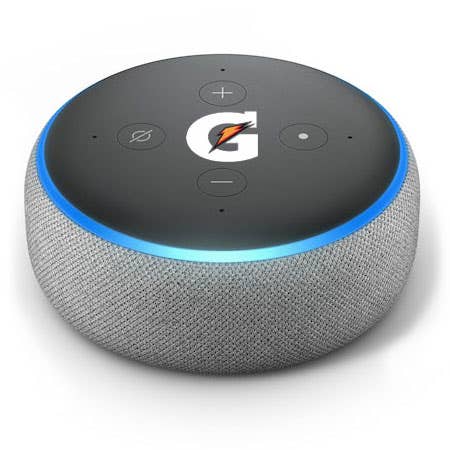 The customized Amazon Echo Dot is a hands-free, voice-controlled device that uses Alexa to play music, control smart home devices, provide information, and many other things. Available in both black and white, you can get your logo laser engraved or screen printed in full color on the side opposite the Amazon logo.
The Custom Amazon Fire TV Stick allows you to enjoy thousands of channels, apps, movies and TV episodes from all of the most popular networks, all of course with Alexa's assistance. Perfect for customization, it provides prime real estate for your logo to be printed right up front.
The Custom Google Home helps you tackle everyday tasks—consider it your personal assistant. From music streaming to scheduling, entertainment to controlling your smart home, this innovative little device helps you do it all. When it comes to customization, the Google Home provides ample space for your logo to be pad-printed in whatever color you want.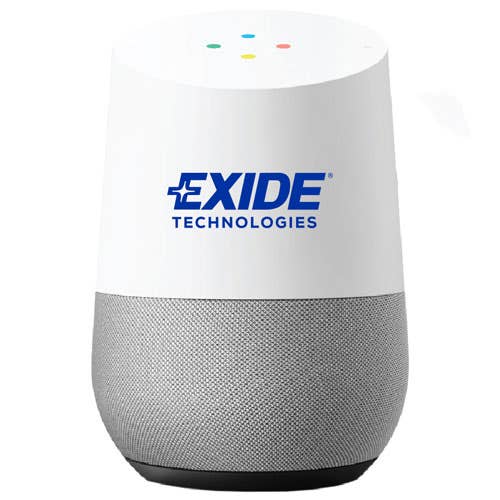 All of these high-quality, high-tech promotional products are some of the most premium gifts and giveaway items you can choose. On top of the lasting impression they make, they're also something that your customers will use every single day. Having them customized to match your brand keeps your logo constantly visible, serving as a subtle, yet powerful reminder of your company.
If you're having troubling choosing between all of these amazing custom promotional products, we can easily send you a free virtual preview of your logo on any of them so you can get a sense of what looks best!