Custom Apple AirPods Are the Ultimate Employee Gift
When it comes to daily essentials that make incredible gifts, customized apple airpods should be at the top of every list. Incredibly useful, innovative, and designed to the highest quality standards, this is a premium promotional product that will definitely impress your customers and employees, and something they will use literally every single day. We couldn't recommend a more memorable giveaway gift than custom Airpods!
Airpods are another one of Apple's ingenious products. They are innovative wireless earphones with highly-intuitive features that take them far beyond the league of standard ear buds. After an easy one-tap set-up, AirPods remain constantly connected to your devices.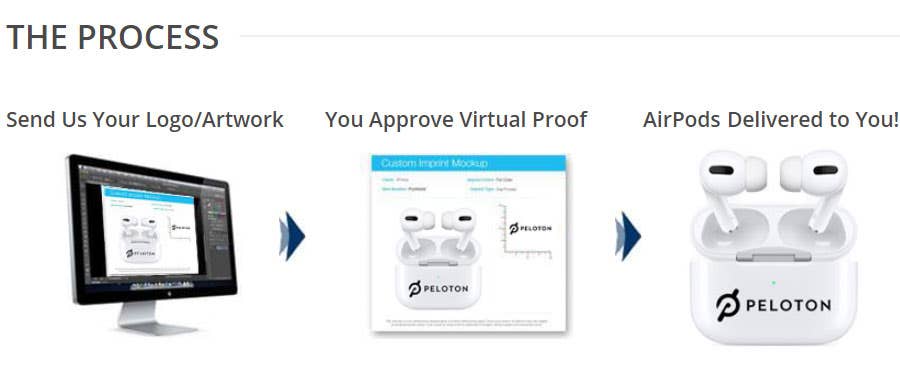 They come with a high-speed charging case that rapidly powers them up to 5 hours of battery life on one charge, and you can always ask Siri where the battery level stands! When you take the branded AirPods out of their charging case, they automatically turn on and connect to your iPhone, Apple Watch, iPad or Mac. Want to use them across multiple devices? No problem, they seamlessly switch between them.
Airpods can sense when they're in your ears—they start playing audio automatically when put in, and they pause when you take them out. The sound quality is consistently rich AAC audio across all of your devices. And best of all, you never have to worry about untangling headphone wires ever again.
AirPods Pro now feature wireless charging capabilities, noise canceling technology, advanced Bluetooth technology, and longer battery life. The Bluetooth upgrade allows for a longer range, faster data transfers, and even quicker pairing. Powered by the all-new Apple H1 headphone chip, AirPods use optical sensors and motion accelerometers to detect when they're in your ears. Whether you're using both AirPods or just one, the H1 chip automatically routes the audio and engages the microphone.
When they say good things come in small packages, AirPods are no exception! Despite their small size, personalized Apple Airpods offer a surprising variety of options for customization. You can do an imprint on the charging case, or the actual airpod itself, or both! iPromo's standard pricing includes a custom one-color logo imprint on one location of your choice.
However, if you want to take your branding to the next level, we offer full-color imprint options as well, and you can also place custom logo imprints on both the AirPods and the charging case. Concerned about minimums? Don't be. For Apple Air Pods and other high-end promotional products, we offer minimal order quantities, starting at just 12 custom air pods.
While promotional Apple Airpods may be a slightly more expensive giveaway option, the quality and branding impact speak for themselves. These are truly a premium promotional product—they're ideal for executive gifts, contest giveaway prizes, customers, and prospects. Gifting branded Apple Airpods to your clients undoubtedly elevates your company and creates a memorable impression. Talk about wow factor! If you want to send a big message with one promotional product, there's no better way than with personalized Apple Products—they immediately set your company apart from the competition.
Looking for our entire collection of high-tech promotional items including Custom Apple Products? We've got plenty of options. Let's take a deeper dive into our Custom AirPods offerings.
One of our most popular products is the custom Apple AirPods Pro. The Pro model includes the latest noise-canceling technology that isn't available in older model AirPods. While they last for five hours (four and a half if used on noise-canceling mode), it's easy to charge them with the wireless charging case. This can get you up to 24 hours of listening time and 18 hours of talking time. You can charge them for just five minutes, and that will let you use your AirPods Pro for up to an hour. Bonus: The AirPods Pro are compatible with Qi chargers—pair them with promotional Qi wireless chargers if you want to delight your clients and employees.
AirPods Pro come with silicon tips in three sizes for the perfect fit and shorter stems for a sleeker design. The latest version is also water-resistant, which is a first for Apple earbuds. Promotional Apple AirPods Pro are premium gift options, and we can print your logo not only on the case, but also on each of the earbuds as well!
The newest generation of AirPods is also voice command-enabled for a seamless hands-free experience. You can train your AirPods to respond to commands like "skip this song," "raise the volume X percent," or "play my running playlist." This is extremely helpful for the less tech-savvy recipients of your promotional branded earbuds. Talk to Siri or your voice assistant, or connect with Apple TV on your pair of the latest model of AirPods.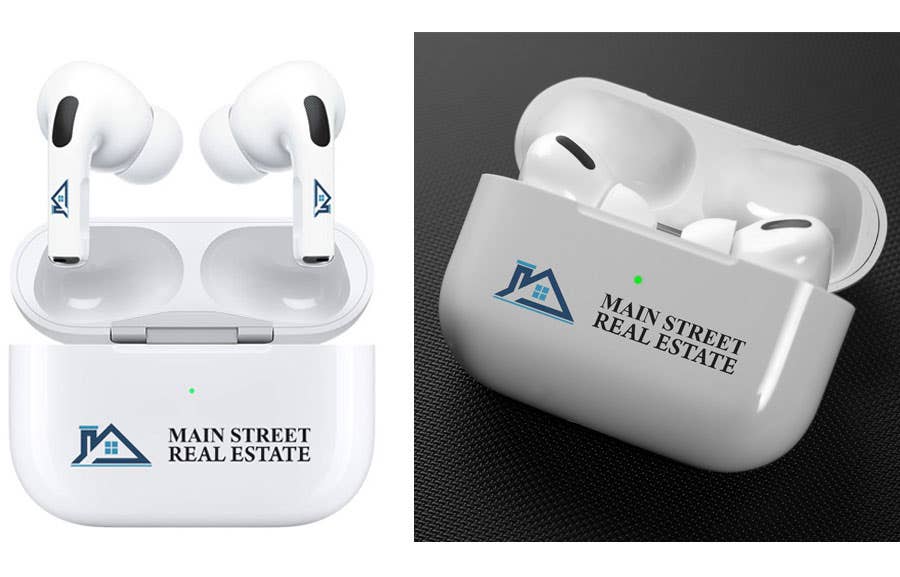 ---
The 2nd Gen Wireless Apple AirPods offer Qi wireless charging in addition to being wireless earbuds that sync to any device using Bluetooth, which means you will not need to worry about tangle wire anymore. New Bluetooth 5.0 allows for a longer range, faster data transfers, and even quicker pairing. Powered by the all-new Apple H1 headphone chip, AirPods use optical sensors and motion accelerometers to detect when they're in your ears. Whether you're using both AirPods or just one, the H1 chip automatically routes the audio and engages the microphone.
Just like AirPods Pro, we can customize AirPods 2nd Gen Wireless right on the outside of the charging case in addition to the outside of each of the earbuds. These are truly gifts your recipients will be thankful for and your brand will go with them creating countless impressions on a daily basis!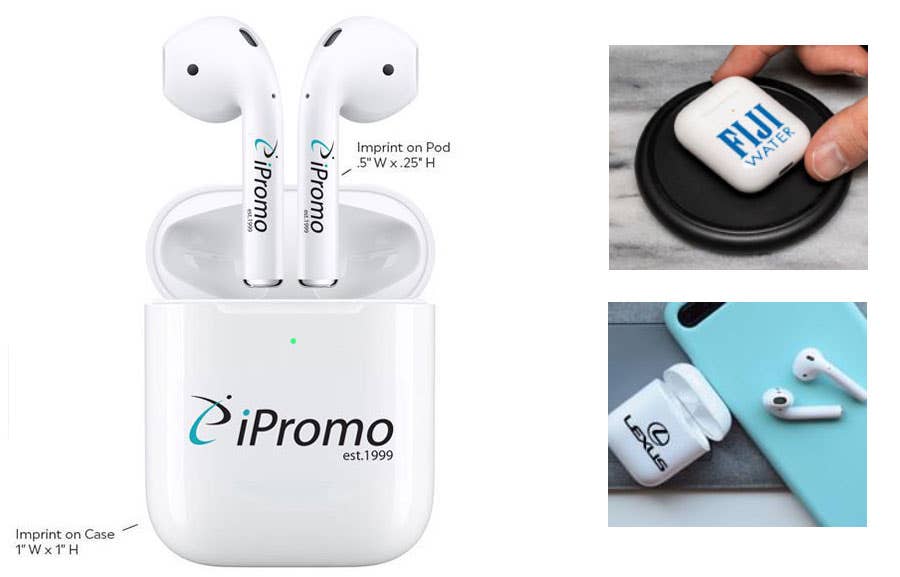 ---
This model of custom AirPods can detect your motion due to the H1 headphone chip that automatically routes the audio and engages the microphone. The Bluetooth 5.0 means faster data transfers and a longer range, They can pair easily even with non-Apple products like Android smartphones, so there is no worry about giving them to Android or Windows users. You can easily switch between listening to music and a phone call with just a touch and the AirPods' handy built-in microphone. All you need to do to switch to a call is tap and then double-tap to switch back to your music, right where you left off.  
While they aren't water-resistant, they will withstand a little sweat at the gym or a few raindrops. Plus, you don't have to worry about losing them: use the Find my iPhone app to locate your AirPods. They will automatically sync, and you'll be able to keep track of them if you lose them.
---
Best Custom AirPods Alternatives For Your Budget
If you love the look and quality of AirPods but are concerned about budget, there are several other wireless earbuds and headphone options available that are great gift ideas and are also fully customizable with your brand:
The Skullcandy Sesh Truly Wireless Bluetooth Earbuds are another great alternative, and you can start with an order size as small as six. Best of all, they are water-resistant, so they're perfect for a day at the beach. They also last a whopping seven hours off of one charge, so you won't have to worry if you forget your case at home.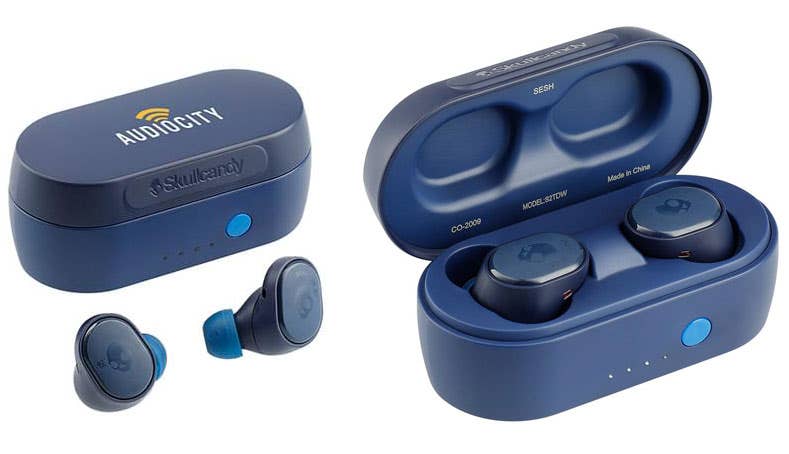 The Anker Soundcore Wireless Headphones come in both black and white and offer a variety of detachable earbuds for different sized ears. The earbuds also have integrated touch control, so you can switch between your music and a phone call and back again seamlessly. Even if the production time is a bit longer than the AirPods at 12 business days, The Anker's crystal clear Pioneering graphene-enhanced sound is well worth the extra wait time.
The Braavos Wireless Charging True Wireless Earbuds are the future of Bluetooth earbuds. As you see, there is no wire connecting the earbuds. Making them true wireless earbuds! The earbuds feature Bluetooth 5.0, Voice Assistant Activation (Siri/Hey Google), Auto-Pairing, and Auto Power-On. Once the earbuds are removed from the case, they'll power on and automatically sync to each other! Don't forget, pricing includes a 1 color 1 location imprint of your logo on the charging case. full color printing is available too!
The case also doubles as a power bank for your earbuds. The power case can be charged wirelessly via a wireless charging pad or with the included Micro USB Cable. Once the 500mAh battery of the case is charged, it will charge the earbuds 5x from 0-100%. With over 2hrs of playback time at max volume on a single charge these earbuds are a must for any traveler. The ergonomic design of the earbuds keep them in place on the go. The earbuds have built in music controls and a microphone for hands free operation. It takes 1.5hrs to charge the earbuds from 0-100%. The case can be charged in under 2.5hrs.
All of these high-quality, high-tech corporate gifts are some of the most premium gifts and giveaway items you can choose. On top of the lasting impression they make, they're also something that your customers will use every single day. Having them customized to match your brand keeps your logo constantly visible, serving as a subtle, yet powerful reminder of your company.
If you're having troubling choosing between all of these amazing custom AirPods and earbuds, contact us today and we'll help you through the selection process and send you a free virtual preview of your logo on any of them so you can get a sense of what looks best!