Introducing Custom Eco-Friendly PopSockets & Free Recycling Program
People are simply more eco-conscious than ever before. And with eco-friendly promotional products becoming more readily available across the industry, there's never been a better time to work sustainable branded items into your promotional strategy. 
With a large percentage of both millennials and gen z considering the environment one of their top priorities, using eco-friendly promotional products is not only a win for your brand, but also for the planet.
Sustainable Promotional Items
If you're looking for a creative way to give your brand a boost, investing in sustainable promotional items is a great place to start. When you use promotional merchandise, you're getting the chance to associate your brand with the message that you're trying to send. In this case, you can invest in environmentally friendly promotional items and make a difference for the environment.
This is the kind of effective action that people want to see when they're researching your company before doing business with you. Many companies claim to care about the environment and being eco-friendly, but customers are becoming savvier when it comes to telling who cares and who pretends to care. 
PopSockets Continue to be the Essential Phone Accessory
This product went from virtually unheard of to nearly ubiquitous in a short period of time. This product solved the problem of wrist strain caused by smartphones practically overnight. Holding your smartphone has never been easier or more comfortable. Almost everyone has a smartphone these days and uses them constantly throughout the day.
That means that people are looking at their PopSockets very frequently throughout the day. They're also looking at the PopSockets of people around them, after all, they're designed to be eye-catching, and they're placed on the back of the phone where they're likely to be in eyeshot. If you're looking for a great promotional product, then look no further than PopSockets to get eyes on your branding with a frequency that you can rely on.
Eco-Friendly PopSockets Are Plant-Based
Introducing the new custom eco-friendly PopSockets that just made the original PopSockets that much better! You'll be able to put your logo on plant-based PopSockets so that you're making dozens of impressions every day as your clients go about their business. Most people carry their phones with them everywhere and check them frequently throughout the day.
Every time they pull out their phone, you'll be making impressions for your brand. If you're looking for an inexpensive and easy way to associate your branding with caring for the environment, then you're in the right place, because these custom PopSockets are the ideal way to get your logo as many views as possible for the price.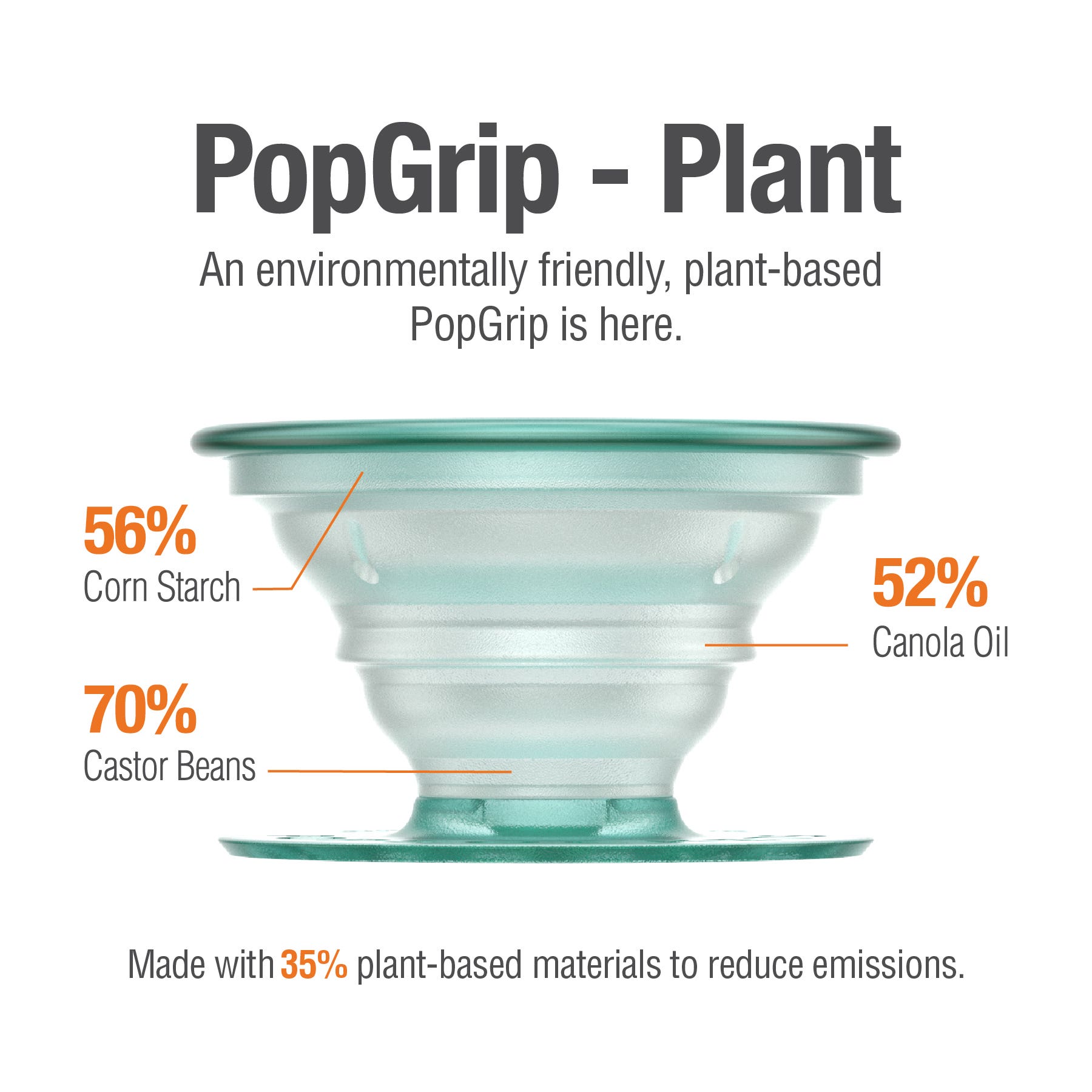 Custom PopGrip Plant
These are the eco-friendly PopSockets that you've been looking for. This is an environmentally friendly and plant-based alternative to standard PopSockets. They're made with 35% plant-based ingredients to ensure a reduction in emissions over other kinds of PopSockets. This is a small but important step forward in the fight against climate change, and you can be partnered with this exciting development when you visit the iPromo website and order some for yourself. Like standard PopSockets, they stick to the back of the phone and make handling them with one hand much easier and more comfortable. They're an easy investment to make, and now they're also helping out the environment. 
Help a Good Cause
When you invest in these eco-friendly PopSockets, you're doing more than just investing in a product. PopSockets have partnered with Terracycle to create a free recycling program. They're helping to recycle old PopSockets, packaging, and phone cases. In doing so, they're taking a big stand for the planet, and they're fighting against climate change. When you invest in their custom PopSockets, you're investing in a company that cares about the planet and is taking steps towards preserving the environment.
This recycling program has already processed over 57,000 lbs of PopSockets packaging, cases, etc. This partnership comes at the same time as the development of the PopGrip Plant. This is a perfect example of PopSockets putting their money where their mouth is when it comes to taking care of their obligations to the environment. Customers notice initiatives like this, and it does wonders for the company's brand image in question. PR can be a fickle thing, but when you do the right thing, people notice and choose you over a rival brand. When you invest in custom PopSockets, you're investing in this program, and you're going to attach your brand image to this fantastic initiative. It can't be overstated how much of a difference initiatives like this can make for your company's public image. 

Where Can I Buy Plant-Based PopSockets in Bulk?
If you're interested in investing in eco-friendly PopSockets, then look no further than iPromo. We're committed to bringing you the best bulk products that will make for fantastic promotional merchandise. We're happy to offer bulk products at a competitive price that will feature your logo prominently. We offer the PopGrip Plant at a very competitive price and can have it ready in 5 business days so you can begin making impressions as soon as possible.
We know how important your brand identity is to the success of your business, which is why we're so committed to helping you spread your brand awareness as far as possible, and for the best possible price. Visit our website today to learn more about this and other excellent products. We're more than happy to help you take your branding to the next level.