Office Gifts for People Who Are Always Cold
For some people, every day at the office is a trip to the North Pole, and not in the fun way where you get to visit Santa Claus. And whether your office's actual temperature is on the chilly side or not, presents that will help everyone keep toasty will almost always get a warm reception. That's why we've put together this list of great office gifts and company swag for people who are always cold. From the traditional hoodies and scarves to amazing contemporary conveniences like rechargeable hand warmers, these gifts will make the workday a little more comfortable for anyone who likes the heat cranked up. All of them are customizable with your business's logo, a custom inscription or almost anything else you want printed! 
Who Knew It Was So Easy to Create Custom Branded Travel Mugs?
1. Coffee Mug
When you're cold, there's nothing like a mug of hot coffee to warm you up. (It's not just the temperature of the beverage, either — caffeine actually speeds up your metabolism and makes you feel warmer!) And no matter your internal temperature, coffee is the only way to start the day for many people, so a well-designed mug can become a treasured everyday essential. iPromo's selection of custom coffee mugs includes dozens of colors, styles and materials. Keep it simple with a ceramic mug, or step it up to the elegance of stoneware. We even offer spooner mugs with a detachable matching spoon! To round out the package, think about including some custom branded coffee or tea. 
2. Tissues
Cold and allergy season in the office means that tissues are often some of the most in-demand office supplies. Especially in light of the ongoing pandemic, it's often best for everybody to have their own box or packet of tissues. So, when the air turns cold, make sure to stock up — and why not make things a little more fun and do some branding while you're at it? 
With iPromo's tissue selections, you can design your own branded custom tissue box or packet! We offer sizes ranging from mini tissue packets all the way to full-size boxes of tissues. Or, your employees might enjoy getting a little fancy with our high gloss tissue boxes with sleeves. Anyone in your office who appreciates comfort and convenience will thank you! 
3. Slipper Socks
Slipper socks are exactly what they sound like: socks that have the soft lining and slightly grippy bottom of your favorite pair of slippers. Yes, they are exactly as comfy as they sound! Slipper socks are especially perfect gifts if employees in your company are working from home since they're ideal for padding around the house. 
Check out the Fuzzy Feet™ slipper socks available through iPromo. These socks have an ultra-luxe acrylic lining that will delight anybody's feet, and their built-in dot grip makes them much better for traversing slick surfaces like hardwood or tile than standard socks. Add your logo to the cuff for an unforgettable branding opportunity! 
4. Travel Mug
A travel mug is essential for anybody who likes to take their caffeine (and their warmth) on the go. To help chase away the chills while out and about, we recommend our durable and stylish custom travel mugs. These mugs are designed with an insulated inner layer that helps them keep drinks hot in the winter (and cool in the summer). 
We've got all of the most in demand travel mug brands available for custom imprinting, including custom Yeti travel mugs and Arctic Zone® Titan Thermal travel mugs. These built-to-last mugs will keep employees' favorite beverages at just the right temperature, thanks to their durable materials like stainless steel outer shells and copper liners. 
5. Lip Balm
For many people, lip balm is an absolute must in cold temperatures. That's why some custom lip balm for your office can be a fun and effective piece of promotional swag. iPromo makes it easy to order custom lip balm imprinted with legend of your choice — and we've got a variety of fun flavors, too! We also know how annoying it is to lose your lip balm, so we also offer custom lip balms with carabiners and keychains to help everyone keep track of theirs. Our Burt's Bees neoprene keychain holder offers a cool branded keychain to keep track of your chapstick, plus a free tube of Burt's Bees! 
6. Neck Gaiter
Neck gaiters are a great way to keep your neck warm, but they're much more than that, too. They can also function as face masks, hats or even headbands in a pinch. There's so much you can do with a neck gaiter, and their ability to cut the wind makes them especially good for areas with bad winter weather. 
iPromo has custom neck gaiters that will help you rep your brand and make sure everybody stays toasty throughout the day. Our basic neck gaiter face cover is a popular and economical choice, and our full color tubular bandana even comes with an antimicrobial finish to keep it smelling fresh! 
7. Beach Bag
Many people who are always cold like to escape the freeze by heading somewhere warm. If your office is full of beach bums, high-quality custom beach bag totes make an excellent company gift. These tote bags are big enough for sandals, sunscreen, sunglasses, books and all of the other beach essentials. 
Of course, cold beverages are also a must-have for the beach, which is why we offer cooler beach bags with built-in insulation! Bags like our nautical insulated beach bag are equipped with special insulated cooler compartments that will keep everybody's favorite beverages cool until it's time to crack them open. 
8. Throw Blanket
A nice, cozy throw blanket can be just the thing to get someone through a chilly workday. Our custom throw blankets are available in many different materials, including luxuriously soft ultra-plush and sherpa blankets. Wrap one around yourself, and you'll see why they're so great to have on hand during the work day!
Throw blankets are also awesome because they're easy to customize. We can print your throw blanket with a full-size, full-color image of almost anything you want, including logos, photographs, illustrations and more. Give your employees a gift that'll keep them warm and comfy for years to come! 
Create Awesome Personalized Throw Blankets for Less!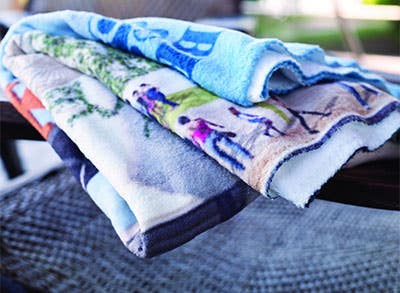 9. Hoodie
The hoodie is a classic for a reason. It's soft, it's comfy, it's versatile and it's easy to use for layering. Plus, we have custom hoodies available in a huge range of materials and designs! Our wide selection makes it easy to find an ultra-comfortable hoodie that looks great with your desired imprint. 
What styles does iPromo offer for custom hoodies? For starters, our selection includes both pullover hoodies and zip-up hoodies, and we also offer lightweight hooded t-shirt designs. All of our custom hoodies are made with quality materials that will hold up for years of wear and create a gift that's worth remembering.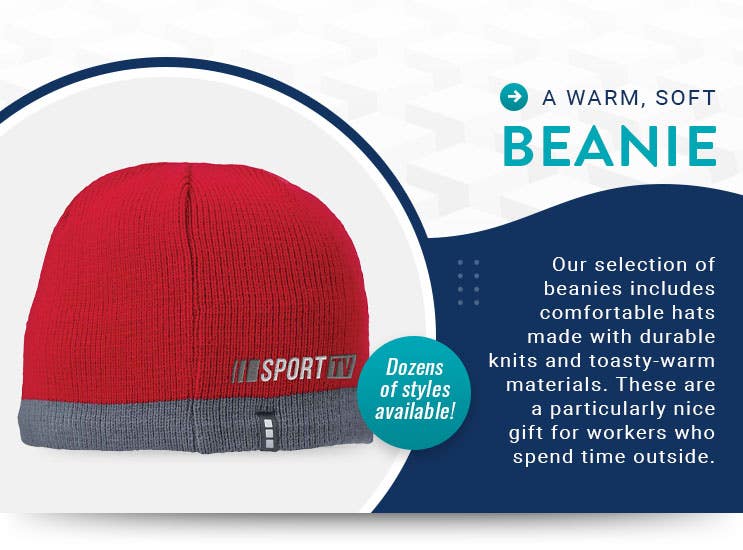 10. Beanie
A warm, soft beanie is an essential for the winter months, particularly for anybody prone to a chill. Our selection of custom beanies includes some amazingly comfortable hats that are made with durable knits and toasty-warm materials. These are a particularly nice gift for workers who spend time outside, but anyone can appreciate their warmth and coziness. 
If you're looking for options, our beanies are hard to beat — after all, we have literally dozens of styles available! Businesses can customize our beanies with printed logos or even custom embroidery. Our selection includes all kinds of popular styles, from a simple knit beanie to a classy cuffed rib knit beanie with faux leather patch. And yes, we also do pom-poms! 
11. Rechargeable Hand Warmer
These little miracles are some of our all-time favorite gifts for keeping warm, and they're definitely not your dad's hand warmers. Rather than disposable packets, our hand warmers are rechargeable USB devices that can provide hours of warmth from their 2500 mAh batteries! With three heat settings, anyone who's prone to getting cold will always have just the right heat when they need it. 
A rechargeable hand warmer is an ideal companion for any sports event or other outing that takes place in cold weather. What's more, the handwarmer's battery can even charge a cell phone! It's the ultimate all-in-one warmth solution and travel buddy for anybody who wants cold hands to be a thing of the past. 
12. Scarf
Here's yet another cozy favorite for keeping warm: a soft, high-quality knit scarf! Scarves make great office gifts because they're practical and useful for almost anyone, and they also come in a big variety of styles to fit any need. In areas with colder weather, a company scarf is practically a no-brainer. Even in warmer areas they can be a life saver in a chilly office.
Check out some of the exciting and fashionable custom scarf styles available from iPromo. From a classic soccer scarf, to the satisfying softness of a cable knit scarf, to a hip melrose scarf, the sky's the limit on cool custom scarves. Looking for a great gift set? Our comfy combo, featuring a matching beanie and scarf, could be just right. 
​​13. Personal Fireplace
A gently crackling fire is a recipe for instant warmth and coziness, and this FLIKR personal fireplace allows anybody to bring those wonderful feelings right into their home. It burns isopropyl alcohol for a totally clean flame with no soot or smoke, and it's safe to use indoors in a well-ventilated area. And get this: You can actually cook s'mores and other campfire foods on it! 
The FLIKR fireplace's aesthetics are also crafted for elegance and beauty. Each fireplace is made with a stately cement body that iPromo can laser engrave with your logo, and each one comes with a quartz coaster that creates a lovely complement. It's a truly thoughtful gift that's ideal when you want to reward someone for major contributions. 
14. Touchscreen Gloves
Cold hands can ruin anybody's day, but a bulky pair of gloves is no good for workers who frequently need to operate touchscreen devices. Enter: custom touchscreen gloves! These clever gloves make it easy to type on a touch screen while keeping your fingers and hands cozy inside a soft acrylic knit. 
The features workers need are all there: the ability to type with all five fingers, compatibility with a wide variety of phone and tablet manufacturers and, most importantly, a soft and comfortable feel. Plus, customizing your touchscreen gloves is just as quick and easy as it is with anything else from iPromo! Upload your image with your order, and we'll apply it to turn every pair into a charming branded gift. 
15. Hot Chocolate Bomb
What's warmer and cozier than hot chocolate? This chocolatey beverage is a favorite whenever you're cold, and the hot chocolate bomb is an unforgettable and fun way to whip up a piping hot mug of it! It's an ingeniously simple concept: a ball of chocolate formed around a core of marshmallows. Pour hot milk over it, and you've got yourself some instant hot chocolate! 
How could you make that even better? By customizing it, of course! We can print the box for our hot chocolate bombs with full-color designs, so feel free to get creative with this unusual but delightful gift. And, when it's time to take it up a notch, the donut-shaped hot chocolate bomb is sure to make an impact.  
iPromo's awesome selection of gifts will warm anybody's heart — even (and especially!) somebody who spends the whole workday wrapped in a blanket. Our process makes it crazy easy to order high-quality promotional products. In most cases, all you'll need to do is choose your item and supply the artwork! 
You can start right now — just click any product listing to explore your options for customization. Questions? Call our customer support line at 888-994-7766. 
Image Credits
impulse50/Shutterstock.com
Just Life/Shutterstock.com