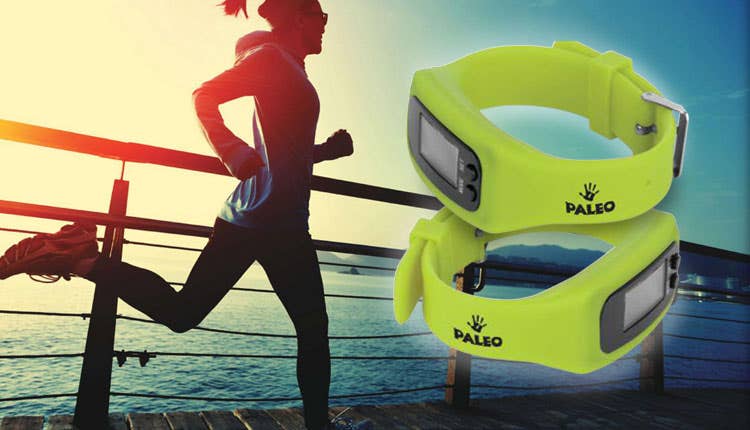 Jump-Start Your Wellness Program with Custom Printed Pedometers
Don't miss a step with custom pedometers that will be sure to get your next fitness marketing campaign or fundraising event off to a running start.
You Can't Go Wrong When Give the Gift of Great Health Tracking Equipment
As we begin every new year, wellness programs and initiatives are in full swing to bring awareness to heart health and a fit mindset. Started in 1963 by President Lyndon Johnson started an initiative to bring attention to the dangers of heart disease, which to this day, still remains the leading killer in America, and that is all the more reason that custom fitness gear is all the rage in 2020.
Essentially, no matter the motive or time of year, giving your employees, clients or anybody else the tools that they need to take control of their fitness and health in 2020 and beyond with the best pedometers and custom step counters available?
Not only do our amazing assortment of custom printed pedometers come complete with a full range of tech-forward features and extras that make them appropriate for almost any occasion or budget, but these top-of-the-line printed pedometers are also a perfect way to raise awareness while associating your brand with a worthwhile cause.
Put Your Best Foot Forward in Your Next Marketing Campaign…
So, why choose branded pedometers to help you step up your mission?
The fact that these highly portable products are literally designed to be taken on the go means that you will be drumming up endless exposure wherever they go. After all, promotional products already offer amazing returns, with investment starting as low as a pithy 1/10th of a cent per unit, and the average product drumming up multiple thousand views.
That said, it might not come as a surprise that promotional product advertising is the most effective form of advertising there is, with 55 percent of people preferring it over any type of popular medium, including Internet advertising.
Of course, when you really think about it, this is really no shocker either, given that when you choose to associate your name with a tangible gift that people can actually use, show off or even give away, they will not only have a concrete and usable reminder of your brand or cause always at hand but as the laws of reciprocity dictate, they will also be inclined to want to support you or your cause on return.
Once again, the reasoning here is pretty simple. When we receive a useful, attractive and high-quality gift like a custom clip-on pedometer we naturally want to reciprocate those good feelings we get by giving back to the giver, and giving people a way to stay healthy is obviously going to make them feel good.
---
---
So, to sum it all up, why multi-versatile and highly portable items like custom pedometers that support a healthy and balanced way of life are a win for everybody, no matter what your budget or purpose.
The Best Promotional Pedometers That Really go The Extra Mile
Whether you are promoting a worthy fundraiser event, raising awareness, looking for the best health and nursing swag, or are just wanting to celebrate and raise awareness for Heart Health Month, we have all the pedometers to help you step up your game this year. Read on for some of the best suggestions on where to start.
Don't Miss a Step With Imprinted Pedometers That Go the Extra Mile
As highly-affordable as they are useful custom step counters are the perfect giveaway promotional items to raise awareness, kick off your fundraising event or steal the spotlight at your next tradeshow event.
Take, for example, this Designer Top-View Pedometer is capable of tracking up to 99,999 steps, all with the intuitive push of one simple button. Even better, it features smart and auto shut-off and idle mode technology, all wrapped in your choice of seven eye-catching color accents to perfectly offset your precision pad printed or detailed full-color logo design. You only have to order 100 items to qualify, and the fact that it features a built-in belt clip means that it will be turning heads all over town.
Or, for an even more budget-friendly custom clip-on the pedometer option, don't miss this chic Alexia Pedometer. Available in five fun translucent color picks, your clients or employees won't miss a beat with this super easy-to-use design that packs a five-digit step counter, reset button, and batteries into a super lightweight and highly portable package that everybody will be showing off wherever they go.
However, those who want to clock in a step above the competition won't want to miss out on an opportunity to get their name on this one-of-a-kind Pebbly Deluxe Pedometer. These elegant blue framed custom step counters feature tons of handy extras timer, clock and distance functions while allowing the user to adjust their personal sensitivity settings for the most accurate reading possible, meaning that your employees and clients to put this top-of-the-line custom clip on pedometer to good use.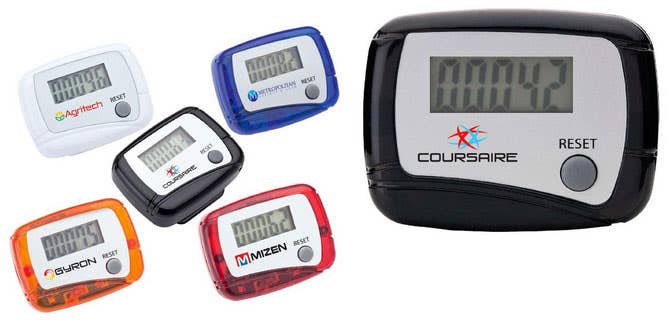 ---
Make It Count With Wristband Style Combine Cutting Edge Tech With Comfort and Portability
Everybody loves a good custom clip-on pedometer, but wristband style printed pedometers really max out on convenience in that they are not only double as a fun fashion activity, but they are literally always at hand when you need them.
For instance, this sleek Pedometer Activity Watch is as practical as it is multi-functional. Featuring a built-in activity watch display that displays time, calories, steps and distance, all mounted on a stylish and uber-comfortable and sweat-resistant silicone wristband available in your choice of five chic color picks, you can really rest assured that you are putting your best foot forward with your next marketing initiative or fundraising opportunity with this killer pick.
However, those that really want to knock it out of the park won't want to let this elegant Tap N' Read Fitness Tracker Pedometer Watch pass them by. When it comes to this intuitive design framework, cutting edge technology doesn't have to be complicated. The smart energy-saving reflective LCD display technology only requires the touch of a finger to seamlessly toggle between tracking steps, distance, calories burned without any complicated app syncing or smartphone backup required to get started.
It is offset on a soft silicone wristband in three sharp color choices and is water-resistant up to 3 ATM while boasting a long-lasting battery life and a spare set of button cell batteries even included. Talk about a healthy way to turn heads!
Pro-Tip: Take Advantage of the Best Co-Branding Opportunities to Level Up Your Campaign
So now that you have a great idea of where to start, we are going to leave you with one last insider secret that will really ensure that you truly knock it out of the park. Seizing an opportunity to associate your name with the already established industry leader is one of the smartest ways to jumpstart your campaign, and when it comes to the best of the best in custom pedometers, there is no brand more in demand than Fitbit.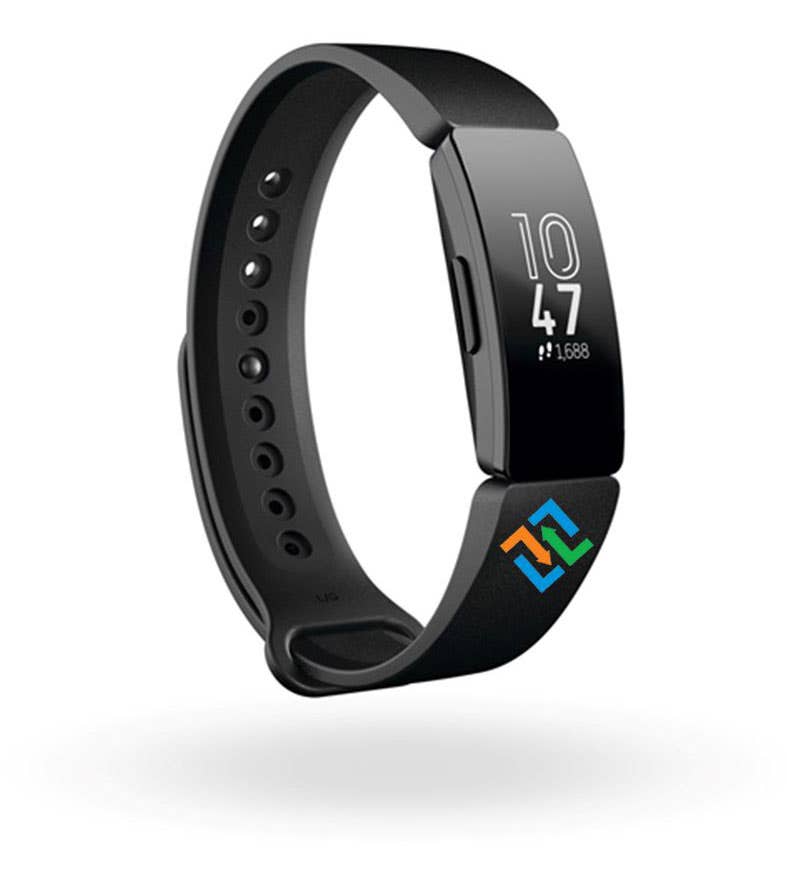 Keep in mind that for those who might not be able to spring for the extra investment, models like this Everlast Activity Tracker/Sleep and Heartrate Monitor are still the type of tech-savvy, high-quality corporate gift that your clients are going to love, all for a more affordable price point.
That said, it is good to associate your name with the brand that everybody wants to own, and high-quality exposure is only one, but it is a big one. Keep in mind that when it comes to reasons that people are likely to want to hold on to promotional products, quality tops the list. Even better, these types of products built to last, not to mention that they are the type of things that anybody would be proud to own, and this means that your investment will go further, longer.
So, whether it is the Fitbit Charge 3 Fitness Tracker that takes our understanding of health and fitness to a whole new level with unbeatable features, app integration and up to seven-days of unlimited battery lifespan, the uber multi-functional Fitbit Versa Fitness Watch or Fitbit Versa Lite Edtion Smartwatch that are literally designed to suit any lifestyle or the streamlined Fitbit Inspire HR Fitness Tracker, when it comes to the best pedometers and then some, we have everything you need to make the type of impression that really counts.
The Takeaway
Whether you are fundraising for a heart health-related event, wanting to get your fitness center on everybody's lips or just want to show your employees and clients you care by giving them the invaluable tools that they need to live a healthy, balanced lifestyle, custom pedometers are the type of gift that literally everybody will appreciate.
When it comes to giving the type of branded gift that really counts, pedometers with logo are always a hit, so swing by and check out our winning selection today.