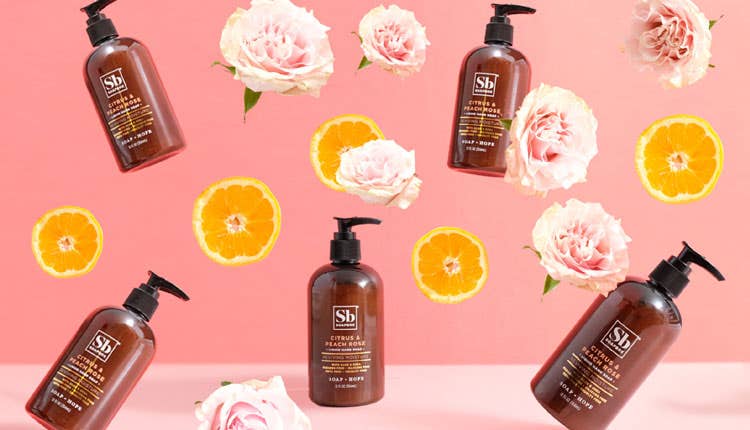 Meet Soapbox: For Every Branded Soapbox Product Ordered, a Bar of Soap Is Donated to Someone in Need
It's better to give than to receive, and Soapbox is a skincare company that is determined to live out this mantra on a global scale. For this innovative business, philanthropy means so much more than a gimmick. For Soapbox, giving back is woven into every aspect of doing business, from product design to trackable donations. 
Soapbox has created a solution that answers a key demand in the market. Today's consumers are eager to spend money on brands that are committed to helping the world in some way. However, people are also busier than ever. Customers are juggling their desire to invest in ethical products with busy schedules that prevent them from volunteering or researching opportunities to give. 
Branded Soapbox products offer an easy way to give back, and now the ability for your company to co-brand to create a unique and thoughtful corporate gift your recipients will love and appreciate. With a wide range of high-quality skin care products, it's easy to find an item or gift set that meets your needs and budget. Then, after every purchase, a bar of soap is donated to someone in need. It's as simple—and powerful—as that. 
Soapbox's business model? Deliver soap—and hope
Looking for a company that's embracing the future? The business model at Soapbox is founded on two revolutionary ideas that stem from a philosophy of action. First, they understand that generosity is a daily act. With every purchase, a bar of soap is donated. Rather than waiting once a year to make a donation, Soapbox donates every single day. 
Second, the brand invites consumers to be part of the process. Instead of highlighting philanthropic activities as a distant company initiative, Soapbox makes the customer feel like an integral part of giving. Every single product comes with a trackable label code to see which specific project that product supported. For instance, the Nourish & Restore Gift Set has a unique HOPE code that indicates a regional project the purchase went to support.
This type of process cements the emotional relationship between brand and consumer, encouraging people to make connections between their purchases and communities in need. Through this innovative business model, Soapbox is delivering both soap and hope.
---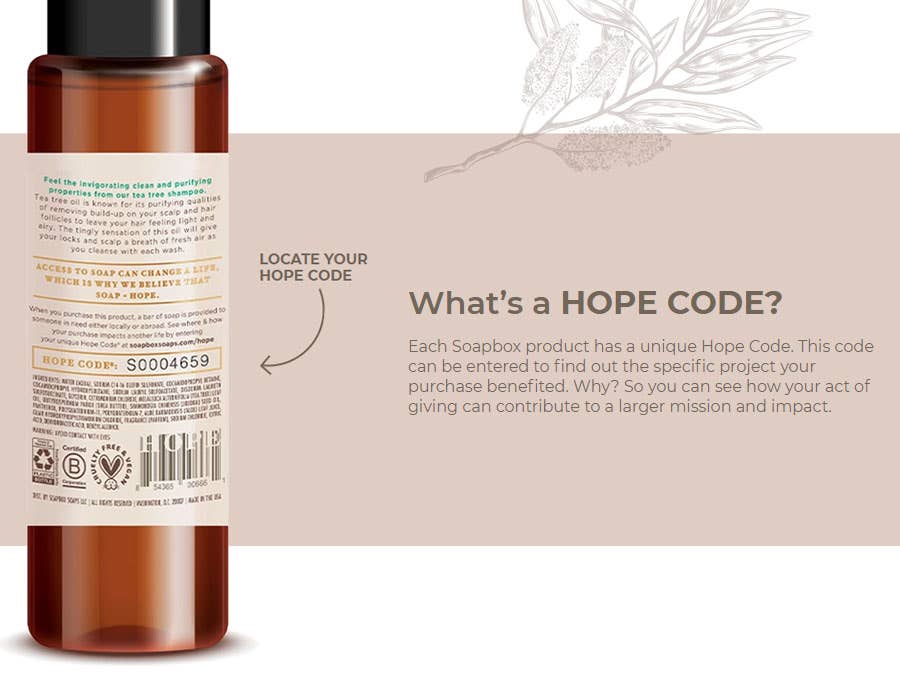 Why soap? It's a gift that unlocks hygiene and much, much more
You may not think twice about having access to soap. After all, it's normal to have a bar of soap in every bathroom in the house. You may even have multiple types of soaps for facial cleansing, washing your hands, and doing the dishes. But in marginalized communities, soap represents so much more than simply the ability to clean. It's a symbol of hope and a step toward safety. 
Clean hands and clean homes can unlock a lifetime of well-being. With access to soap, people in need can avoid sickness and go to school, work, or volunteer to improve their communities. It's also important to point out not all soaps are equal, however. Soapbox uses vegan, cruelty-free ingredients that are free of artificial colorants. Chemicals are not the key to health, and Soapbox knows this.
Giving back should be easy
After 2020, people understand that we need to take care of one another all over the world. Thanks to brands like Soapbox, businesses can co-brand with confidence, knowing that donations will be made to those in need. It shouldn't be hard to be generous. Soapbox's tagline is "Giving back should be easy." It's not only something they say, but it's something they do. Through every customer interaction, Soapbox makes it easy to give back via thoughtful design and straightforward business practices.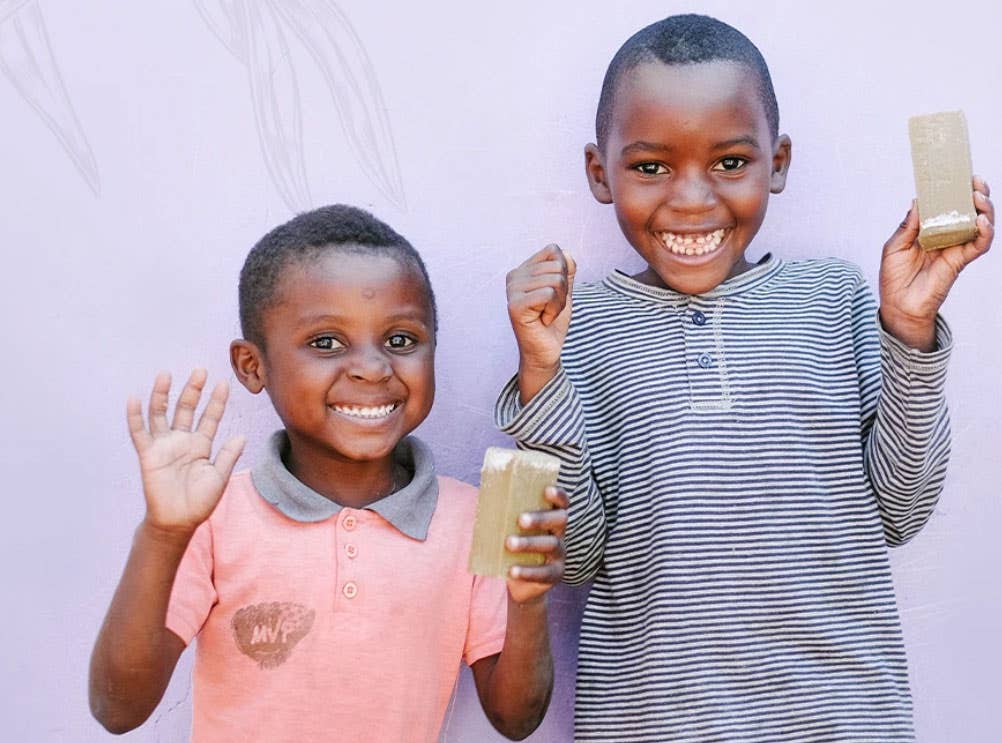 Tracking Impact—making it easy for customers to understand their influence
When you think about impact, nothing is quite as powerful as self-driven journeys. What does this mean? It means involving people in the activity.  Soapbox gives customers the opportunity to get involved in the philanthropic process. Their HOPE code delivers a two-fold result. It creates good feelings by allowing people to visually track their impact through the donation. It also builds trust by being transparent about results. 
Rather than a dense annual report, it's easy to go online and quickly understand how it works. That's a feel-good gift that will be remembered for years to come, and Soapbox is the key to making this happen for your gift recipients.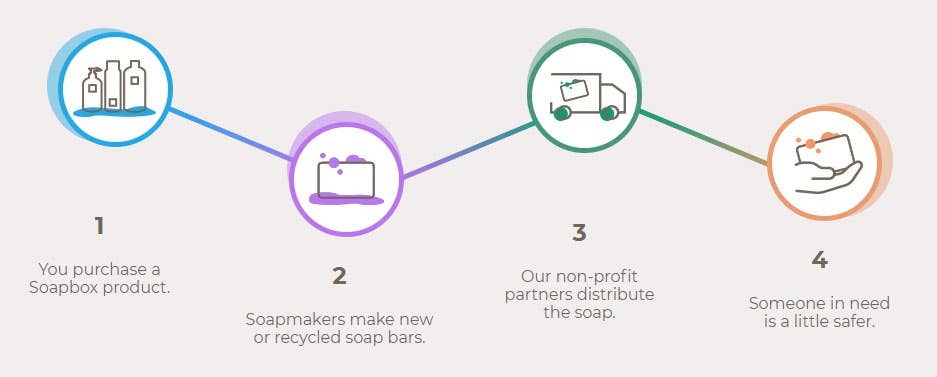 Custom Soapbox gifts for employees, vendors, and other partners
Soap never goes out of style. It's easy to ship, delightful to receive, and the packaging is easy to customize. For employees, vendors, or other professional partners, a set of soaps is sure to be appreciated. If you want to make an impact with a thoughtful gift, Custom Soapbox has a gift set for you. 
Soapbox™ Hand Sanitizer Cleanse, Carry n' Go
Sanitization was the word of the year in 2020, thanks to COVID. These days, everyone needs an attractive, portable hand sanitizer to carry on errands. The Soapbox Cleanse, Carry n'Go kit is perfect for every person on your list. Have your logo branded on the zippered pencil pouch. The sanitizer bottle contains 8 ounces of unscented, 70% alcohol sanitizer solution. It also contains Vitamin E to prevent hands from drying out and cracking after sanitization.
This is a great gift because the kit perfectly fits the bottle, giving you extra brand exposure out in the world. But it's great for the gift recipients, too, since the pencil kit can be reused over and over again. Once the bottle is empty, they can use the pouch to hold pens and pencils on the go.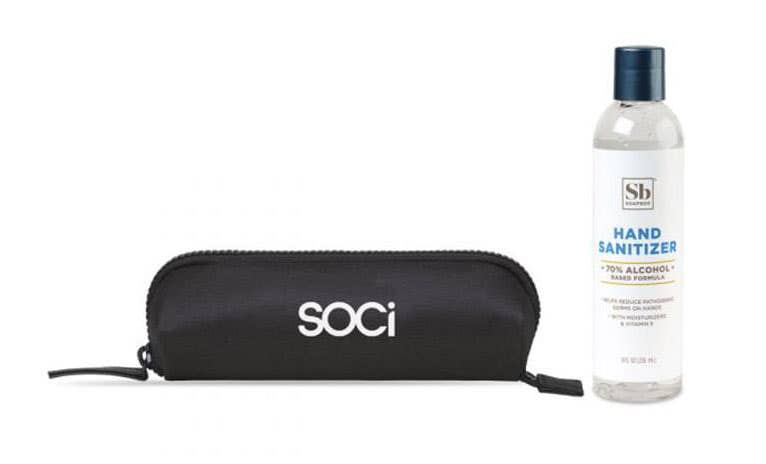 ---
Soapbox™ Healthy Hands Gift Set
For a slightly bigger impact, choose the Soapbox Healthy Hands Gift Set. You'll get a bigger cotton pouch with more room to display your company's brand. The soap bottle is filled with one of Soapbox's renowned, reviving formulas. It's a fresh scent with a mix of aloe to keep hands moisturized. The Healthy Hands kit is great for your employees who are still working from home.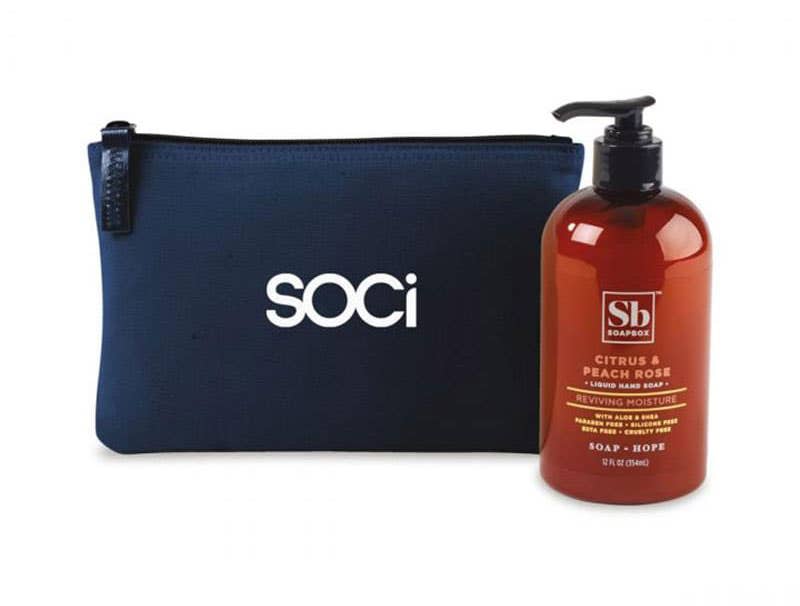 ---
Soapbox™ Hand Sanitizer Duo Gift Set
With three zippered pockets, the machine-washable pouch in this gift set is a very attractive gift. The Soapbox Hand Sanitizer Duo Gift Set is the perfect item for people on the go. The pouch can be customized with your logo, and can stand up to years of use once the hand sanitizer runs out.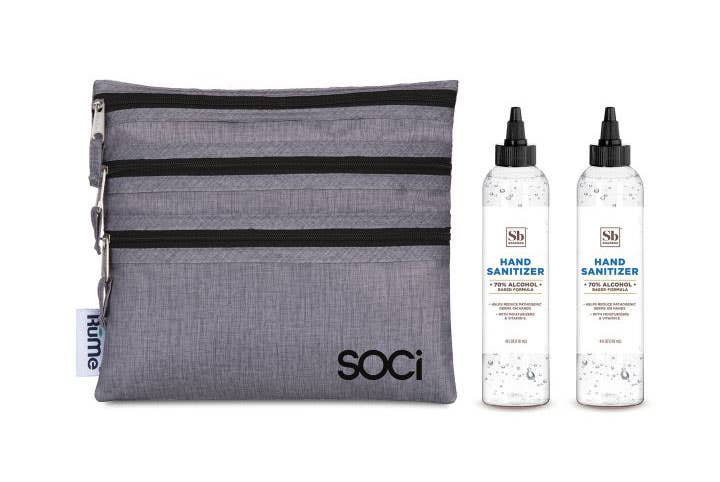 ---
Soapbox™ Nourish and Restore Gift Set
If you're eager to avoid plastic bottles, then choose the Soapbox Nourish and Restore Gift Set. It comes with two bars of high-quality, paraben-free soap and a branded, zippered pouch. Once both bars are used up, there's no waste! This is the perfect eco-friendly gift to say "thank you" to your employees while also taking care of the planet. Remember, every Soapbox gift has a unique HOPE code so recipients can see the impact of their gift and the donated soap.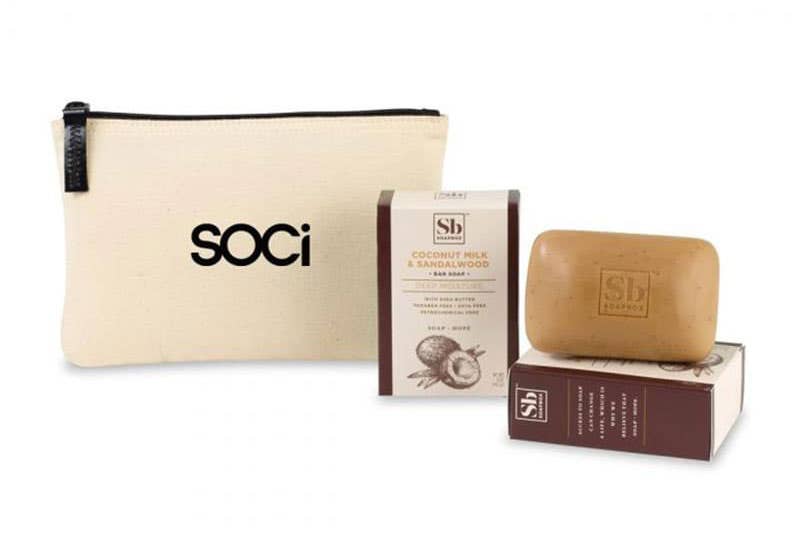 ---
Soapbox™ Cleanse & Revive Gift Set
This tote bag comes with a bottle of hand lotion and a bar of soap. Choose from three different scents: Citrus & Peach-Rose, Coconut Milk & Sandalwood, or Sea Minerals & Blue Iris. The tote has a delightful hand-strap and plenty of room for your brand on the front panel. The Soapbox Cleanse & Revive Gift Set is perfect for the hard winter months, when hands get dry. Show people that you care by choosing this thoughtful duo gift set with branded tote.
---
Soapbox™ Cleanse & Soothe Gift Set
Finally, elevate your gifting with a two-bottle gift set. The Soapbox Cleanse & Soothe Gift Set is a tote bag with a bottle of cleansing soap and a bottle of lotion. They make an attractive duo, and they also trigger the donation of a bar of soap to someone in need. 
The coated cotton and polyester tote bag is perfect for your company's brand, and the two Soapbox bottles will look very inviting on your recipient's sink. Plus, they can look up the unique HOPE codes to see the impact of the gift on a community somewhere in the world. 
---
Finding a gift that makes an impact is easier than you think with iPromo. We carry a wide range of corporate gifts that give back and guides about where donations go for each product.
Branded Soapbox products great skin care product that makes for a perfect corporate gift anytime of the year. It's a memorable and mindful gift, connecting your company with global philanthropy efforts that your recipients will love and appreciate! Contact iPromo today to get started on your Branded SoapBox gift project.