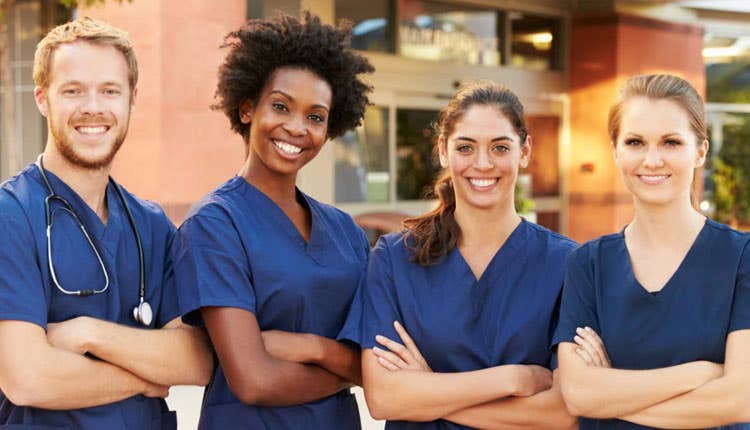 Now More Than Ever: Celebrate Nurses Week 2020
May 6th to May 12th, 2020 marks Nurses Week in the U.S. This year's theme is Compassion, Expertise, Trust. This week generally marks a time to showcase appreciation for nurses, as well as provide education for the general public on the exact nature of their jobs and how they contribute to public health. However, this year, it's especially important to show your appreciation with smart gift choices.
Even in relatively peaceful times, nurses are an essential pillar of the healthcare system, helping provide both excellent care and compassion for patients. In the midst of the current pandemic, though, they are being taken to new limits to provide support. This includes both the sheer volume of patients they are taking in, as well as the health risks they are experiencing due to the lack of medical knowledge about COVID-19 and shortages of essential PPE (personal protective equipment). The amount of time away from their loved ones during this time creates an emotional struggle as well.
In 2020, in particular, it's more important than ever to take Nurses Week seriously for this important group of front-line workers. As COVID-19 spreads through our communities, they are standing on the front lines, fighting back to keep us safe and healthy.
If you're looking for some unique ways to show love and appreciation to your nurses in 2020, here are a few smart ways we can help you go about it.
PPE For Those In Need
One ongoing issue that we see in healthcare facilities of all kinds across the country and the world is PPE shortages. Typically, nurses dealing with infectious diseases have a litany of different equipment to protect them, which is then quickly disposed of between patients.
However, due to an overabundance of patients and lack of equipment, many nurses are resorting to reusing equipment and potentially putting themselves at risk. As a result, companies who want to give thoughtful branded gifts to nurses during Nurses Week should start their efforts here.
Perhaps one of the biggest items in the discussion about PPE for nurses is facemasks. N95 face masks are the gold standard for protection, but are in short supply across the board. We offer a few alternative measures to give some manner of protection for nurses that are working with COVID-19 patients and other infectious patients. These include K-95 face masks as well as reusable face shields that lower some of the equipment burden.
Another concern for nurses, even when they're not working directly with patients, is exposure on their way to work or in common areas. We offer disposable 3-ply face masks for nurses to use in these circumstances. In addition, there are basic cloth masks and cotton bandannas for the family members of nurses who may be going out to buy groceries while they work. These handy face coverings come in a variety of colors. You also have the choice of applying your unique logo or artwork via screen printing, embroidery, or heat transfer. Not only that, they also provide a great opportunity to sport hospital pride during this trying time.
While a lot of the global conversation in terms of PPE revolves around masks, there are a lot of other essential items that you can contribute to the cause. One key example is gloves, which are necessary to handle both patients and objects in areas where infectious diseases are a concern. We offer both protective PVC gloves and nitrile gloves, depending on your preference and needs. The eyes are an important vector for protection as well, so consider looking into protective glasses and eyewear when shopping for Nurses Week 2020.
In some cases, you may need to go to the next level when it comes to protective gear, and we have options to help here as well. Take these isolation gowns which are ideal for nurses spending extended periods of time around sick patients in order to minimize the potential risk of infection. You should also consider class 2 Hazmat suits and disposable surgical gowns. Each of these different options has different situations where they are the ideal choice, which is why a combination of these different options may be the best idea when it comes to putting together a gift package for Nurses Week.
As an added note in this conversation, one thing that doesn't get talked about often when it comes to infection risk is footwear. Droplets in the air with a virus can be transmitted after they fall on the ground when people step on them, then carry them around via their footwear. We can help with this essential area with disposable covers for medical shoes.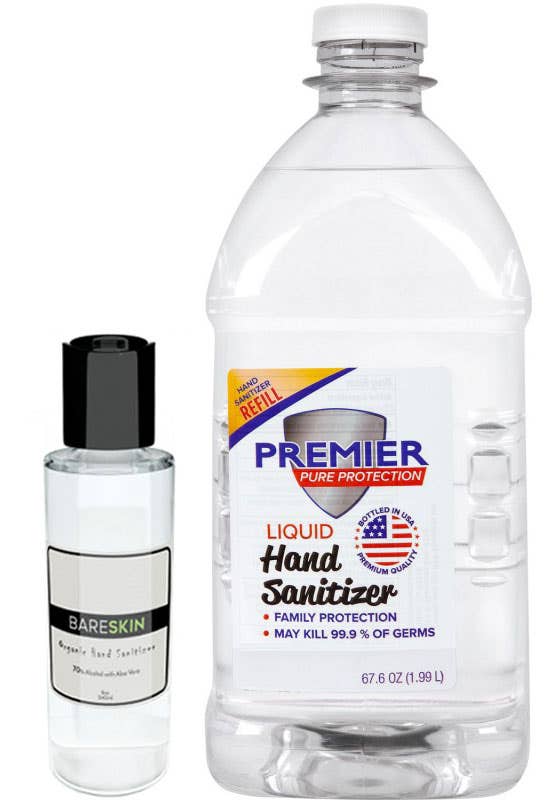 One thing that we shouldn't neglect when talking about PPE is a lot of the smaller components that nurses use on a regular basis. These may not be articles of clothing, but the accessories that they use throughout the day to make sure they have quick, on-the-spot protection.
For example, thermometers that either provide readings without contact or just upon contact with the forehead are an essential item that will allow them to take a patient's temperature without getting overly close. Fever is a major indicator of COVID-19 infection and progression, so this makes a useful way for nurses to track patient progress without exposing themselves to unneeded risk.
In addition, when going through their workday, nurses need to follow a regular regimen of disinfecting themselves in order to stay as safe as possible. Due to the sheer volume of these procedures, medical facilities require an enormous amount of hand sanitizer and antibacterial wipes to protect both the staff and clean work stations. We offer a variety of different sizes so you can either provide a personal set to the nurse in your life or help an entire team stock up for Nurses Week 2020.

Workplace Essentials
PPE is the most urgent workplace concern for nurses in 2020, but there are also a lot of other points of consideration. Anything that can help make aspects of their core work easier is a major help. This ranges from storage options to food containers to scrubs and other workwear. Along with PPE purchases, these are smart branded buys to show support for these hard-working men and women. So, where do you start?
For one thing, potential infection vectors that don't often get discussed are writing utensils. Nursing and medical settings generally require a lot of paperwork, and in the current conditions, it's important that everyone has their own pens to reduce infection risk. We can help with a branded iPROTECT® Antibacterial pen. It contains an antibacterial additive that ensures 99.9% protection against bacteria on the surface of the pen. Not only that, it provides a great opportunity to showcase your brand or hospital with customization through the screen printing process.
This is only the tip of the iceberg when it comes to gifts you can give during Nurses Week that help these hard-working professionals with the smaller elements of their work routines. For example, along with doing paperwork, many nurses spend a lot of time in front of screens entering in or referencing patient information. All this exposure to blue light can lead to eye soreness and headaches. These Blue Light blocking glasses can be a useful tool here. You can also apply your custom artwork or logos via the screen printing process, which makes these glass both useful and impossible to forget.
In addition, there are a lot of useful tools in many workplaces that can be especially convenient for nurses during this unprecedented time. For example, in order to keep in contact with their loved ones or even other coworkers, many nurses are reliant on smartphones and other mobile devices. Something like the 3-In-1 Xoopar Octo-Charge Cables let multiple people charge their devices from one USB port, freeing up outlets and other ports for emergency situations/workplace use.
Best of all, you can add additional customization through our screen printing press, like a company logo. If there are no ports available, consider the equally customizable Tandem Phone & Watch Wireless Charging Pad so their phones are always ready for use.
On the topic of charging devices, something like the Reagan Heathered Backpack is great for not just storing things that a nurse may want to bring to work, but also charging up their own personal devices with its own USB cord/charging port. Many nurses during this time may be doing long shifts without the ability to go home and pick up certain items. Gear like a backpack is key to make sure they have all they need. With the ability to add custom artwork via screen printing, or simply a full-color change you can make sure your team's gear stands apart from the rest.
On this same topic, to both conserve resources and minimize the risk of germ spread, it's important that nurses have personal and reusable items to stay nourished, hydrated, and energized during those hard shifts. A customizable 20 oz. Himalayan Tumbler With Custom Box is a great way to easily identify whose drink belongs to whom. Showcase a company logo or peaceful images with screen printing, full color, or laser engraving options. Help nurses cut down on plastic cookware by buying them a reusable Wheat Utensil Lunch Set as well. Safe for the microwave and made of renewable materials, these are great both for the work environment and world environment. Customizing these with screen printing will make them more memorable to boot.
Due to the massive amount of demand, some nurses are coming out of retirement in order to be able to help in affected areas. Some new nurses are also getting thrown into things earlier than they usually would. Because of this, they may need to get/reobtain even the most basic of equipment, like medical scrubs. We can help provide women's and unisex medical scrubs to help get these returning/new heroes onto the front line as soon as possible.
---
Outdoor Gear
At the moment, the primary concern for nurses in 2020 is safety, and this is well-deserved. However, we should also talk about what's going to happen as the pandemic peak subsides and we enter the new normal. Nurse burnout has always been an issue in the profession, generally stemming from a combination of being overworked and not feeling enough support.
Naturally, these concerns are even larger in the current climate. While nurses may not be able to feel that reprieve right now, when the patient load starts to drop, they will want to try to reclaim that work-life balance. Some smart branded gifts for Nurses Week 2020 are great to help prepare them for this time.
A lot of the options we have for this category focus on the outdoors because that's naturally going to be something we all want to gravitate to as soon as it is safe to do so. Even when nurses aren't at work inside medical facilities, lockdowns and shelter-in-place orders keep them from taking those outdoor excursions and trips that help relieve stress.
Remind them that there is a light at the end of this tunnel during Nurses Week with gifts surrounding that idea, like a Men's Team Prestige Full-Zip Jacket. Fully customizable with screen printing or embroidery, these are great for keeping warm and relaxed on outings with the family, or just a jog around the neighborhood. For nurses who are still working in cooler weather, this can be good for heading to work as well.
Also, when people are able to be out and about again, they are going to want to have their mobile devices ready and charged to share with their loved ones and just stay in communication. The Constant 10000 MAH Wireless Power Bank w/Display is great to assure you aren't stuck with a dead smartphone during an outing. Make sure that the nurse in your life doesn't get these lost or mixed up by applying a customized screen printing or full-color artwork. Or, if you plan on listening mostly to music during this time, make sure you have a set of Braavos Wireless Charging True Wireless Earbuds that can also be charged on the go. Make them unique by screen printing on their hospital logo.
In a post-COVID-19 world, we're all going to be valuing something like a simple picnic outdoors with family and friends in a whole new light. This especially applies to nurses, who are putting in massive hours with lots of stress during this period. As a result, if you're thinking of gifts for nurses in 2020, helping them put together all the gear they need for an outing like this is a great idea. A park fleece blanket is perfect for everyone to sit on and take in the sun, and you can personalize it with your screen-printed artwork. This Break Time Lunch Cooler to hold drinks and snacks will be a welcome addition as well, and add a personal flair with customized embroidery, screen printed artwork or full-color changes. For those that are going solo, just use a customizable CamelBak Eddy®+ 20oz  bottle. You can customize with screen-printed logos or full-color changes as well.
---
Getting Involved For Nurses Week 2020
Nurses Week is a time that has uniquely special meaning in 2020. Not only is the work that nurses do taking center stage worldwide, but more and more people are becoming aware of the rigors and stresses that the job provides. This makes the perfect time for people on the outside to do their part and provide gifts, donations, and support to a group of people who are doing so much right now.
During this time, iPromo has shifted its international shipping capabilities to help support hospitals and healthcare facilities, but there are plenty of ways that you can contribute. From buying PPE to a thoughtful gift to help a nurse through their workday, now is the ideal time for everyone to try and do their part.