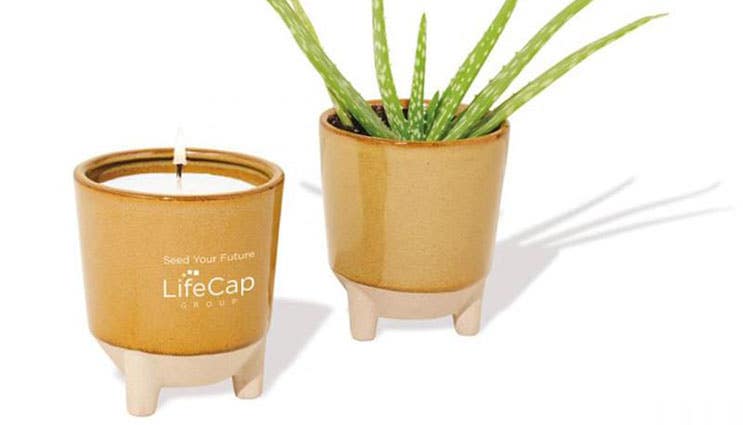 6 Best Realtor Gifts for Clients
As a realtor, you know that showing appreciation for your clients is critical to your success. Not only do they help you celebrate big sales and mark major milestones, but they can also help solidify your reputation in the community and encourage your clients to refer you to their friends. (Be careful, though, because while gift-giving is totally legal, paying for referrals usually is not). 
Discover Great Promotional Products
Even if you're not currently serving them, but you have in the past or know you will in the future, a small gift as a token of appreciation goes a long way in keeping the relationship going and encouraging referrals. If you're stuck for gift ideas, keep reading. Below are some of our favorite and most creative client gifts to help you rack up the referrals and repeat business.
Living Decor: A Custom Candle and Planter

– Looking for a gift you can give your client to warm up their home in more ways than one? Consider the thoughtful

Modern Sprout Glow and Grow Live Well Gift Set

that comes with a ceramic candle vessel that transforms into a planter once the candle burns down. It also comes with a complete kit to grow aloe, so it's truly the gift that keeps on giving.

Practical and Personal: Custom Brag Boxes

– No matter the client, a BRAGbox is a great option that comes with tons of amazing goodies. The

Fireside Vibes BRAGbox

includes a delicious hot chocolate bomb, a black matte tin candle, a soft plaid sherpa blanket and a camping mug, making the perfect present for encouraging clients to enjoy the cozy fire in their new home. It also comes gift-ready — no prep needed.

Signed, Sealed, Sold!: Custom Pens –

What's better than a gift that's practical

and

personalized? In real estate, it's all about the big signature. Mark the occasion by giving them

the gift of beautiful custom pens

at the signing. We recommend the Paper Mate® Inkjoy Gel Pen for a high-quality solution. Order a pen with their name engraved on it or the date they made their big purchase or sale. Make sure to stock up on promotional pens with your branding to hand out to prospects throughout the year.
Cheers!: A Custom Wine Bottle Gift Set

– Raise a glass to a big sale with custom drinkware, such as our

Custom Wine Bottle and Glass Gift Set

. This is a versatile gift you can give to clients you know enjoy a nice glass of wine, and it even comes with an engraved wood box for a classy touch. Order a personalized wine glass, beer glass or flask set, depending on your client's preferences. If you know their drink of choice, you can include it as a fun bundled gift you know they'll adore. Customize them with your logo, their names or the date they closed on their home for a special touch.

Sweet Sipping: Custom Coffee Mugs

– There are few folks in this world who shun a great cup of coffee. That's why we always

recommend custom coffee mugs

for all sorts of client appreciation presents. Think outside the box

with an electric coffee mug

that keeps their cup warm and toasty all morning. The best part about this gift is that you can pair it with their favorite bag of java or a gift card to the local coffee shop. 
Give the Gift of Branded Travel Mugs
Kitchen Aids: Custom Cutlery Sets

– If your client is a first-time homeowner or moving to town from far away, consider giving them the gift of practical kitchen tools, such as the

Custom Kitchen Essentials

.
iPromo is your one-stop shop for all kinds of client appreciation gifts, no matter if you want to go big or small. Stock up on bulk client gifts from our selection to ensure that you've got goodies to hand out for all your next big deals. This is a great way to ensure that your clients are happy with their experience working with you, which can lead to bigger, better deals down the road.