Pawriffic Dog Promotional Items & Pet Giveaway Ideas
Anyone who has a pet knows exactly how special the connection is between people and their furry family members. With pets, especially dogs, the bonds are far stronger than most people are even willing to admit. It's only natural that you would want to treat them like the royalty they are. That's why giving out thoughtful dog-friendly promotional items is a creative and new way to connect your brand to your clients and even employees.
If you're looking to reach out to more potential customers in the pet industry, pet promotions are a great option. Places like pet stores, veterinarians, dog groomers, shelters, dog walkers and pet trainers are optimal locations to give away dog promotional items. You'll reach more clients that will actually find these products useful in their everyday lives. Plus, their dogs are sure to love them.
Anyone dedicated to their pets will appreciate such a kind gesture. With our quality products, you know your branded pet items will be used for years to come.
Best Dog Promotional Items and Pet Promos
At iPromo, there are a large number of promotional pet care products to choose from. These can include pet food bowls, pet gear bags, pet water bottles, LED lights, food lids, and much more.
7-Inch Pet Collapsi Bowl
Collapsible pet bowls are a new and innovative way to keep your dog hydrated on the go. The 7-Inch Pet Collapsi Bowl is perfect for dogs of every breed and size. These dishes are pet-friendly and FDA tested and approved for food and water contact. The carabiner attachment allows you to attach this bowl to any leash, backpack, or belt loop for added portability.
Fully customize this bowl to get brand exposure where dogs dine! Your company's logo will be screen printed and placed on the front of the bowl and it only takes five working days for this product to be produced.
---
Buddy's Pet Gear Bag
Does your target audience like to travel? Buddy's Pet Gear Bag is able to hold all the toys, treats, and bowls that your customer's pups could ever need on-the-go. This functional travel tote features a zippered main compartment with expandable front pockets. The rear flap unzips to create a convenient placemat for a pet's food and water bowls. Plus, the shoulder strap is removable and can turn into a pet leash.
This tote bag is easily customizable. Your brand is placed on the front of the bag by either screen printing or embroidery.
---
Squeeze-and-Serve Pet Water Bottle
On hot summer days, pets need water if they're spending time outside. Keep any dog hydrated with the Squeeze-and-Serve Pet Water Bottle. This two-in-one water bottle doubles as a water bowl. It can be hard for dogs to stay fully hydrated by only receiving small streams of water. This is where the bowl comes in handy. Gently squeeze the water from the bottle and into the bowl to provide a pup with a nice drink. These bottles are BPA free.
These bottles can be personalized to include your company's brand. Your logo will be placed onto the side of the bottle, reminding each owner where they got this cool new item for their pet. These bottles are available in blue, red, white, and orange.
---
LED Clip-On Pet Safety Light
To show your customers that you care about their pups, give out dog promotional items that will keep their pets safe. Walking dogs after dark can be a dangerous task because of the lack of visibility. An LED Clip-On Pet Safety Light is a great swag item for dog owners that need to take their pups out after dark. This light can easily be clipped to a dog's collar or leash with the sturdy spring clip. The light has three modes available: solid, fast flashing, and slow flashing, which you'll be able to see for miles.
Available in blue, green, orange, red, and white, which will omit the same hue when the light is turned on.
---
Pet Feeding Mat
Every pet is usually very messy when drinking water or eating food. The Pet Feeding Mat can stop splashes and crumbs from getting everywhere.
We have creative stock designs and offer a fun way to display a pet's dishes. These can be used for other animals as well and will help create less of a mess when your pets are eating. Save your floors with this pet feeding mat.
Your logo will be printed in full color on the front of the mat, nestled between the outlines for the food and water dishes. Plus, you have the option to choose from the four stock backgrounds or have the ability to create your own. Made from vinyl, these are meant to last and are great promotional pet gifts for the holidays.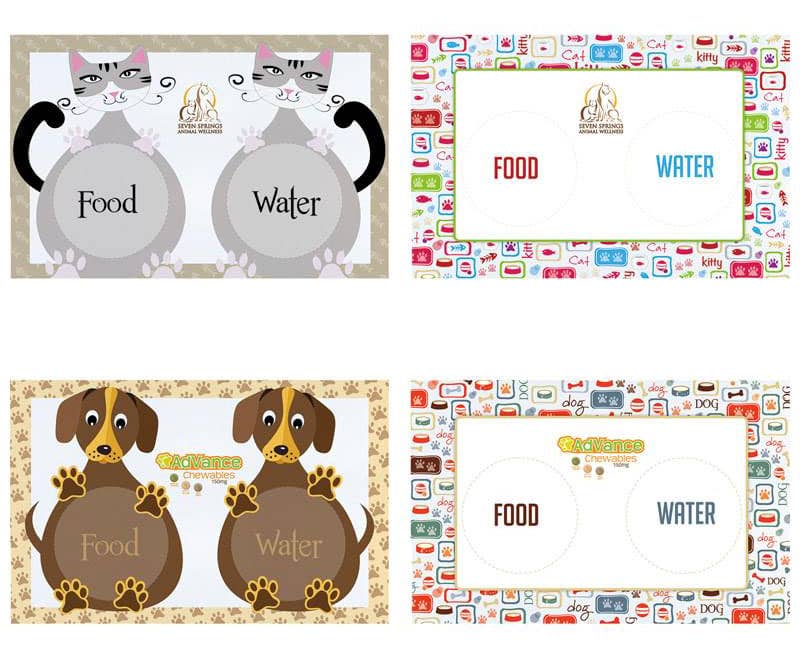 ---
Pet Food Can Lid
Many pet owners have complained in the past of being unsure of how to store opened food cans. Most smaller dogs have a hard time eating an entire can of dog food in one sitting, leaving owners with the task of storing the opened can. The solution is out Pet Food Can Lid with its three-step design that can fit most standard pet food cans. They will keep food fresher for longer, as well as reduce any odors emitting from the can.
Your customers will be delighted to receive these dog promotional items and are available in black, green, red, yellow, blue, and white.
---
Perfect Pet Gift Set
Dog owners will be incredibly thankful for this gift. The Perfect Pet Gift Set is a wonderful way to surprise your most loyal customers with a set that is filled with handy dog essentials. This kit includes a poop and light waste dispenser bag, a food-to-go travel pet bowl, and an LED flashlight. There's even a place to store some treats. The carabiner clip allows for easy carrying.
Your customers will be thrilled to receive such a creative and useful gift for the holidays. Your logo can be screen printed on every item that comes included. That means the carrying bag, flashlight, and food bowl will each sport your logo. The colors currently available are red, blue, and black.
---
3/4-Inch Sublimated Pet Collar
Maximize a pup's style with the 3/4-Inch Sublimated Pet Collar. This adjustable collar is made from nylon and has a metal D-ring leash attachment area and a plastic bucket, which will rest comfortably on any dog's neck. The tri-glide and loop make the collar easily adjustable for dogs of all sizes. The reinforced box and cross-stitching will ensure this collar remains in great condition for years to come. There's even a spot to hang a dog's reflective ID.
Conveniently customizable, your logo will be sublimated onto the entire length of the collar, which allows for a cute and custom design.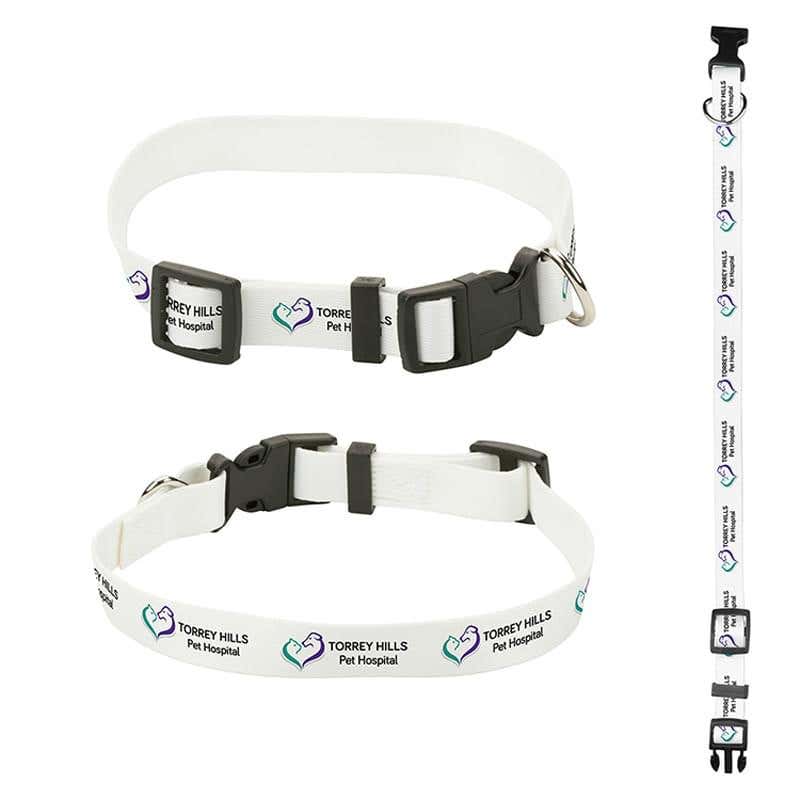 ---
Every animal owner would be happy and thankful to receive any of these pet promos. These items make going on walks, hikes, and other adventures much easier than ever before. With this large selection of convenient pet promotions, you'll be able to find a product that works for any lifestyle. Hand these out to your loyal customers on occasion or after every time they visit your pet store.
Our customization process is simple and our products are a great way to advertise your brand to pet lovers in your neighborhood and all around the world. Check out our wide selection of pet accessories or contact us today and we'll be happy to help you find a great product for your brand.