In-person conferences and events may be on the back burner for a while. Many may recall the classic staple image of different company reps wearing promotional t-shirts. This is perhaps the quickest way to let passerby know who you are and what business you're repping.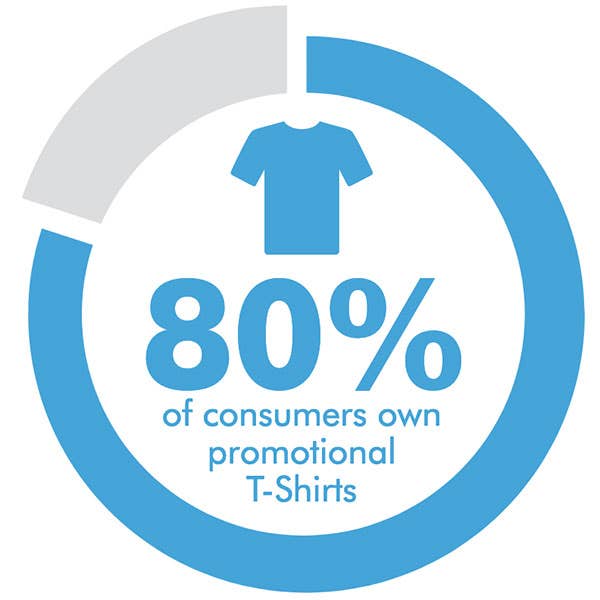 With that said, you don't need to be at a conference or other event to make use of a promotional t-shirt. These are a great item to get your feet wet when it comes to promotional items in general and have a lot to offer in terms of opportunities to further your brand. But when did they first become a thing? How can you make them work for you? Here are the answers to every question you could possibly have about promotional t-shirts.
Where Did Promotional T-Shirts Come From? How Can You Use Them?
In many ways, the promotional t-shirt is at the intersection of both t-shirts and promotional items becoming mainstream. While there are examples of promotional items from the Roman era onward, the first major American example is the work of Jasper Meek. He got his start by asking one of his printing customers if they wanted to buy ad space on school bags which he would give to local children for free. This essentially turned the local children into walking billboards and Meek began creating branded bags, calendars, and other products for merchants in the area. By the dawn of the 20th century, this became more and more common, and the advent of plastic took the potential to a whole new level.
On the other side of the equation, we have t-shirts, which first came to prominence in the late 19th century, created by laborers to keep cool and also manufactured for the Navy as "standard undershirts." However, it wouldn't be until the 1950s where a t-shirt began to become a popular garment on its own, as opposed to an undershirt. This is due to actors of the day like James Dean and Marlon Brando making the style popular.
So, how did these trends intersect? In the 1950s, a group of Miami businesses started using the then-new invention of screen printing to put their company logo/mascots on shirts. In the 1960s, screen printed t-shirts began to become a counterculture icon, before things finally went full-circle in the 1970s. At that point major brands like Coca-Cola started creating branded t-shirts, setting the ground for where we are today.
So, with that in mind, what are some of the modern uses we are seeing for promotional T-shirts? Some of the options on the table include:
Promotional gift items. One of the major concerns for promotional gifts is giving someone an item they can't use, or ends up of poor quality. Promotional T-shirts never run that risk, as everyone could use a spare shirt for a quick errand or doing work around the house. This makes them a safe bet for things like customer giveaways.
Industry events

. As we mentioned, even for virtual industry events, t-shirts are great to clearly display who you are affiliated with and add some extra brand penetration to your work.

Employee uniforms

. For settings like retail, food service, or anything interacting with the public, using branded t-shirts makes it easy for customers to know who they can talk to with any questions. Since t-shirts are so durable, it's a great long-lasting option for brand promotion.
The Best Promotional T-Shirts For You
Now, we can start to look at some of the best promotional t-shirt options out there. To begin, let's talk about offerings from the major brands. Having a major apparel brand t-shirt with your logo on it is an instant way to associate your brand with the quality and reputation of a larger one. What are some of the options you can use here? 
Let's start with the Under Armour Men's Charged Cotton Sportstyle T-Shirt. This is a great fit whether you want to give it as a gift to outdoor-minded customers, wear it in any public-facing situation, or just provide it as an appreciation gift to employees. This provides athletic support, but also comfort with charged cotton if you just want this to be worn while relaxing. Make sure that your customers, clients, or even passersby associate your brand with Under Armour quality by adding your logo to this t-shirt with embroidery.
Of course, we can't talk about brand penetration without talking about Nike, one of the biggest brands in the world. Be sure to give your team or customers a piece of that quality with the Nike Core Cotton Tee. Made of pure cotton with a rib-knit crew neck, this is suited for durability as well as comfort all day. The trademark Nike swoosh is on the left sleeve, and there's double-needle stitching throughout the shirt. Perhaps one of the biggest drawing factors, though, is the sheer amount of customization options. When you decide you want to apply your brand logo to the shirt, you can choose from the screen printing to embroidery, the choice is yours.
Like most T-Shirts, you can also put the logo in 8 different locations, including:
The front of the shirt

Left and right chest

Left and right sleeve

Yoke

Across the back of the shirt

Let's say that you're more focused on affordability rather than working with the biggest brand names. We have plenty of options to fulfill these needs as well. Consider the District ® Very Important Tee® V-Neck. DT6500. This t-shirt is made with 100% combed ring-spun cotton, and will keep your team both comfortable and stylish while they are out and working. Make sure you represent your brand in every situation by applying your logo with whichever decoration method represents your brand.
While some pieces of apparel may work well as a unisex item, t-shirts may not necessarily fit the bill. This is why it's important to also buy women's shirts like the Women's Ideal V. Made with a cotton-polyester blend and a set-in collar, this is designed for affordability and comfort, making it perfect for giveaways or employee gifts. Of course, your promotional items need a brand logo to do their job. 
Function and freedom of movement matter a lot when you're thinking about promotional t-shirts for your team, especially if your work involves a lot of physical labor or walking around. One great option to fill this need is the Carhartt ® Workwear Pocket Long Sleeve T-shirt CTK126. The long sleeves will help keep your team protected from certain surfaces or cooler weather, while you know you are buying a durable product with the 6.75-ounce, 100% cotton jersey knit and cotton/polyester blend. Naturally, you want people to know what brand your team represents while they are out working hard, so be sure to apply the brand logo to the shirt with screen printing, heat transfer, or embroidery. 
In some cases, though, you may want something that's fashionable as well as functional. Something that straddles the line well is the 50/50 3/4 Sleeve Raglan T-Shirt. The raglan sleeves instantly help these options stand out compared to other t-shirts and the cotton-polyester blend ensures that you have something that is durable and fashionable. Make sure that your employees and customers represent your company while they wear the shirt by applying your brand logo. The options you have include screen printing, embroidery, and heat transfer.
To close the conversation, we should also talk about eco-friendly shirts. Being able to show that you're reducing waste and using renewables when possible is a key brand principle for a lot of different companies. Make sure you're practicing what you preach with your promotional items as well. A good launchpad for this mentality is the Men's Hemp Crewneck T-shirt. This shirt is made from 55% hemp, 45% organic cotton for a winning combination, and is made in the USA to boot. To make sure people of thinking of your brand when it comes to eco-friendly clothes, be sure to apply your logo using the best method that fits your brand.
The Eco Crew T-shirt is another earth-friendly option, made from a blend of recycled polyester and organic cotton. You can apply your brand logo to the shirt with all of the same familiar decoration methods available.
When it comes to promotional T-shirts, they are an easy and effective way to promote your brand, whether you just want them for employees walking around your business or plan to wear them to industry events. However, you want to make sure you have the options, design, and colors that will match your brand's philosophy. We help make this happen at iPromo by carrying a wide selection of promotional T-shirts, from basic affordable options to top branded choices.