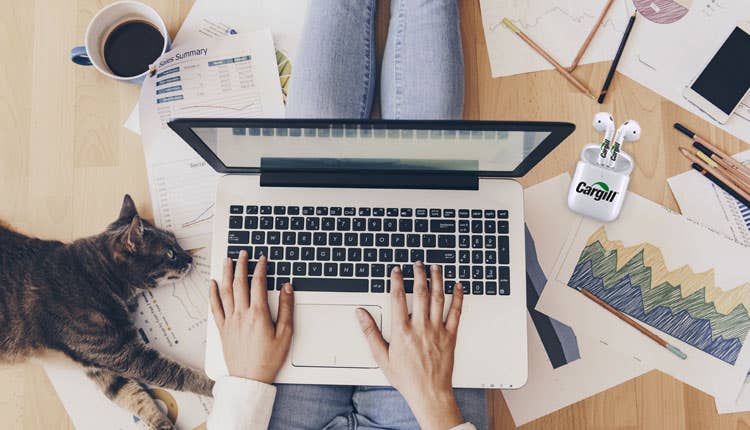 Stay Connected To Your Co-Workers & Clients While Working From Home
Afraid of losing out on productivity while working from home? Don't worry! We've got you covered with all the working from home necessities that you need to leverage your brand even while working away from the office.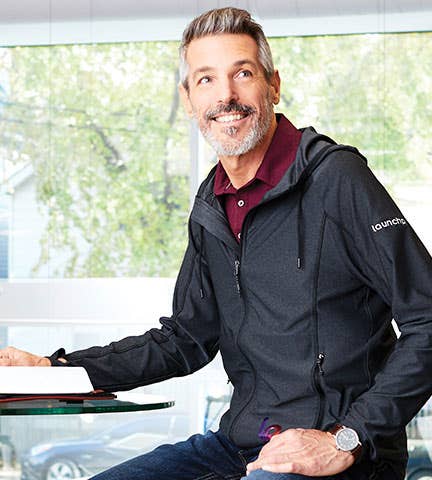 Working from home can be a real challenge, especially in mustering the structure and discipline that a team needs to function at its peak productivity levels.
Technically speaking, there is really nothing wrong with the idea of cuddling under a blanket on the couch and pulling out that laptop to work. After all, there is nothing wrong with being comfortable, right?
Well, in theory, no. Here's the thing though. Most people who aren't accustomed to working remotely on a regular basis are subconsciously programmed to shut off the work world when they enter the home environment. Our minds are trained to identify the office as a place of work, and the home as a place of leisure and rest. As such, it can feel difficult to maintain the same level of productivity that you and your team normally would at the office. Especially when all those wonderful distractions like books, movies, cleaning, cooking and really any other type of activity that you are already accustomed to doing at home.
Here's the good news though. Working from home can indeed work, and it can work well. And to get you started off on the right foot, we have all the must-have work from home essentials you need. We want to help your team maintain productivity and even strengthening team culture while away from the office, and we are going to show you how to do it.
Here's Why Branded Promotional Swag Can Work to Keep Your Team on Track
First things first, we are going to cover some vital working from home tips that will help keep everybody on track. Why stop there though? One of the most crucial aspects of any successful workplace is brand culture, and remote work certainly presents some unique challenges in terms of company morale building. This is where promotional home office essentials and swag come in.
---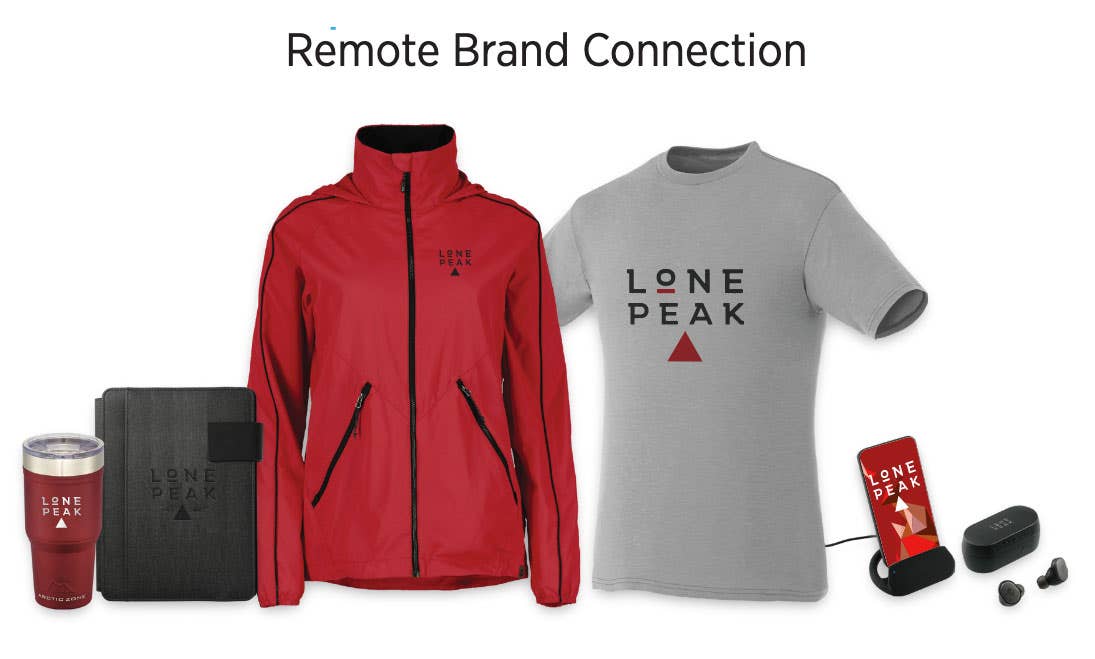 ---
Of course, we already know that promotional swag is one of the best ways to build long-term brand loyalty. More than just a cost-effective form of advertising, promotional swag actually leaves people with something tangible that they can hold onto, use and show off in their day to day lives. Most people don't particularly enjoy the experience of taking in a media-based form of advertising. More often than not, they will actually go out of their way to avoid exposure to these types of transient messages.
However, things work quite a bit differently with cool branded products. The thing is that promotional product advertising leaves people with something that they will actually be happy to receive. Even if they don't use it themselves, they can always give it or pass it on to somebody else, and that translates to even more exposure to help leverage your branded marketing strategy. As human beings, when we receive something that makes us feel good, we are intuitively programmed to want to give back. With your name literally written right on that sleek promotional merchandise, you can bet that your clients won't forget where to go when they want to return the favor. However, the same rules apply to employees as well.
This helps to explain why promotional advertising continues to beat out popular mediums like Internet advertising by a whopping 2.5 times in terms of consumer preference as one of the most effective and affordable ways to really put those advertising dollars to work.
Essentially, a great promotional merch campaign is basically a recipe for locking in long term support and boosting team morale, and this is exactly what every team needs to maintain a sense of togetherness while working from home. By promoting your workplace culture, efficiency and new and expansive ways to communicate with all the cool custom branded working from home necessities that they need to stay on track, you will also be giving your team a major morale boost when they really need it most, and that is a big win for everybody.
So are you ready to learn more about how to make a promotional branding campaign work for you with the best work from home essentials that everybody needs to really take their home office game to a whole new level? Let's get started!
---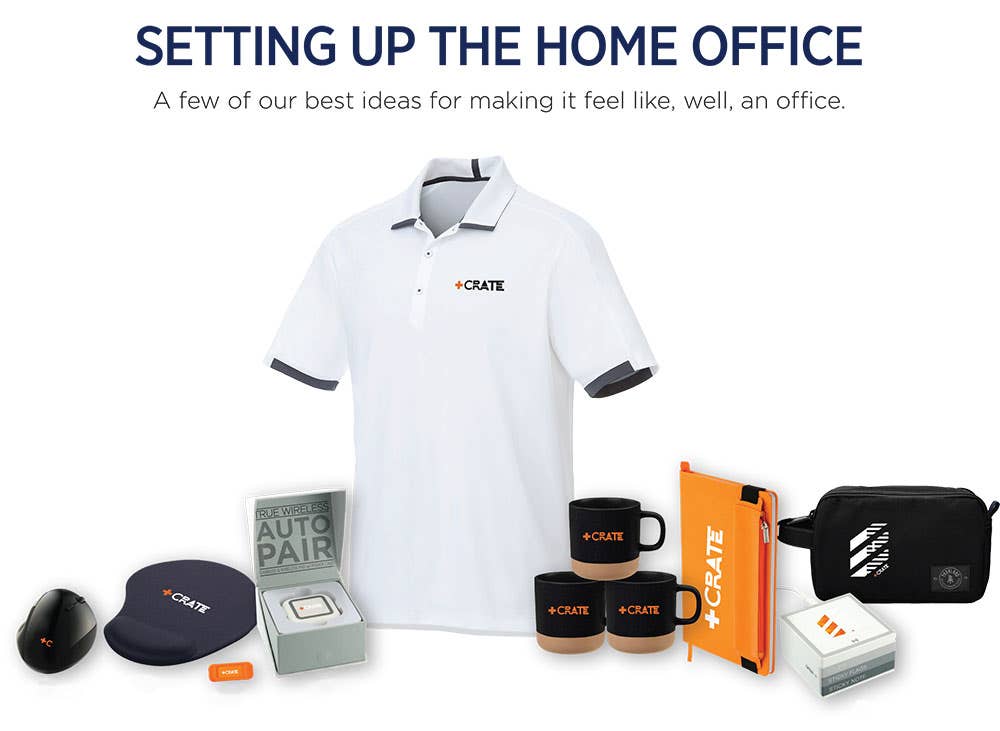 Some Helpful Working from Home Tips
Keep Everybody on the Same Page With the Coolest Branded Tech Swag
One of the keys to being able to work successfully from home is to be able to carve out a functional office environment. It is a given that there are probably going to be some space constraints to negotiate, and top-of-the-line tech swag can help streamline that workflow and minimize unnecessary distractions.
Check out, for example, this chic Leather USB Flash Drive that will ensure that your employees always have those essential files and documents on hand no matter where they are. Don't forget that branded USB flash drives also make for a great backup should the Internet fail, and will ensure that a bad connection won't stop your team from finding the files they really need.
Or, what about the issue of finding a free outlet in an already crowded home environment? This Anker Powercore II 6700mAh Power Bank Portable Charger lets remote workers take their power supply with them whenever and wherever they are. This is the type of gift that everybody loves receiving, and your employees will always remember that their team has their back each time they look at that cool custom logo design.
Of course, there can be a lot of noise distraction when working from home, especially when the kids are out of school. These gorgeous Tranq Noise Cancelling Wireless Headphones are just the answer. They come complete with a gorgeous take-anywhere zippered travel case, and your employees can cancel out all that background noise without having to worry about getting tangled up in a mess of cords. They intuitively pair with any handheld device to transition seamlessly from work to play and are the perfect accessory to receive hands free calls throughout the day without having to worry about dropping everything just to talk business.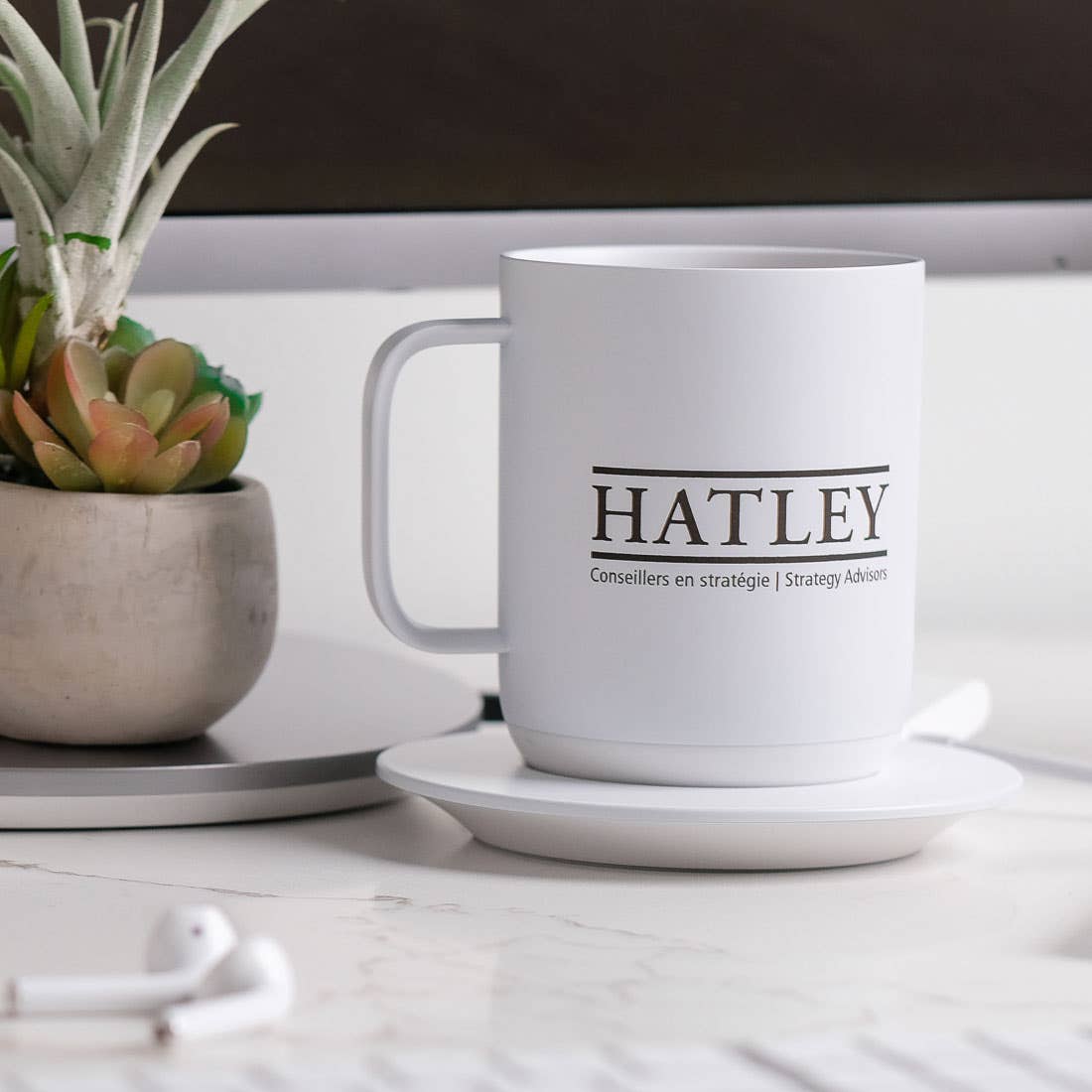 Create Some Team-building Daily Rituals
Rituals are always a key component of any strong workplace culture, and now is the perfect time to get creative with your branded swag campaign and start thinking of fun new ways to bring people together.
For example, why not make a morning or afternoon coffee hangout a thing? Distribute your favorite set of custom coffee mugs to the whole team and bring everyone together for an online Hulu hangout to start the day off on the right foot. Remember, you don't have to stick to traditional branding when choosing your screen printed logo design. This can be a great way to immortalize a fun office inside joke or silly slogan that will make people smile, so don't be afraid to think outside of the box.
That said, there is no need to stick to traditional coffee mugs either. Stainless steel tumblers are one of the hottest trends of the year, and for good reason. High-quality double-walled models like this gorgeous Welly® Original Copper Vacuum Tumbler aren't just for looks. They feature the type of sophisticated top-of-the-line technology that not only prevents condensation buildup, but also allows your beverage to stay cold for 24 hours and hot for at least 8 hours. So forget having to get up to refresh that beverage throughout the day. These wonderful tumblers will keep your employees on track and bring a smile to their face while doing it!
Streamline that Workflow
When working from home, efficiency is key. Even the best organized home office might lack the resources that a typical office environment can provide. That said, having the right tools on hand can make all the difference when it comes to maintaining a consistent workflow throughout the course of day.
After all, who needs an assistant when they have a Custom Amazon Echo Dot 3rd Generation Bluetooth speaker to answer all their queries and keep them organized. These innovative devices provide the type of technology that can be used to dramatically increase working from home productivity levels. Voice activated sensors will field those questions, answer those calls, check those messages and send out the latest stock reports without anybody having to lift a finger. Talk about the type of portable convenience that everybody will love!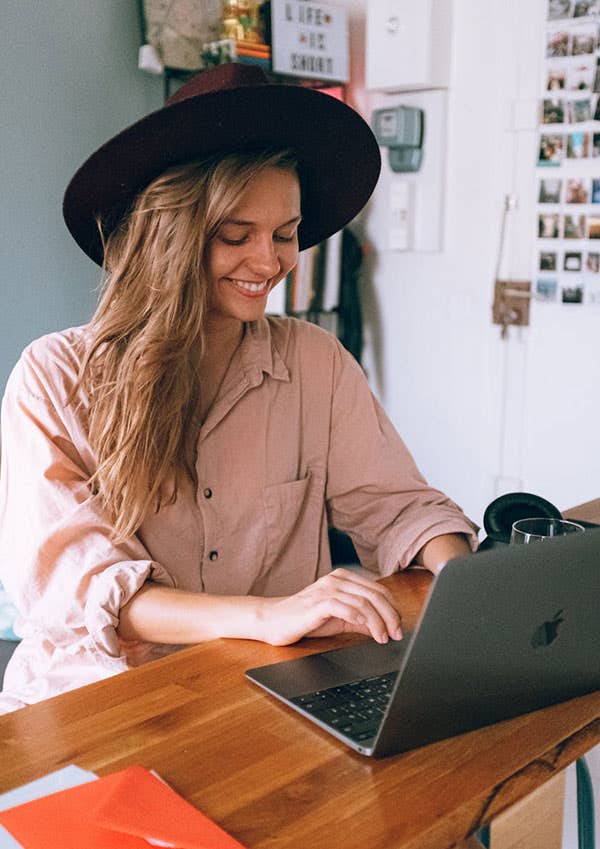 Remember, when it comes to maxing out on space and function, multi-function working from home necessities are where it is at. This nifty Speaker and Tablet Stand combo comes in five fun color picks to perfectly represent your eye-catching screen printed logo design while your employees set off their tablet-based meetings in high-definition sound that they can switch over to music in the off-time.
The Takeaway
If there is one thing to take away from this all, it is that there are endless creative ways to use promotional merchandise to stock your employees up with the work from home essentials that they need to maximize their working from home productivity and have fun doing it.
After all, everybody loves receiving the type of cool branded gifts that they can actually use, and working from home necessities aren't just about maintaining efficiency, but can also be used in endless creative ways to bring the team together.
So, don't let those work at home blues get you down! Come check out our amazing selection of home office essentials today! With plenty of 24-hour rush delivery, USA made and best selling options available, if there is one thing that you can depend on these days, it is that we have always got you covered.