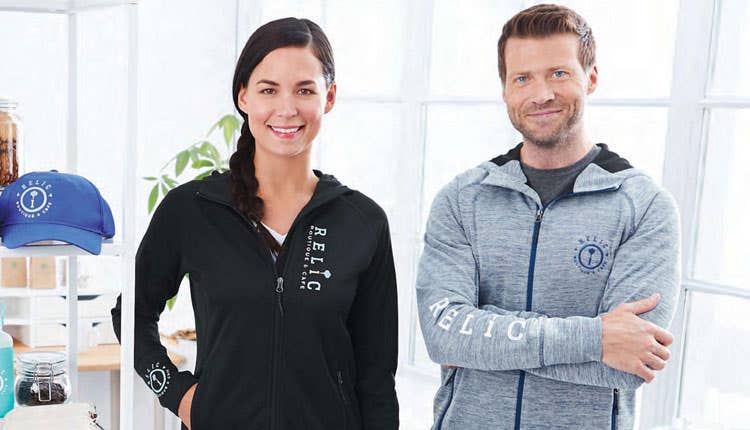 The Beginners Guide to Online Company Stores for Promotional Products
Many businesses employ online company stores to make the purchasing of apparel and other branded products easier. But, if you have never used a company store and you're not sure what it is, then you may have some confusion about what it is used for.
To put it simply, online company stores are eCommerce sites in which usually employees (or various other users) purchase branded merchandise that is used for uniforms, giveaways, personal effects, or for any other reason a company or employee might need. Of course, there's a lot more to a company store than simply being able to purchase branded merchandise.
Online company stores can really be whatever you want them to be. But, it's also important to distinguish between what actually constitutes a company store and what doesn't. Again, you may be a little confused by what a company store is and why it is used. We'll clear that confusion up below.
So, What IS a Company Store, Exactly?
An online company store is a marketplace designed for companies to organize, control, and purchase branded merchandise. There are situations in which you might also want to give customers or the general public access to this site, but it is typically used by employees.
In general, online company stores are used for practical purposes. For instance, perhaps an employee needs a button-up shirt with the company logo on it for a conference or trade show. They could simply log on to the company store and order one. Another employee might need a selection of branded pens for a customer giveaway. They could find that on the company store, as well.
There are a few primary benefits to having a company store, including:
Maintaining consistent branding across departments or other locations
Offering a limited amount of products so nothing with your branding gets out into the general public unless you want it to
Having items conveniently drop-shipped to you
Saving money by limiting who in the organization can order large amounts of products
Of course, there are plenty of other benefits to having an online company store. In large part, a company store is simply convenient as it allows you full control over the inventory and provides an easy one-stop shop for everything an employee in your organization might need.
It's also possible to set up special short-term company stores or multiple smaller stores for different branches or locations. Short-term stores might be used for special holiday items, or they can be set up as incentive programs for your employees. In that case, the items purchased would actually be redeemed with points based on a reward system.
If you want multiple stores, you can do that with regular company stores or "micro stores" that only stock the necessities. This might be an option if you have multiple locations that employ different branding but are still under the same broader corporate umbrella.
What Products Can Online Company Stores Have?
The beauty of online stores is that they are filled with whatever you want or need them to have. Apparel is typically one of the most common types of items you'll find. You can have everything from t-shirts to heavy-duty jackets in your company store.
Outside of apparel, stores typically consist of a wide variety of promotional products. You can make the decision to put whatever items you want including, but not limited to:
Here at iPromo, we'll help you hand select the best items for your company needs. You'll be able to choose each specific product and color variation (such as a shirt or pen) that fits within your company's branding guidelines and budgetary concerns. No one at the company will be able to purchase something that clashes with your branding aesthetic.
Who is Allowed to Purchase Items on Your Company Store?
The simple answer to this question is that anyone you want to be able to purchase items on your company store can do so. As we have mentioned several times, the company's own employees are going to be the main group with access to the site. But, you can always grant access to your customers or fans who want a little swag with your branding on it.
You can also grant different permissions to different users. For instance, a new hire who might need a uniform or a nice onboarding kit might only be granted permission to purchase those items. A manager, however, would be able to purchase more items in larger quantities. Customers or the general public would also likely be granted limited access if you want to offer that.
Likewise, you can limit how much a certain individual or group of individuals can spend on a particular item. You can place employees in groups based on their department or their title (or any other categorization you deem necessary). So, one group of employees might see a certain set of items while another group of employees would see another. Different departments have different needs and their access level would reflect that.

How Do Users Pay For Items?
Online company stores provide for many payment methods among employees. The standard option would be a simple credit card. Employees login to the company store, input their credit card information, and make purchases accordingly. But, there are also more complex options for payment, including:
Organizational or departmental budgets (the company or an individual department is allocated funds that can be drawn from for purchases on the company store)
Payroll deductions (items can be purchased with funds that were originally in an employee's paycheck)
Debit accounts
Reward points
The last option (available with out advanced company stores) on the list can be employed in numerous ways. Reward points can be given out for exemplary behavior such as good attendance, completing safety training, or achieving tenure milestones. You can also just give out points as a separate method for purchasing items in the company store.
You can set the point price of each item in the store so employees know how much they have to accumulate. You can also add big ticket items like power banks, headphones, or Bluetooth speakers.
On top of all that, you can also grant different permissions for how individual users can pay for items. For instance, a department head might be able to access the departmental budget while an employee working underneath them would only be able to purchase items with a credit card or through redeeming points.
Other Things to Consider
In additional to all that, you can also customize the design of online company stores to meet your company's particular branding needs. Color schemes, images, search options, and other details can be personalized to better mesh with your company culture. Likewise, you can also use pre-built templates if you are not as concerned with the aesthetic look of the site as much.
In the end, online company stores provide a convenient way for you and your employees to quickly and affordably order and receive branded promotional products for whatever reason you might need. If you are interested in starting your own company store, fill out a few details below and we'll be in touch shortly.