The Best Company T-Shirts With Your Logo They'll Love to Wear
Marketing is an important tool for brand visibility—it attracts customers and boosts sales. Many companies use promotional apparel like company T-shirts with logos to showcase and promote their brand image.
T-shirts with company logos are stylish, comfortable, and functional, and they offer high value to wearers. A company's staff and customers can wear these logo T-shirts everywhere: shops, restaurants, streets, exhibition floors, and more. This exposes the brand on a vast public platform and cements its good image.
You can adopt this simple and cost-efficient promotional strategy for your business to build your brand identity. But first, you must find work T-shirts with company logos that your employees and customers will love wearing.
Discover the eight best customizable company T-shirts with company logos from iPromo that blend quality and comfort.
But first, let's delve into the five elements to keep in mind when getting T-shirts for your marketing needs.
5 "Considerations" When Sourcing Promotional T-Shirts
Here are five types, categories, and materials to look out for when sourcing T-shirts for your branding campaigns:
Budget-Friendly
Affordability is an important factor to consider when buying promotional T-shirts. Get cost-effective T-shirts that won't break the ank. You don't want to go beyond your marketing budget.
The Softstyle® T-Shirt and Ultra Cotton® 100% Cotton T-Shirt from Gildan are ideal for this purpose. These affordable yet high quality options will allow you to source dozens of them without worrying about your budget.
Give Back
T-shirts that give back to the community and the planet will help your brand stay sustainable and win customers' hearts. Threadfast Apparel is an excellent option among sustainable and socially responsible brands.
Its Men's Tri-Blend T-Shirt and Women's Tri-Blend T-Shirt use recycled materials in their production. These T-shirts also contribute to the Plant with Threadfast program that boosts soil health, reduces water consumption, and conserves natural habitats.
Eco-Friendly
Environment-friendly T-shirts that don't harm the planet are fantastic options among promotional T-shirts. Your customers and employees will love wearing them and respect your brand even more.
The Women's Recycled Re-Tee® V-Neck T-shirt and Unisex Recycled Re-Tee® T-shirt from District® are our top recommendations in this category. They are crafted from recycled materials, and these environment-friendly options will help you meet your sustainability goals.
Retail
Sourcing retail-quality promotional T-shirts will ensure their durability and suitability for long-term use. These T-shirts look and feel good and fit well, so you can get maximum return on your marketing investment.
The Unisex Sueded Cotton Blend 3/4-Sleeve Raglan T-shirt and Women's Heritage Blend 3/4-Sleeve Baseball Raglan T-shirt from New Era fit well and look great even after many uses. These are two of the best options among retail-quality T-shirts.
Performance
High-performance T-shirts are another top favorite among T-shirt lovers.
The Men's Performance Long Sleeve Locker 2.0 T-shirt and Women's Performance Long Sleeve Locker 2.0 T-shirt from Under Armour offer superior performance and comfort. These athletic T-shirts have moisture-wicking properties, helping wearers stay dry and comfy for hours.
8 Best Customizable Company T-Shirts With Company Logos
Check out our top recommendations for company T-shirts with logos:
Nothing spells comfort like the Gildan Softstyle® T-Shirt. It is made of 100% ring-spun cotton and lays comfortably on the wearer's body. Its rolled forward shoulders also provide a better fit. So, you can be sure your customers and employees will instantly love it.
You can also get it in cotton and poly blends in different ratios (90/10, 50/50, or 35/65 cotton/poly) to suit different styling and promotional needs.
Get your logo screen printed on the front of the T-shirt, so onlookers will immediately spot your logo and discover your brand. The shirt comes with a tearaway label that you can customize or remove altogether.
The semi-fitted T-shirt is available in more than 20+ attractive colors. You can also source the T-shirt in sizes ranging from S to 3XL. It features a seamless double-needle neck, double-needle sleeves and hem, and taped neck and shoulders that help it last for years. This makes it a solid investment for your branding efforts.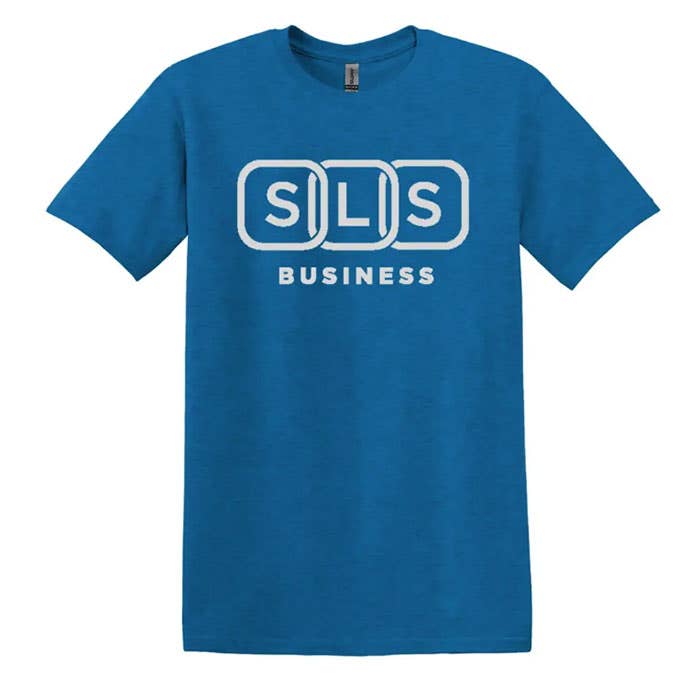 Get your brand out in front of new and old customers with the Next Level® Triblend Short-Sleeve Unisex T-Shirt.
You can screen print your logo on the front of the T-shirt so that everyone can see it right away. The screen printing technique also makes the logo look more vivid. It will last a long time, so you will surely get the best value for your money.
The unisex T-shirt is crafted from a material blend of 50% polyester, 25% combed ring-spun cotton, and 25% rayon jersey. This gives it a smooth and silky feel, along with a great stretch and recovery that perfectly drapes on the wearer. Despite the casual look, it helps the wearer look very well put together.
It is also side-seamed, which gives it a better fit and a more flattering aesthetic. Its fabric is laundered to reduce shrinkage and help it stay looking fresh and new for a long time. It also has a satin label, which adds to its luxurious feel.
The T-shirt comes in a range of gorgeous colors and sizes, so you can customize your choices to your heart's content.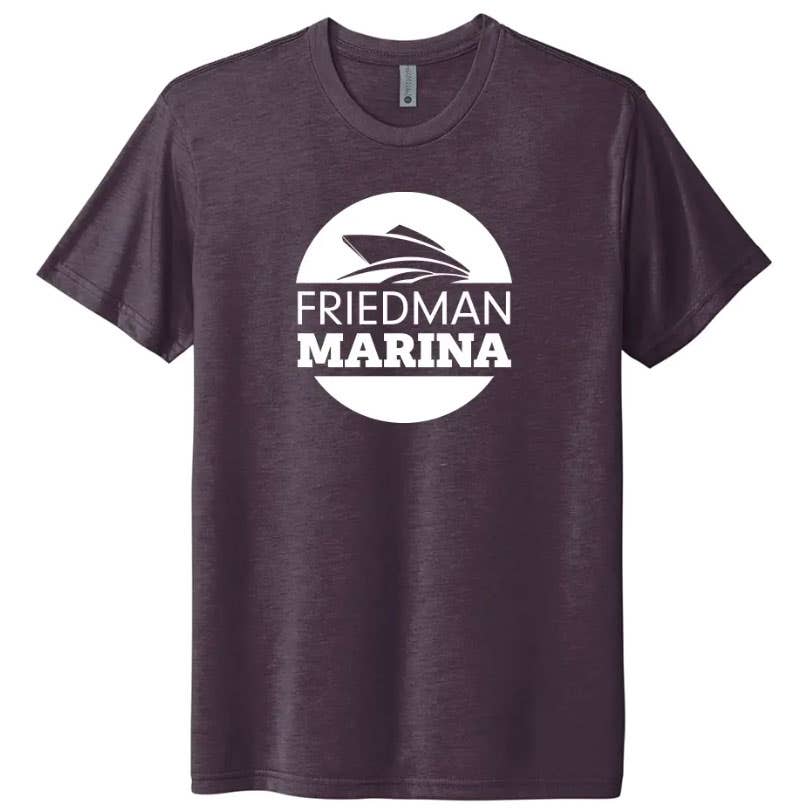 The Threadfast Apparel Unisex Ultimate T-Shirt is one of the best T-shirts with company logos on our list. It features a fine blend of 60% cotton and 40% polyester. The polyester fibers are derived from recycled material like plastic bottles, so it is great for the planet, the wearer, and your branding efforts.
The use of recycled polyester in this T-shirt significantly cuts down on energy and water consumption and CO2 emissions. Furthermore, the dyes in the heather colors use fewer harmful chemicals, 70% less water, and 65% less energy in production.
Sourcing this T-shirt for your promotional needs supports responsible cotton production practices that optimize water usage, improve soil health, and preserve nature. Threadfast's products also contribute to the Plant with Threadfast program, so buying from the brand supports its reforestation efforts.
But it's not only sustainability that this T-shirt ranks high in and sets it apart from other options in the market. It has a retail fit and is side-seamed, which gives it a better form and closely contours the wearer's body.
You can screen print your logo on the front and get started with your marketing campaigns. The T-shirt is available in various colors and sizes and has a tearaway label. You can easily customize it to your design and marketing needs.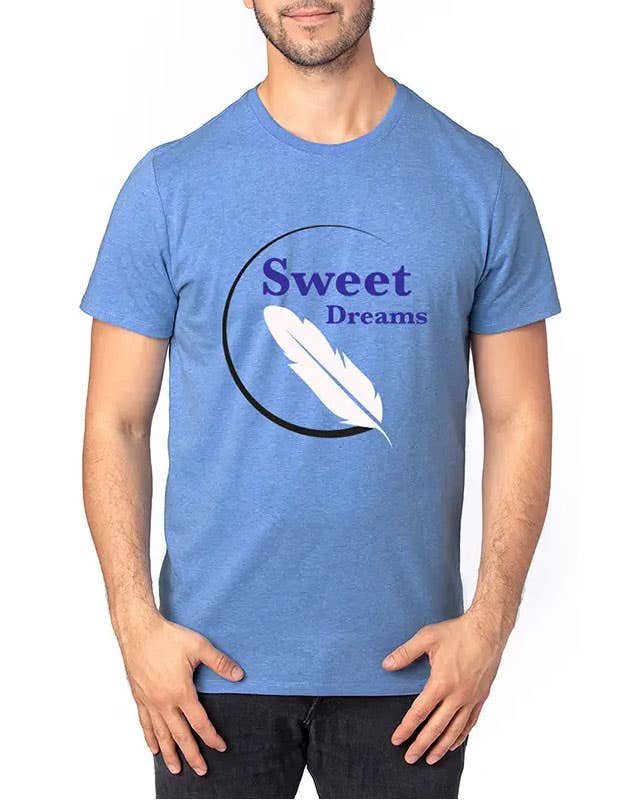 The District Recycled Re-Tee® Unisex T-Shirt is made from 100% recycled fabric, so it is another sustainable option that you can check out for your branding needs. It uses a blend of 60% recycled cotton and 40% post-consumer recycled polyester. As it uses fully reclaimed material, it helps reduce waste in landfills—a great way to do good for the planet.
The shirt is soft, cozy, and high-quality, providing top-notch function and comfort to ensure your staff and customers enjoy wearing it. You can screen print your logo across the front and source the T-shirt in different sizes and colors with a tag-free label for the best possible brand customization.
The shoulder-to-shoulder taping adds to its quality and durability, so it will last for years. The best part is that the T-shirt is very affordable, so you can easily fit it into your marketing budget. Note that the production process gives each shirt a unique look and character, so you may see some natural color variation.
The Champion Heritage Short-Sleeve Unisex T-Shirt is one of the best work T-shirts with company logos on our list. Its heavyweight 100% cotton construction, double-stitched seams, double-needle sleeves and hem, and shoulder-to-shoulder taping give it high durability and excellent form.
It has a standard fit in different sizes to suit all body types. You can get it in different material blends like 99/1, 90/10, or 60/40 cotton/poly to customize it to your branding needs and customer preferences.
Moreover, you can take your pick from an array of colors to compliment your brand logo. Screen print your logo on the front for maximum visibility. The unisex T-shirt has the Champion "C" logo on its left sleeve, which adds to its class and style. Its tag-free label also allows you to tailor it to your branding needs.
Your customers and employees can wear this classic tee by itself or layer it under a jacket or a hoodie to flaunt their style and add comfort.
Offer sporty styles to your company gifts with this New Era Sueded Cotton Blend 3/4-Sleeve Raglan Unisex T-Shirt. It features a rib knit V inset at the neck and Raglan sleeves that add to its style and comfort.
The unisex tee is crafted from a 60/40 blend of sueded ring spun cotton and poly, which makes it lightweight, breathable, durable, and wrinkle-free. This fabric also gives it a lofty softness, while triple-needle cover-stitching throughout makes it durable. It has side vents that provide ventilation and comfort.
This T-shirt will feature your logo screen printed on the front and an embroidered New Era flag logo on the left sleeve. There is a selection of attractive colors and sizes for brand customization. It also has a heat transfer label that gives it a clean and sophisticated no-tag look.
Take your branding campaign to the next level with the Under Armour® Performance Locker 2.0 Men's T-Shirt. This men's tee will impress your customers and staff with its old-school, classic style and encourage them to wear it often. It will help more people discover your business and build your brand identity.
Get your company logo screen printed on the front of the T-shirt with the UA logo on the top front of the chest and back. You can buy it in a range of cool colors and sizes.
The UA Tech fabric is made of 100% polyester, which makes it ultra-soft and quick-drying. The Moisture Transport System wicks away sweat and moisture from the body and dries quickly. It provides long-lasting comfort even in the hot summer months.
The tee features anti-odor technology to prevent the growth of microbes. It has an improved fit and a four-way stretch fabrication that provides flexible movement and mobility. Also, it has set-in sleeves that give it a clean and formal look.
Overall, these advanced features make it a top contender among the best T-shirts with company logos.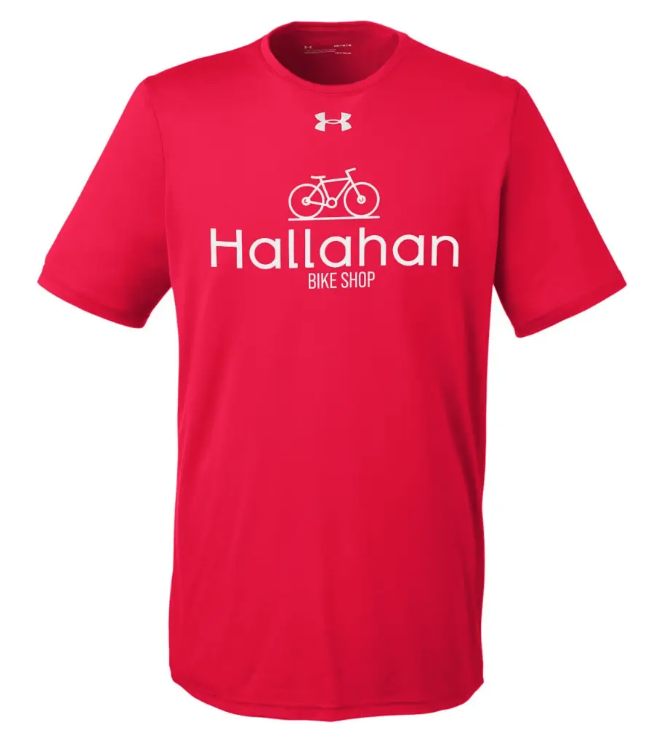 The Nike Dri-FIT Cotton/Poly Long Sleeve Tee is made with Dri-FIT fabric with a fine blend of 60% cotton and 40% poly. This sweat-wicking material blend helps the weather stay dry and comfortable in all kinds of weather conditions. So, you can wear the tee in summer or layer it under your jackets and hoodies in fall or winter.
It will feature your brand logo screen printed on the front and the Nike Swoosh logo on the left sleeve. It is available in six colors and eight sizes, so take your pick depending on your needs.
This rib-knit crew neck and rib-knit cuffs rank high in style and durability. Meanwhile, its heat transfer label provides tag-free comfort to your employees and customers. The double-needle stitching all through the fabric makes the tee stronger and more long-lasting.
Use this high-quality tee to promote your brand at community events, sporting events, and more.
Conclusion
Promotional apparel is an excellent marketing tool that will help you showcase your brand on a broad platform. Giving these items to your employees motivates them, while using them as a customer giveaway prize enables you to draw more people to your brand. When your company's stakeholders wear them outdoors, you can boost your brand exposure and give people a chance to learn more about your business.
These eight T-shirts are high in style, performance, comfort, and durability, making them fantastic as company T-shirts with logos. Buy any or all of them for your branding needs and catch the interest and attention of more people for your brand.
You can also buy promotional electronics, sports goods, bags, water bottles, tumblers, travel mugs, stationery, and many other products from iPromo. Check them out on our website or call us at 888-994-7766 for more information.