May 23, 2023
Ultimate Guide to Pickleball Custom Paddles, Bags, Covers, Sets & More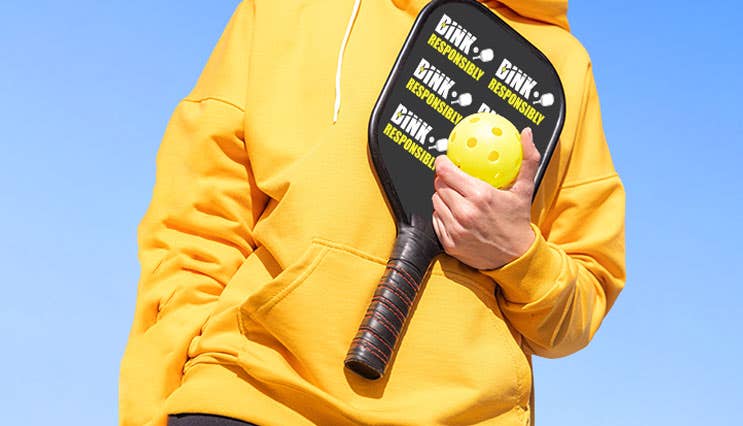 Get insight into the pickleball craze with our ultimate guide on pickle custom paddles. Discover the best pickleball gear for individuals or groups with iPromo.
With a name as interesting as its history, the pickleball game, which is like a hybrid of tennis, badminton, and table tennis, has emerged as the fastest-growing sport in the United States in the last three years. This trend is set to continue into the next couple of years.
Invented in 1965 as a family pastime game, there are good reasons for pickleball's rise in these past years. The game is player-friendly as you can learn it in no time. Anyone can play it regardless of their fitness level.
Chances are that a lot of people you know—friends, family and clients—are already into this sport. And regardless of their level of expertise in the game, they need the right equipment to display their skills. Hence, custom pickleball paddles, bags, covers, and sets are trendy swag items businesses can gift customers. If you haven't thought in this unique opportunity before, then you should start considering it.
This article will cover what you need to know about pickleball equipment, the available types, how to choose, and the factors to consider.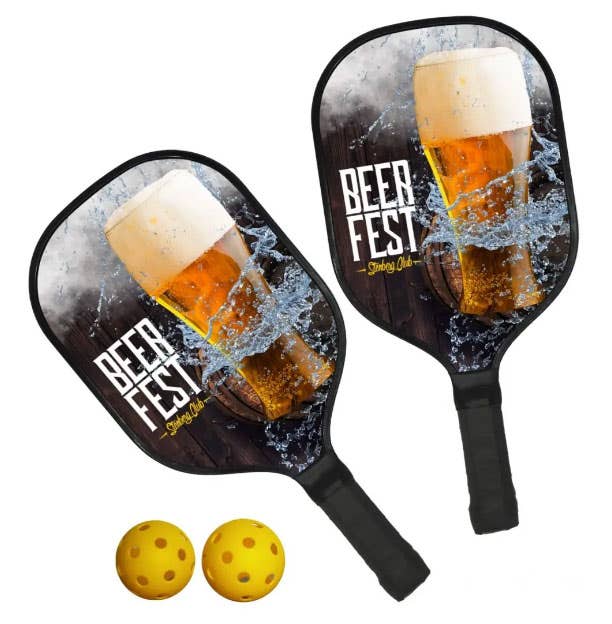 Pickleball Custom Paddles
Pickleball paddles are an essential equipment for any pickleball player. A paddle looks much like a table tennis racket. It has a handle, a neck, and a paddle surface for hitting the pickleball. Paddles are typically made of lightweight materials like wood, and they come in different shapes, sizes, and thickness.
Pickleball custom paddles and accessories are perfect for promotional purposes because they are easily customizable with a large imprint area. The surface of the paddle provides ample room for branding, so are the other accessories. When gifting a paddle, the best place to locate your brand logo is on the playing surface. This is the most ubiquitous part of the paddle and with the right combination of fonts, colors, and size, you can make your brand noticed by many people every time they step on the court.
Getting pickleball custom paddles for your clients or a company event is a creative and fun way to market your brand on the hottest sport out there!
Pickleball Bags and Covers
Pickleball bags and covers help you keep your pickleball accessories when not in use. Accessories such as paddles, and balls need to be kept in one place for easy retrieval in the next outing. Pickleball bags come in handy for this purpose. They allow the player to organize and protect their gear in a compact, easily transportable carrier. As a bonus, they see your brand every time they play another game.
Pockets and compartments offer additional uses for the bag. Straps and handles, depending on their design, can enhance the player's comfort while moving their playing gear. Your knowledge of these features will help you make quality buying decisions. For pickleball bags, both sides are ideal for logo placement. The front panel of the cap provides the most visible opportunity for branding.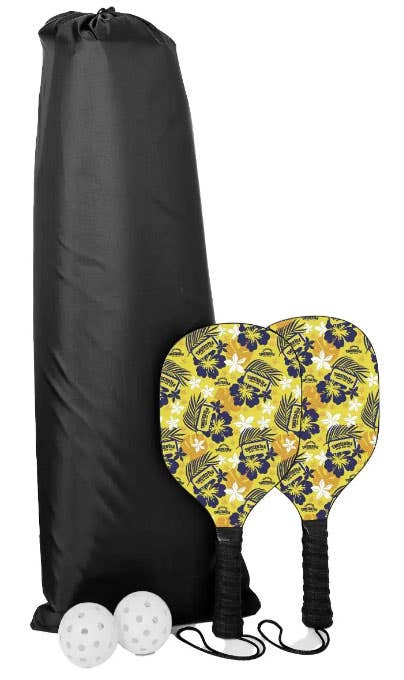 Pickleball Sets
You can make your swag even better by giving your clients a complete set of pickleball accessories. You don't have to break the bank to choose good swag. A compromise between budget and desire would be having limited sets and creating competitive milestones that customers must meet to win the gift, or setup a raffle to select the winner.
When picking a pickleball set, look out for quality and design type. Some pickleball sets are designed for indoor use. These are typically smaller than outdoor pickleball sets.
As far as quality is concerned, you can trust us at iPromo for the best available pickleball sets. Our collection includes various designs and prices, so you will always find sets that fit your budget.
Other Pickleball Accessories
There are many other accessories needed to improve the pickleball players' experience. These include:
Custom Athletic Socks
Quality athletic socks will provide support and cushion, keeping the player comfortable in their shoes. Our athletic socks are typically made from breathable materials and are slightly elastic to accommodate a range of feet sizes. One important attribute of quality socks is their moisture-wicking properties. Pickleball can be intensive and the activity may effuse sweat. A good pair of socks will absorb the sweat and enhance the comfort of the player.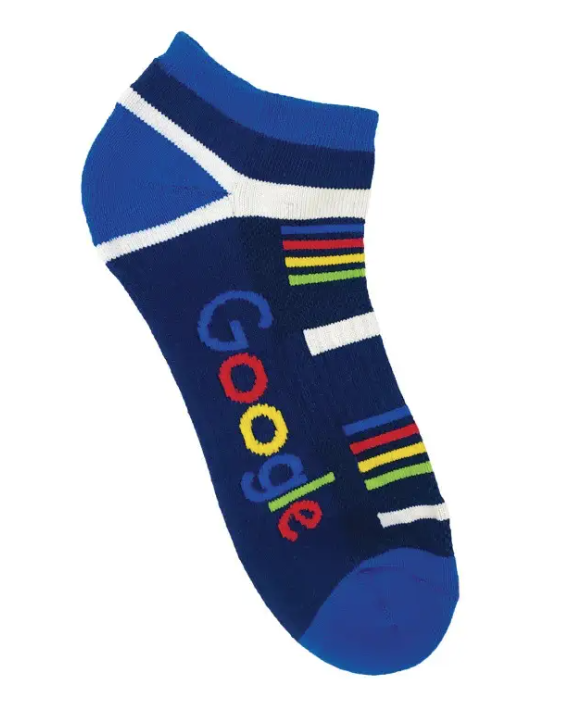 Sunglasses
Sunglasses are optional pickleball accessories. Yet they come in handy in hot or sunny conditions. They protect the eyes from the sun's harmful UV rays when playing outdoors. Sunglasses can also improve vision and reduce glare on the court. Add your logo and create another fun and useful swag item to be remembered.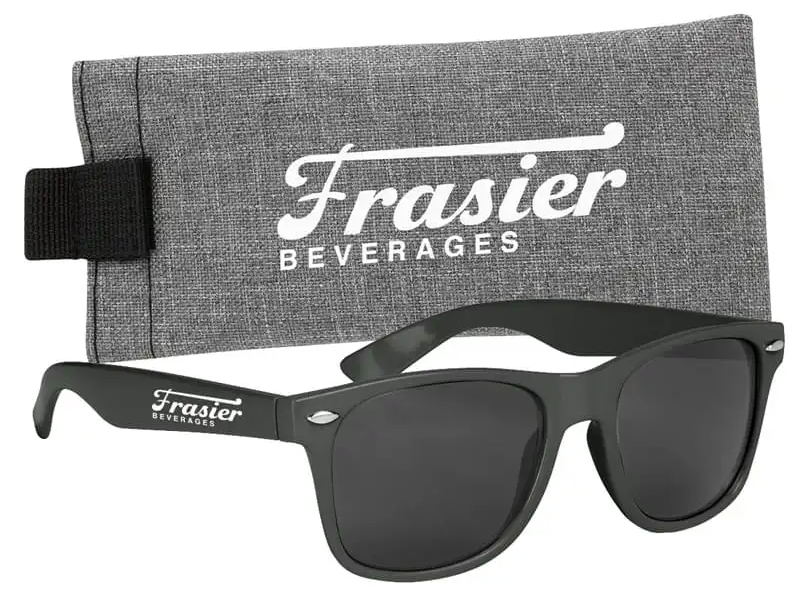 Hats
Like sunglasses, caps are protective wears that serve the purpose of keeping the sun's rays away from the player during an outdoor game.
You can check out the different types and designs of branded pickleball caps that are available on iPromo.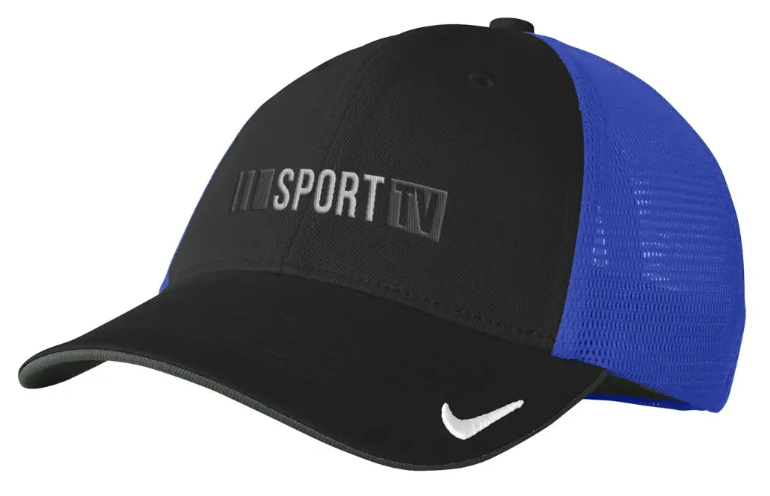 Water Bottles
Water bottles are not pickleball accessories per se. But pickleball players, like lovers of every other type of sport, understand the need to stay hydrated while playing. Customized water bottles could be an invaluable gift, not only for pickleball players but also used on a daily basis when they're not playing pickleball.
Each of these accessories will make a memorable swag for any recipient.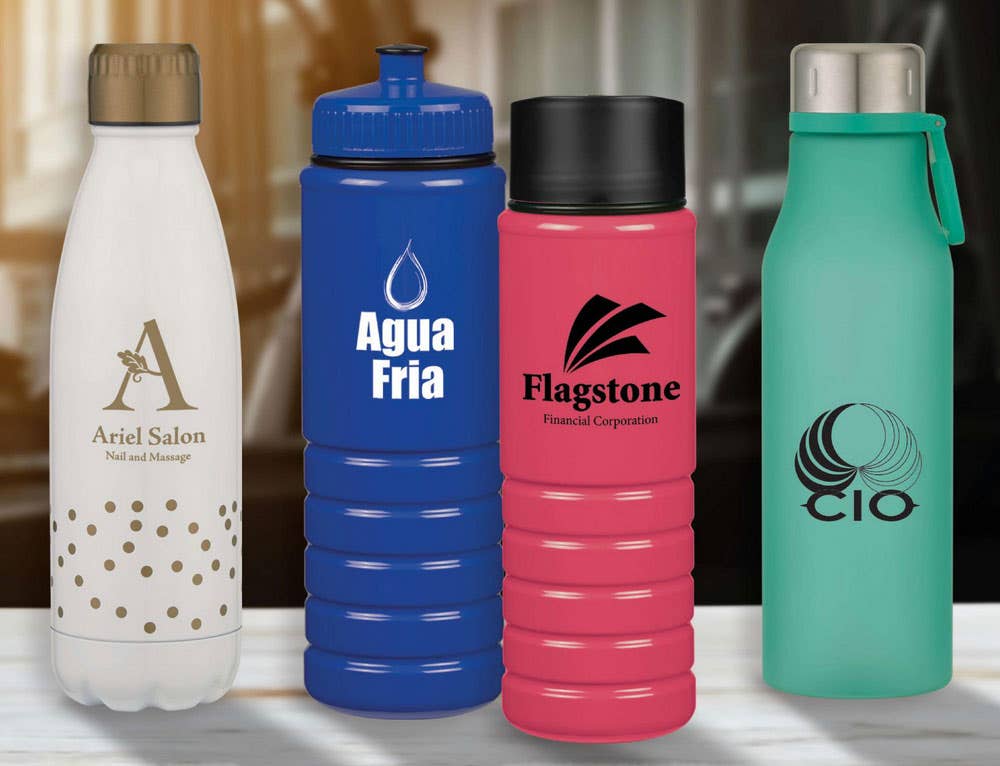 Get Started On Your Pickleball Custom Paddles Today
Pickleball custom paddles, bags, covers and sets for your clients can be a great way for your business to stand out in the market and offer your swag a personalized touch. It serves as a great marketing tool to promote your brand given it's America's fastest growing recreational sport.
iPromo is a one-stop location for everything swag—from customization to delivery. We can help you the decoration process and offer free design services to help maximize the paddle branding space. This is all so you can make a memorable impact on your clients and push your business to a wider audience in the process.
If you're looking for a fun and exciting way to promote your brand with the fastest growing recreational sports in America, then tapping into the great opportunities that custom pickleball custom paddles present are a no brainer.