The Best Custom Folding Chairs to Enjoy the Outdoors this Summer
From the beach to remote camping sites, promotional folding chairs with your company's logo expose your brand to an active audience. Personalized chairs are also a must for sports leagues, races, and fund raising.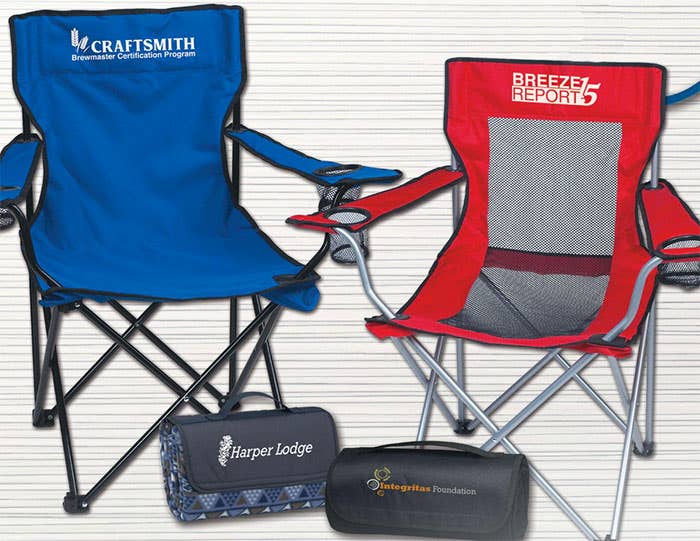 Its summertime. That means its time to break out the beach and camping gear. Kids are out of school and its time to have fun for the next few months. Make sure you take advantage of people's summertime vacations to promote your brand with promotional products.
Now, when we think of summer gear and promotional products, custom folding chairs are a must. Promotional folding chairs are a great way to get your brand noticed. Here is how.
Households in the United States own an average of 30 promotional products such as folding chairs. Overall, 85 percent of people remember the advertiser who gave them these products. They are also more likely to do business with the advertiser who gave them the product than a competitor.
"Promotional products allow people to see your brand, associate your brand and recognize your brand." – Huffington Post
You also save money on your marketing as advertising specialties are the most cost-effective form of advertising, even less than newspaper, radio, and internet advertising. So, you wind up reaching more people for fewer dollars than any other form of advertising.
Going with foldable branded chairs in your marketing campaign is a no-brainer. However, you need to know what types of chairs are going to give you the best return on your investment. Research has found that quality, usability, comfort, and convenience are the best traits to have in custom folding chairs.
---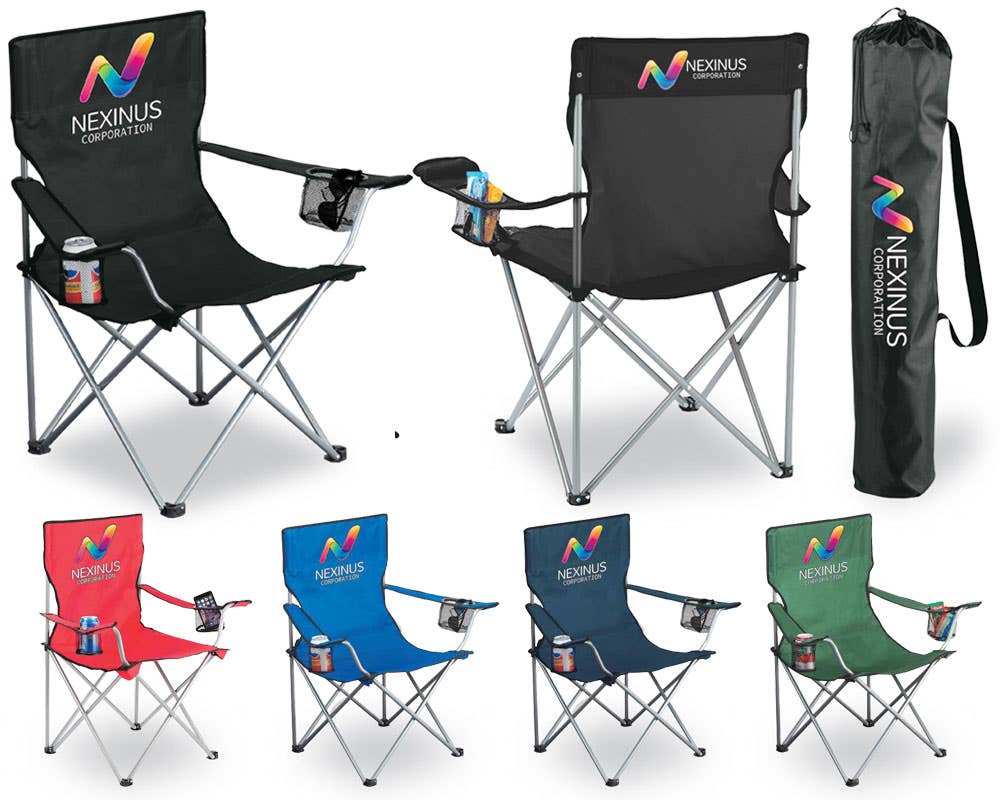 ---
Quality, Usability, Comfort, and Convenience
Quality and usability are two things that make for the best custom folding chairs. According to Advertising Specialty Institute, these are the two biggest reasons why people keep promotional items, coming just ahead of attractiveness.
The longer someone keeps a promotional chair, the more brand impressions you will receive.
A good custom folding chair will combine both comfort and convenience according to Business Insider. "When it comes to seating, too often you have to choose between comfort and convenience during transport or storage. With a great folding chair, you can enjoy a supportive, inviting chair anywhere and then tuck the seat away when it's time to get up."
The best type of promotional folding chairs will fold up easy, be comfortable for any occasion, and durable enough to last any condition. They will be good for the beach, camping, and attending outdoor sporting events.
Keep these items in mind when placing an order for bulk folding chairs. The recipient must enjoy them for you to get any type of promotional value out of them.
Based on the above, here are some of the best custom folding chairs for 2019.
---
Classic Captain's Chair
The captain's chair is the most commonly seen folding chair at the beach. In fact, it is a top seller for promotional beach chairs. It comes in a variety of colors including red, blue, green, purple, black, white, and green. It is also lightweight and easy to fold for carrying and storage.
You have the option of customization with these chairs. You can have your logo printed on the front or back of the chair; or, choose to have it on the carrying case. Either way, your message will be out in the public's eye for all to see.
These chairs are useful as they contain cup holders on the front and are extremely comfortable. If you don't find them comfortable based on previous experience, try going with a padded fold-up lounge chair. This is essentially the same as the captain's chair but with more padding on the seat and back.
---
Reclining Chair
Want a little more comfort? Go with a reclining chair which is a recliner and captain's chair all in one. It is easy to fold, and the footrest is removable for those days when you don't need it. It comes with a nylon carrying case which can also be customized with your brand image.
As with the captain's chair, you can choose from multiple colors. Your artwork can also be done in screen print and full color to ensure your logo stays fresh. This is by far one of our most comfortable and affordable custom folding chairs.
---
Canopy Chair
When it comes to promotional beach chairs, the canopy chair is highly recommended. The chair is similar to a captain's chair, but as the name suggest, includes a canopy to help blog out the elements. On a hot day at the beach, you want to enjoy the weather but not burn up in the sun's rays. A canopy chair is the perfect item for the occasion.
These chairs can hold up to 300 pounds and are easily foldable. Made from polycanvas, the canopy is also detachable. It is also easily transported in a carrying case with strap.
---
The Wave Rider
If you are looking for something more low-profile, then the wave rider is the perfect chair. It is a very popular beach chair as it allows you to sit comfortably close to the sand without actually getting burned by the hot sand.
Each chair has a pocket in the backrest to store your cell phone or other items you carry to beach. It also weighs less than four pounds so you can haul multiple chairs to the beach without straining. Once of the best features is that the seat is made out of mesh, so water doesn't pool in the seat if you sit with a wet bathing suite.
---
Camp Throne / Cooler Chairs

The camp throne tops our list of best personalized camping chairs you can buy. It is a waterproof carrying bag that can store up to 24 12-ounce cans. There are also side pockets for flashlights and other camping supplies. It has a strong shoulder strap that is padded which allows for easy carry.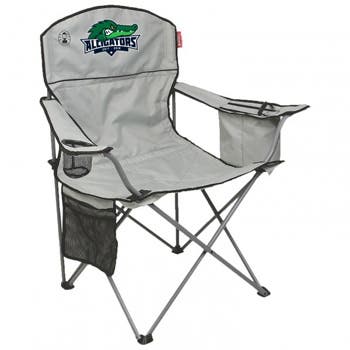 While versatile for carrying your camping gear, the camp throne doubles as a stool. The frame and durable fabric allow you to sit on the carrier as comfortably as a captain's chair. You basically get away without having to pack an extra chair since the carrying compartment is your chair.
In addition to the camp throne, there are many variations known as cooler chairs. You can find the following variations available for both camping and the beach:
---
Backpack Chair
Staying in line with chairs that double as something else, consider a backpack chair for those who really don't like to carry a foldable chair. This backpack has an integrated seat as well as room for laptop and other items. It is comfortable and lightweight so there is nothing extra to lug around.
These chairs are perfect for people who may not necessarily want a chair but could use one when the time comes to it. Think of hikers, bicyclist, and even college students. The backpack can be used for its normal purpose and then whipped into chair shape when the time comes to rest.
---
Bungee Chair
A bungee chair is a fun chair for anyone, regardless of the occasion. It is ergonomically designed for comfort and lightweight for carrying. You also have a large 8inch by 8inch imprint area for your company logo.
Bungee chairs are great for the beach, camping, sporting events, and even lounging around in the backyard. It even comes with a cup holder so you can lounge with your favorite beverage.
---
Folding Tripod Stool
The folding tripod stool is a lightweight and stylish folding chair for multi-use. It is made of 600D nylon and comes with a carrying bag with shoulder strap. It can hold up to 250 pounds and you can put your logo right on the seat.
This is one of the most convenient custom folding chairs available as it is less than 2 pounds and stores just about anywhere.
---
Brand Name Chairs
There is nothing better than co-branding with well-known brands. You can do that with folding chairs just like you can with other promotional items. Consider going with a custom folding chair made by High Sierra or Hunt Valley.
Final Thoughts on Custom Folding Chairs
Getting your message out there can be easy this summer by using custom folding chairs. Regardless if you want promotional beach chairs or personalized campaign chairs, we have you covered here at iPromo.
With many styles and colors to chose from, let us help you pick out the perfect one for your audience. We also offer you a best price guarantee so there is no need to waste your timing looking for the best deal. Contact one of our promotional specialists today to see how we can put you ahead of the competition.