The Best New Employee Swag Box Ideas For Your Hybrid Workforce
The hybrid workforce model is increasingly being adopted by companies that are looking to improve employee work-life balance. Forward-thinking employers are listening to the fact that 97% of employees want the flexibility to work remotely or in the office, and are starting to accommodate for this shift in work culture. Having remote work options is actually becoming a great way to attract talented new hires.
However, some employees are concerned about company culture eroding under the hybrid workforce model. Around 68% of American executives cited this exact concern. In response, business leaders are looking for ways to adopt the hybrid workforce model without sacrificing a sense of teamwork, collaboration, and company culture.
One of the ways this can be done is through the use of branded merchandise and custom swag boxes. Branded merchandise is a great way to welcome new employees and acknowledge the contributions made by existing employees; in fact, 82% of those that receive swag have a more favorable impression of the company that hands it out. Furthermore, they're an excellent way to give your hybrid employees a shared experience to bond over. 
For an employer, the benefits are two-fold. For one, they're able to help hybrid employees connect, even though they're not always in the office together. For another, using customized merchandise branded with your logo is an easy way for companies to advertise at a low cost. The CPI, or cost per impression, on a branded item, can be as low as one-tenth of a cent.
Custom swag boxes allow an employer to put multiple branded items into one package. The items in a swag box can be almost anything, but they should provide some sort of value to your hybrid employees. This ensures that your employees will actually use their swag, meaning more people will see your brand. 
Here are some great items that can be put together into a swag box for your hybrid employees. All items will be professionally packaged in a customized box with a printed message card and decorative packing paper. All swag boxes can be drop shipped for your convenience.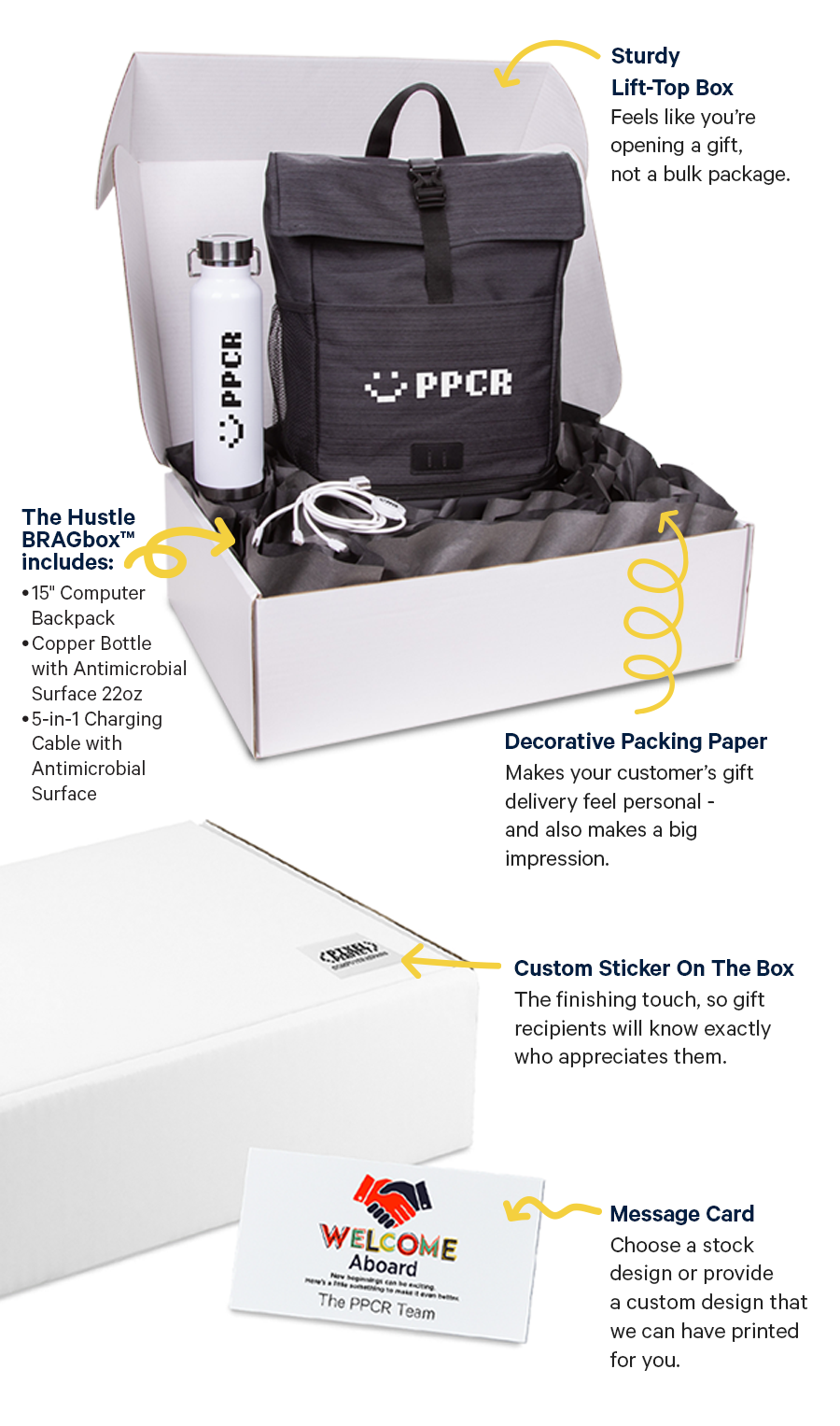 The safety of hybrid employees who drive to and from work is always a big concern. Driving is actually one of the most dangerous activities that your employee can partake in, and many are unprepared for accidents and breakdowns. 
The Reflections Highway Safety Kit has everything an employee needs in case they experience car trouble. It includes jumper cables, a 9 LED aluminum flashlight, tire gauge, reflective triangles, an emergency blanket, and a safety vest. This will allow them to keep themselves safe while they're waiting for help to arrive. The carrying bag can be screen printed with your logo. Rush service for the Reflections Highway Safety Kit is available, just let us know you need it fast!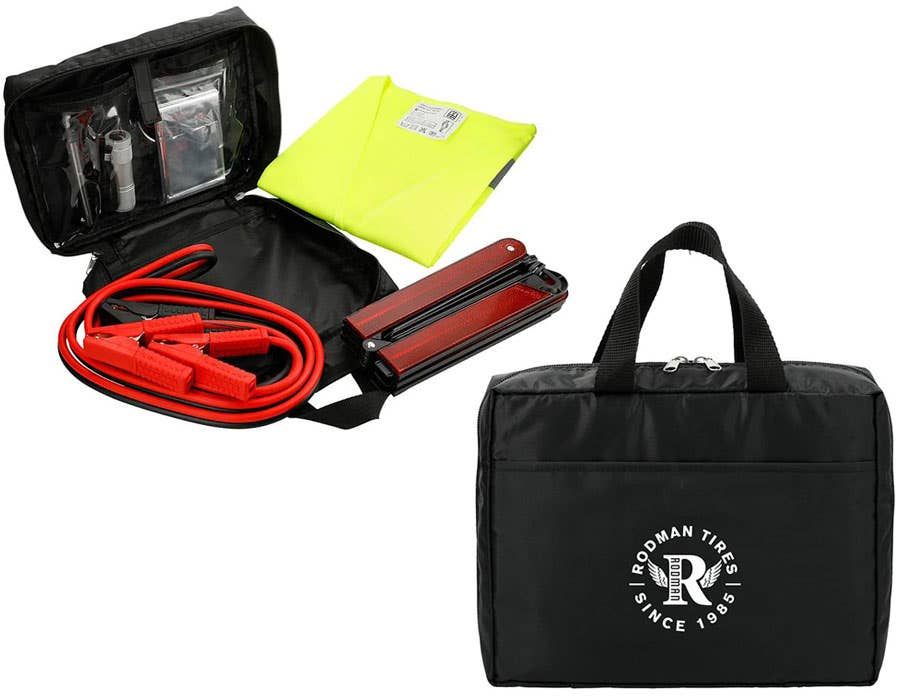 Hybrid employees in the workplace will want to keep themselves and others around them safe and healthy in the office. The Organic Cotton Pleated Mask is an excellent way to do just that. The mask is soft and comfortable, perfect for everyday use. It can be quickly run through the washing machine or hand washed with hot, soapy water, and hung up to dry. Employees can insert their own filters into the mask if they wish. As a bonus, 1% of all proceeds from this product are donated to environmental profits through a partnership with 1% For The Planet. 
The mask comes in black or natural and can be customized with your logo or design printed on the front of the mask. It's a perfect addition to any swag box. Rush service for this product is available. 
What is the Popl? It's a way for your hybrid workforce to share information with each other quickly and easily, simply by tapping one phone with another. It's a secure, touch-free way for your hybrid employees to collaborate and network with one another, making it an ideal addition to a swag box for them.
Employees will need to download the Popl app and use it to create a user profile. From there, they can choose what type of information they want to share, like their contact info or social media info. Then, they'll need to mount the Popl (a small, plastic circle) onto the back of their phone. Just like that, they're ready to begin sharing their info with one another. Your hybrid employees will be able to keep in touch even while they're on the go. 
The Popl comes in black, white, pink, and blue and can be customized with a full-color imprint of your logo. Since the Popl can be used with phones that don't have the Popl or the app, they can use it outside of work as well. It's an easy way to ensure that your brand will be seen by many, including business contacts that they choose to share their information with.
The Bring Your Own set is the perfect way for your hybrid employees to bring their meals to and from the office. This will help your employees remain on-track with a healthy diet and stay away from fast food. Not only will that save them money in the long run, but it will help them stay in top shape too.
The set includes the Osaka Bento Box, inspired by traditional Japanese bento boxes, and will keep your food fresh for hours. It includes a complete, reusable utensil set. The Bento Cooler has a PEVA heat-sealed lining, and the plush handle makes it easy for hybrid employees to carry their food with them on the go. 
The set comes in a sleek black, and your brand can be embroidered on the front of the cooler or be screen printed in full color. Your logo can also be screen printed on the bento box itself. It's an excellent addition to a hybrid employee's swag box.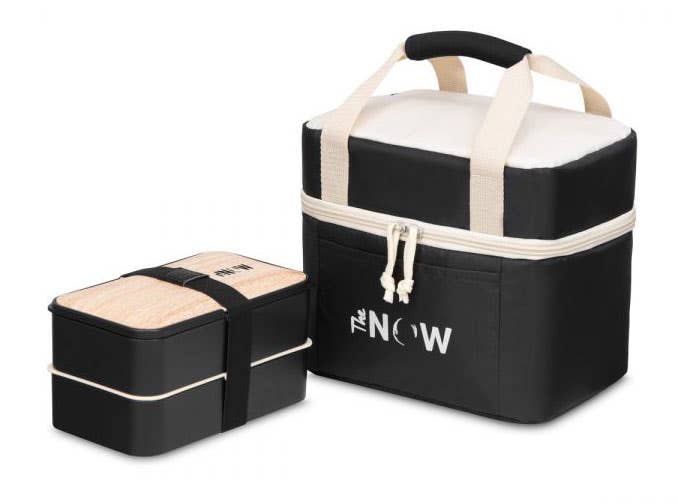 If you're unsure of what to put into your swag box, you can always choose from a selection of curated swag boxes, like the Hustle BRAGbox™. This swag box is created specifically with on-the-go employees in mind. 
Your hybrid employees are likely bringing their laptops and electronics to and from the office, and they'll want a way to carry them safely. The insulated computer bag included in this swag box will keep electronics safe in the padded laptop compartment, and it has an insulated compartment for keeping their lunch cool. The backpack comes in charcoal and can be customized with your company logo screen-printed prominently on the front. The white 5-in-1 charging cable in this swag box will keep your hybrid employee's electronics charged up too, and can also feature a screen print of your logo.
On-the-go employees will need something to quench their thirst, too. That's especially if they have a long commute (in the U.S., some commutes can take as long as 43.6 minutes). The 22 oz copper bottle in this swag box is perfect for any hybrid employees who are commuting. It's spill-resistant, making it safe to use in the car or a crowded bus. It features an antimicrobial additive as well for enhanced cleanliness. The bottle comes in white and can be customized with your logo, which can be laser engraved on the front. Production time for this swag box is between 10 and 15 business days. 
Celebrating Your Hybrid Employees With Branded Swag Boxes
The hybrid workforce model is growing extremely popular, especially after COVID-19 forced people to work remotely and most found out they really like it. 
Customized swag boxes filled with branded merchandise are a great way to connect those working remotely full time or part-time. Not only will receiving swag boxes give hybrid employees something to bond over, but it's a way for employers to promote their brand and company culture. As a bonus, employees who receive swag tend to view their company much more favorably. 
Having said that, swag boxes should be personalized for the employee receiving them. Items in a swag box for hybrid employees should address their needs, especially since they want to quickly and safely connect with the rest of their team and also happen to always be on the go. By personalizing what goes into a swag box, the employees receiving them will be much more likely to use the items and find them valuable. 
Luckily, swag boxes, and the items inside them, are highly customizable. If none of the suggestions listed quite hit the mark for you, there are plenty more options. At iPromo, we can help you create custom swag boxes that meet your hybrid workforce's needs. Contact us today to get started!