10 Best Eco-Friendly Promotional Products For Getting Outdoors
It's easy for employees to get caught up in the office or working from home that they forget to take time to go enjoy the great outdoors and recharge. While you may think that's not a huge problem, not going outside regularly can cause a significant drop in productivity. That's because staying indoors for long periods can fuel feelings of anxiety and contribute to insomnia and other health issues. The most straightforward cure is to step outside, even if it's only for a short while.
Being outside can lift an employee's mood, making them more energetic and improves their memory. Even a quick walk in the park can actually improve your attention span, which is perfect for employees who spend long hours in front of the computer. The stress relief that being outdoors can provide can even lower your employees' heart rate and blood pressure to help them manage their wellbeing. It's no wonder that employees value  being in the outdoors, and employers are beginning to actively encourage it too. 
Employees are also becoming more conscious of their role in protecting the environment where they can enjoy the many above benefits of being outdoors. That's why they are investing in everyday products that are sustainable and eco-friendly. The trend towards sustainability as a personal value is so strong that 47% of people worldwide are less likely to support brands that violate what they think is right. Putting your logo on sustainably made items will make it more likely that workers will use company merch and show it off with pride. 
If you're looking for a way to encourage your employees to head outdoors and to help them give back to the environment, here are some great products to choose from. 
Made from superfine merino wool, this shoe is soft and molds right to your foot. It's durable, and the moisture-wicking capabilities of this shoe help to control odor. If the odor does become an issue, these shoes can be tossed straight into a washing machine. 
Not only will this light, cushioned shoe make going outdoors easy on your feet, but it's eco-friendly too. 100% of the material in the laces is made from post-consumer recycled polyester. That means one plastic bottle that would've gone into a landfill was rather repurposed for this shoe's laces. That's just one small but impactful way you'll help to keep recyclable material from ending up in the landfill.  Your logo can be embroidered right onto the shoe and be seen wherever your employees go.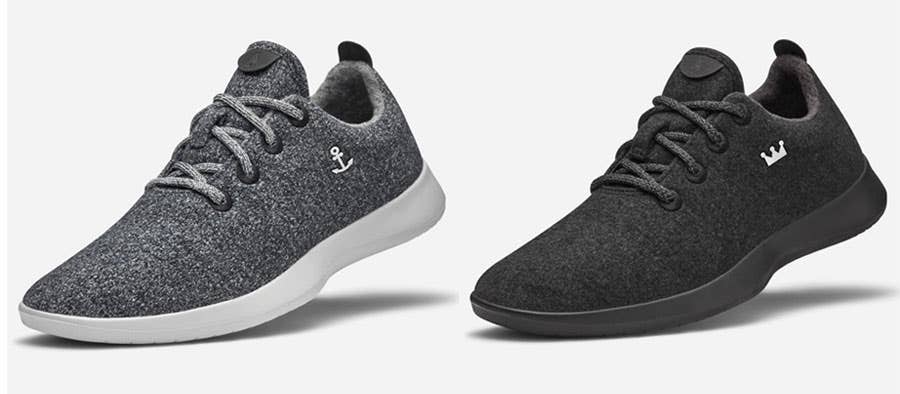 These sunglasses are made of wheat straw. Wheat straw is the product that's leftover once wheat is harvested, and this is used to make plastic. This ensures that no part of the wheat is being wasted, making it a great zero-waste material. The Wheat Straw Malibu Sunglasses are functional too. The lenses provide 100% UVA and UVB protection. It's available in a variety of colors, and your logo can be screen printed on the arms, ensuring that it'll be seen wherever they are worn. 
Lightweight and reversible, the charcoal-colored CamelBak Eco-Arete Backpack makes it easy for employees to carry all their outdoor gear. The backpack will have plenty of room for clothes, snacks, water bottles, and more. The bag is made with waterless dyed lining, which greatly cuts down on the amount of pollution and energy waste that its manufacturing would otherwise cause. Furthermore, 1% of sales from EcoSmart products, like this backpack, are donated to environmental nonprofits. Your logo is screen printed on the front flap, visible at all times, and it's something your employees can show off with pride and really appreciate. Rush service is available upon request.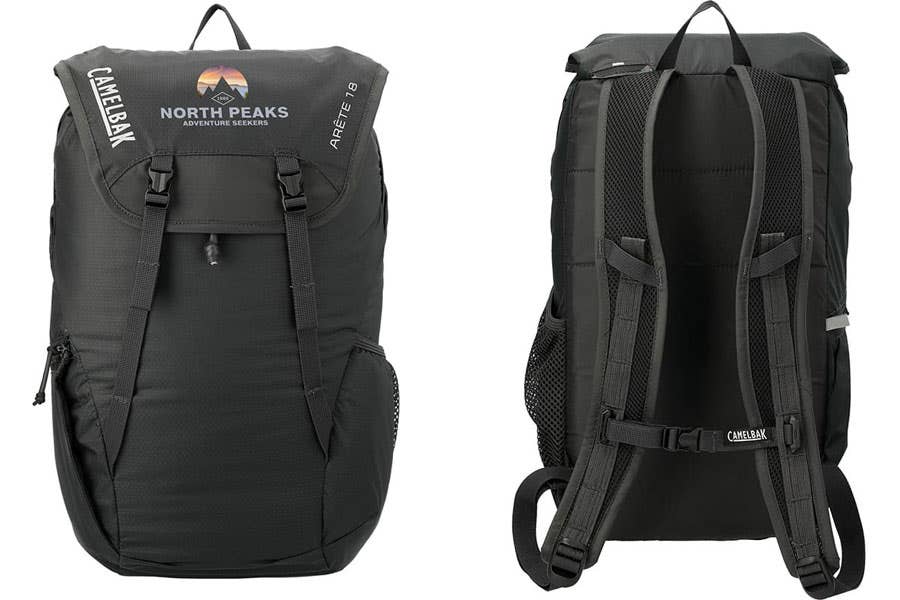 Reducing plastic waste is one of the single most important factors towards sustainability. The first step you can take is to reduce the amount of plastic water bottles dumped in landfills. S'well bottles are reusable and extremely functional. They keep beverages cold for up to 24 hours and hot for up to 12 hours. The exterior will remain dry as well, so you can toss it into your bag without worrying that any important electronics or documents will get wet. The bottle is BPA-free, vacuum-insulated, and triple-walled. It's available in a wide range of colors and your logo can be laser engraved or screen printed right onto the bottle. 
The soaring demand for single-use plastics items, like masks and other PPE equipment, caused much alarm for environmentalists. The Organic Cotton Pleated Mask is a great way to cut down on the amount of single-use plastics that are being used. Better yet, it keeps your employees safe. Lightweight and breathable, this 100% organic cotton mask can be tossed straight into the washing machine or hand washed with hot, soapy water. Since this is an EcoSmart product, 1% of sales from this product will be donated to environmental profits through a partnership with 1% For The Planet. The mask comes in black or natural, and your company logo can be screen printed on the front of the mask. Rush service is available for these masks.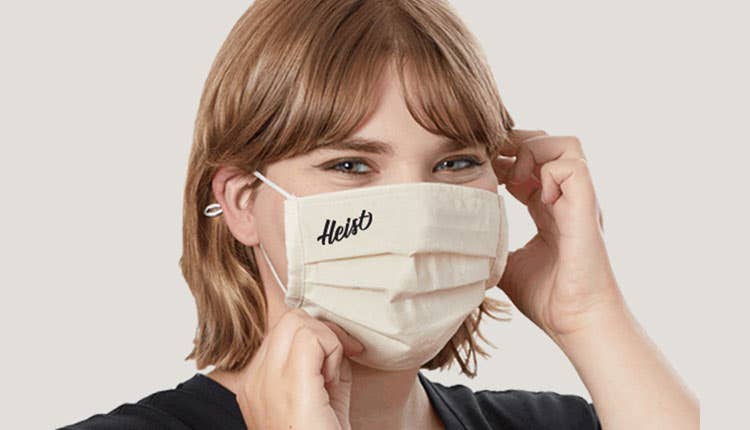 While golfing is a great way for any employee to relax and unwind, lost golf balls greatly contribute to water pollution. Around 300 million golf balls are lost every year, and many of them wind up in the ocean through waterways. Traditional golf balls have a solid core of zinc oxide and zinc acrylate, which are toxic in water environments. As a result, golf balls can actually cause water-dwelling creatures, like fish and crustaceans, to exhibit signs of stress.
On the other hand, the Wilson Eco Core golf ball is made from 100% recycled material, reducing its impacts on the environment. The golf balls come in a pack of 12. Each ball can be customized with a 1 or 2 color imprint of your logo. Standard production time is around 5 to 10 business days. 
While it's officially called a hip pack, this product can actually be worn across the body, too, so your employees can style it their way. To facilitate this, the straps can reach a maximum of 37 inches. 
The Parkland Bobbi Hip Pack is a great way to keep small, essential items close by when you're outside. It's available in blue or black and can be customized with your logo screen printed (full color printing available), right on the front of the pack. And since this is an EcoSmart product, 1% of sales from this product will be donated to environmental nonprofits. Rush service is available, just ask!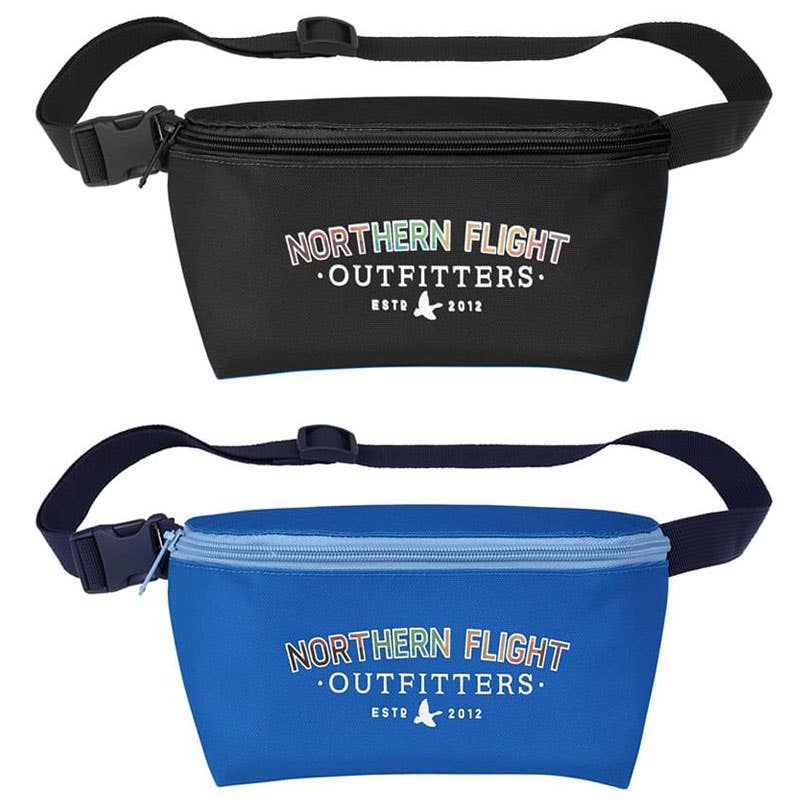 The Marine Layer Afternoon Hoodie is both soft and eco-friendly. The fabric comes from a sustainable blend of Supima Cotton and Micromodal. Micromodal is made from recycled beechwood, a natural and renewable source of raw material. The Hoodie is pre-washed and pre-shrunk, making it easier to care for. The Hoodie comes in gray, faded navy, and black. Your logo can be screen printed on the left side of the chest, making it visible even when your employee is relaxing outside. Sizes range from XS all the way to 2XL. The standard production time for imprinting is 10 business days. 
A unique, customizable gift, the MiiR® Camp & S'mores Gift Set makes going outside a delicious treat. The graham and marshmallows in this gift set are handcrafted with ingredients sourced locally. Using locally sourced ingredients is just one way to create a sustainable eco-friendly supply chain, cutting down the number of pollutants created from larger corporations. MiiR® also gives back 3% of their revenue. You can choose between a black mug or a white mug option. Your logo can be featured on the mug and the gift bag that the set is packaged in. 
Share Products That Are Good For You, Your Employees, and the Environment
Increasingly more employees and their employers are recognizing the benefits of making frequent trips outdoors. Going outdoors, even for a short while, improves mood, memory, attention span, and increases productivity. By giving employees products that encourage them to step outside, employers will achieve benefits both for the company and for their team.
Employers can show their support for the outdoors by sharing branded merchandise that are sustainable and environmentally friendly. More than ever, employees want to see that the company they represent is conscious of how their actions affect the environment. Gifting them with eco-friendly promotional items customized with your logo will allow them to show off your company in the best light possible. Your employees will be more likely to not only use these products, but also speak more highly of your company. 
If you need more ideas on encouraging your employees to head outdoors, contact us at iPromo. We have a wide range of eco-friendly promotional products that are perfect for your needs.  We can't wait to get started on your next sustainable branding project!