The Hottest 24 Hour Rush Promotional Products
Sometimes, you just need your swag in a rush. Whether a last-minute marketing incentive, an unexpected event, or simply a spur of the moment idea, we've got you covered in a pinch. That's why we have an entire
page dedicated to 24 hour promotional items with tons of options to choose from. And the best part? In most cases, there's NO extra charge for these rush service items!
These products can be customized with your logo, colors and artwork, and then printed and shipped out within 24 hours. Standard production times for customized promotional products are usually at least 5 business days, so this is no small feat of magic! Consider us your one-stop shop for when you need your promotional items fast.
How Next Day Promotional Items Work
Wondering how rush promotional products can be turned around so quickly and what you have to do on your end to make it happen? Here's a simple breakdown on how to get your promotional items out the door as fast as possible!
Our 24 hour promotional item service includes priority art approval and order processing—think of it like a fast pass for custom swag. Simply place your rush order and approve the artwork by 3:00pm CST, and we will print, package and ship your order by the next business day. It's as easy as that.
Worried about a limited selection of rush promo items? Don't be. We've got hundreds of different products that qualify for rush service, and we're not just talking about pens and totes (though we carry those too!)—we've got everything from custom portable power banks to earbuds to Bluetooth speakers, all available for custom rush imprint and speedy shipping.
Since there are so many great products to choose from, we've created a helpful list of our 7 favorite 24 hour rush promotional products. Check it out!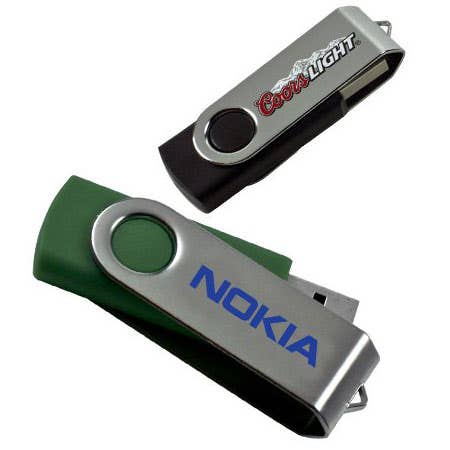 ---
Twist Flash Drive
A classic favorite, this twisty little number is available for rush imprint, package, and ship by the next day. The Twist USB is capless, cool, and convenient. You can imprint or engrave on both sides, choose from many color options, or custom match the shell to your logo's PMS color. It's our best value, best seller, go-to rush promotional product.
---
Ring Holder
We're all about the cell phone accessories this year. Our sturdy custom Ring Holders are available in a variety of colors and serves as a stand and phone holder in one. Twist and rotate the ring for a perfect grip or prop up the mobile device for video chat, selfies, and more.
It's an excellent option for turning the back of a phone into prime promotional real estate. And the best part? It's one of our rush promotional items, so you can have it ready within 24 hours.
---
iPopStand
The Customized iPopStand with its dual functionality as a bottle opener and smartphone stand in one is some seriously handy rush swag.
It's the perfect device to satisfy your refreshment and entertainment needs in one—pop open a drink and stream some videos. It comes in 3 great colors and can be printed with your branding within 24 hours.
---
Combo Spinnit Pen
When you need custom pens fast, look no further. Pens are a prime product when it comes to rush service, and we've got plenty of promotional pens next day delivery options. We've decided to feature this Spinnit Pen as the favorite, entirely because its thumb spinning action is highly addictive and fun.
It's available in any 6 color combos and highly versatile when it comes to branding options. For more personalized pens fast delivery, check out our rush service page.
---
iSlide Earbuds
What's black or white and available within 24 hours? Our custom iSlide earbuds, which connect to any of your devices and produce clear sound.
One of our favorite quick promotional items, these are sure to be a hit at any marketing event.
---
Featherlite Quick Draw Pack
Light, durable and eco-friendly, these convenient drawstring bags are perfect for toting all of your essentials around. Plus, they're available in a variety of fun colors and have lots of space for customization.
When you need your promotional items rush shipped within 24 hours, these are an excellent option.
---
11 oz Coffee Mug
Who doesn't like a good mug? And who doesn't like their customized mugs printed and shipped within 24 hours? Available in a variety of colors with ample logo space, these custom 11 oz coffee mugs are a great way to stay top of mind for your customers every morning. Side note: if you're looking for more beverage-carrier related rush products, check out koozies fast turnaround options.
While the list above contains some of our favorite rush products, it's by no means comprehensive. If you're looking for more fantastic next day promotional items, check out our rush promo items page for tons of other customizable, super speedy options. Start a live chat or call (888) 994-7766 to get started on your rush order today.