November 27, 2018
What is a Tchotchke and Where Did the Name Come From?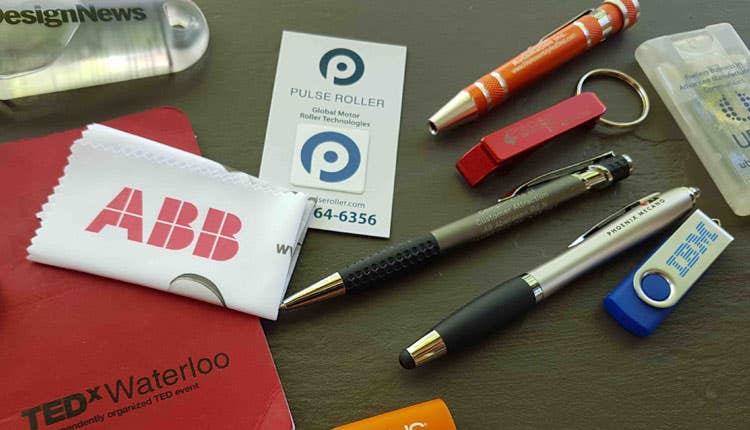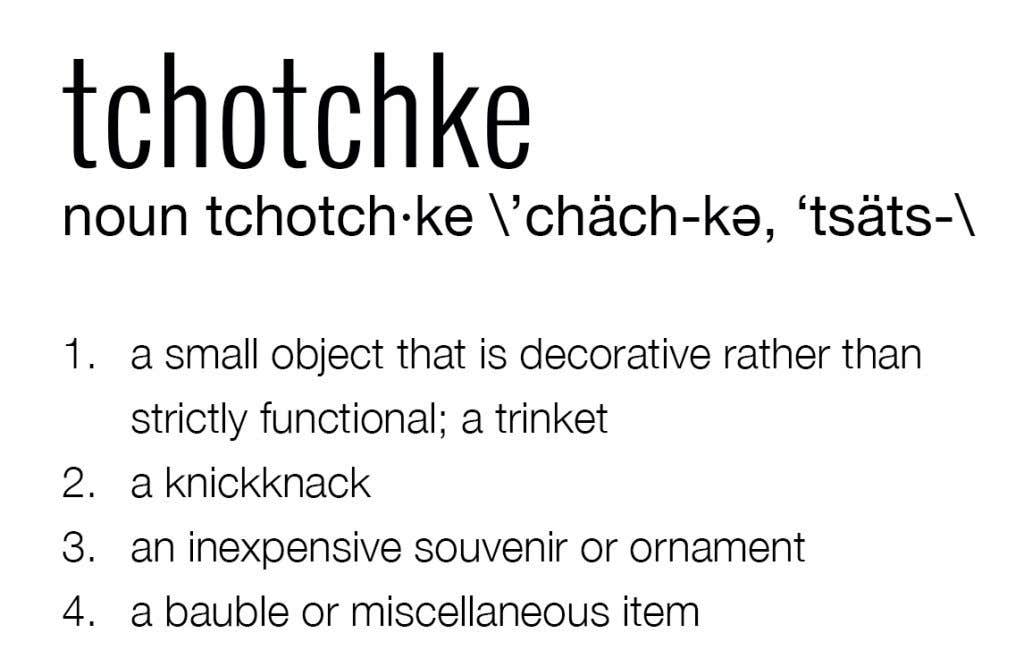 Tchotchke is a word that gets thrown around quite a bit. It's one of those words that is seemingly applicable to a whole bunch of different things. We know that you've been dying to know everything about tchotchkes, so we've happily obliged and created an entire article about them. Enjoy!
Tchotchke Definition
First things first. What does tchotchke actually mean? The official tchotchke definition is a knickknack or a trinket that is decorative rather than strictly functional. An additional tchotchke meaning is a decorative little object. They can be sentimental, whimsical, or simply fun. Nowadays, tchotchke also refers to promotional items and giveaways, but we'll get back to that part later. Tchotchke synonyms include: trinket, knickknack, bauble, miscellaneous item, small object, curio, ornamental.
Learn How To Pronounce Tchotchke
What is the correct tchotchke pronunciation? Perhaps surprisingly, it is pronounced chäch-kə, which sounds like cha-chka.
Tchotchke Origin
Where did the word tchotchke come from? Tchotchke comes from the Slavic word for trinket. Russian, Ukrainian, Polish and Belarusian each have their own very similar adaptations. It was later adopted into Yiddish slang as tshatshke, and has long been used by Jewish Americans.  Tchotchke is a popular word these days, but it wasn't commonly used in English until the 1970s.

Tchotckes can be anything from a shot glass collection from all of your tropical vacations, to glass animal figurines, to some seriously cool customized swag gear. We're sure that you've gathered that we're less interested in the vacation souvenir kind, and all about the promotional kind. Our own tchotchke definition is a slightly different one. It certainly includes decorative and novelty items, but we like them to be functional. Something that you can give your customers and employees that will actually be used and appreciated. With that in mind, we've created a small list of some of the best tchotchke ideas we've got in our stash.
The Best Tchotchkes For 2022
Stress Balls – When it comes to fun corporate tchotchkes, stress balls are always a popular choice. We don't know a single person who is never stressed, and these little trinkets provide the perfect channel for hands-on stress management. Plus, custom stress balls provide an endless amount of customization options – you can create your own unique shapes or use one of the existing color, shape or design ideas that already exist. It's a great way to help your customers get zen on the go!
Pens—What could be simpler than a pen in the world of tchotcke ideas? It's the kind of thing that is always needed, and will always be used, especially since they seem to constantly go missing. There are a ton of different pen styles, all with different customization options to complement your brand.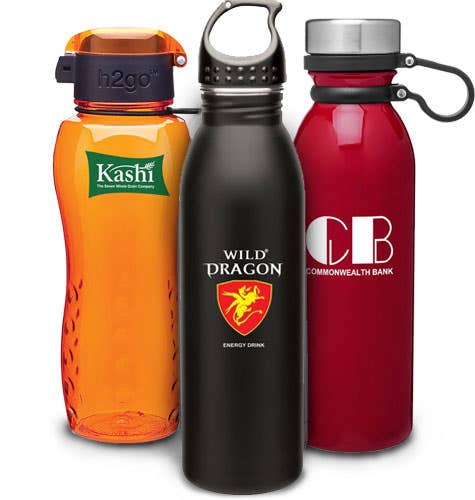 Water Bottles—Water bottles are yet another one of our favorite cool tchotchke ideas. Because who doesn't need to hydrate on the go? A custom branded water bottle is the perfect companion for a gym session, hike, commute, or pretty much any other activity. It's eco-friendly and always useful to have around. We've got a huge variety of water bottles in all different shapes, sizes, colors and brands. Find the perfect one to match your brand's vibe.
Desk Accessories – Now this one category that lends itself to many different creative tchotchkes. From bookends and business card holders, to calculators and erasers, laser pointers and mouse pads, pen cups and pencil sharpeners, photo frames and staples, sticky notes and tape dispensers, there are a ton of different corporate tchotchkes options when it comes to desk accessories. They can be a helpful addition to any office set up, and the customization options are truly endless.
Tote Bags – These are some seriously eco-friendly tchotchke gifts. Tote bags have become an essential household item that always comes in handy. Whether for grocery shopping, beach days, or simply toting your stuff around, they're a must-have. We have a bunch of different high-quality totes that come in a variety of styles, shapes, colors and materials—cotton, leather, polyester, and canvas. It's the kind of tchotchke that is both decorative and functional!
Sunglasses – Who says that cool tchotchke ideas can't be stylish. Word to the wise, they definitely can with custom-branded sunglasses. Branded sunglasses personalized with your logo are the perfect companion for sunny days. Our sunglass supply is not small—we've got every style and color you can imagine.
If you've read this far, we can official say that you're now a resident expert on tchotchkes. Which can only mean that you understand their key role in taking your marketing efforts to the next level. With the holidays and new year right around the corner, we're a one-stop-shop for all of the best tchotchke ideas for your customers and employees. Check out our selection for unique giveaways that are not only fun, but totally useful as well.