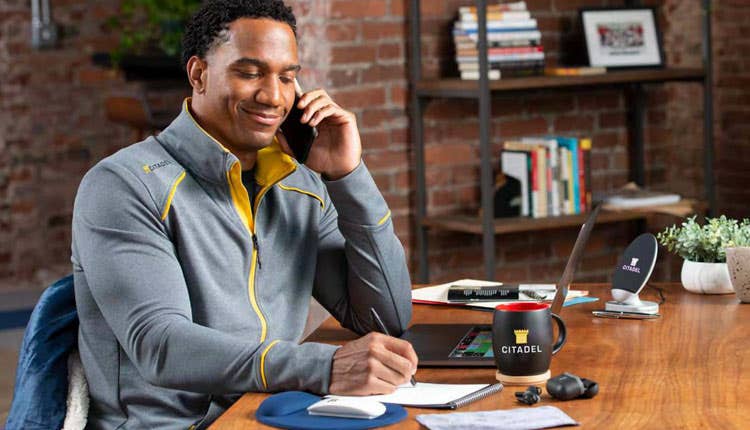 The Perfect New Hire Welcome Kit For Remote Employees in 2021
Joining a new company is an exciting time for any new employee. However, with the changing employment landscape, and many companies transitioning to more work-from-home positions, it can be challenging for new hires to feel connected to your company's values. Thus, it's essential to have your company armed with the best new hire welcome kit for remote employees in order to make the onboarding process a success. 
No matter where your employees are located, there are many things you can do to make a new hire feel welcome. A new hire welcome kit, also known as an employee onboarding kit or employee welcome package, is an excellent way to make new hires feel like part of the team. They usually contain a collection of items that help your new employees be more productive and comfortable right from the start. 
Research shows that employees are still determining whether they are a good fit for the team and company within the first couple of months in a new job. Thoughtful swag in their welcome kit is a great way to help any new hire feel excited and right at home with the company. 
Wondering what today's new hires want to see in their welcome kits? Let's have a look at the top 5 categories for building a fantastic new hire kit.
1. Drinkware
Drinkware is useful for everyone and a classic addition to any new hire welcome kit for remote employees. Not only will it keep them hydrated and/or caffeinated, but most drinkware is kept for over a year. This is why including custom drinkware in your new hire welcome kit is one of the easiest ways to promote your own company. With over 85% of global consumers remembering the advertiser of a promotional item, company-branded drinkware is not just beneficial for your company's environmental and corporate social responsibility goals — it's also free marketing for you and your products and services. Wherever your drinkware goes, so does your brand. 
This item is an excellent addition to any welcome kit. Its sleek design is stainless steel both inside and out, and with its powder-coated finish, this non-slip bottle is very easy to hold. It comes with a 9" straw for easy drinking, and its screw-on spill-resistant lid keeps accidents to a minimum. Plus, this tumbler not only meets FDA requirements, but it's also BPA-free. 
Whether a new hire is working indoors or enjoys completing tasks outside, the double-wall construction and vacuum seal will keep both hot and cold beverages at just the right temperature. Branded beverage containers are some of the most effective media: watching the repeated lifting and setting down of a tumbler stimulates the eye and the brain, and etches your artwork and brand into people's minds.
---
2. Home Office Organization – Journals & Pens
Nothing says 'welcome to the team' more than providing your new hires with essential workday items. Although considered one of the more basic things to give a new employee, office supplies are vital for any employee's day-to-day needs. By adding some office supplies to your welcome kit, you're helping remote new hires overcome the need to outsource these items for themselves. 
When thinking of what office supplies to include in your welcome kit, remember that these items can be anything your new employee might require daily for their work life. Here are a couple of essential things to include in your new hire welcome kit for remote employees: 
Just because most of the world has gone virtual doesn't mean we wouldn't all benefit from a handy journal. Journals provide a great, easy way to jot down thoughts or daily tasks: the slower process of putting pen to paper requires you to target your intention more. It's also been proven that writing by hand is great cognitive exercise and keeps us sharper as we age.
Most remote employees have the option to work where there's WiFi, which means your branded merchandise will likely travel along with them. The Ambassador Graphic Wrap Bound JournalBook™ is the perfect addition to a remote employee's toolkit. Its compact size (8.38″ H x 5.5″ W) makes for easy carrying and packing into most standard-size laptop bags and backpacks — perfect for an "office-on-the-go." 
With 80 sheets of lined paper and an expandable accordion back pocket, your new employees will have the tools they need to keep their most important notes in place. This journal is available in a full-color graphic wrap, and blind debossing is included in the price. 
---
A great item to pair with any notebook or journal is the FUNCTION Soft Touch Quick-Dry Gel Ballpoint. Its soft, rubber barrel design makes it easy to hold without leaving those annoying pen indents on your fingers. Have your logomark or other brand artwork applied in full color onto the ultra-smooth, quick-dry semi-gel pen, or have it permanently applied by precision printing press.
---
3. Backpacks
Another great item to either use in your new hire welcome kit or to store all your new employees' awesome swag are custom backpacks. Rather than trying to figure out what to put all your new hire swag into, consider a backpack that is extremely handy and lightweight. The average consumer will keep promotional bags for up to 11 months. That's almost a year of free advertising for your company, all from a branded backpack. Consider this: a bag that costs about $5 will have a CPI (Cost Per Impression) of under 2/10 of a cent.
This premium-brand backpack features two large main compartments and an organizer compartment with pen pockets to store all your new hire swag. More than just a handy gift, the S-shaped padded shoulder straps add an extra layer of comfort on the go. It's just roomy enough to fit a laptop, tech essentials, journals and documents, and other items, but compact enough for easy carrying. 
The usefulness and versatility of a high-quality backpack can't be overestimated. Your new hires might even replace their favorite bag with this company-branded one! 
---
4. Food
Who doesn't like some sweets as an afternoon treat? Adding a snack is an excellent way to include something refreshing for when those hunger pains show up, not to mention that the cost per impression (CPI) on promotional merchandise is lower than any other advertising medium.
Incorporate a small pillow pack of candies into your welcome kit as a sweet gesture. Each package comes with two pieces of your favorite treat. It is available in a variety of candies and chocolate to choose from, like foil candy, jolly ranchers, bubble gum, Hershey Kisses, and even classic chocolate coins. Print your brand logo or artwork on a clear pillow pack with our four-color process for extra branding impact — making it the perfect choice for any business sticking to a budget. New employees can keep their snacks for themselves, or proudly share your company treats with family and friends. Everyone will associate your brand with a yummy treat.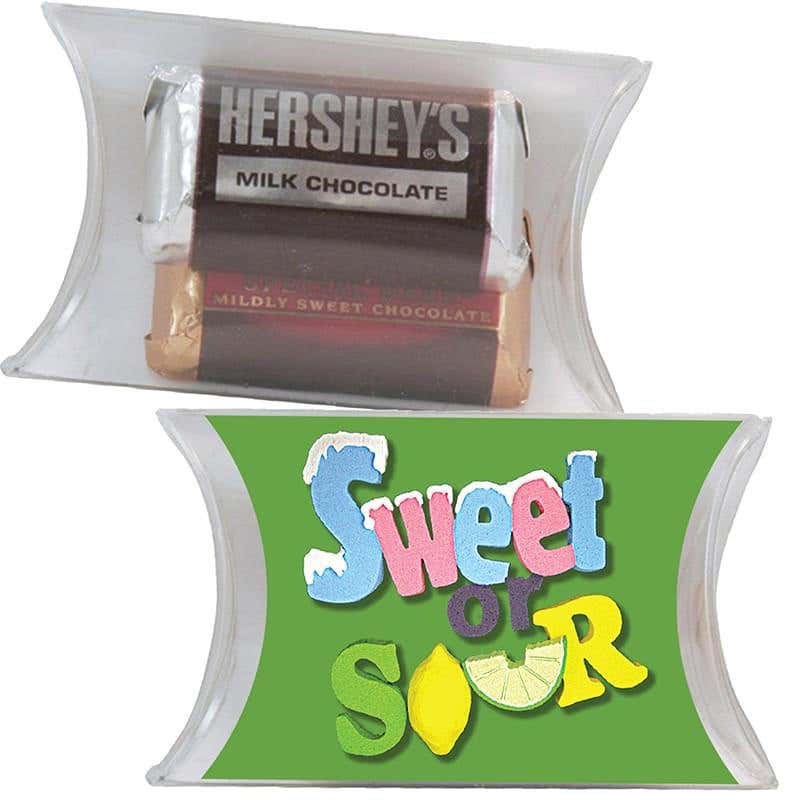 ---
5. Tech
Working from home means your new employees will also need some tech essentials. Whether it's a wireless charger, mouse pad, or earbuds, at some point, we all use these items throughout the day. Give your new employees useful things they will use on a daily basis. Remember to think proactively about what items will help ensure they complete their first tasks with success. 
The next time you need to spice up your new hire welcome kit, be sure to start with these items. We can help you source anything else and can ship your new hire kits directly to their doorstep, making the remote onboarding process less of headache for you. We're excited to make your brand stand out, leaving your new employees feeling proud to flash their new swag on the next Zoom meeting or while running errands. The quality our products offer will ensure your employees want to take their branded merchandise everywhere with them.
We hope these items will help you make your welcome kits memorable. Take a look at iPromo for more work from home essentials to fit your branding needs.