The Top 4 Branded Outdoor Essentials for Events, BBQs, and Camping
As COVID-19 has forced all of us to stay close to home, more and more people are getting outside to safely interact with family and friends. While the most popular barbecuing day is July 4th, spring through fall is the perfect time to gift or hand out branded outdoor gear that can be used for backyard celebrations for years to come. Here are a few of the backyard essentials for cookouts and campfires that are perfect as swag bag items or contest/event prizes.

Custom Coolers
When someone is hosting a barbecue event, they are going to need a ton of supplies ranging from drinks to condiments. Rather than having to run back into the house in order to get everyone on an as-needed basis, it is much easier to be able to carry it all out at once. This is possible with the help of the Koozie® Party Kooler. 
This handy product has enough space to fit up to 24 12-oz. cans mixed in amongst a base of ice cubes to keep everything cold. This helps to avoid the issue of bringing all of the supplies outside at the beginning and then having them become warm and not as enjoyable by the time the food is actually ready to eat. But it also doesn't keep these items cold by keeping them sealed off from the outside. Instead, it uses an open design to make it effortless for someone to reach in and grab anything they want without needing to struggle to open up a container lid. 
The individual will not have to be worried about there being a mess as the ice melts because this product comes with an easy-clean leak-proof vinyl liner that helps to keep the ice and melted water completely contained. And when it comes time to dump out the ice and water, they won't have to worry about trying to dump it upside down and potentially spilling stuff all over them. Instead, they can use the open flat front pocket, which will allow the remaining liquid and ice to spill out the front instead of spreading everywhere. Also located in this cooler is a bottle/can opener to make accessing any of the items it contains extremely easy. It is not the only option for backyard coolers, though.
There is also the Agoura Insulated Cooler with Side Frame. This specific cooler is even larger, being able to hold up to 36 standard cans at once. This means that the person can make even fewer trips from the house to the backyard during their cookout or campfire. Instead, they can put everything they need into the polyester cooler with PEVA lining, zip up the lid to the main compartment, and then use the large carrying straps to carry it out to the backyard. And with its four bottom support pegs, the bag doesn't have to risk becoming dirty and heating up faster from the hot pavement. 
As useful as the cooler is during a barbecue party, it is just as useful after the event is over thanks to its easy storage capability. The cooler is able to be conveniently collapsed by pressing inward on the outer sides of the frame. The person can then use the snap closure straps in order to help ensure that it remains in its compact shape, making it great for traveling purposes. 
---
Barbecue Utensils
Having a backyard cookout is impossible without the right barbecue tools. That is why items like this BBQ 11-Piece Set can be such a valuable item to give people this summer. This product contains every tool that anyone could possibly need to cook their food on their barbecue. 
This includes tongs, a spatula, a fork, a basting brush, a knife, four skewers, and a grill cleaning brush, all of which happen to be made out of high-quality stainless steel. Therefore, the individual doesn't need to worry about them rusting after being exposed to a small amount of moisture and should be able to keep using this exquisite set of barbecue tools for years to come. 
To help keep all of these barbecue utensils together and properly protected, there is an aluminum hard case with a convenient handle to make transportation easy. You are also able to place your brand's logo directly in the center of this case so it is the first thing that people see when the person brings out their impressive set of barbecue tools for their backyard barbecue party.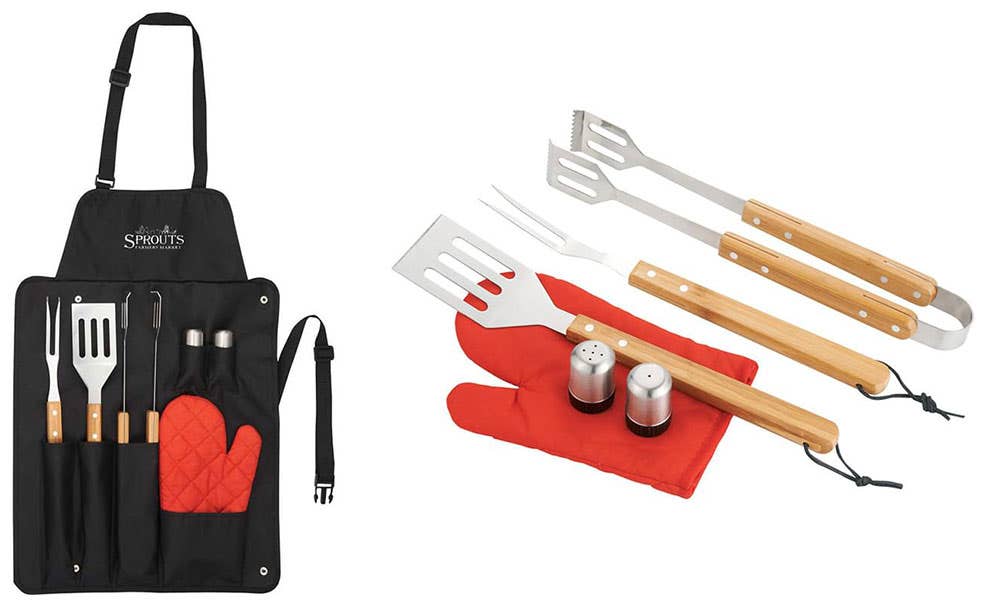 If someone would like a more unique way of using their barbecue tools, then they will love this BBQ Now Apron and 7-Piece BBQ Set. Rather than keeping all of the barbecue utensils in a fancy case, it instead makes it more convenient by having them all housed in a stylish apron. Therefore, anything they could possibly need during the cooking process will literally be on their person. 
This includes a spatula, fork, tongs, oven mitt, and salt and pepper shakers. Each item has its own pocket so they can take out whatever they want, use it on their food, and then immediately put it back in the apron pocket to make sure that they remain properly organized and are not spending precious cooking time looking for where they last put their spatula. 
The entire time that the person is cooking their meal, they will be spreading your brand awareness thanks to the screen print or full-color logo that will be placed on the front flap of the apron. This location helps ensure that it will never be blocked by any of the utensils.
There is also a way to combine both the benefits of a cooler and a handy barbecue utensil set. This is thanks to the BBQ Set with Cooler Bag. Not everyone who decides to do a cookout is going to need such a wide array of tools as what the previous barbecue sets offer. Sometimes, all that is needed are a spatula and some tongs, which is exactly what can be found inside of this product. 
The front zip-up compartment securely holds these two stainless steel utensils and allows them to be accessed without having to open up the main compartment and let out the cold air inside of the cooler section. This main zip-up area is capable of holding several drinks at the same time and is properly insulated to make sure that the beverages remain cold for hours, even when the barbecue set is kept in the hot sun. Together, this combination of two different products rolled into one makes it the ideal item for someone who is only just beginning to host backyard cookouts or only does one or two a year. 
---
Durable Bluetooth Speakers
No backyard cookout is complete without a playlist of fun summer songs. But rather than trying to play them on a phone speaker, which is not going to be nearly loud enough for everyone to hear, a much better option is to have a Bluetooth speaker that can be brought outside to provide the soundtrack to the campfire. This is your opportunity to provide employees, customers, and other individuals with this capability while also spreading brand awareness through something like this Custom JBL Bluetooth Speakers. 
This impressive line of Bluetooth speakers are perfect to be used both indoors and outdoors thanks to the fact that it is protected in durable outside materials with water resistant models available great for the sitting by the pool. Co-brand with a legendary and respected audio brand with your logo placed across the front of the speaker so it is front and center throughout the entire party. 
---
Comfortable Folding Chairs
During a backyard party, people are going to need a comfortable place to sit. This is why you should think about distributing something like this Fanatic Event Folding Chair. It is an easily portable folding chair that comes with two armrests and a convenient cup holder on each side. Despite the fact that it is incredibly lightweight, the chair is actually quite durable and is capable of holding up to 300 lbs. The entire time that it is being used, the back of the chair will be showing off your screen print logo set against either a black, lime green, navy blue, red, royal blue, or gray background.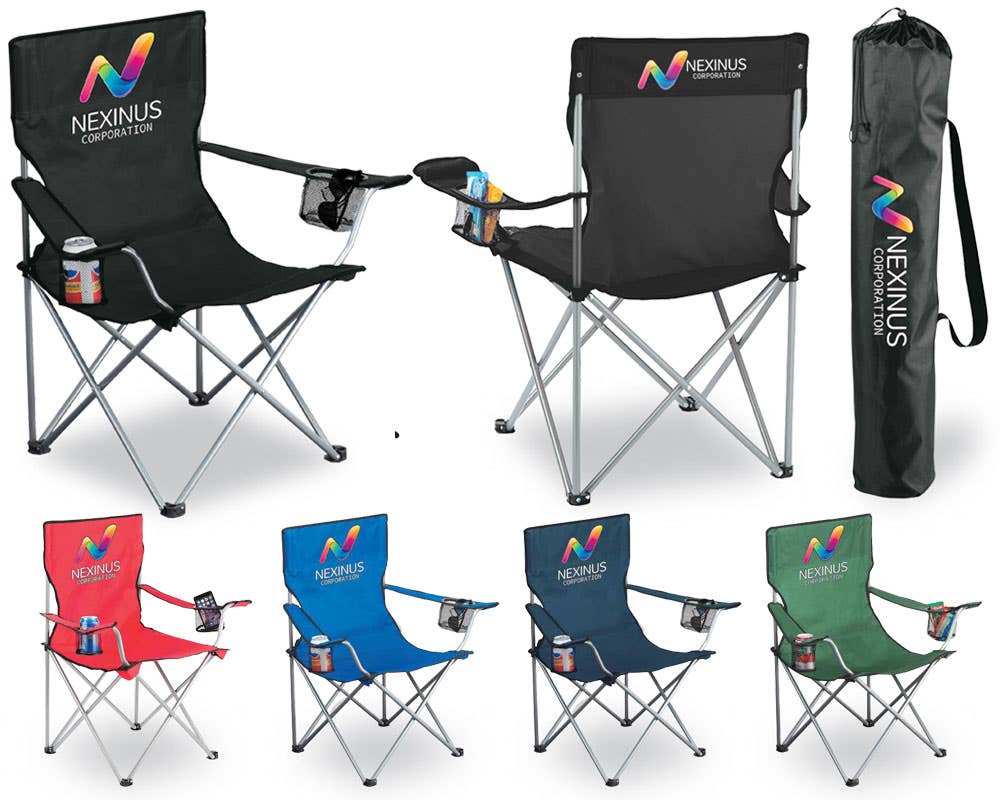 And when it is not being used, the chair can be transported and stored quite easily. This is thanks to its ability to effortlessly fold up into a compact cylindrical shape that then goes into the matching carrying case. By using the case's shoulder strap, it allows the person to carry multiple chairs at once.
Make sure that you start distributing the perfect products in time for this year's barbecue season by visiting iPromo and checking out our extensive catalog of customizable and branded backyard essentials.