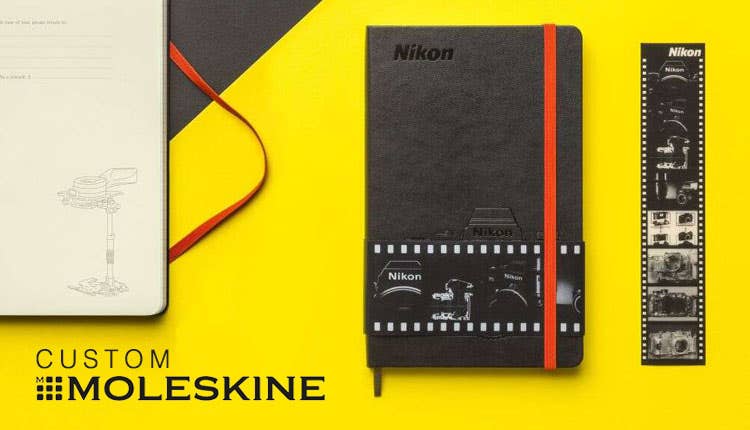 The Ultimate Guide to Custom Moleskine Notebooks & Journals
Stylish Moleskine personalized notebooks will happily travel all over the road promoting your brand. Customers and co-workers religiously bring branded Moleskine notebooks and journals to work, client meetings, and their plane seats. This gives you creative opportunities to build brand awareness, promote your company, and generate leads with branded Moleskine products. 
The History of the Moleskine Brand
When you choose a Moleskine notebook, you are choosing more than just paper. It is a high-quality, durable item that was designed to allow individuals to create, imagine, and write. The Moleskine brand was created in 1997 but first emerged as the company Modo&Modo. It was designed with the idea to create the high-quality notebooks that past creators like Vincent Van Gogh and Ernest Hemingway would enjoy today.
In 2007, the company received worldwide trademark rights. It continued to grow and evolve and in 2016, it was acquired by D'leteren. Today, the company's product selection is expansive and constantly increasing. It not only includes notebooks, but its product lineup includes planners, journals, and bags. You can also purchase various accessories such as wooden pencils and travel pouches to help you stay organized and to improve your creativity.
The company has also released Moleskine+, which offers a number of tools to help you integrate your work between analog and digital devices. This means that you can always be creating, writing, and improving. Today, the company is growing with nearly 550 employees and a wide network of partners and consultants. The company is located in Milan, Italy.
Why Choose a Moleskine Notebook?
Moleskine is not your traditional notebook. These products feature qualities that you will not find in a traditional paper pad. The notebooks are made using raw materials and the items found in these notebooks are produced from around the world. No item is used in these products without extensive research to ensure they will only deliver high-quality results. A few facts about Moleskine product includes:
All paper is acid-free
The manufacturing process for the paper is environmentally-friendly
All paper is made using low-hazard materials
All accessories are made with polyester
All Moleskine pens are made out of ABS and metal
All packaging is designed so there is minimal trash
Each Moleskine product is FSC certified
When producing Moleskine notebooks, a delicate process of bookbinding and paper folding is used. The company states that they have special manufacturers who take extra care to produce handmade craftsmanship and to produce goods like those that were created centuries before. All suppliers of these notebooks must meet certain guidelines to ensure the products are eco-friendly and made of the highest grade of materials.
The Best Custom Moleskine Products
If you are looking for the best giveaway products, filling a swag bag, or you want to give your employees a gift that they can use anywhere and anyplace, custom engraved Moleskine notebooks should be at the top of your list. Here are several of the best, customized Moleskine items you should consider.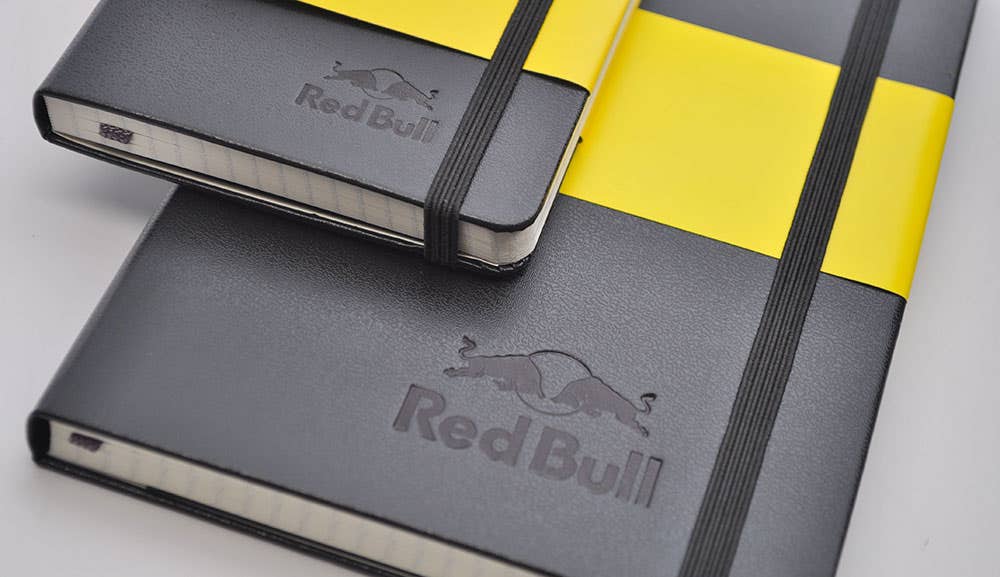 Notebooks
Custom branded Moleskine notebooks are sure to impress any of your customers. The opportunities are endless with the designs, messages, and types of products you choose.
The Moleskine Ruled Letter-Sized Professional Pad is excellent for note-taking or writing down ideas. This large notebook features a cardboard cover with rounded corners. All 48 sheets can be removed and when delivered, each individual notebook is shrink wrapped. This is one of the best custom printed Moleskin notebooks as you can have a large 8-inch tall image displayed on the front of the cover.
If you are looking for something a little smaller and more durable, the Moleskine Hard Cover Ruled Reporter Notebook is a must-have. This item flips open and features 240 pages to fill full of notes and thoughts. It also features a small expandable inner pocket and the large front allows you to print your custom message so it is easily visible.
When it comes to Moleskine, you can be assured that every product delivers high-quality and outstanding performance — even if the custom Moleskine cover is soft. The Moleskine Soft Cover Ruled Large Notebook is the perfect branded giveaway item. It features 96 sheets of acid-free paper and a soft cover that easily bends without breaking. It also features an elastic strap to keep the product closed, which is a perk your customers will enjoy. As you customize this notebook, there are numerous options as you can choose from four color choices: black, sapphire blue, scarlet red, and earth brown. You can also choose a custom design up to 6-inches tall on the front of the book.
---
Custom Moleskine Journals
Your customers cannot say no to a custom engraved Moleskine journal. The Moleskine Volant Ruled Large Journal is the ideal gift for your employees or as a branded giveaway item. It features 96 pages of ivory paper and it boasts a slim design, making it easy to carry. There are nine color options to choose from with this journal option, making it easy to create a custom journal that truly matches your company's look and brand.
If you desire custom Moleskine journals that are a little larger, the Moleskine Cahier Ruled Extra Large Journal may be what you need. Similar to other Moleskine notebooks, this item features a cardboard cover and 120 pages. You can be creative when customizing this journal by placing your logo anywhere on the front of the journal.
Depending on your mission, company, and purposes, The Moleskine Passion Journal is unique, fun, and specialized. The Wellness version, for example, allows your customers to track their own health journey and track their health goals. A wine version is also available, which allows you to easily track your favorite samplings.
---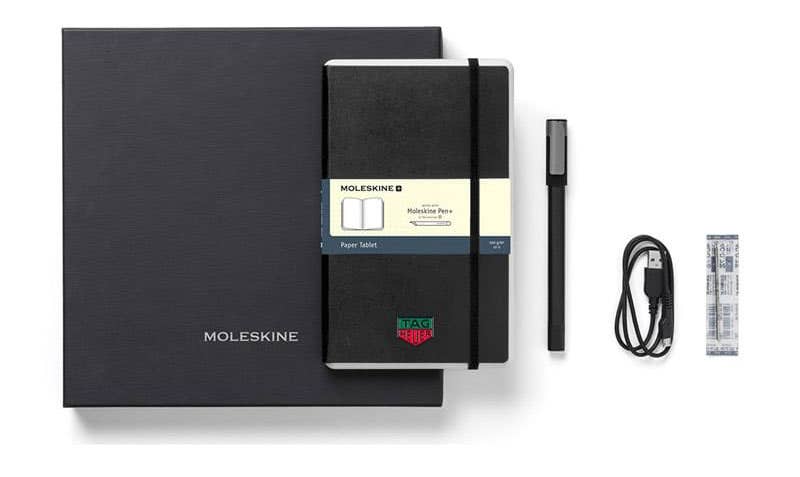 Writing Set
The best giveaway includes a little something of everything from Moleskine. With the Moleskine Smart Writing Set, your consumers will have everything they need to create and imagine. The set features a Moleskine Paper Tablet, Pen+ Ellipse Smart Pen, and the companion app. Even better, your consumers can enjoy this advanced writing tech and you can customize it to include your custom logo and design. You can also choose from screen print, full color, or deboss printing options to give your design the exact look and intricate details that you desire.
---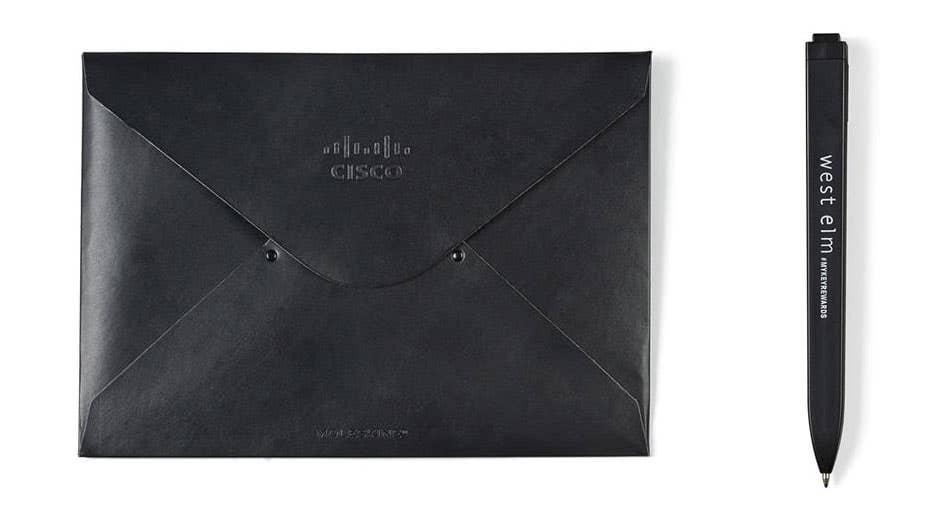 Added Accessories
If you want the durability and high-quality offered by Moleskine, you don't have to focus exclusively on notebooks to receive it. We offer several additional custom Moleskine items that your consumers will love and will help you increase your brand awareness and brand loyalty. The Moleskine Pro Envelope is one product that every businessman and office worker will desire. The envelope gives a classic, beautiful look for delivering your letters. You can customize the envelope so it includes your logo on the back flap.
Your consumers will also fall in love with the Moleskine Go Pen. This small item is the perfect accessory for all of your custom embossed Moleskine notebooks. It is a lightweight pen with a unique shape. It features a small clip so it will easily clip onto a notebook or journal of all sizes. These are also great items to include in swag bags or to tie to the top of employee gifts
Moleskine's high-quality isn't just evident in its notebooks, but also its backpacks. The Moleskine Business Backpack is a great way to promote your company and increase brand awareness. With this durable, attractive backpack, you can have your custom logo and design placed on the front of the bag, making it easy for anyone to see. The bag is also large enough that it is great for storing pens, notebooks, and other swag items for your winners.
Many individuals love items that are convenient and functional. It serves some purpose and is something they will use and will not simply take up space. The Moleskine Tool Belt is one of these products. It allows you to keep an individual's devices, notebook, pen, and other items in one convenient, customized place. It is an item that individuals will take with them everywhere they go, which will give your brand even more exposure.
---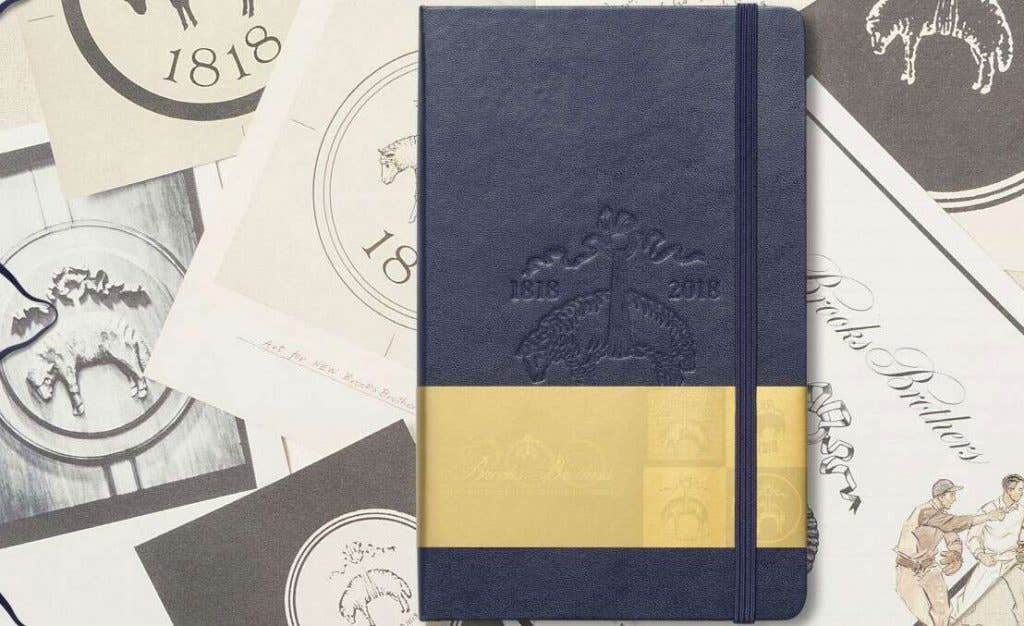 The Takeaway
When it comes to providing high-quality, attractive, and useful items, choosing custom Moleskine notebooks is a winning idea.
When you choose these products, you can rest assured that you are providing a quality product to your consumers. They will be functional and useful and their durable design makes them easy to carry to and from various destinations, gaining your company even more exposure. With such a wide range of custom Moleskine items, you can easily find something that your consumers want and that they will use every day. Plus, we love to create custom orders that capture your company's vision. Reach out to us today to learn about our customization process.