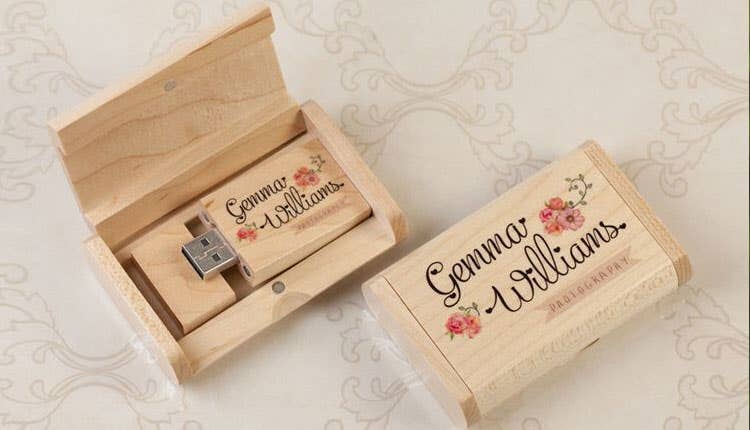 Top 5 Custom USB Flash Drives For Photographers
All photographers know that the two most important tools of their trade are 1) a great camera 2) an ample place to store their photos. While we can't speak to the former, we can certainly provide some suggestions for the latter. Whether for you, or your clients, Custom USB drives are a great, portable way to store tons and tons of photos. You can take them anywhere, and they have very large storage capacities to hold many different projects.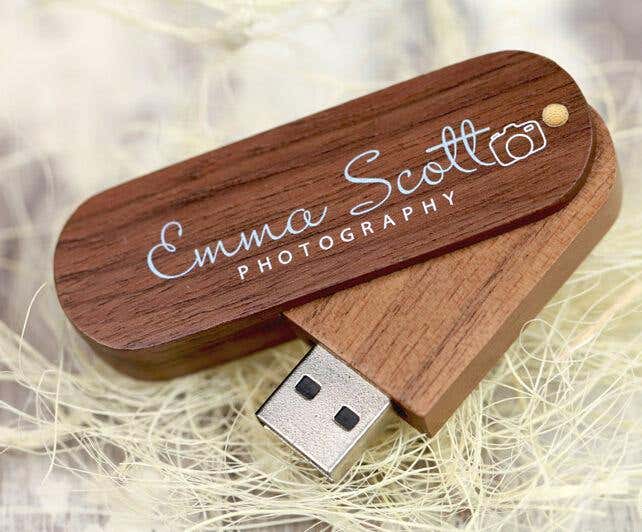 Not only are these branded flash drives for photographers incredibly utilitarian, but they're also effective little marketing tools! Pair them with custom USB packaging for photographers, and you have quite the memorable keepsake to give away!
Wedding photography is one particular niche that needs to capitalize on this—custom flash drives for wedding photographers are a must! Give the couple and bridal party wedding USB presentation boxes—they're a gorgeous, memorable keepsake that can be personalized for any wedding. The couple and guests will love having all the photos at their fingertips, and the drive serves as a constant reminder of your services for years to come!
Custom flash drives and packaging for photographers is definitely not just limited to wedding photographers. You can get creative and customize these memorable giveaways to whatever type of photography you do—real estate, family, adventure, outdoor, corporate, modeling agency, etc. The possibilities are truly endless! There are so many ways to customize drives to reflect your business, and they are the kind of thing that people use constantly, for years to come!
We've created a helpful little guide for the Top 5 Custom Printed Flash Drives for Photographers—check out our favorite picks.
---
Twist USB (Best Seller)
The Twist is one of the most classic USB drives you can get, and for good reason. It has a convenient swivel feature that allows the metal frame to rotate 360 degrees, and also makes it capless. (Read: you won't have to worry about losing it).
The customization options are endless—you can imprint or engrave your logo on both sides. Plus, you can select from any of the great color options, or custom match the shell to your logo's PMS color. It comes in a bunch of different storage capacities, starting at 64MB all the way to 128GB. It's definitely our best value and our best seller.
---
Click USB
Designed after a credit card, the Click Card USB conveniently enables you to keep your most important documents right in your wallet, alongside the rest of your cards. It has a large imprint area, which provides ample space for artwork or your logo, aka, maximum brand exposure. Plus, it's offered in 2 different colors and a breadth of different storage capacities. It's like a calling card for your business – just way cooler and way more useful for your clients and prospects!
---
Message in a Bottle USB
This whimsical flash drive is creative, fun and memorable! The jar is made from glass and the flash drive is encased in cork, which not only looks great, but is functional as well. Often used by photographers, it provides a creative alternative to more traditional flash drives.
You can customize the Message in a Bottle USB with logo printing available on the top of the cork, or printing directly on the side of the glass bottle. It's a unique, high-quality USB flash drive that definitely leaves a lasting impression on your clients and prospects and can be a perfect memento for nostalgic events like weddings.
---
Berkley Wooden USB
Rustic yet trendy, the Berkley Wooden USB is another popular USB option. Custom wooden flash drives for photographers are definitely a go-to option for a whimsical giveaway. This USB comes in four different wood finishes, multiple imprint options, and a range of storage capacities for a variety of customization options. We especially love this for nature photographers, but any type of photographer can personalize it to match their business.
---
Timber Wooden Twist USB
This little wooden wonder is both functional and stylish! It's conveniently capless, super light, and able to rotate nearly 360 degrees. Available in Maple, Bamboo, Walnut and Redwood finishes, the Timber is sure to create a lasting impression. Custom wood USB drives are really a wonderful option for photographers—they have a rustic, yet classy appeal, and promote an eco-friendly vibe.
All of the personalized flash drives for photographers on the list above are fantastic options for photographers looking for effective marketing tools. They're memorable, useful, and all come with a variety of customization options.
---
USB Custom Packaging
Plus, at iPromo we offer Custom Packaging for all of our flash drives. This enables you to hand out your custom flash drives in beautiful packages and boxes. Definitely check out our Custom Flash Drive Cases for photographers and USB boxes for photographers. Between your photos, the USB, and the custom presentation box, it really it an ideal package to promote and expand your business. Now is a great time to prepare for the 2023 wedding season. Feel free to give us a call at (888) 994-7766 or live chat with us today to get a free custom USB quote and virtual preview of your design on any of our flash drives.