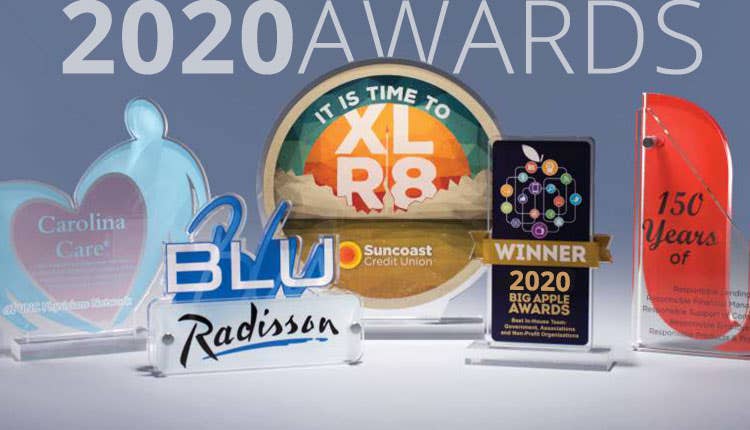 Your Guide to Crystal Awards and Trophies for 2020
It's no secret, people love getting trophies, whether they are being honored for being an outstanding employee or they successfully completed their first music recital. Trophies and awards in this new decade will still be a great way to mark important milestones in your life because your biggest achievements aren't always objects that you can point to and cherish for years to come.
There are few better ways to validate someone than handing them a trophy or award, so that's why it's a great idea to consider getting branded crystal trophies and awards for your next corporate or private event.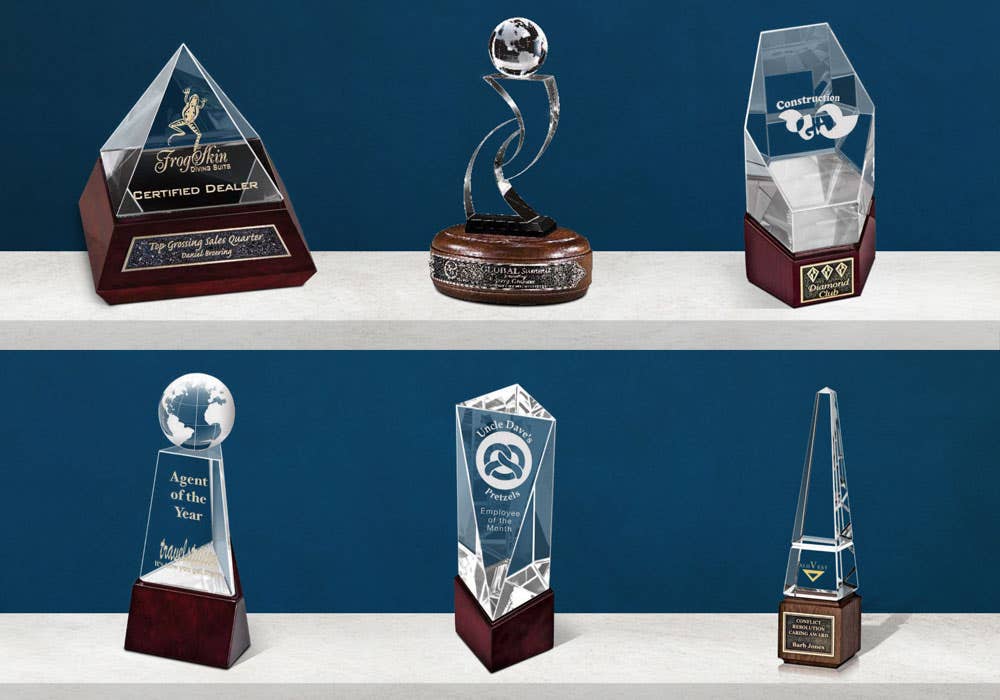 Have You Ever Wondered Where Trophies Came From?
"Trophy" is derived from the Greek verb 'trope', meaning "to rout." In ancient Greece, trophies symbolized war victories. They were created after the battle was over on the exact spot where the enemy was defeated. The primitive trophies were often composed of weapons used in the battle and made to resemble the figure of a soldier or a warrior.
To make sure no one forgot the details of the battle, the "trophies" were inscribed and then dedicated to the gods. Trophies were not just a product of battles on land, for naval war victories, trophies often consisted of entire beached ships. The winning side would preserve the remains of the losing side's ships and preserve them as a reminder of their victory as well as a tribute to the god that aided them in their triumph.
Ancient Romans revolutionized the idea of trophies when they decided that they should be closer to home. Instead of limiting trophies to the spots where battles were fought and won, they had huge trophies erected in the form of archways, columns, and life-like sculptures to commemorate great battles.
It was a long time before trophies were something that could fit into the palm of your hand, but it's believed that chalices were awarded to the victors of sporting events as early as the 1600s.
The tradition has continued ever since. And no wonder—people still like to have tangible proof of their achievements. Here's why you should participate in the legacy of trophy giving and honor your employees or team with unique crystal branded trophies and awards:
1. Promotional Products Are Good for Your Business
A study conducted by ASI Ad Impressions uncovered that promotional products are the most cost-effective, high-impact advertising medium available. U.S consumers were asked what kind of promotional products they owned (which can be defined by anything with a brand on it) and 64% of people said they owned desk accessories—hey, a trophy fits nicely on a desk! If you're thinking of investing in branded trophies don't only think of it as a way to honor an individual for a good game or a job well done, also think of it as valuable promotional material for your company.
Furthermore, trophies tend to have a good shelf life—literally, especially if they are of the flashy crystal variety. People will view and complement the trophy for years to come, which means increased visibility for your company.
2. They Validate Your Employees or Team Members
Trophies and awards mark a significant moment in a person's life. A crystal trophy or award makes that moment all the more special because their success is symbolized by an object that they get to hold and take home with them. Awarding someone with a trophy arguably goes further than simply telling them "good job!"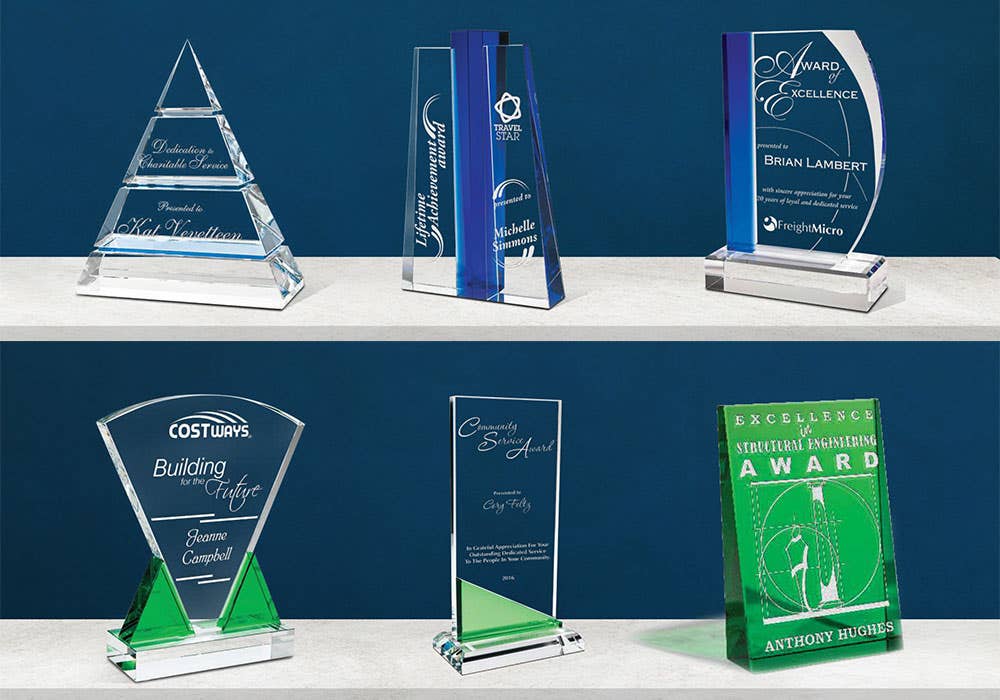 3. They Make Your Event Memorable
Engraved crystal trophies and awards have the power to make your next event a formal affair. If trophies are on the line, people know you're not messing around. If you're hosting a golf tournament, for example, the players are more likely to give it their all if they know that they're playing for more than a free lunch.
The formalizing power of crystal trophies and awards doesn't only apply to golf tournaments, use them at your next talent event, sports function, awards ceremony or gala!
The Options Are Endless
With 500+ crystal trophies and awards and the possibility to customize them, the options are truly endless. Here are some of our most notable crystal trophies and awards and some ideas of what they are suited for:
A Range of Cost to Suit Every Budget
No matter your budget, there is a customizable crystal trophy for you! Prices start as low as $12.31 so rewarding people for hard work, or a game well played is actually quite an affordable venture. We also have a selection of crystal award plaques and premium crystal trophies, including the Legacy Trophy Bowl, for your luxe events.
Why Crystal?
Flimsy plastic trophies are a dime a dozen. People don't want to keep them on their shelves, so the branded merchandise you paid good money for will end up hidden away in the dark corners of closets.
Crystal trophies have some weight to them and lend themselves to being on display more than their flimsy plastic counterparts. If you invest in custom crystal awards for your next event, your etched logo could grace fireplace mantels for years to come.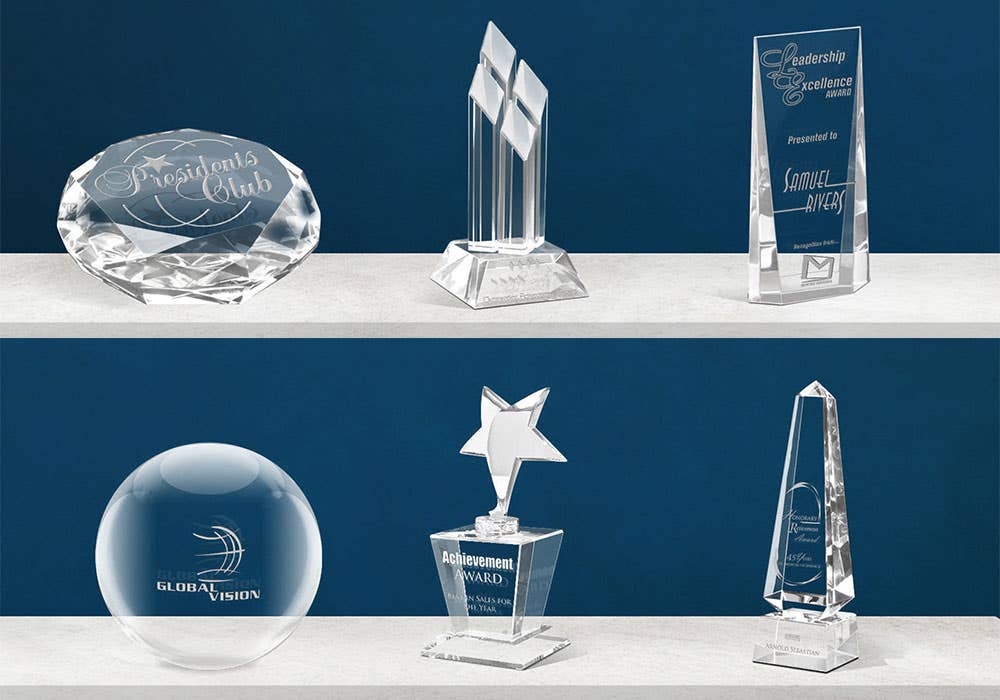 We'll Help You Design Trophies that Match Your Brand and Your Vision
If you want to create custom crystal trophies and awards for your next event, you're in the right place. iPromo is determined to help you design products that live up to the vision you have in your head. We are fully committed to ensuring complete customer satisfaction through every stage of the design and ordering process, and we work hard to make you experience simple and hassle-free.
When you order custom engraved crystal trophies and awards, we will work with you to reflect your brand and your values in the most effective way possible. We have the best techniques and technology at our disposal from laser etching to engraving. We are determined to produce quality products that you will be proud to distribute, and recipients will be happy to cherish.
The bottom line is that we try our best to offer the best selection, outstanding prices, and state of the art techniques. Our dedication to our products and our customers goes unmatched, which is why we are the authority on engraved crystal trophies and awards and other branded merchandise.
Let us put you first. If you have a trophy in mind, let us use our services to bring it to life! Surely, there's somebody in your company, or team that is deserving of a quality award.
Last-minute event? If you need your trophies in a hurry, ask us about our rush service. If you have any other questions, don't be afraid to get in touch with us! We're here to work for you, and we can't wait to get your order started.