10 Best Corporate Gifts for B2B Gifting
One of the most difficult aspects of your B2B gifting campaign is finding the right present for your clients. You want to give a gift that is going to be useful, fits within your budget, is easy to deliver, and that you can customize so each time the item is used, the recipient appreciates where it came from. 
To help you get started with your B2B gift campaign, we've come up with a top 10 list of our best corporate gifts for B2B gifting. These items will help you show appreciation to other businesses, are professional, and will take away much of the stress that B2B gift-giving brings. 
A gorgeous natural bamboo cutting board is the perfect item for a break room or to sit in an executive's kitchen. This piece is made from gorgeous natural bamboo. This type of wood is ideal for cutting boards as it is maintenance-free, easy to clean, and will last for years to come. It does not retain water, which is common among other types of wood cutting boards and can cause cracking and warping in the board. Plus, bamboo is known for its resistance to bacteria, which is one less thing a company has to worry about in the break room.
The sleek design of this cutting board also makes storage simple as it can sit on a counter or be placed in a drawer. Plus, with this product from iPromo, you have a large amount of space to customize the board. Your artwork is printed on the front, giving it a professional appearance.
---
If you are looking for items that can be used on a daily basis, be transported with ease, and easily slides into the desk of an employee, the Bi-Band Medium Ivory Journal is a winner. This journal features 224 lined pages and two elastic bands — one to keep the journal closed and the other to mark a certain location in the book. 
As individuals pull out this journal, you want them to instantly think of you and with the customization options available, this is achievable. This journal is available in four colors: blue, gray, dark gray, and green. You can have your company logo or another design of your choice heat-pressed on the front cover of the journal and in a location that is easily seen.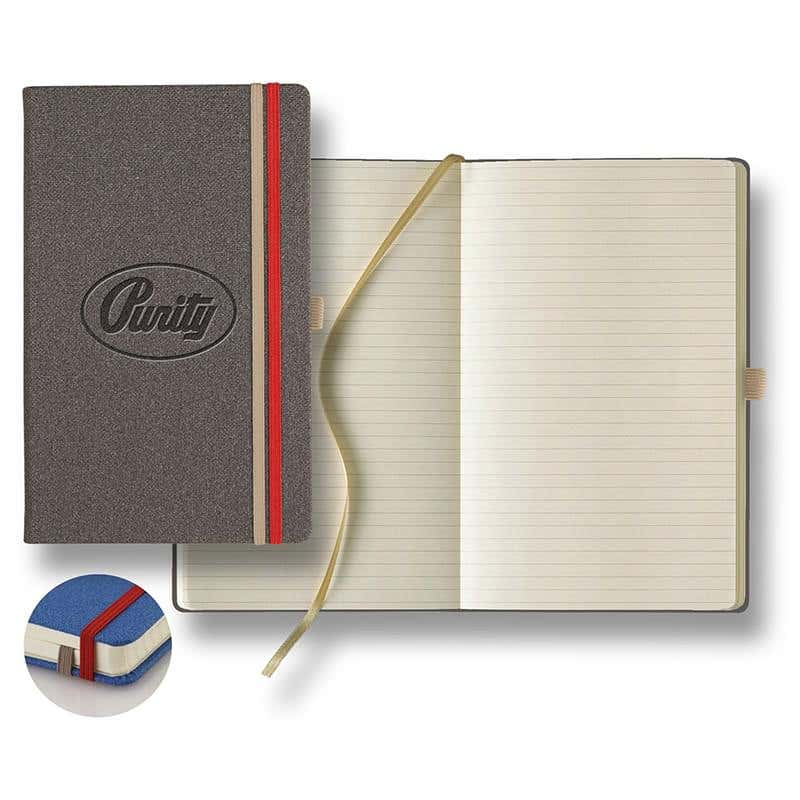 ---
The 20 oz. Himalayan Tumbler is something every individual can use throughout their workday. This tumbler features a stainless steel outer layer and a powder-coated finish, keeping it protected as you go throughout the day. A stainless steel inner layer and vacuum-insulation technology will keep all liquids hot or cold for up to six hours at a time. 
Nine color options are available and you can choose between 3 stuffer options. Your logo can be permanently printed on the front of the tumbler, and the stuffers are tied with a small white bow, making the present exciting to receive. 
---
If you are searching for one gift that an office can share among its employees, the Plaid Tidings Holiday Tower is the best. This large, 18-inch tall tower features a long list of holiday treats including the following:
Chocolate truffles

Dark chocolate covered almonds

White frosted and milk chocolate pretzels

Yogurt-covered raisins

Frosted Gems

Almond Cookies
The presentation of this B2B gift says it all as the treats arrive in holiday-themed gift boxes with a large red ribbon tied around the tower. You can personalize this ribbon with your company name and logo, making it easy for the recipient to know who it came from. 
---
A wood ornament is one of the best corporate gifts for B2B gifting as it can be reused year after year. This snowflake ornament is not something that will be used once and thrown away but can be placed on a tree each holiday season, reminding the company of your business and the things you have done for the company. 
You can place artwork of your choice in the middle of the snowflake, so it is prominently displayed. You also have the choice of screen printing or laser engraving your design.
---
If you plan to drop off a bottle of wine to help a company or client usher in the holidays, make sure it is presented in a non-woven gift bag. This is an excellent way to present the gift, and your logo can be printed on the front of the bag, making it easy for every recipient to know who gave them this exciting gift. 
All of our wine bottle non-woven gift bags are made from coated, water-resistant polypropylene. They feature a ribbon drawstring closure on top and are recyclable.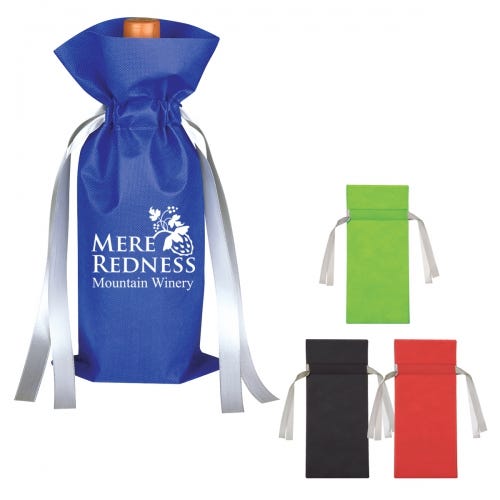 ---
Something simple that can sit on a desk, like the Faux Leather Pen Cup Set, is a terrific B2B gift idea. The simple design of this product makes it perfect for any area of the office and it can be used for many purposes such as a pen holder or a desk accessory organizer. 
Our faux leather executive pen cup will arrive at the gift recipient with 5 ounces of your choice of cashews or chocolate almonds. You can also print your company logo large and bold on the front of the pen cup set, making it highly visible. 
---
A fun and unique corporate gift idea for B2B gifting is the mini folding travel umbrella with case. This umbrella features a 37-inch arc and a five-panel design, perfect for individuals to use during even the hardest downpour of rain or snow. The umbrella features a manual design and when closed, folds down to only 6.5-inches. 
The included travel case is the perfect size to keep in a car, at a desk, or in a large purse so individuals will always have it handy. Additionally, as you determine how you want to personalize this product, multiple options are available. For example, you can have your logo printed on the carrying case or the umbrella's handle. There are also multiple color options available for the umbrella and carrying case including black, green, gray, orange, red, yellow, and blue.
---
A tea gift box provides variety and excitement. It is something the recipient can share or they can keep all to themselves. Our tea gift box comes wrapped in a beautiful gift box that is filled with six gourmet flavored tea bags. Assorted flavors include:
Mango green tea

Lemon honey chamomile

Pomegranate tea
This is another B2B gift idea where personalization options vary significantly. Not only can you choose from five colored boxes, but you have the option of printing your logo on the box itself or choosing a solid-colored box with printed ribbons.
---
If you want something that is unique and provides a "wow" factor, consider the Modern Sprout Glow & Grow Live Well Gift Set. This gift is unique as it arrives as a fragrant, trendy candle but after the wax has burned, it turns into a small, desk-size planter with all of the supplies you need to grow a small plant. 
The soy-blend candle features a scent that is not too strong for the workplace. Once the wax is gone and you are ready to plant the included seeds, your recipient can find all the supplies he or she needs at the bottom of the box including seeds, a soilless grow medium, activated carbon, instructions, and plant food. The plant options you can choose between are basil, aloe, or a daisy. 
This item is perfect for desks, cubicles, and countertops. You can personalize the planter so your company logo is displayed prominently on the front. No matter where an individual chooses to place it, they'll frequently be reminded of your company and the benefits of working with you. 
---
Choosing the best corporate gifts for B2B gifting doesn't need to be an overwhelming and frustrating experience. You simply need to find something that is useful, unique, and shows appreciation. Plus, with the right personalization options available, it will not only let the recipients remember who provided such an extraordinary gift but it will become a great marketing tool for your company. 
For more terrific corporate gifts for B2B gifting, make sure to look at iPromo. You can browse ideas based on price, brand, type of product, and more.