June 23, 2023
10 Fun Beach Promotional Items to Make a Splash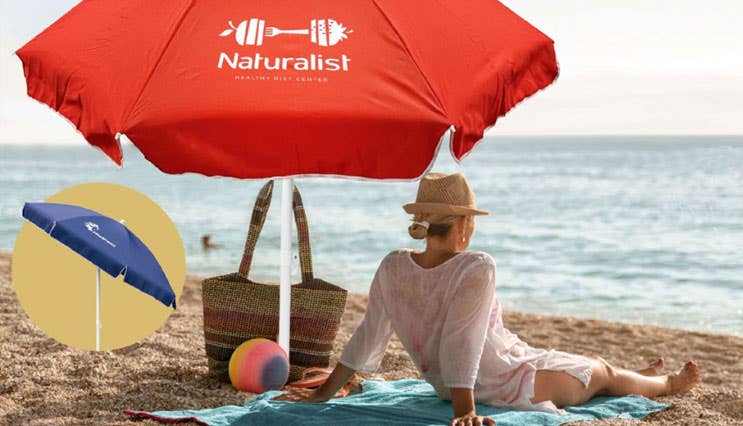 Summer is just around the corner, which means it's time to think creatively to get your brand outside! Beach promotional items are a simple yet effective way to market your brand while they're enjoying a day at the beach relaxing utilizing the items you gave them to enjoy their much needed R&R.
Beach swag can help your brand shine and impress employees and customers alike. Fun, high-quality items will give your brand a competitive edge and help you strengthen business relationships. They are also perfect for the season, so customers and employees can bring them on vacations and outings, further spreading brand awareness and sparking conversations about your organization.
If you want to get your hands on the top branded beach items, here are 10 fun beach promotional items from iPromo worth putting your logo on:
One of the best beach party gifts we recommend is this paddle ball game set with a carrying case. Beach promotional outdoor games like paddle ball make for an enjoyable and quirky summer swag item and will encourage your recipients to make the most of the sunny season for years to come. Not to mention the endless brand impressions coming your way when others see your logo on it.
Pricing includes a full-color imprint on each paddle to show off your branding. So, when your employees and customers go to the beach and play games or attend outdoor events and pool parties, they will be having fun while flashing brand impressions along the way.
The game set includes two large wooden paddles and two rubber balls. It also comes with a mesh carrying case for on-the-go traveling, making it convenient to carry it just about everywhere.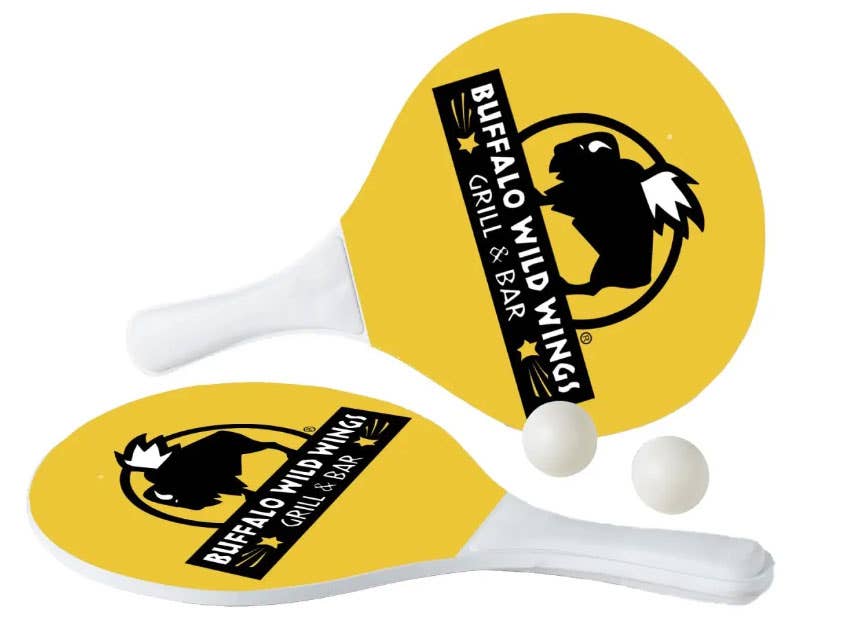 Your customers and employees will love this soft, comfortable, and absorbent full-color round beach towel if you hand it out as a promo gift. After all, they will need it to dry off after a swim, wipe their sweat as they bask in the sun, or to simply layout in the sun on the beach.
These trendy custom beach towels are made from a Turkish cotton and poly blend, which will help them stay cool at the beach and promote your brand to a bigger audience.
You can customize the towel with an edge-to-edge ColorFusion™ imprint of your brand name, logo, and design across the front. This printing method creates a photorealistic effect, so your branding will surely stand out and give you the best value for money.
The towel's high quality means that recipients will likely keep it for years, improving your number of brand impressions. Pair it with this great custom beach umbrella to create the ultimate summer bundle gift!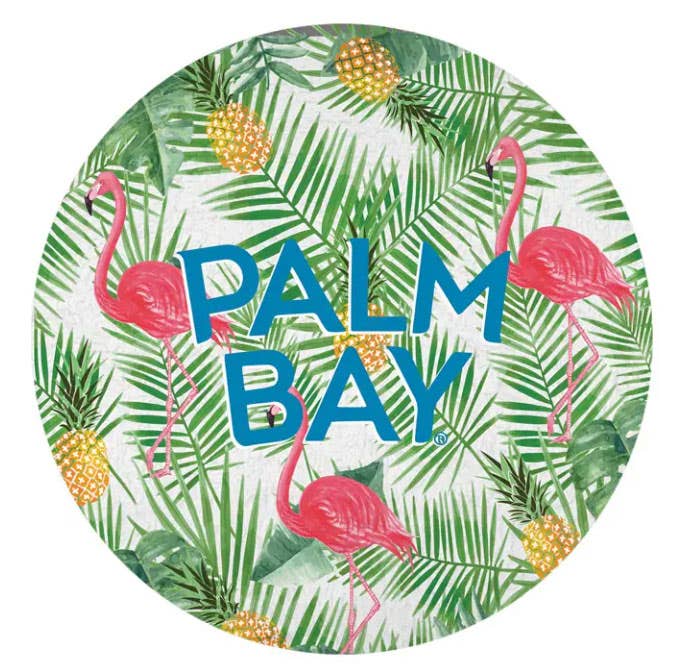 Sun care essentials are an excellent way to show your customers and employees that you care for them. Customizing them with your brand name and logo will help you promote your brand, feeding two birds with one scone.
Our Sun Bum® Day Tripper Kit features travel-sized versions of our favorite TSA- and Sonny-approved premium suncare products. Featuring Sun Bum's original scent, it includes a three-ounce SPF 30 sunscreen lotion, a 0.15-ounce SPF 30 sunscreen lip balm, and a three-ounce cool-down aloe lotion.
Their broad spectrum UVA and UVB protection guards your recipients' skin against the sun and keeps it supple and healthy. So, they can enjoy lazy days in the sun without worrying about damage from harsh rays.
These products are free of harmful chemicals and compounds. They are also vegan, hypoallergenic, cruelty-free, reef-friendly, and water-resistant for up to 80 minutes.
You can get these kits as retail gift boxes. Orders of over 50 units come with a free personalized greeting card printed with your brand logo in full color.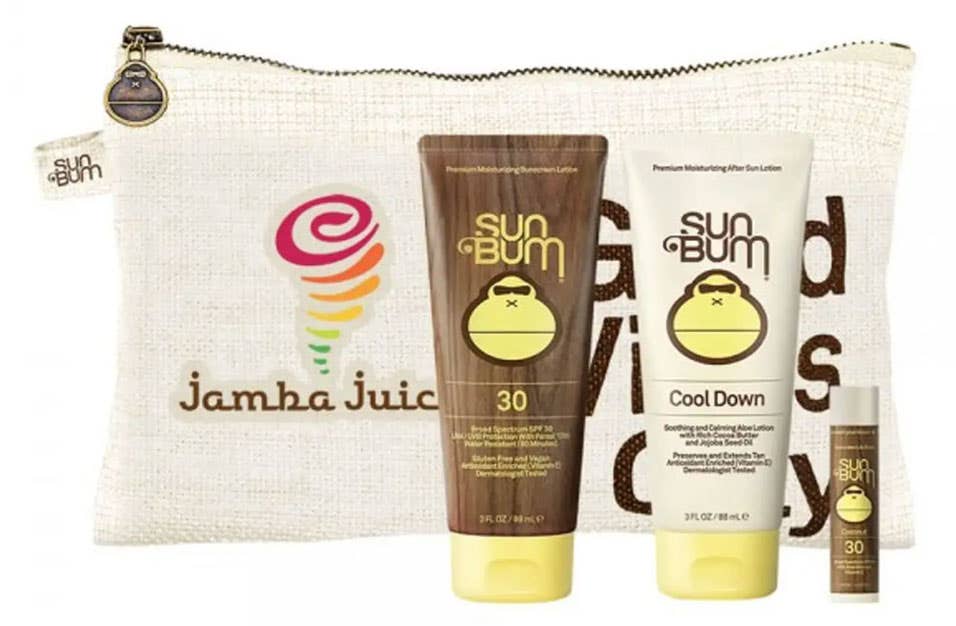 A must-have summer accessory, sunglasses are an easy and affordable way to promote your company and reach out to customers and employees. These stylish fashion pieces can help your brand come across as modern and sophisticated. Further, they will help wearers look cool and sharp on hot days.
Our Rubber Finish Sunglasses have UV 400 lenses that offer 100% UVA and UVB protection. They shield the wearer's eyes against the sun and help them enjoy the weather fully. These sunglasses are highly durable and lightweight. The pairs come in different colors and a size that fits most people's heads.
Customize with your logo on the right temple area for ultra brand visibility.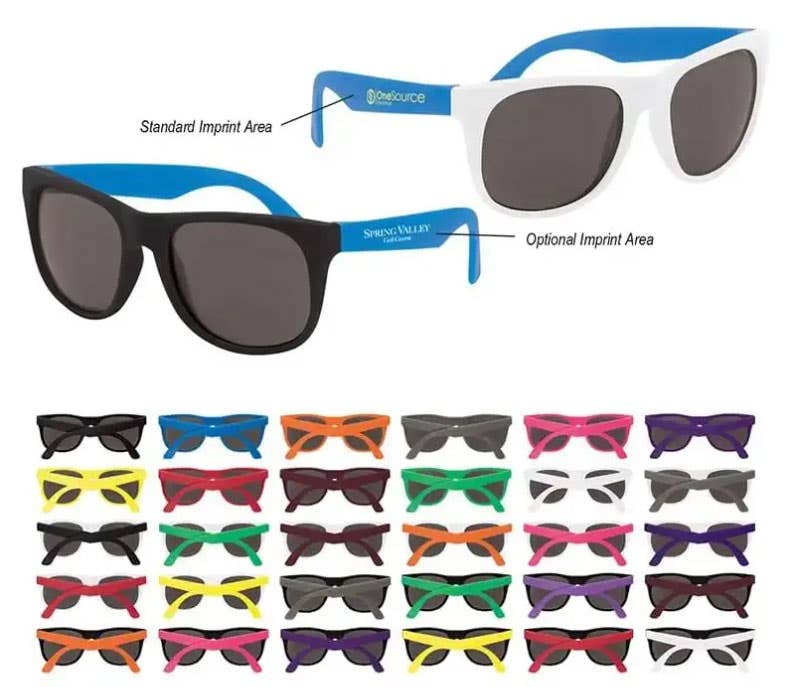 If you want another sun protection kit option to give away to your employees and customers as beach promotional items, check out this 1.9-ounce SPF 30 unscented sunscreen and SPF 15 lip balm kit.
This patented travel-friendly Duo Bottle nourishes the skin and lips and provides broad-spectrum sun protection. It is made in the United States and is free of PABA, oxybenzone, and gluten, which means it is safe and effective.
The kit is also small and compact, so your gift recipients can easily travel with it. It also comes with a carabiner that can be clipped to bags or belt loops for increased portability.
You can customize the kit with a full-color label featuring your brand name, logo, and slogan. Also, you can choose from different carabiner colors and lip balm flavors to accent your brand.
Sunburn alert stickers are an innovative and unique way to show your care for your customers and employees and catch their attention. When they put these stickers on their skin, they will know when they need to reapply sunscreen to prevent sunburns and other forms of sun damage.
Our sunburn alert stickers turn blue when it's time to reapply sunscreen. Your gift recipients can use these sun-activated stickers with sunscreen cream, lotion, or spray to suit their needs.
The stickers last all day on dry and wet skin. So, they won't come off even if the user is splashing around in the water or going for a swim. They also have a comfortable fit with a gentle skin-safe adhesive that will not cause irritation or affect those with sensitive skin.
Customize them to your branding needs by getting a full-color logo imprint on the sides of the stickers.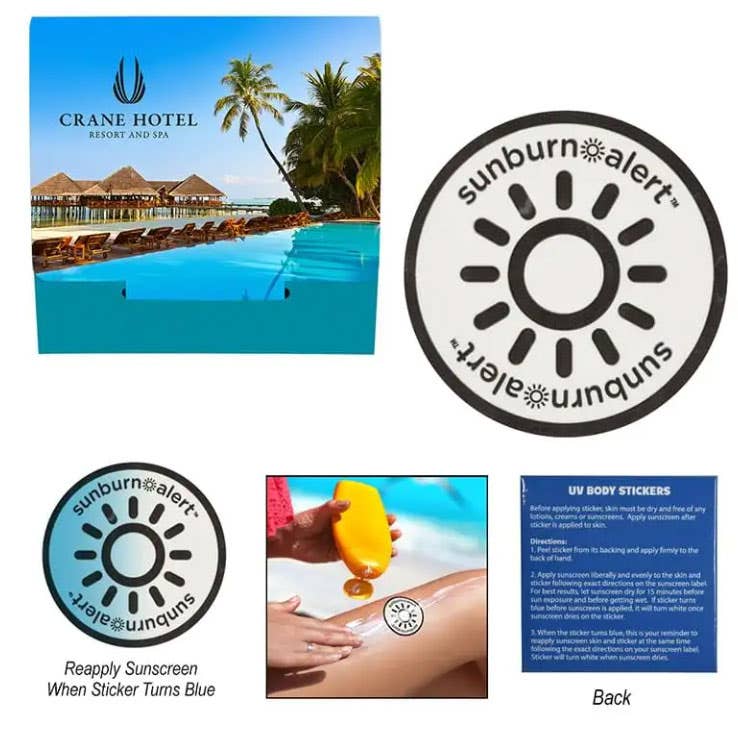 Protect your customers' and employees' heads and faces from the harsh sun by giving them this Sportsman 2050 Bucket Hat. This summer wardrobe staple looks classy and stylish at summer outdoor events, and wearers can flaunt it with pride. They can also use it to protect their heads from the rain, making it an all-weather fashion piece.
The bucket hat is made of 100% bio-washed chino twill and is unstructured for a relaxed fit. It has sewn eyelets for ventilation that keep the wearer's head cool and comfortable even when underneath the harsh sun.
You can customize this hat by embroidering it with your company's logo. This is a great way to advertise your brand and boost brand awareness and customer engagement without much effort and investment. You can choose from many eye-catching colors for the branded item to appear incredibly stylish and contemporary.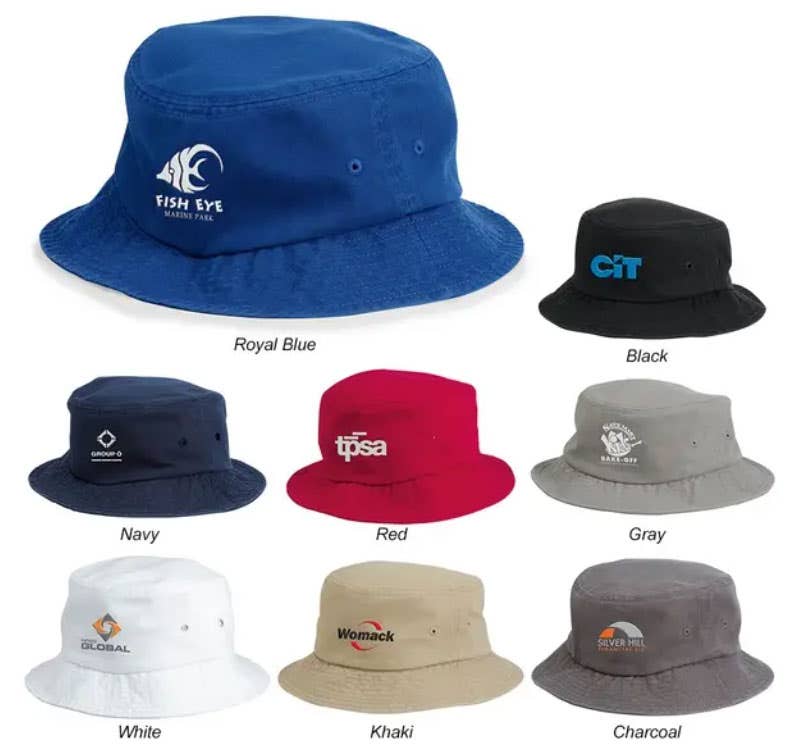 Hydration is essential, especially in the scorching summer when people head out for camping and hiking trips, sunbathing, beach parties, and more. Drinking water throughout the day helps avoid exhaustion and heat strokes and makes the dog days of summer more bearable. Giving away refillable sports water bottles to customers and employees is a simple way to keep them hydrated and healthy.
This 26-ounce sports bottle is a high-quality beach promotional item that your staff and customers will cherish for a long time. A favorite among outdoor enthusiasts and athletes, it has sturdy single-wall aluminum construction. It has a secure twist-on lid and a mini silver carabiner attachment, ensuring easy portability.
The functional and tasteful branded sports bottle is BPA-free and recyclable, so it is an eco-friendly choice. It is available in many colors.
You can imprint your logo on the side, making for great visibility. Getting your brand on it will ensure its users remember your brand while marketing it to a larger audience. Its affordable price will help you boost brand awareness and loyalty with every sip without putting a massive dent in your advertising budget.

Branded t-shirts are another cool way to advertise your brand at the beach and other popular summer hangout spots. They serve as a silent yet powerful marketing tool. They are also very practical yet stylish. So, your customers and employees will want to wear them everywhere they go.
The Team 365 Heathered Men's Polyester Performance T-Shirt is a premium product with a 100% polyester sonic heather interlock construction. It has a 130 GSM, which makes it a lightweight and suitable choice for hot and sweaty summers.
This shirt has moisture-wicking properties with UV protection performance and a relaxed and comfortable team fit. So, wearers can enjoy superior comfort despite high temperatures.
This t-shirt comes in many attractive colors with a tag-free neckline ready to accent your logo or design. The printing is done with cationic dyes for long-lasting color fastness and brightness.
Giving your employees and customers folding chairs as beach promotional gifts is another unique way to win their hearts and loyalty. After all, summers mean camping trips and other outdoor events, so folding chairs are a necessity when spending long hours outdoors.
They provide users with a comfortable seating option when sitting around a campfire, roasting marshmallows, stargazing, or watching the waves crash on the beach. Folding chairs are simple, portable solutions for people to rest their tired legs and rejuvenate. These chairs are undoubtedly a fantastic gift that provides comfort on the go.
Our steel frame folding chair is a high-end option made of 600D nylon. The steel tubular frame adds durability and longevity to its construction. Meanwhile, two mesh cup holders provide a convenient place to hold cups and bottles.
The chair comes with a 600D nylon carrying bag with a shoulder strap and a drawstring closure for easy portability.
You can screen print your custom logo on various chair colors. So, you can advertise your company wherever your gift recipients go on vacation and enjoy better brand exposure.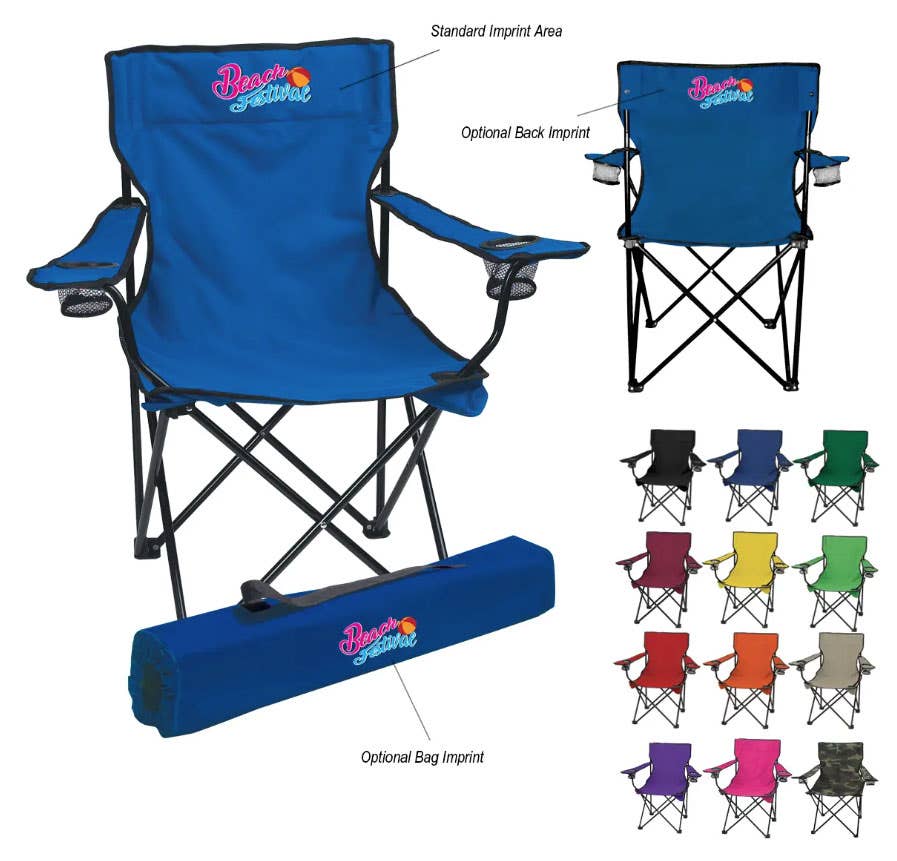 Final Thoughts
The best beach promotional items will help you take your brand to new heights and bring in more customers, sales, and business growth. Use our promo gift ideas as inspiration and attract more customers to your brand.