Gifts and "thank you for the referral" notes are timeless but inexpensive promotional products may just be the thing to get even more clients sending referrals in your direction.
March 8, 2019
4 Smart Ways To Say Thank You For A Customer Referral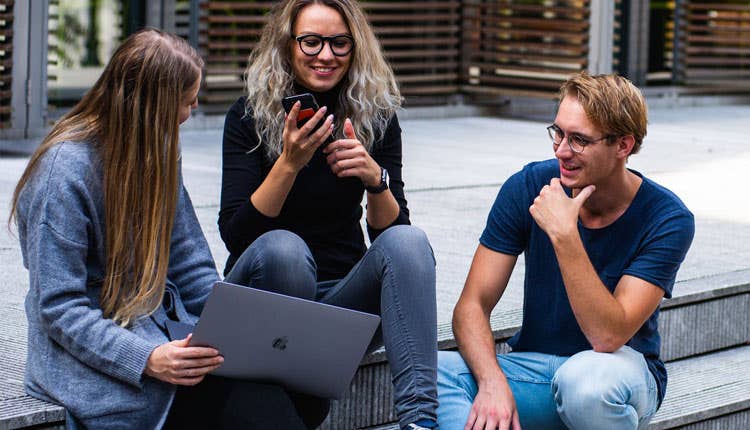 Customer referrals are important. In fact, referrals should be considered as an important metric to compare to organic traffic. People who are referred to your business are more likely to purchase from you than someone who sees an advertisement.
George Vasiliadis tells us how important referrals can be for business. "Research suggests that referred individuals are substantially more likely to make a purchase than those who happen upon your site. In fact, consumers are four times more likely to buy something when a friend recommends it."
"Potential customers are more willing to believe their friends who have already used your service." – AllBusiness
For those who like statistics, here are some that show you just how important referral marketing can be.
84% of consumers start their purchases by asking for a referral
The majority purchase decisions are made from recommendations
92% of consumers trust referrals when made by someone they know
83% of people who have a positive experience are more likely to refer someone
The best part of a sales referral is cost. "Referrals cost you nothing to acquire," writes Bill Cates. "The only cost of a referral might be a small thank you gift."
"According to a study by Emotion, thanking people makes them more likely to continue a relationship, which leads to more opportunities for you. Unlike marketing campaigns and website updates, showing gratitude is free." – Grasshopper
Thank you gift? That's right. Properly thanking a person for a referral is a surefire way to get even more referrals. One of the best ways is through affordable appreciation gifts. Something we will discuss more later in this article.
So How do You Get Referrals?
One of the best ways to get referrals is to keep customers engaged. People you interact with are more likely to remember your business when someone asks for a referral. Family and friends are always asking for recommendations and you want to be the first one they think of when that happens.
"Satisfied and engaged clients give you referrals (sometimes without even asking)." – HubSpot
Statistics show that customers already make referrals. However, it is the number of referrals that you should focus on.
61% refer 1 new lead
34% refer 2 to 10 new leads
5% refer 11 or more leads
Your goal as a business owner is to shift the percentage of people making one new referral to the column making 11 or more referrals. Keep people engaged by reaching out to them on a regular basis. You can do so through social media, email marketing, and even follow-up telephone calls.
Outside of keeping people engaged, it is important that you physically ask for referrals. Some people simply won't do it unless you nudge them. In addition, a person may make a referral because they remember you asked. They feel as if they are fulfilling a favor by doing so.
Entrepreneur.com recommends ways to ask for referrals, including asking directly and thanking your referral sources. So now let's look at why thanking a referral source can lead to more business.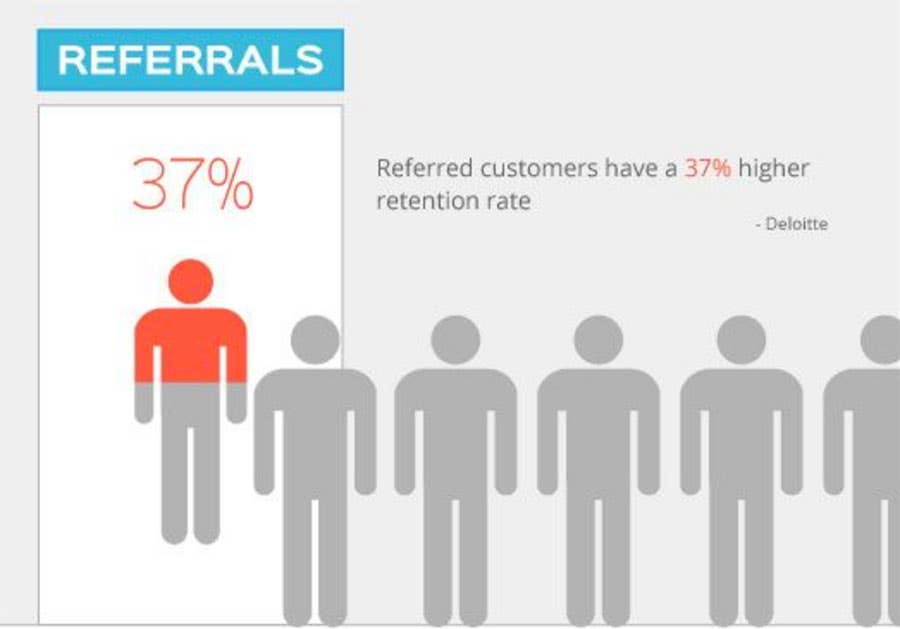 Importance of Thanking Your Referral Sources
The first reason you need to thank referrals is because they have done a lot of work for you. It may seem like they only just recommended you, but they have actually saved you time by building trust.
"Referrals in the sales world are the very best way to grow your sales book of business for many reasons," writes Lori Richardson. "The first one is that if someone whom you respect refers you to work with someone else, nearly half the "work" in building trust has been done."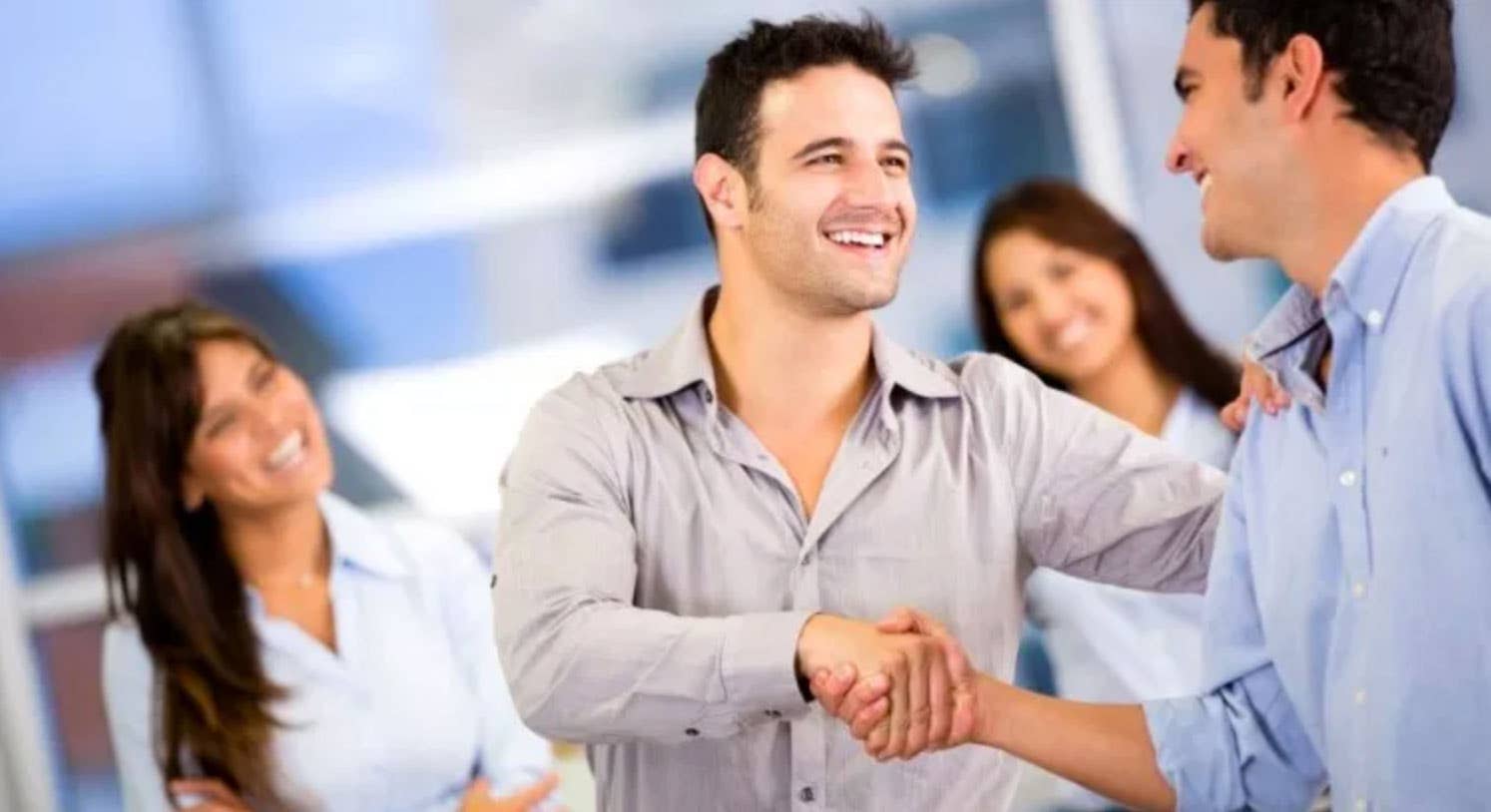 So, it is important to recognize them for a job well done. Building trust with customers is difficult and your sales referral source has essentially done that work for you.
Another reason to thank a referral is because they made you money. That's right. They brought you a customer who otherwise could have gone to a competitor. Who knows? Maybe they would have come to you in the first place. However, the referral guaranteed they came to you which is worth showing your appreciation.
Finally, thanking a customer referral source can likely lead to more referrals. Sounds selfish, but its true. If you thank the 61% of people who refer one person, you may just push them into the 34% category of people who refer more than one.
Now that you know how valuable referrals can be; and, that you know thanking referral sources can lead to even more business, let's look at the four ways you can properly thank a sales referral.
1. Sending a Thank You Note
This may sound old school but handwritten thank you notes are a great way to make someone feel appreciated. In fact, being old school is why most people appreciate them.
Many people don't take the time to personally thank people. Or, they send out template thank you emails which don't really feel like a true form of appreciation. A handwritten thank you note shows that you have that person in mind when writing it, not just sending out bulk letters to everyone who made a purchase.
There are many tips to writing thank you notes to referrals. Some of the most common include writing them immediately after a sale (don't procrastinate), be personal and specific to the person you are writing it to, and keeping it short and to the point.
A short note of thanks that reflects the individual, and sent immediately after the sale, is a great way to let someone know they are appreciated.
2. Keeping the Referrer Informed
There is nothing worse than referring someone and then not knowing if they made a purchase or not. People like to know if their referral worked out both on the buying and selling end. Keeping the referrer informed is a great way to thank them as it shows appreciation.
You obviously cannot tell them specific details in most situations, but you can provide general updates. For instance, if you sell cars and receive a referral, you can always tell the referrer that you are working with the person they sent and will be looking at vehicles in the next week. These leaves out specifics but still makes them feel in the loop.
"People just naturally like to help each other, but especially when they know their efforts are successful. Let your contact know when a referral he or she has made comes through, and be as creative as you can." The Business Journals
Keeping them informed can also help you with follow-ups to the sale. If someone they refer did not make a purchase, there's a good chance the referrer will find out why. They will likely even follow-up with them and ask when they plan to go back to you. They effectively become an extension of your sales team.
3. Publicly Acknowledge the Source
People love recognition, especially when its public. Any chance you get to praise them in front of other people will bode well for future referrals.
"There are many ways you can go about promoting your referral activity publicly. You can add a referral box to your newsletter, create a referral news page on your web site, promote referrals in your blog posts, or tweet it to your followers on twitter." – Duct Tape Marketing
Social media is a great way to thank people while acknowledging them publicly. Thank them in your posts and even include a picture of the person they referred (along with their purchase). Just on a side note, make sure you have the approval of the parties prior to doing anything publicly. Doing so without their permission could backfire.
4. Affordable Appreciation Gifts
Chances are you initially came here because you were looking for professional thank you gift ideas. Of course, that is our specialty so we saved the best for last. For those who are not aware of the impact you can have with an affordable appreciate gift, here are some statistics.
Households in the United States average owning 30 promotional products. This coming from a recent study by ASI. The same study also showed that more than half of people receiving a promotional gift are more likely to do business with the person who gave it to them. Finally, 85% of people who receive a promotional item remember the brand it represents.
The great thank about affordable appreciation gifts is they server as continued advertising for your brand. The person receiving the gift can enjoy the benefits, while at the same time projecting your brand to others every time they use it.
As an example, t-shirts generate an average of 3,400 brand impressions throughout their lifetime. This means that you thank you gift will not only be worn and appreciated by the recipient, it will serve as an advertisement for your brand where it will be viewed more than three thousand times.
If you want some professional thank you gift ideas, check out our article on thoughtful corporate gift ideas.
Final Thoughts on Thanking Customer Referrals
Referrals are the lifeblood of any business. If you treat the referral source with appreciation, you are likely to receive even more referrals in the future. Make sure you properly thank referrals, using things like thank you notes, public acknowledgement, and even personalized gifts. Doing so will show your appreciation.
From customized power banks to logoed apparel, we have plenty of items you can use as affordable appreciation gifts. Give us a call and we will put together a quote for the perfect items that will fit your budget.