Make it a Good Friday for your business with Easter Sunday friendly swag (we'll quit the puns now). Smart giveaways and promo items help you engage your target audience during one of the most family-centric holidays of the year.
March 7, 2019
Eggscellent Promotional Product Ideas for Easter 2020
Throughout the year, there are plenty of holidays to celebrate, but, when springtime comes around, we almost all think of Easter. Filled with pastel colors and candy-filled eggs, Easter has come to be a great time for camaraderie for people of all backgrounds.
It's also a great time to work on some promotional product campaigns. Regardless of the type of business you run, there is no bad time to offer promotional gifts or incentives. Studies have routinely shown that promotional products are the most effective advertising options—better than print, broadcast, web, and mobile ads at garnering impressions and improving brand visibility.
"Plenty of businesses that aren't traditionally associated with Easter have had successful promotions to celebrate the holiday" – Small Business Trendz
Combining an excellent marketing strategy with a holiday only increases the chance of its effectiveness. There are many different Easter promotional ideas you can run with if you so choose. In some cases, the gifts themselves don't even have to reflect the holiday. You can simply get something nice for your esteemed clients or employees.
When you get promotional items, you will always want to ensure that your recipients will enjoy them and that they will be seen by the most eyeballs. There are certainly a lot of personalized Easter items that will be more appropriate for the season and, thus, more likely to be used. We'll discuss a few of the hottest promotional ideas for Easter below.
Polo Shirts
Easter is sort of a symbolic celebration of spring, rebirth, and rejuvenation. The days start getting longer, more people start going outside and enjoying the greenery, and there is simply a lot more to do.
While polo shirts are not necessarily a representation of winter's end, they are certainly a sign that the weather's getting much better. Custom polo shirts are also the perfect mix of casual and professional and are just as appropriate in a corner office as they are on a sandy beach.
Polo shirts are also a great way to advertise your company. The shirts are stylish and comfortable, ensuring that they will be worn numerous times. They also give you ample space to present your logo or other branding designs. There are also plenty of customizable options so that you can get the right color scheme for an Easter-themed campaign.
On top of that, polo shirts come in a variety of different types, including:
Again, it's hard to go wrong with a nice, breathable shirt that will be perfect for the upcoming spring and summer.
Bright Swag Sunglasses
By the time Easter rolls around every year, many people have misplaced or outright lost their sunglasses. During the winter, no one really needs to block their eyes from the bright sunshine, because we have all been living under the obscurity of cloud cover for the last few months.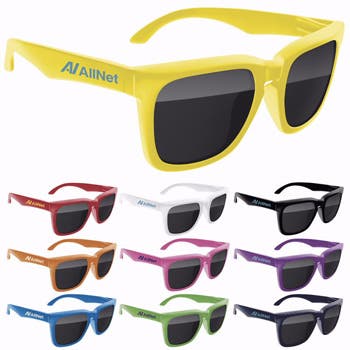 But, as springtime rolls around, a pair of custom sunglasses might be just what the doctor ordered. As Easter approaches, so too do days filled with sunshine. Sunglasses will be seen as both a nice gift and outright necessity for many folks.
There are plenty of design options to choose from, ranging from classic aviators to dark-lens shades. There is even a pair of sunglasses that doubles as a bottle opener and sunglasses that can float. Both are ideal as many bottles will likely be opened in the ensuing months and it wouldn't be too much of stretch for boat trips or pool parties to be on someone's itinerary in the near future.
Regardless, sunglasses are great Easter promotional ideas because they fill a genuine need and will be used much more than one time.
Candy Gift Baskets
It may be a surprise to some, but Easter is actually the second-largest holiday for candy sales behind, of course, Halloween. People love to eat candy on Easter, and your business can be the one to provide them with the good stuff.
"Americans spend an average of $2 billion on Halloween candy, $1.9 billion on Easter candy, $1.4 billion on Christmas candy and $1 billion on Valentine's Day candy." – The Daily Universe
Custom candy treats can certainly satiate a sweet tooth, while also advertising your brand. Of course, candy is a temporary gift, meaning that it might not be as memorable as some other promotional products. To remedy that, you can always include candy as part of a larger gift basket that might have items like water bottles, flying discs, or other spring-oriented products.
Candy and other treats are good year-round, and there are a number of options at your disposal. You can go the very traditional route with a simple box of chocolates or go with something unique like a collection of different candied pretzels.
People love candy and other snacks, and, although these delights are enjoyed only momentarily, the gesture won't soon be forgotten.
Custom Umbrellas
They say that April showers bring May flowers. If you're in a part of the world where it's rainy during spring, then custom umbrellas may make great personalized Easter items. They are also great because they have one of the largest imprint areas among all promotional products. This means that your branding will be front and center whenever the umbrella is open.
On top of that, people keep promotional umbrellas for an average of 14 months, and each umbrella produces around 1,100 impressions in that span. Those are pretty good numbers when you realize that you would be spending a fraction of a cent per impression.
But, what if you are not in an area where "April showers" are common? The good thing about that is that umbrellas are versatile. They are often used just as much on warm, sunny days as they are on cold, rainy ones, because people want to block out the sun. This is especially true when they are at the beach or at sporting events with little to no shade.
Golf umbrellas are fairly common for use both on the links and off. Many custom golf umbrellas are much wider, making them ideal for multiple people. Many beachgoers like to set up shop by planting one of these umbrellas in the sand to stake out their spot.
In the end, it doesn't matter how an umbrella is used; it's just important that it is used at all. Easter time is usually when people start heading out into the sunny weather or, alternatively, when the spring rains start. Either way, your business is getting recognition.
Promotional Mobile Accessories
As the sun starts to come out, more and more people are also heading out into the world. Beach trips, music festivals, vacations, travel, and even going about your day-to-day business all have one thing in common: a lack of convenient smartphone charging options. Luckily, your business can help fill that need.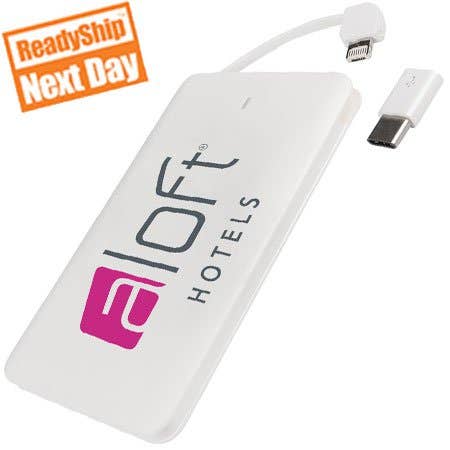 There are several different mobile charging options available if you want to go in that direction. These include:
Power banks are becoming increasingly common, because you can simply load them up with an electrical charge and provide battery power to your phone no matter where you are. Custom battery cases, which are manufactured by mophie, provide a constant stream of electrical charge in a device that looks and fits exactly like a standard phone case.
Custom Qi wireless chargers, by contrast, make use of new technology that charges phones just by being near them. No matter which option you choose, you are sure to make your recipients happy. Being able to charge your phone on the go is virtually a necessity in this day and age.
Beyond that, you can't beat the "cool" factor of a custom power bank or battery case. The devices are still relatively new, meaning that most people don't already have one. According to a 2019 Advertising Specialty Institute study, just over 40% of consumers use promotional power banks at least once a week. Two out of every five consumers keeps their power bank for 2 or more years.
Clearly, mobile charging devices are game changers when it comes to Easter promotional ideas.
Beach Accessories
We've been talking about this at length, but Easter-time is the gateway to summer and hotter weather. There is no better way to spend a hot summer day than at the beach with all your friends and family. A great way to assist someone in that endeavor is to provide them with promotional beach accessories around Easter.
Of course, some might rightly point out that not everyone lives near a beach. But, many beach accessories are perfectly acceptable for backyard pool parties or jaunts to the nearby lake or river. Useful beach gear that you can offer to clients or employees includes:
You can get all of these "fun-in-the-sun" items with your company's branding on them. In the coming months, it's almost a guarantee that these products will be put to use in some form or fashion. Items like sunscreen and folding chairs also have far more uses beyond the pool or beach.
Get Started Today
If you're interested in promotional products that revolves around custom Easter items, then you have certainly come to the right place. There are plenty of options to choose from, even beyond the ones listed above. If you would like to get an order started, contact iPromo as soon as you want.