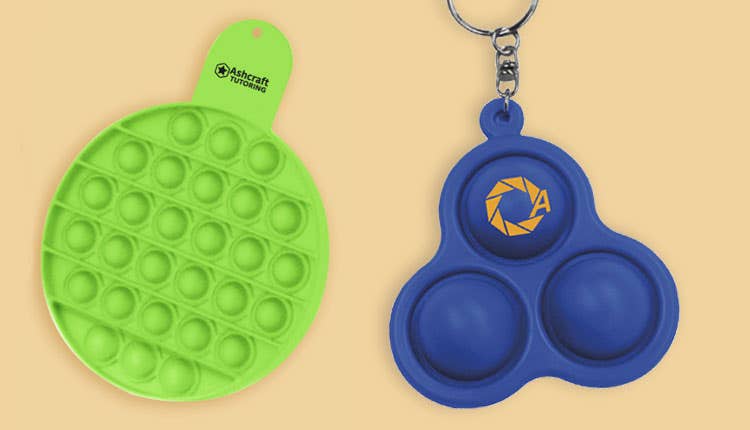 5 Best Popping Fidget Toys Customized with Your Logo
Pop fidget toys are great ways of counteracting stressors and their sometimes damaging effects on physical and mental health. When people get nervous, they love to touch/feel things without reason to try and cope. Fidget toys use sensors to help people struggling with anxiety, hypertension, and similar problems calm their nerves. They also improve focus and prevent people from doing things like picking skin or biting nails. 
What's turned into a best seller on Amazon has become a serious product that people of all ages can use to cope with their nerves or prevent distractions. Push Pop fidget toys have become popular, with studies showing that they are valuable items promoting mindfulness, helping people to contemplate situations in a more relaxed state. They come in various colors, shapes, sizes, and now you can customize them with your logo to provide employees, clients and prospects with a helpful stress relieving tool. Here are five popping fidget toys that you can put your brand on and push to your audience right away. 
Push Pop Bubble Toy
With the Push Pop Bubbles – Round fidget toy, recipients can enjoy being hands-on as a fun way to relieve stress. 
Clients and employees alike can press bubbles down on the round push pop bubble toy at will to try and loosen up their muscles and make the body feel at ease throughout a workday. This popping fidget toy encourages constant self-soothing with each use and helps people who suffer from various issues, including attention deficit hyperactivity disorder (ADHD), post-traumatic stress disorder (PTSD), and anxiety. The toy also helps users stay on task when they're feeling bored. 
The Push Pop Bubble toys are made of silicone and plastic. They're also reusable, dishwasher safe, and dry quickly. They come in colors like red, black, lime and Royal. And, they also come with game instructions. Users just have to pop the bubbles, then flip over the popping fidget toy and start again. 
This fidget toy is perfect for brands in various industries to customize and promote, including restaurants, radio stations, family businesses, and healthcare providers. Employees will find these toys very helpful when dealing with the rigors of day-to-day operations and can take them anywhere.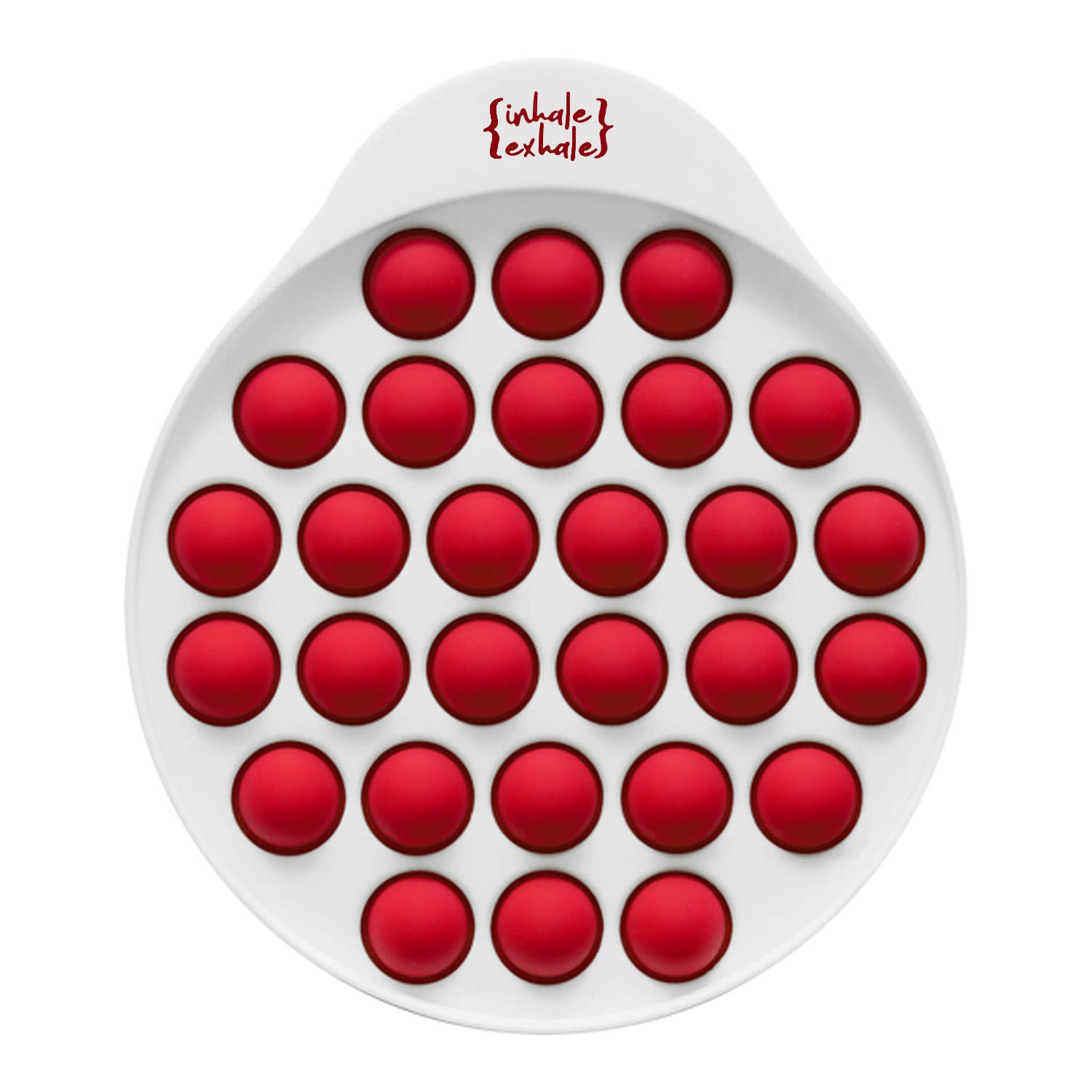 Octagon Pop Bubble Fidget Toy
Another appealing feature of popping fidget toys is that they come in all shapes and sizes. They come in heart shapes, squares, and even mirror everyday items like cell phone cases. 
For people looking for a popping fidget toy with a unique shape, Octagon Pop-It Bubble Fidget Toys are solid and customizable options to put your company logo on and share with a wide range of consumers. They're made from non-toxic, high-quality materials, are lightweight, and are portable. People can carry them to work, on road trips, on planes, or share it with their children to play with it at any time. 
Much like Push Pop Bubbles, they're easy to wash and reuse whenever necessary, avoiding the spread of germs, especially necessary for safety during these extraordinary times. Each time the user presses a bubble, they'll hear a slight and satisfying sound that puts the mind at ease. These octagon-shaped toys are great for anyone 12 years and older. They come in several colors, including: 
Blue

Yellow

Green 

Purple 

Orange 
You can customize Octagon Pop-It Bubble Fidget Toys by having your logo successfully printed on the sides.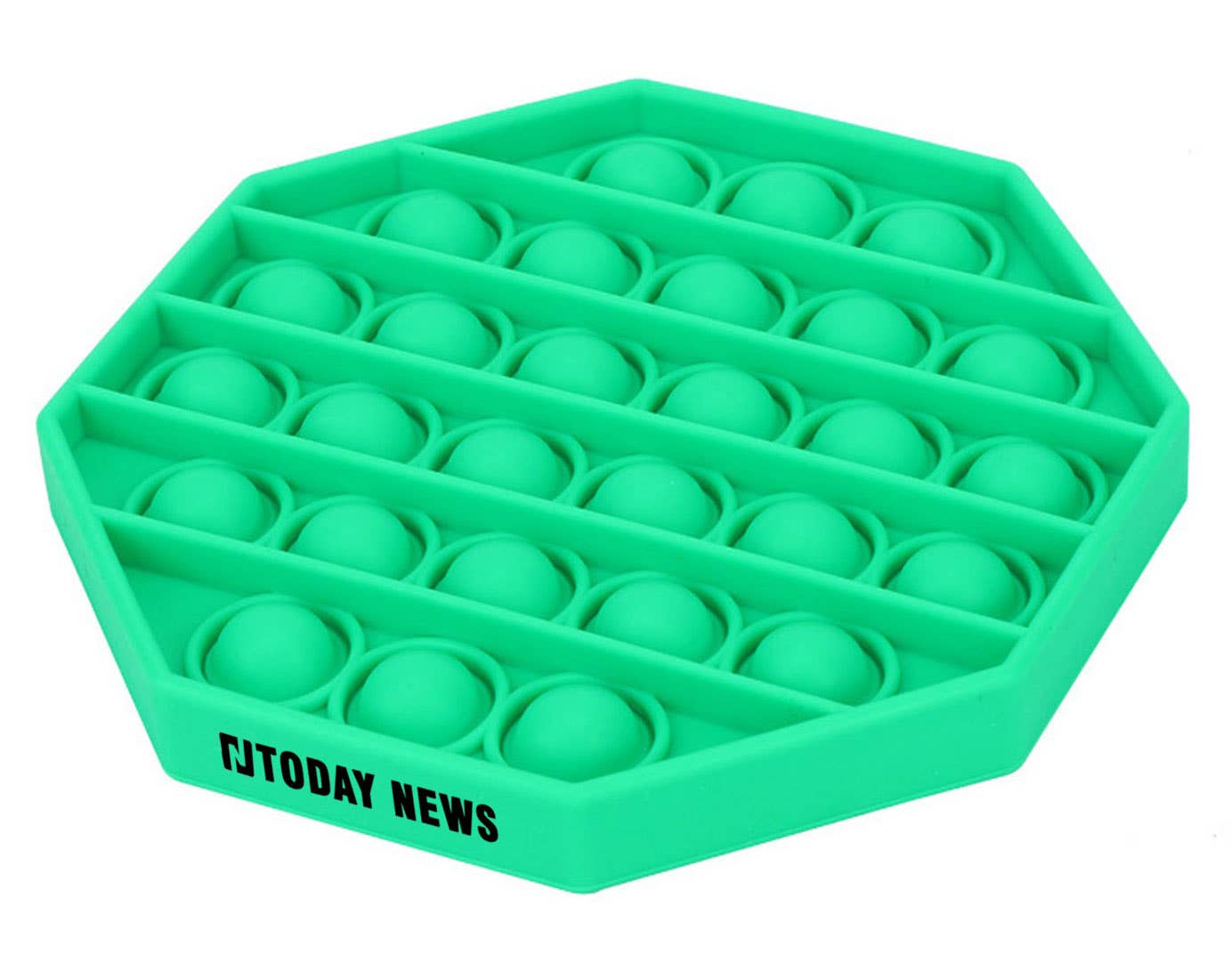 Pop Fidget Toy Phone Case
Back to the point about different shapes for fidget toys, and this type of popping fidget toy is as unique as it gets for this type of product. 
People are always on their cell phones, sometimes to their detriment. It's easy to get sidetracked when you're always looking on the phone for a message or checking social media. It can be very addictive and takes away from work focus and productivity when you're constantly going into your pocket trying to see what's on it. Plus, there's always that worry that it could drop and break.
An ingenious way to counter these worries was the invention of a popping fidget toy that is multi-functional. Getting a mobile phone case that protects the phone from damage while also allowing recipients to fidget on the back of the phone. iPhone users can easily slip their phones into these cases while also popping the bubbles to calm their muscles and be more focused on whatever their tasks at hand are. 
The Pop Bubble Fidget Toy Cell Phone Case is the perfect combination of phone protection and stress relief that one can find. They are fun to play with and offset the impact of every fall with their soft, bouncy texture. Each time users press the bubbles on the toy, it makes a slight noise, making the toy more engaging for users. 
They are custom-branded phone cases that have reinforced square corners to help safeguard phones against any fall. The buttons are easy to access as well, with colors ranging from red to black. Users of iPhone generations 6 to 12 can get them with a logo printed on the side to accompany this unique and fun product. Users can check their phones and soothe themselves regularly with this multi-purpose popping fidget toy.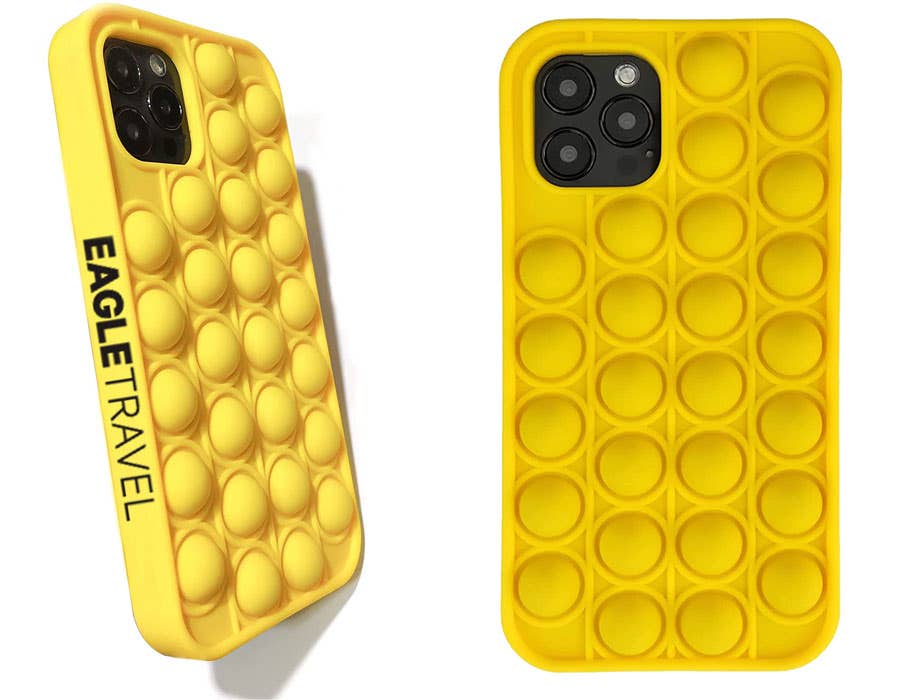 Pop Fidget Keychains
Another regularly used item that does effective double duty as a popping fidget toy is a keychain. By using keychains for fidgeting, users can start their cars or open doors while using a fidget to create positive physical stimulation throughout the body. You can carry around fidget keychains anywhere without having to touch them all the time. 
A Trio Pop-It Bubble Fidget Keychain, for example, is a good decompression tool for easing stress. For people who love popping bubble wrap,  this pop bubble keychain allows users to pop bubbles and spin the chain whenever they like. It's made from silicone and comes in bulk packaging as well. 
Your brand can place the company logo boldly on the front so that users know exactly where it came from. People can fiddle with them at work, while waiting in traffic or when thinking about something stressful. 
Heart-Shaped Popping Fidget Toy 
Users will love fidgeting with them, and brands will love selling them with their imprinted logos on the side to boot. 
Heart-shaped popping fidget toys are beneficial for the healthcare industry. Considering what goes on at a hospital or medical facility throughout the day for patients and doctors/nurses alike, these fidget toys are an encouraging and relaxing way to get through the tough days. 
The next time your brand attends a healthcare event, it would be wise to get these toys as they're both pleasing to the eye and easy on the fingers. 
Heart Pop-It Bubble Fidget Toys come in various colors and, like all the other popping fidget toy options, make slight sounds that attract users to keep fidgeting with them. When using this popping fidget toy, users will have a unique, customized item that is easy to use and flip around. They're also easy to carry as medical professionals can turn to them when dealing with constant demand on any given day.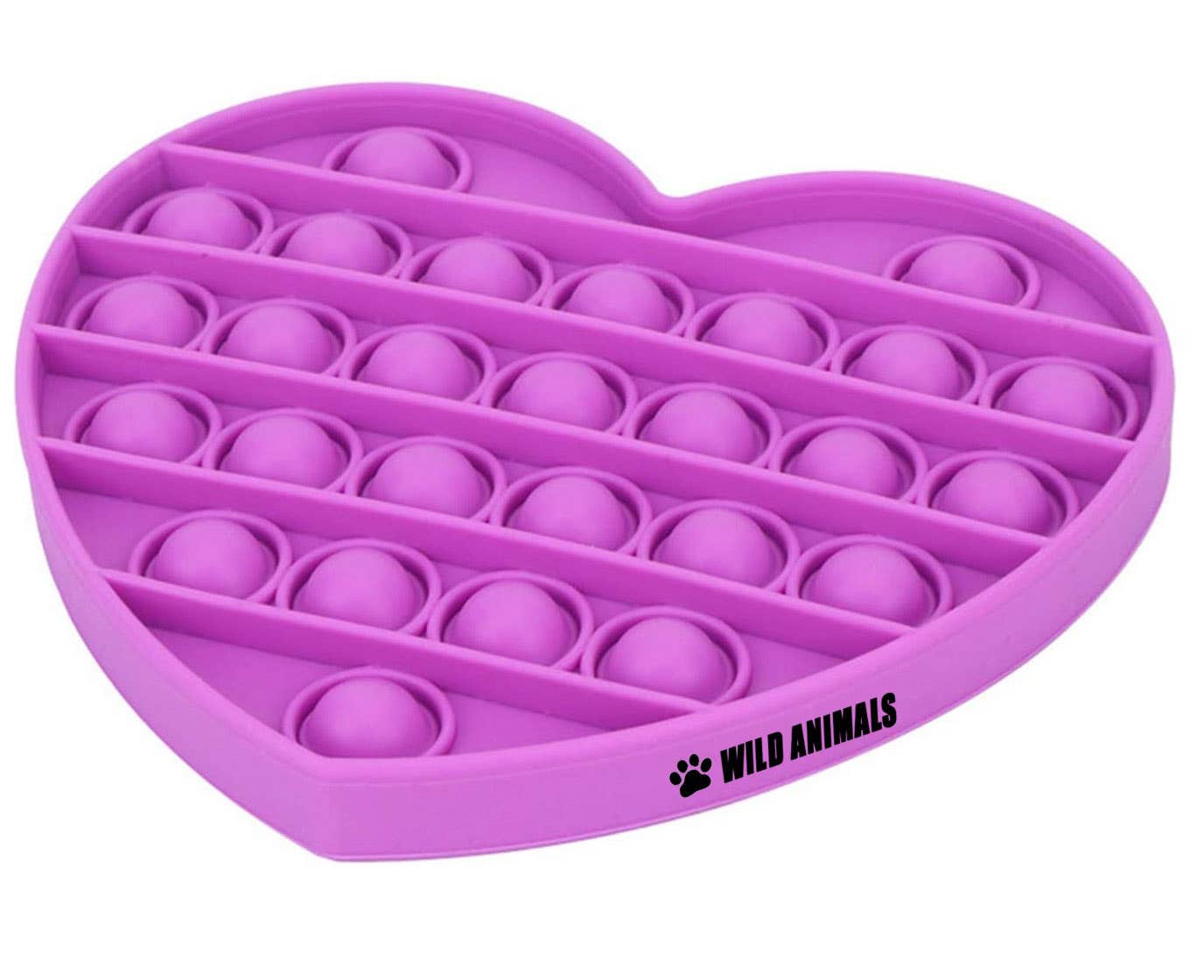 Why Have Popping Fidget Toys Become So Popular?
Like the 2017 craze that was the fidget spinner, popping fidget toys come with many sensory benefits that brands all-around have capitalized on. Fidgeting is widespread, and so many people are guilty of it, even unaware that they do it. Given this trend, popping fidget toys are being created with the concept of using everyday items so that people can be more preoccupied with something that helps them rather than be regularly distracted. 
Custom popping fidget toys are simple yet effective resources that keep people engaged in the right way, helping them to feel in control of their emotions and surroundings. These novelty toys can also improve one's brainpower and the cultivation of logical and critical thinking skills. The calmer the mind is, the more likely it is to make conscious and rational decisions, allowing for more work to get done and less stress on the brain while getting through it. 
Need to get your logo printed onto a popping fidget toy so you can engage the types of people your brand hopes to attract. Check out iPromo's wide range of promotional pop fidget toys and get some unique, best-selling items to further put your brand on the map!