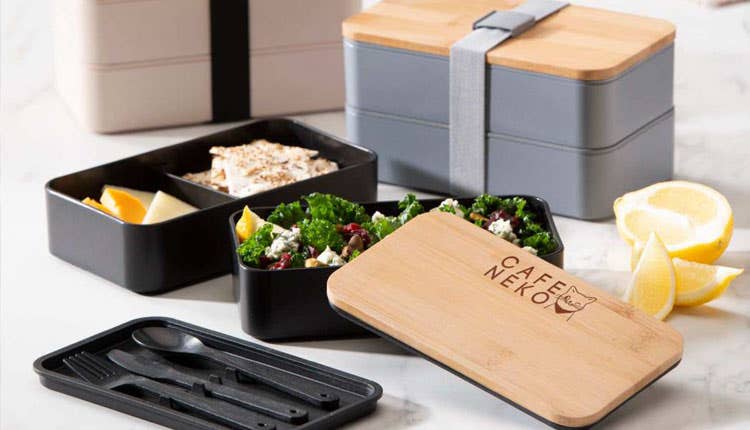 Ultimate Guide to Eco-Friendly Bamboo Promotional Products
With more brands getting rid of plastic and all its toxin-spreading properties, eco-friendly bamboo has increasingly become a go-to source for people looking for more sustainable material to make their products. Bamboo has been tapped to answer the growing pressures to find more sustainable materials, leading to the creation of several zero-waste products that brands are increasingly using for promotional products now. 
Bamboo is one of the most convenient and reusable options around, gradually making single-use plastic products a thing of the past. Your brand can capitalize on the increased demand for green items by choosing bamboo promotional products that not only showcase your eco-friendly initiatives, but offer clients and employees with products that have a long shelf life. 
How is Bamboo Eco-Friendly?
Bamboo is an evergreen grass plant that grows fast and is naturally renewable, thanks to its ability to regrow from its root system rather than be planted again from scratch. It's easy to maintain while farming, as no herbicides or pesticides are needed to preserve the bamboo. It also requires little water to help it grow. 
Over 1,200 bamboo species exist, meaning there are many bamboo types from which bamboo promotional items can be made. Most bamboo species are easily adaptable to different weather conditions, particularly in regions with high humidity. Some varieties can grow in colder regions, like the United Kingdom and North America, while most bamboo variations are found in warmer areas, including:
Southeast Asia 

West Africa 

Latin America 

Southern U.S. states
Bamboo's eco-friendly qualities come from its propensity to absorb carbon dioxide and subsequently produce oxygen. Compared to trees with the same mass, bamboo produces 35% more oxygen and absorbs tons of carbon dioxide yearly. Bamboo is a strong material but is also light when compared to wood and other materials. It's a substitute for steel in Asia for building and road construction projects. 
For sustainable living, bamboo addresses many concerns for people tired of using products they can't recycle, such as certain plastics. The fact that 91% of plastic isn't used more than once tells you how much waste is being created, ending up in landfills and releasing several toxic chemicals into the atmosphere. Eco-friendly bamboo is one of the most dependable alternatives to this problem that you can turn to. It's an asset to biodiversity and protects endangered species, even providing safe habitats for many animals, whether in bamboo forests or other spaces where the material is prominent. 
How Sustainable are Bamboo Promotional Items?
Considering how easy it is to reuse bamboo and its versatility, bamboo promotional items are highly sustainable. You'll find all sorts of bamboo promotional items that your brand could potentially use, ranging from bamboo-made straws to coffee cups to furniture. Clothing, toothbrushes, kitchen utensils, and other household products have been made from bamboo. It's an excellent material to use for just about anything that's considered a necessity. Plus, you can even have these products wrapped in bamboo packaging for good measure. 
Are There Other Notable Features of Eco-Friendly Bamboo?
Eco-friendly bamboo doesn't require pesticides during the growth and preservation stages because bamboo is notably pest-resistant. Depending on how the bamboo has been treated, it's resistant to bugs, ants, and termites. Furthermore, certain types of bamboo are immune to fire.
Bamboo has a solid and natural fiber that is superior to wood. These fibers are long, meaning that bamboo doesn't break as easily as wood does when bent to form different shapes. It has great tensile strength, making it a viable material to make all sorts of bamboo promotional products. Houses, boats, bridges — among other structures — have been created solely using bamboo. That's how strong bamboo is. Plus, it holds up well against water damage and is considerably less prone to tarping. 
Bamboo fibers are antibacterial and safe. A substance called bamboo kun is often embedded in bamboo fibers, acting as an antimicrobial agent to give bamboo the antibacterial properties that it's known for. Naturally-hygienic bamboo promotional items such as cutlery and straws are created with the knowledge that their antibacterial attributes keep them as fresh and sterile as possible. 
What Are the Best Bamboo Promotional Items?
As mentioned, bamboo has been used to make everything, from homes to clothing to straws. Considering its durability, how easy it is to preserve, and its recycling properties, there's no shortage of bamboo promotional items that your brand can sell and customize to attract new consumers. Here's five of our favorites to get your eco-friendly branding started on the right foot.
Bamboo Notebook and Pen
One of the more straightforward bamboo promotional items your brand can offer, the Albany Bamboo Notebook & Pen is a palpable alternative to regular notebooks that are made of the wood-based material, pulp. 
This type of notebook is a robust and hard-cover book containing 80 pages for users to jot down important information at work or write down bill information. The pages are recycled and lined. It also includes a black elastic closure as well as a pen loop. The pen that accompanies the notebook has black trims and has a smooth finish. Add your logo for a classy branding touch on the front of the notebook.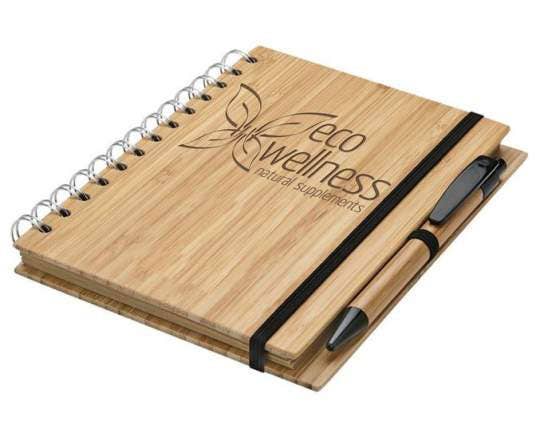 Stackable Bamboo Bento Lunch Box
Another eco-friendly bamboo product your brand can opt for is the Stackable Bamboo Fiber Bento Box. Bento boxes are compact containers that hold single rice servings and multiple side dishes. They're especially popular in Japanese culture for packing takeout and home-cooked meals. 
Considering that bento boxes are used for food preservation and that bamboo is one of the most reliable materials for preservation you can find, an eco-friendly bamboo bento box makes a lot of sense. The Stackable Bamboo Fiber Bento Box has a pair of food storage containers with built-in storage located between the layers. It's a useful alternative to plastic storage containers, which is beneficial for the environment. Plus, they're reusable. 
You can also customize your bamboo bento box by placing your brand's logo on its lid. And, it comes in a variety of colors, including beige, gray, and black. 
Bamboo Wireless Charging Pad
Looking for a durable and sleek looking charging pad? In that case, the Bamboo Wireless Charging Pad Desktop Organizer can ensure your mobile device gets boosted to full charge while also keeping it from dropping. This is a great addition to any workspace that your recipients will appreciate!
The Bamboo Wireless Charging Pad Desktop Organizer is compatible with the Samsung Galaxy S9 and other Android phones. You can have it engraved your logo right on the charging pad or the side tray. 
Midori Bamboo Tote
Another unique, eco-friendly bamboo promotional product to consider is the Midori Bamboo Tote. Typical tote bags are made from cloth with their handles using leather material. Other tote bags are usually made from sturdy fabrics like canvas, upholstery fabric, and denim, to name a few. However, bamboo tote bags are also naturally sustainable and robust, making them ideal for a range of uses. 
The Midori Bamboo Tote features a zippered opening to the main compartment and interior drop pockets where users can store their essentials. It also features raw metal hardware that can easily be recycled. Add your logo on the front of the tote bag, standing out clearly and colorfully wherever your recipients go.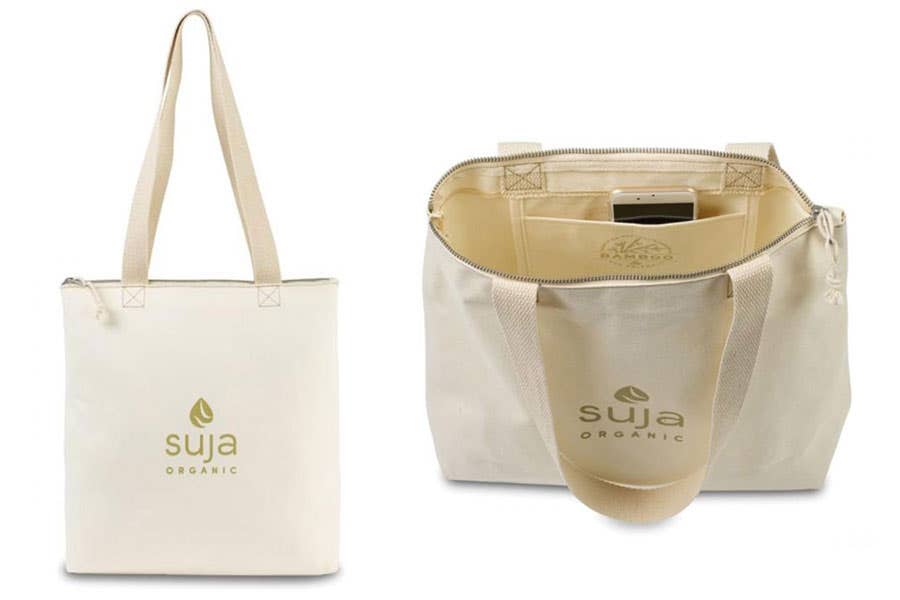 Bamboo Planter
Most planters you see on the open market are derived from plastic or clay. Eco-friendly bamboo planters are a great sustainable option, able to hold a myriad of plants. 
If you don't want a planter that's too big, the Mini Bamboo Planter can be more convenient and cheaper for your brand to sell. The presentation sleeve contains a mini planter with a top that morphs into a saucer. Plus, the Mini Bamboo Planter has a soil disk, seeds, and instructions. There are a host of seed options for the planter including, but not limited to: 
Cucumber

Early Boy Tomato

Oregano

Wheatgrass 

Parsley

Sunflower 

Basil 

Chives
Your brand can print your logo on the front of the planter and then start selling it to garden enthusiasts or homeowners looking to keep a plant in the backyard or by the home office. 
Check out iPromo's wide range of unique bamboo promotional items and learn which ones mesh best with your brand by searching our product line today. Or contact us today to get a quick quote and we'll send you a preview of your design too!