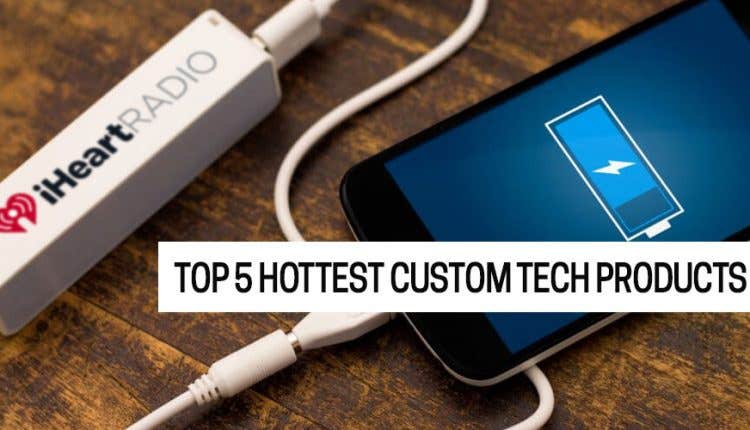 The 5 Hottest Custom Tech Products This Year
Gone are the days of trying to woo Gen-X with promotional items, the buying power is shifting to the  millennial generation. Known for being the first generation to grow up with the internet and mobile technology, you have to alter and adapt your marketing strategies accordingly. Millennials have now officially passed the Baby Boomers in global population. And the number of millennials stepping into executive roles or positions with purchasing authority will only continue to grow as well. With the buying power shifting in the marketplace, it's important you're selecting promotional products that millennials will find most useful and impactful for their respective brands.
Over 86% of millennials in the US own a smartphone now. According to the same report, there are around 1.5 billion active users of smartphones and tablets around the world. Considering all these facts, it's not surprising that the most impactful product for a tech centric audience would be a tech item. Shifting your marketing strategy to include one of these five hot tech custom promotional products will assure you're getting the most bang for your marketing buck. Based on recent trend studies and our best sellers over the last few weeks, here is the  top 5 hottest custom tech products we recommend for your next promotion or event.
1. Custom Power Banks
The fact that a majority of people own a smartphone and/or tablet means there are a lot of batteries that need to be charged at any given time and place. Nothing can be more frustrating than having your phone die when you're on the go or driving and need directions. A dead battery not only makes your phone useless, but it has the power to cause a mini panic attack for many millennials. But thanks to the custom portable power banks, you don't have to worry about drained batteries, or having to wait to power your phone from a wall outlet.
Some of these power banks have the efficiency and capacity to charge two or more phones simultaneously. They also provide ample real estate to imprint your brand on. Custom power banks have become our most popular tech product over the last year and it's easy to see why. Massive brand impressions and powerful functionality make these a great gift or giveaway at your next event or promotion.
2. Custom Qi Wireless Chargers
When Apple announced that their new generation of iPhones would be using Qi wireless charging, the technology officially became mainstream. Being able to just set your phone down on the surface of the charging pad seems like a simple idea, but the functionality is incredibly useful. And as an added bonus, you don't have to deal with the clutter of wires across your desk.
The best part is the ample charging surface space can double as a brand impression machine. Add your logo to any of our custom Qi wireless chargers. Best of all, they are compatible with all the latest versions of Android and iOS phones and can be used anywhere, even when you are on a go as we have some great power bank and wireless combo chargers to choose from.
3. Promotional Bluetooth Speakers
Great music is the lifeline of any party, or just nice to have while you're at home relaxing or cleaning. Music is a huge part of our lives no matter the genre or style, everyone can enjoy it. Like most tech products today, Bluetooth technology has given us the ability to make speakers portable. These custom Bluetooth speakers are great for backyard barbecues, relaxing on the beach, or just being outside, take your music everywhere!  Give your clients and employees the gift of amazing sound quality with portable promotional Bluetooth speakers with your logo imprinted on the outside of the speaker.
4. Custom Bluetooth Headphones & Earbuds

The wireless trend continues with headphones and earbuds. Wires always seem to snag on something or get in the way when your listening to music on the go.  Custom wireless earbuds make a great gift if you know your audience is active or likes to go to the gym or run.
Custom headphones provide even great imprint area for your brand and people love using these while on the train or at the office or park. Custom Bluetooth earbuds and headphones can be easily connected to your smart phone, through Bluetooth technology. iPromo offers a wide range of promotional wireless headphones and earbuds to choose from to fit your brand and budget.
5. Custom USB Flash Drives
One of the most popular and classic promotional items is, and always has been custom USB flash drives. These are available in various shapes, styles, colors and storage capacities and can be easily customized to your brand. These are one of those products with which you can target a huge customer segment, including students, corporate executives and your business associates.
iPromo offers full customization with flash drives. You can PMS color match the body of the flash drive with your brand colors. Want to really make an impression, one of our most popular flash drives is our ability to do fully custom shaped flash drives. You can literally make a flash drive look like any shape or object, and we'll provide you with free 3D virtual previews throughout the process before production. And as always, we offer free data uploading up to 100mb on all of flash drives. Take a look at our most popular styles today.
Those are our top 5 hottest tech promotional products for 2018. You really can't go wrong with any of these options, it's more about the type of promotion you're going to run and who the target audience will be. If you need any help with choosing the right item, our promo experts are available via live chat or you can simply give us a call at (888) 994-7766 with any questions. We look forward to making your next promotion a huge success!