Corporate backpacks are used and distributed in many ways. They can be gifts to customers, clients, investors, and stakeholders during special occasions, such as end-of-year holidays and company anniversaries. Corporate backpacks are also attractive and functional giveaways during trade shows, expos, exhibits, and other industry events.
Having a company-designed backpack has many advantages:
Benefits of Corporate Backpacks With Your Company Logo
Corporate gifting is an important practice in the business world. It is a great way to show appreciation to your employees, clients, investors, stakeholders, and more. Recipients have a physical reminder of your company; the more practical the gift, the better it is. Corporate backpacks can be used every day and have branding significance.
Let's take a look at the advantages of giving away backpacks with your brand name, logo, and even slogan.
Functional
Corporate Backpacks are undoubtedly useful for employees. Most of them already bring their own to the office anyway, so they might as well use one that proudly displays where they work. When employees use the backpack while going to and from the office every day, many people will see it. There goes the branding significance.
Branding Tool
And it's not just the employees that will benefit from these corporate gifts. Any recipient will be happy to receive a sturdy, functional backpack, and they would be inclined to use a high-quality product regularly.
This is an important branding opportunity. When people see a corporate backpack with a good design, they will likely remember it and maybe even look up the company name. Those who haven't heard of your brand will be acquainted with it and may become curious about your products or services.
Giving away these backpacks during industry expos and exhibits can also significantly impact your branding endeavors. Something so practical and well-designed will surely get the attention of the participants.
Token of Appreciation
Everybody loves gifts. A well-thought-out corporate gift like a backpack will surely make employees and other recipients feel special. A backpack will give the impression that you care because it is practical and has many uses. You can use the bag for work or vacation. People of all ages and all walks of life will find uses for it.
Positive Impression
According to Forbes, when you give out cheap corporate gifts, you are missing out on the opportunity to create a strong buzz for the company. People who received a non-functioning pen or flimsy umbrella may even spread their negative impression to others.
According to a study quoted by Forbes, only 21% of corporate gifts are kept, while 23% are thrown away. A backpack is hard to throw away because of its usefulness. Giving corporate backpacks with logo will surely give a positive impression.
What to Look for in a Corporate Backpack
Now that we've established that a corporate backpack is an excellent giveaway, let's discuss the qualities you should look for:
Durability
When you give away a durable corporate bag, recipients will rave about it and create a positive buzz for the company.
A similar buzz, but in the opposite direction, will happen if your company giveaway falls apart after being used a few times.
Usefulness
Most bags are useful, but some are more suited to specific segments of the population than others. For example, if your business is in fashion, then a chic sling bag is in order. If your target audience is mothers, a large tote for all their kiddos' needs is ideal. And in a general corporate setting, you can never go wrong with a functional backpack where professionals have a safe pouch for their laptops and other essentials.
The point is that you should know your recipients so you can give them the most useful corporate giveaways.
Design
To take your branding to the next level, the design of your corporate bag is vital. Your name and logo should be visible and clear so they are easily recognizable. But it shouldn't be so large that it looks tacky.
You must put a lot of thought into the design to maximize brand awareness and recognition. The final product must be attractive and classy enough that recipients would be proud to use the backpack anywhere they go.
To achieve all these, you need to find the right company that can provide your business with customized corporate backpacks with logo.
iPromo is here for all of your needs.
6 Best Corporate Backpacks With Logo
Here are the best corporate backpacks you can customize with your brand name and logo to mobilize your brand:
1. High Sierra Elite Fly-By Computer Backpack
High Sierra is a company known for smart bags, from daypacks and briefcases for professionals or rugged outdoor bags for adventurers. The brand is synonymous with functionality and durability. The High Sierra Elite Fly-By Computer Backpack is a high-end corporate giveaway ideal for professionals who travel for business.
The bag can accommodate a 17-inch laptop with ample space for more equipment because of its many compartments. The compartment for the laptop has a Cushion Zone as protection. There is also a dedicated Tech Zone for iPads and other gadgets. There is space for users to organize smaller items: a compartment with a mesh pocket, pen pockets, and key fob. There are several side pockets, an easy-access media player pocket, and an accessory pocket with a zipper at the front. The shoulder straps are mesh padded for comfort.
The bag is almost 20 inches tall, leaving ample space for your company name and logo. Customization can be done through screen print or embroidery within a printing space of 4×3 inches. It can be completed within 5-7 business days, but rush service is also available.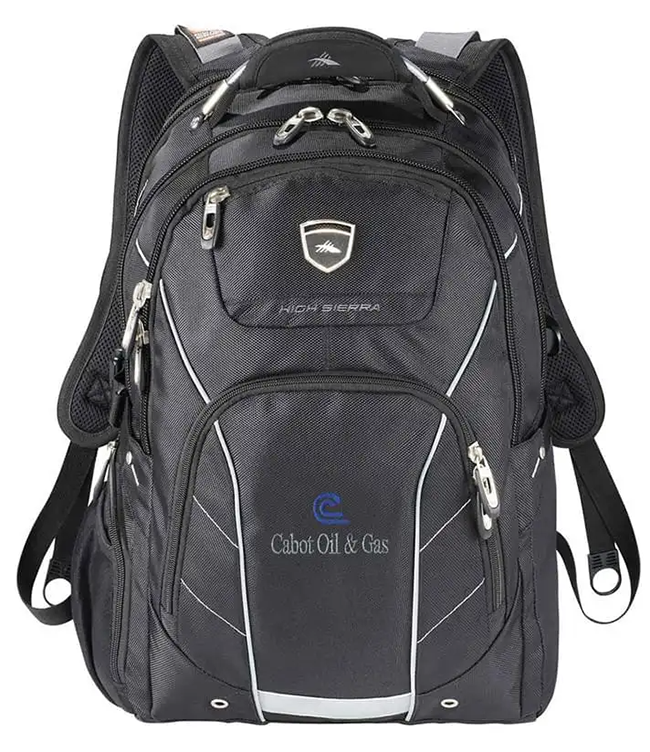 2. Polyester Backpack With Carry Handle
This polyester front-zippered backpack with a carry handle is an excellent option for new startups with a limited budget. The backpack is very functional, albeit not ideal for laptops, as it is small and weighs just a quarter of a pound. But it's sturdy and looks high-quality despite its low price tag.
The bag is light and waterproof. It is wrinkle-free, fade-resistant, and washable. All these advantages are because it is made from 210D polyester, which is a fantastic fabric for an outdoor product. The bag has adjustable web shoulder straps and a carrying handle. There is also a side mesh pocket for a water bottle.
You can have fun with its design, especially since there are ten colors to choose from. The front pocket with a zipper has a relatively wide area (7×4 inches) where you can put your brand name and logo. There is space for your company slogan if you want to include it.
The bag is easy to transform into a walking company billboard. Screen print is used for customization, which can be completed within five to seven days.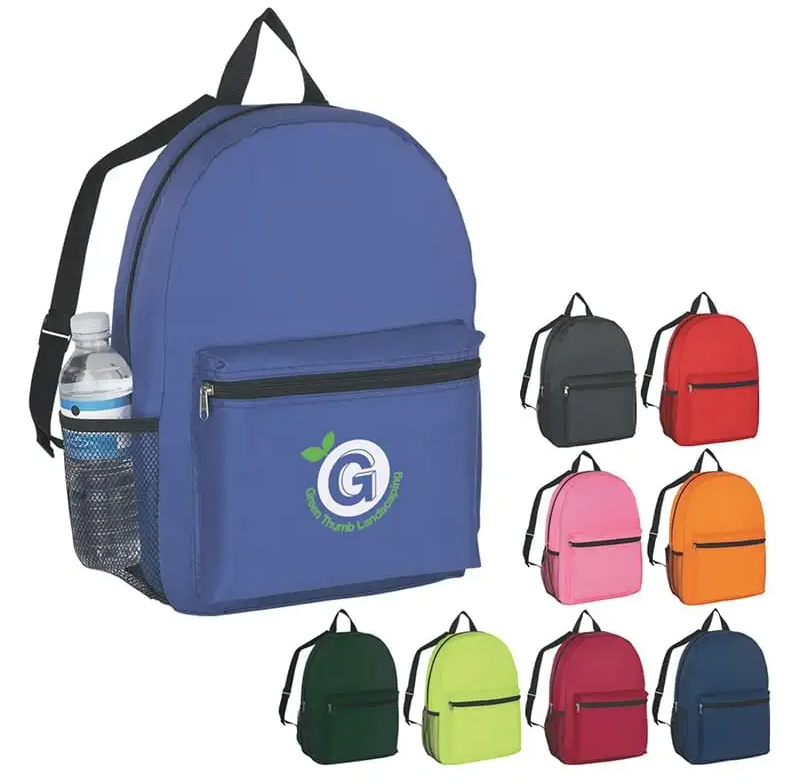 3. The North Face Recon Backpack
North Face is known for its outdoor recreation products. If your company is within the outdoor industry, which saw an increase in demand following the pandemic, The North Face Recon Backpack is the quintessential corporate giveaway. It is a large bag at 18 inches tall—adventure seekers will love it to hold all their essentials.
The bag is made of 210D recycled nylon ripstop with on-PFC durable water-repellent finish. The 210D material means it is weatherproof and wear-resistant, which are two features you need in an outdoor bag. Second, it's recycled, which means it's good for the environment and makes a statement that your company prioritizes sustainability.
The backpack has many vital compartments. There is a padded sleeve to keep a tablet or other gadgets. The fleece-lined pocket can hold a phone or sunglasses. There are two pockets for water bottles, a quick-draw smartphone access, an external stretch-mesh pocket, and bottom compression.
The American Chiropractic Association has certified the bag's FlexVent suspension system with articulated straps to be safe and comfortable for the wearer. Completing the bag are the sternum strap with a whistle buckle and removable waist belt.
There is a large area for customization, measuring 7×6 inches at the front of the bag. You can have your company name and logo screen printed between seven and ten days.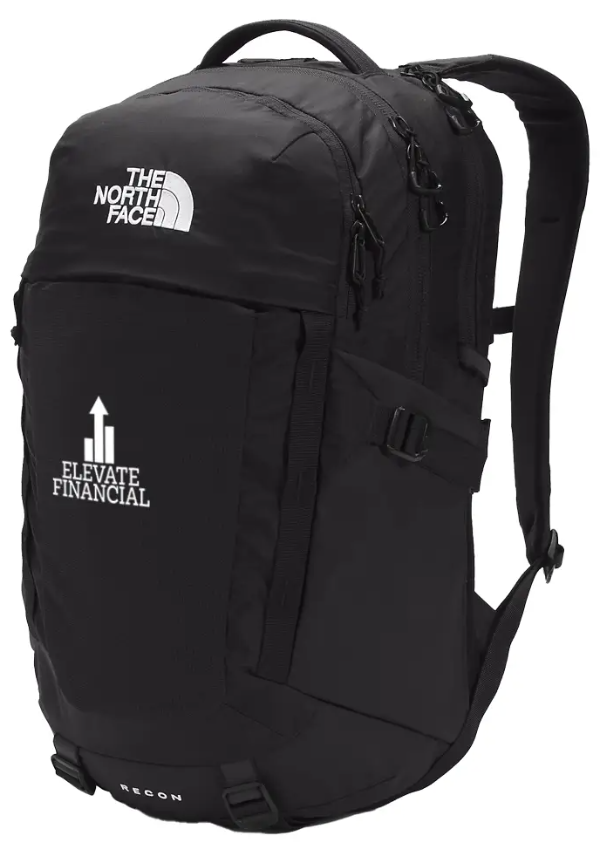 4. OGIO Logan Computer Backpack
OGIO is known for its unique and ergonomic bags. The OGIO Logan Computer Backpack has a lot of pockets for organization. It has a spacious and padded main compartment for a laptop. There is an additional padded interior for a tablet. The front compartment has an organizational panel, zippered pocket, and key fob hook. The two sides have mesh water bottle holders.
This is an excellent product for professionals, students, and even athletes. It is an all-around lifestyle backpack at 18 inches. The print area dimension is also large at 7×5 inches, which provides flexibility with branding design. It can be embroidered within seven to ten days.
The pack is available in five colors and made of 840D poly dobby, a fabric known to retain its color and shape over time.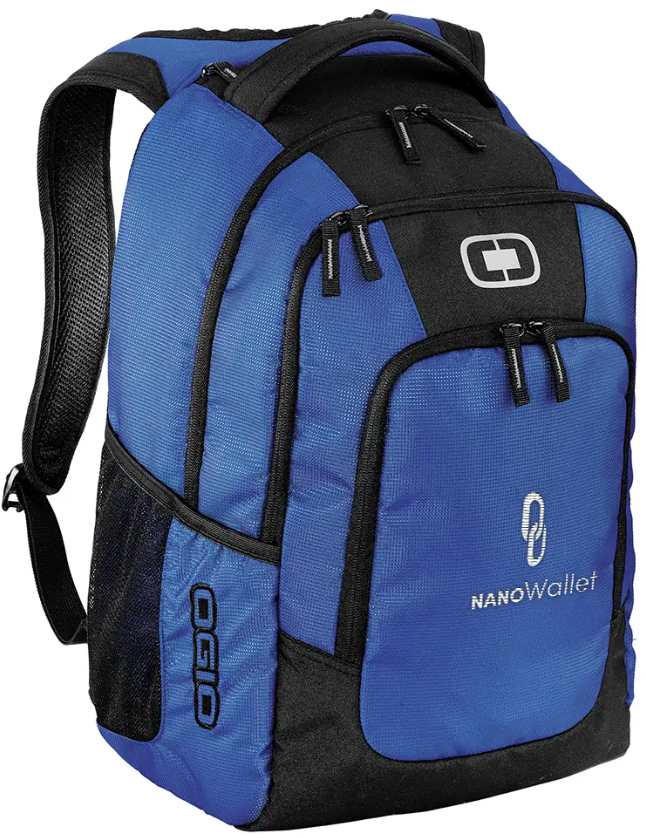 5. Under Armour Hustle TEAM Backpack
Companies within the sports and athletics sphere should consider the Under Armour Hustle TEAM Backpack for corporate giveaways. Under Armour has always been a brand trusted for its athletic products, and this bag is a good branding tool.
The 1.3-pound bag is 20 inches tall. Under Armour is known for its high-grade materials; this bag is no different. It is made from polyester that has water-resistant and stain-resistant features. It is large but comfortable to use because of its HeatGear shoulder straps and strap clip to secure it on your body. There is a grab handle on top too.
There is a compartment for a 15-inch laptop and two side pockets for water bottles. The gusseted front pocket provides ample space for more items. The bag is available in three colors.
The customization space is relatively small at just 3.5×3.5 inches, which may limit you to just your logo. But because of the overall aesthetic and quality of the product, you can lean into the subtle marketing aspect. Your logo can be embroidered on the space within seven to ten days.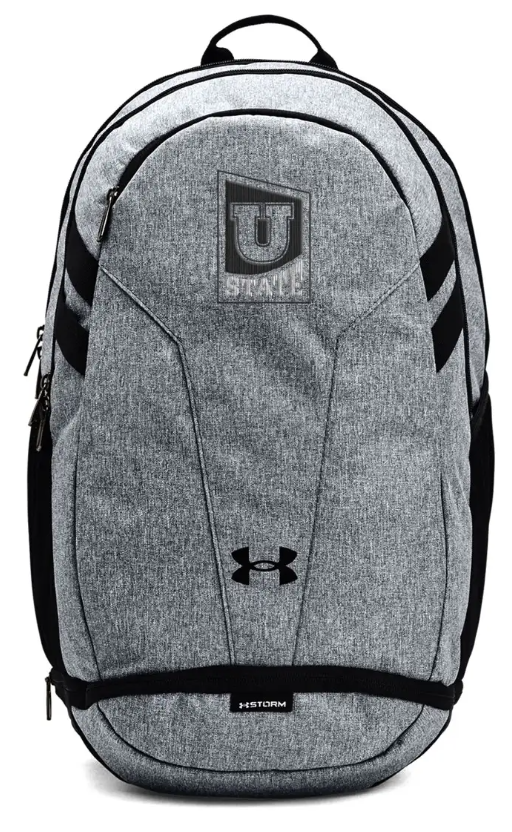 6. Atchison PeeWee Backpack
Here is another product that is perfect for corporate backpacks with logo to push your brand further. The Atchison PeeWee Backpack is roomy at 16 inches yet lightweight at less than a pound.
The bag is made of 600D polyester, which is strong and durable. One of its unique features is the headphone port, so users can listen to music while their device is safely ensconced within the bag. There is an interior organizer for a laptop and other essentials and a large front pocket for a phone, keys, and other personal items. The padded back panel and adjustable shoulder straps provide comfort while carrying the bag.
The front has a 5×3-inch area where you can put your customized design—it's right in the center, so people will not miss your brand name and logo. The customization process is through screen printing, which can be done in five to seven days. The bag is available in six colors.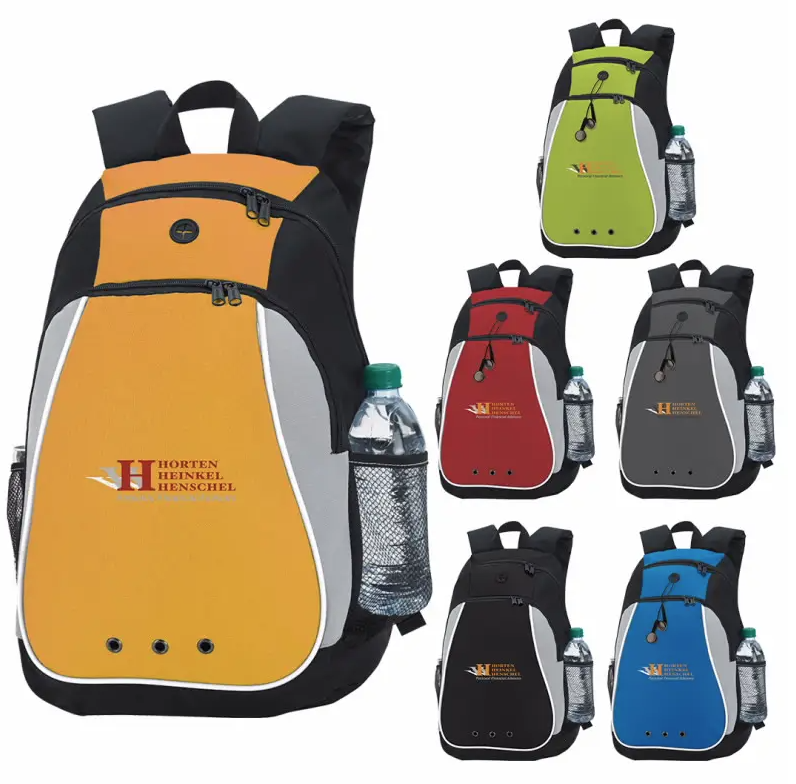 Bottom Line
Corporate backpacks customized with your logo are among the top choices for company giveaways. They are useful, practical, and provide an excellent space for your company name and logo.
Browse iPromo to find the best customizable bags featuring different brands, types, sizes, and colors. You will surely find corporate backpacks that fits your budget and specific marketing needs.