6 Creative Promotional Products & Ideas to Help Your Company Stand Out
Best promotional items to bring the swag back to your marketing campaigns in 2019. From unique trade show giveaways to fun employee gifts, we got you covered.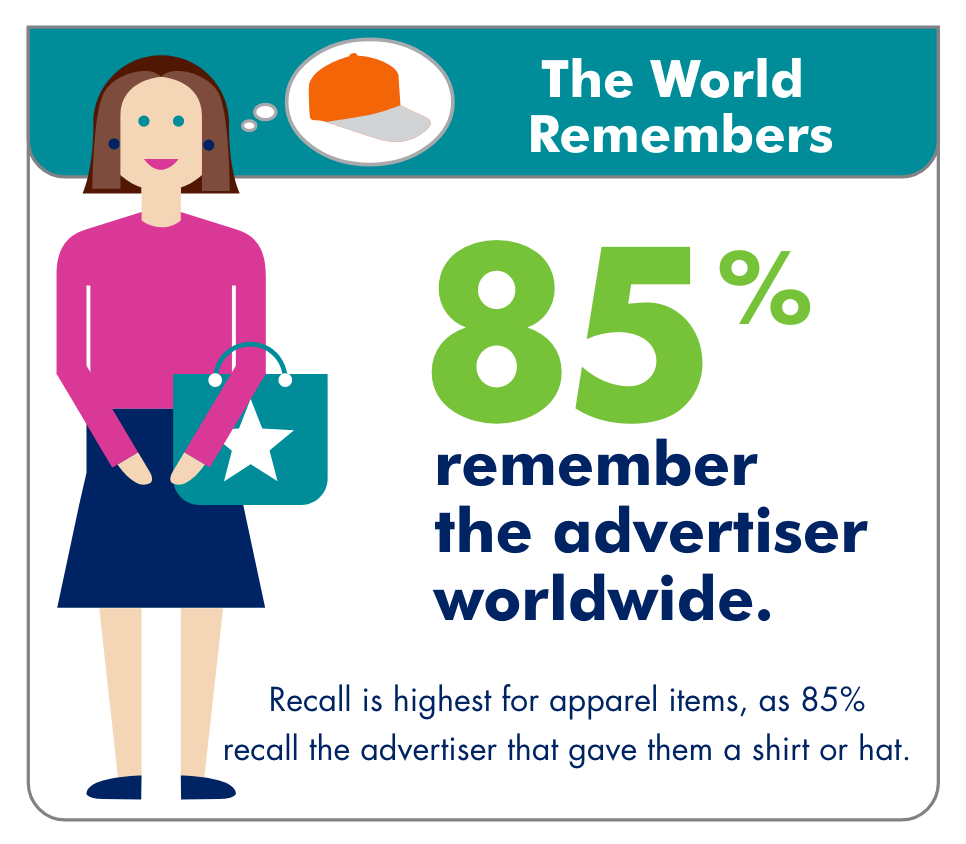 Promotional products have become a large part of everyday life for most Americans. Branded gifts are a common sight in public and at home. A study released in 2019 from the Advertising Specialty Institute (ASI) estimates there are 30 promotional items present in an average U.S. household.
When we look at other findings in the same study, it is easy to understand why these products are so popular with companies. As seen in the following tidbits, promotional products are an effective way for a company to reach consumers:
Younger consumers, under 55 years old, prefer free stuff to any other style of advertising. This includes radio, internet, television, and newsprint (who knew!).
The likelihood of a person to formulate a positive opinion is 2.5 times higher for promotional products over online advertisements.
As an industry, promotional products are on track for more than $24 billion in sales annually.
In light of these statistics, there is no question that companies benefit from giving out branded gifts. However, there is a different challenge faced by today's companies. The quick math suggests that at any given moment there are more than 3 billion promotional products circulating in America. In an environment saturated with logoed products, how can your company stand out?
"Organizations that destroy the status quo win. Whatever the status quo is, changing it gives you the opportunity to be remarkable." – Seth Godin

While obviously true in the "bigger picture" of how your company operates overall, it also applies to marketing. One way to gain ground when faced with the challenge of standing out is using creative promotional products.
The "normal" line-up of hats, shirts, pens, and coffee mugs are great, but sometimes you'll need something that doesn't comply with the status quo. To help you out, see our selection of the most clever promotional products, sure to give your brand an edge.
---
1. Whizzie SpotterTie
To kick off our picks, we start with a product whose name may be elusive. Not only is the product creatively named, it also allows recipients to exercise their creativity. The Whizzie SpotterTie is a sleek, smooth, and thin piece of silicone commonly used for tasks like:
Grouping together and organizing cords, cables, and wires
Tagging suitcases, briefcases, and other luggage for easy identification
Carrying water bottles
Simply loop the tie around whatever you want, and then insert the tab into the slot to secure it. The number of ways to put the Whizzie SpotterTie to use are endless, limited only by the imagination!
This item is available in a wide selection of styles including:
Dice
Soccer Ball
Football
Baseball
Basketball
Globe
Heart
Airplane
Dollar Sign
T-shirt
Arrow
Car
House
#1
Oval
Star
Person
Rectangle
In addition to different shapes, many styles come in a variety of colors including favorites such as red, blue, green, and white. You can also choose from two sizes, the mini and the max. The mini is just under 4 inches long and ¾" wide, making it perfect for everyday use. For larger solutions, the max has a length of just under 6 inches long and 1 ¼" wide. Each Whizzie SpotterTie has front screen print area equal to about 1/3" of the overall product size. This makes it a versatile product with a highly visible branding area that stands out from the norm.
---
2. Mirror LED Selfie Flashlight
Yes, it is exactly what the name suggests! This combination mirror and flashlight can help both your brand and a potential customer look their best. As society at large becomes more and more attached to mobile devices, you can provide people with a useful accessory that attaches to any device. Give the gift of perfect lighting under any circumstances, while simultaneously promoting your brand!
The Mirror LED Selfie Flashlight features a strong and durable clip, allowing it to be added anywhere on your device. Top, side, bottom, anywhere is perfect as long as it doesn't block the lens of your camera. Face it forward for standard picture taking, or flip it towards yourself for an epic selfie spree. A ring of six bright, white LED's provide the extra lighting necessary for great photos on the go. The mirror facilitates last-minute adjustments to your appearance and maximizes the way the light helps enhance your selfies.
On the side opposite the mirror, let us place your logo in the highly visible 1 ½" X 5/8" rectangle. Growing numbers of smartphones and mobile devices used in public ensures a large number of impressions. Let this simple but creative promotional idea leave the picture perfect impression on all who bask in the selfie limelight!
---
3. AuraBox 2.0 Bluetooth Speaker
When it comes to creative promotional ideas for events, the AuraBox 2.0 Bluetooth Speaker has you covered. This fun, multi-purpose cube has more to offer than one may first realize. For starters, it is conveniently controlled via a free app that can be downloaded to Apple and Android devices. From there, control the variety of functions contained within, such as:
Powerful 5 watt Bluetooth connected speaker
Creative pixelated palette for custom designed message displays
Smart alarm
Social Media desktop notifications
In-app chat
AuraBox 2.0 a great tool at trade show booths, as well as a unique and valuable addition to client's homes. Place on a kitchen counter, bedside stand, office desk, or anywhere that needs a techy boost to the atmosphere!
On one 3 ½" square side of the product, display the permanent logo or message of your choice. If you plan to use this clever promotional product in a tradeshow environment, use both sides. Express your artistic side with a self-designed promotional message to showcase on the colorful, pixel display.
---
4. Hangover/Event Kit
Another creative promotion is one that helps your client in their time of desperate need. This Hangover/Event Kit is filled with goodies to help people face the day following a rowdy night. It comes equipped with all the essentials needed to pick up, dust off, and recover with ease. Contained within the
easy-carry bag is:
Two "Life Savers" mints
One packet of Advil
One packet of antacid tablets
Two antimicrobial hand wipes
An Emergen-C Vitamin Supplement
Two device cleaning wipes
All contents are individually packaged in easy-to-tear, disposable packets for convenience. It all comes together in a single, waterproof pouch that conceals easily in a handbag, glovebox, suitcase, or briefcase.
Provide us with your custom logo so we can put it front and center on the pouch. Choose from popular colors including black, red, blue, green, and orange. We all know recovering after a night out is never fun, but let your brand lend a helping hand. After all, not all heroes wear capes!
---
5. Rest and Relaxation Kit
The best part about our next selection is you need not be on the mend to enjoy it. Treat your clients to a wonderfully relaxing "spa in-a-bag" style kit. On the road or at home sweet home, provide them a stress melting experience with a Rest and Relaxation Kit. Inside, prospective customers will discover everything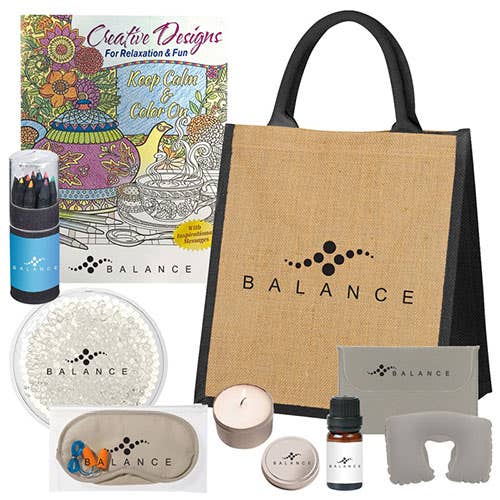 they need for a peaceful evening including:
A vanilla-scented candle to set the mood
Therapeutic gel pack
Eye mask
Neck pillow
Peppermint infused essential oil
An adult coloring book with a set of pre-sharpened colored pencils
It all comes perfectly arranged in a stylish jute bag with your company logo prominently placed on the front. The perfect creative promotional ideas for events, it treats people to a well-deserved, restful evening to close out the day.
In addition to the branded bag, each item contained within the kit features your logo of choice. This means your brand not only provides the means for a relaxing experience, but also remains at the forefront of the atmosphere. If this does not result in a positive impression, then I don't know what will!
---
6. Message in a Bottle USB Flash Drive
In pursuit of differentiating your brand from the rest, you don't always have to stray from the beaten path. Sometimes a creative twist on an already popular product will achieve the same effect. The perfect example of this is our Message in a Bottle USB Flash Drive.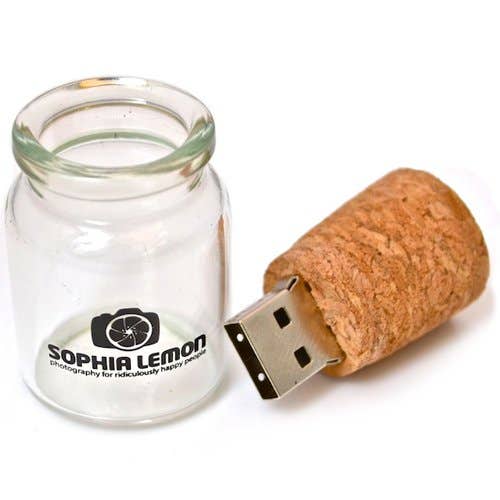 Great for all the reasons people love traditional flash drives, consumers won't soon forget this quirky concept. Housed within an actual cork stopper, this USB stores away in an appropriately sized glass bottle. In addition to drawing a nostalgic feeling from many of us, this unique design allows for storing other small items. This could include MicroSD cards, wireless mouse receivers, or any number of tiny tech gear.
The clear, glass bottle is a perfect spot to print your company's desired message or logo. If you like, the top of the cork can also be printed on to increase potential impressions. Depending on your needs, choose from 10 different size capacities ranging from 64MB to 32GB.
---
Be the Brand That People Will Remember
The 2019 ASI study presents strong evidence that promotional items are the most cost effective way to reach consumers. However, in a world becoming more and more crowded with branded gifts, this may not always be enough. The first branded pens on the scene probably had a different effect on customers than today's pens.
For most, when something becomes commonplace, it tends to lose that "wow" factor that it may have had in the past. It is important to stay ahead of the curve and offer clever promotional products that are not seen every day. Doing this as a company increases the number of lasting impressions wherein consumers remember your brand by name. Let our trained specialists help you take this step today with any of our outstanding products.