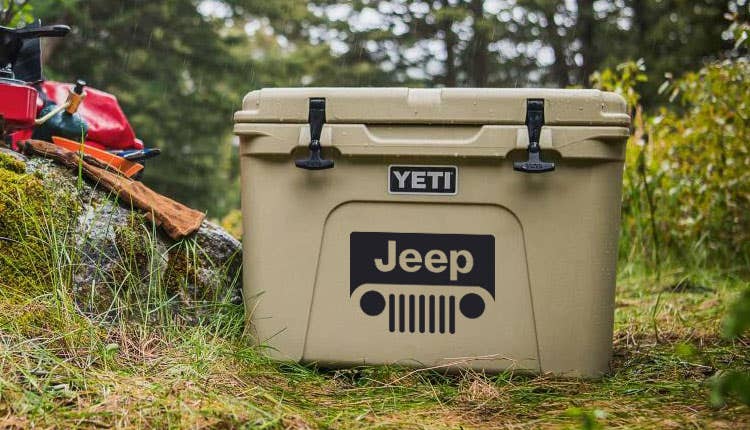 Why Custom YETI Coolers Personalized With Your Company Logo = Must Have Gifts
Your brand combined with customized YETI coolers "wraps" are beyond desired and thoughtful corporate gifts. We take a closer look at how YETI coolers become a worldwide phenomenon.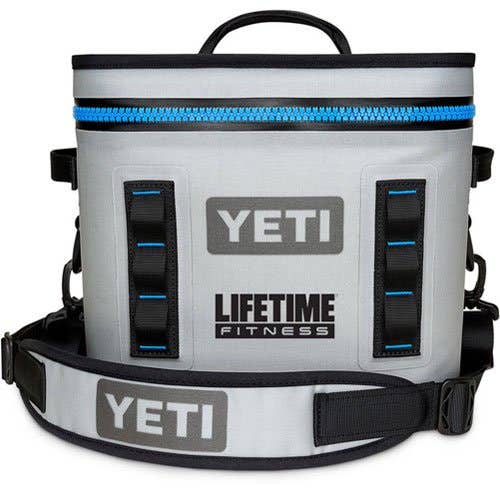 Ever thought about partnering with a name brand to bolster your company's image? Well, you can do so with custom YETI Coolers. One of the most popular brands in custom logo coolers, Yeti is a very sought-after brand. Having one with your logo attached is a great way to gain exposure for your brand.
Using custom YETI cooler decals or custom YETI cooler wraps gives your brand an advantage over the competition. People receiving a custom logo cooler with the Yeti name will be more willing to do business with you. When people receive a product they love, they will remember you when it comes time to make a purchase.
Personalized YETI coolers are not only popular, they are built to last. People know this, which is why they are likely to purchase (or love receiving) a YETI cooler over any other brand. When you choose YETI for your custom logo coolers, it is like partnering with a brand that is already well-established with consumers in the Untied States.
So now that you know a little bit about YETI (more on them later), let's look at why you should use custom logo coolers in the first place.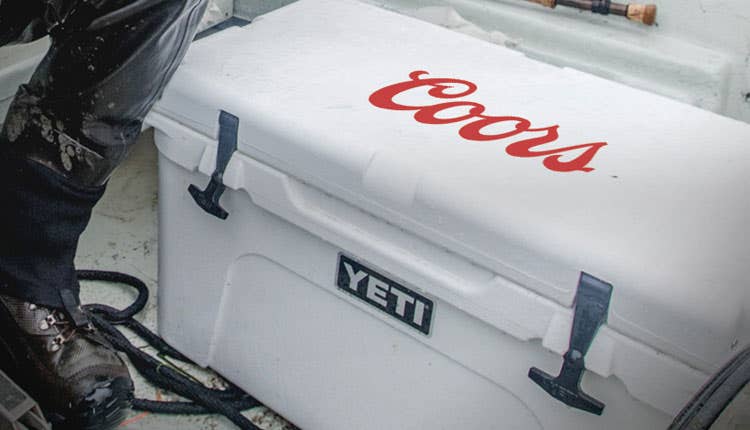 Branding Power of Custom Logo Coolers
Using promotional products, especially coolers, is a great way to brand your company while not spending your entire marketing budget.
"The cost per impression (CPI) of promotional products can be as low as 1/10 of one cent," according to Advertising Specialty Institute, "lower than nearly any other advertising medium – making it a great choice for smaller businesses lacking large advertising budgets."
In addition to being an inexpensive way to advertise, here are some additional statistics which show why using promotional coolers are a good idea.
85% of consumers worldwide remember the advertiser who gave them a promo product.
People are more likely to do business with a company that gave them a promo product.
55% of consumers give promotional products to someone else if they don't use them (meaning you get more advertising once it is passed on).
Promo products are popular among all generations with households having an average of 30 promotional items
Millennials own an average of 30 promotional items, with Baby Boomers owning 28 and Gen Xers owning 34.
YETI is a Well-Known Brand
So why go with YETI? Well, the heading says it all. Yeti is a well-known brand. Associate your company with a well-known brand and you pick up a benefit of trust. When people trust you, they want to buy from you. So, the Yeti name effectively gives your brand a boost just because of the name.
Customized YETI coolers are very popular across multiple demographics. Regardless of age, political affiliation, or where someone lives, Yeti coolers are one of the most popular type of coolers in the Untied States.
"YETI is wildly popular in liberal Portland, Ore., and in the conservative South, beloved by grizzled dads who hunt and fish and their beachgoing daughters." – The New York Times
YETI has become so popular that it is often referred to as a cult brand. It went from a typical startup in 2005 to revenues of $29 million in 2011 and then $147 million in 2014. Now it is somewhat of a status symbol in the United States and one of the most sought after brands when it comes to coolers.
History of YETI
The history of YETI is your typical founder's story. It was started by brothers Roy and Ryan Seiders in 2006. It started with a problem they faced on a regular basis. Avid fishermen, the brothers could not find a cooler that would withstand their rugged fishing trips.
They set out to design a cooler that was tough and durable, not to grow a multi-million-dollar company, but to make enough money to afford them more time for fishing.
"The whole idea behind YETI, the company that the pair co-founded, was to design a cooler that could withstand their fishing tactics–primarily, one they could stand on without fear of collapse as they sight-casted for redfish. The secondary goal was to afford them time for fishing and hunting. Work some, fish some. Has a nice rhythm to it." – Inc.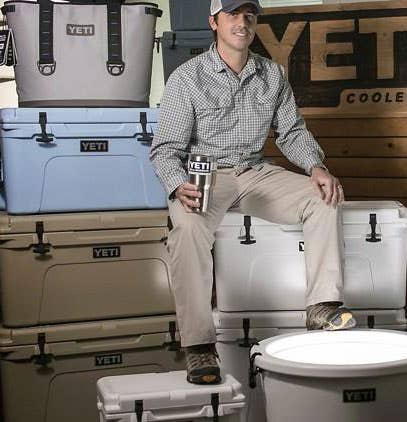 YETI founders were actually tinkering in the fishing rod and boat business, working out of their father's garage. What started as a solution to a small problem wound up growing into one of the top selling coolers in the United States.
YETI became a publicly traded company in 2018, with its stock price doubling in the first six months. The company has shown no signs of slowing down and its popularity is stronger than ever. Take into consideration that many of its coolers are made in the United States, there is likely no ceiling to its growth.
What Makes Custom YETI Coolers So Special
As stated previously, YETI coolers are built tough. They solve a problem that many people have dealt with for a long time. Coolers that were cheaply made for years simply could not hold up to the beating that people gave them. Not only do custom YETI coolers look tough, but you can actual feel their durability when you pick one up.
So how tough are they? Well, let's just say that Yeti is so confident in their product they filmed a commercial with a 500 pound man standing on one of their coolers.
"YETI coolers look and feel sturdy, they are mega strong, and they do an amazing job of keeping your food and drinks ice cold for a very long time." – Austin Kayak
People do not choose YETI coolers because of the price. Fact is, they cost a little more than other cooler brands because they are built stronger and worth more than other brands. However, this is where purchasing from iPromo comes in handy. We give you factory direct pricing so you will not find a better price anywhere else. You can also find deals including discounts for first time buyers.
YETI coolers have also shown to keep items cooler for longer periods of time. In fact, a test with its Tundra 45 Model showed that it was able to keep ice for a total of 10 days. How's that for usefulness?
Outside of keeping things cooler longer, here are some other benefits of YETI custom coolers:
Easy to Carry
Withstand Abuse
Leak Proof
Extra Thick Walls
Multiple Options for Size, Color, and Capacity
Exceptional Warranty and Customer Service
Personalized YETI Coolers
Now that you know the advantages of both the cooler itself and the branding potential, let's take a look at some of the options you have with iPromo. As with all our products, we provide you with many options so you can customize the promotional item that is right for you.
Some of the types of coolers available:
Tundra Coolers – YETI Tundra coolers from Yeti are the toughest cooler they build. These are the hard cooler that expect to see on the back of a boat or while at the beach for a large cookout. They come in many sizes and can carry anywhere from 16 to 259 cans. Designed to take a beating, this could be the last cooler you will ever need to purchase.
YETI Hopper Coolers – The YETI Hopper is not your typical cooler. It is designed as a backpack or over the shoulder carry cooler that is both lightweight and ready for travel. It has superior insulation, so drinks stay cold for days. It is also made out of light weight material yet is leakproof and tough just like the rest of the Yeti brand.
YETI Roadie Coolers – The Roadie cooler is one of the smallest coolers in the Tundra series. It can carry 16 cans of beer or soda or 20 pounds of ice. It has extra thick walls which hold up to two inches of pressure-injected permafrost insulation. It has a sleek look and is easy to carry.
Let YETI Power Your Brand
Co-branding with a company like YETI is a sure way to marketing your brand. Custom YETI coolers are love by all and when you name appears on custom logo coolers with the Yeti name, you are essentially sharing in their popularity.
If you like the YETI brand but don't want to jump into purchasing personalized YETI coolers, consider their other products such as tumblers and mugs. The options really are endless with custom YETI coolers.
With so many options to choose from, you can always reach out to us for help on making that decision. We work with any marketing budget to provide you the best custom YETI coolers available. Impress your clients by giving them something they love. You will find a great return on your investment for doing so.