7 Must-Have Fishing Promotional Items to Reel in More Business
Fishing is one of the most enduring and universal outdoor sports in the world. While few people rely on fishing as their only source of sustenance, many enjoy taking a long weekend day on the lake or by the river to spend time in nature as they try to catch some fish. if you're looking to appeal to fishermen and fisherwomen with your next giveaway, then consider these seven fishing promotional items for your next corporate gift:
Wholesale Coolers
Dedicated hard-sided coolers are a must for keeping the catch of the day fresh until you can get it home. Many fishermen and fisherwomen also like to have a separate cooler (either hard or soft) to keep their beverages and snacks cold during a long day at the lake or by the river. Since fishing requires so many coolers, branded wholesale coolers are the perfect idea for a corporate fishing gift. At iPromo, we offer the ability to personalize coolers from some of the most popular brands in the fishing community, including Orca and YETI.
Custom Fishing Shirt
Fishing apparel is uniquely designed to meet the demands of the hobby, featuring water-resistant performance fabrics and lots of pockets to hold gear. If you're looking for a fishing promotional item, consider this custom long sleeve fishing shirt from Eddie Bauer, which can be embroidered on the right chest area with a logo or name of your choosing. The shirt comes in three colors and offers UPF 50+ protection and a moisture-control system to keep the wearer cool, dry, and comfortable during a long day of fishing.
Branded Bucket Hat
Fishermen and women spend long hours standing in the sun, which means that they need to protect their face and neck from sunburn with the use of a wide-brimmed hat. We like this performance hat from Adams Outback, which features a UPF 45+ protection, stain-resistant coating, and mesh ventilation insert in the crown. Green fabric beneath the visor reduces glare, while an adjustable chin strap with pull-up fabric chin lock keeps the hat in place on windy days. Embroider the front of the hat with your company logo to create a practical and thoughtful fishing promotional item.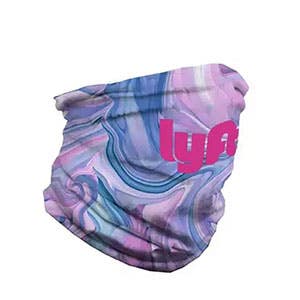 Custom Neck Gaiter
Many people who fish like to wear a neck gaiter or bandana to protect themselves further from sunburn and also to keep bugs out of their mouth and nose. Depending on the style you chose, some bandanas and gaiters offer a full color imprint option if you are looking to make a strong branding statement, while others offer a more affordable single color screenprint. Bandanas and gaiters are one size fits all, which means that you don't have to worry about ordering multiple sizes for your fishing promotional items giveaway.
Custom Bug Spray
Fishing involves standing around bodies of water, which unfortunately attract annoying bugs such as mosquitoes. This means that custom bug spray is one of the most effective fishing promotional items that you can choose for a giveaway. Insect repellent spray is typically available for less than $5 a unit, making it an excellent choice for an affordable fishing-themed bulk giveaway. You can also bundle this together with some of the other promotional items on this list for the ultimate corporate fishing gift.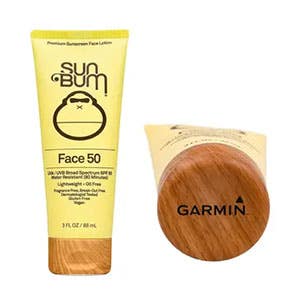 Branded Sunscreen
Speaking of sun protection, branded sunscreen is another excellent choice for a fishing promotional item bulk giveaway (and, really, any other outdoor sport). Choose from beloved retail brands such as SunBum or go with travel size bottles from a generic brand for an affordable bulk giveaway under $5. Consider combining the branded sunscreen with the custom bug spray for a useful promotional gift that all fishermen and fisherwomen will be sure to use on their next trip out to the lake.
Wholesale Lanterns and Flashlights
Every outdoorsy person should have at least one flashlight or lantern as part of their emergency kit, and, ideally, they should have more than one source of illumination in case one runs out of battery or power. This means that wholesale lanterns and flashlights are one of the most versatile promotional gifts that you can choose for outdoor sports, including fishing. They come in all sizes, styles, colors, and price points so your company can choose the one that works best for your promotional needs and intended audience.
Still looking for the perfect fishing promotional item for your campaign? Browse the rest of our corporate outdoor gifts at iPromo.com.