Best Corporate Gifts for Summer Travel
Looking for a seasonal giveaway to help your brand stand out from the crowd this summer? Here are seven of our favorite summer corporate gifts that are perfect for customers, employees, and clients:
Charcoal Grill
Nothing smells like summer as much as an outdoor barbeque on a warm night. Unfortunately, traditional grills are not that portable, which is why a smaller option like this Cuisinart 14-inch charcoal grill makes for the perfect summer corporate gift. This grill is lightweight and easy to transport to the park or lake, making it a great addition to your summer outings. It comes in two colors, red and black, and it can be laser engraved with a logo, graphic, or message of your choice. Pair it with a set of custom barbeque tools for the ultimate summer corporate gift!
Picnic Backpack
We love the look of a traditional picnic basket, but they can be a bit unwieldy to carry, especially if you plan to hike long distances to your picnic spot. Enter this picnic backpack, which offers a hands-free way to transport all your picnic essentials to your chosen location. The bag comes with numerous storage pockets and loops, plus a full set of reusable picnic utensils for four people. It also comes with an insulated wine compartment and insulated cooler compartment for all your chilled food and drink. There are also two loops on the outside to secure a picnic blanket in place.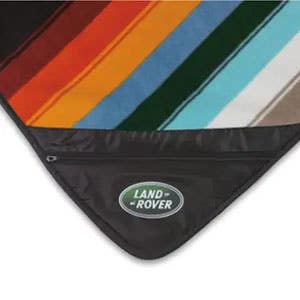 Outdoor Blanket
Speaking of blankets, outdoor blankets of all kinds are a fantastic summer giveaway. We offer multiple types of picnic blankets with a waterproof backing to keep dirt and mud from staining the blanket, as well as stadium blankets and cushions that are perfect for watching a game during the summer. We also stock plenty of traditional blanket designs, including fleece and woven blankets if that's more in line with what you're looking for. All of our custom blankets are available to be printed or embroidered with a logo or graphic of your choice to create an eye-catching summer corporate gift.
Bluetooth Speaker
Nothing sets the mood for a picnic or barbeque like a nice playlist on a Bluetooth speaker. These personalized speakers come in all shapes and sizes, from a portable speaker that clips onto your backpack to a larger tabletop speaker that will entertain a whole party. You can choose from many high-quality audio brands, such as the Bose Soundlink Micro Bluetooth® Speaker, the Anker® Soundcore Mini 3 Pro Bluetooth® Speaker, or a custom JBL Flip 5 speaker. Whatever your budget is, we've got a custom speaker that will suit your needs and make for the perfect summer giveaway.
Pickleball Set
Pickleball is one of the fastest grossing sports in the world due to its easy-to-learn rules and fast pace of play. So why not take advantage of the moment with a custom pickleball set this summer? Our pickleball sets come with two regulation paddles and at least one ball; all your recipients need to do is find a local court to play on! Depending on the set you choose, either the paddles or the storage will be branded with your logo, so your recipients will think of your business every time they play a game of pickleball.
Sport Water Bottle
If you're looking for an affordable gift to use as part of a summer corporate giveaway, you can't go wrong with a custom sport water bottle. At the iPromo store, we offer dozens of options for branded water bottle giveaways, from inexpensive plastic bottles to double walled stainless steel tumblers that will last for years. We can also personalize water bottles from major brand names like Yeti, Corkcicle, Klean Kanteen, and Under Armor for a summer corporate gift that your recipients will use for many years to come.
Travel Hammock
If you want a truly unique summer corporate gift for the ultimate relaxation, then consider our custom travel hammock. Our hammocks come in five different colors and patterns and feature the option to screen print a logo on the outside of the bag to promote your brand. They are perfectly sized to fit one person but pack down into a small storage bag so that your recipient can throw it into their car or tote bag to take along on their next adventure.
Still haven't found the perfect summer corporate gift? Check out more outdoor summer corporate gifts at iPromo.com!