8 Workplace Essentials for Hybrid Employees to Be Successful & Engaged
The hybrid workforce is increasing, and it's easy to see why. Hybrid employees are proven to be more productive and successful, and companies who employ hybrid employees found that their retention rates increased by 46%. That doesn't mean that implementing a hybrid model is easy. In fact, hybrid employees face their own set of challenges, and it's important to address these so you can keep them engaged and satisfied with their work.
Helping Your
Hybrid Employees
Be Successful
For hybrid employees, going back and forth between the office and home can cause them to feel disconnected from the rest of their team. Between the stress of managing their daily schedule, planning their travel time, and managing clients, hybrid employees are sometimes just too busy to reach out and connect with the rest of their teams. 
Being able to make connections in the workplace is tied to increased productivity and the ability for a company to retain their workforce. This means that companies need to plan team-building activities that give their hybrid workforce a chance to slow down and connect with one another. Doing so allows hybrid employees to have shared experiences, making their connections stronger and more resilient. This makes for a happier overall workplace, which can directly lead to higher rates of success.
So what types of team-building activities can you do? One of the most effective team activities you can set up include corporate gifts containing branded company merch. These branded items offer several benefits: they're a great way to recognize your employees with something they can use and appreciate, and they're an excellent way to promote your company at the same time. In fact, the benefits extend beyond your immediate team. If your employees don't necessarily feel they need an item or want to share it, they'll give them to someone else 55% of the time. This means plenty of people will continue to see your brand and message. 
Branded items can also help hybrid employees feel a sense of unity. Plenty of companies use branded uniforms to achieve this in a regular workforce, but this isn't always possible for hybrid employees. In lieu of uniforms, a hybrid workforce can make use of branded merch instead, like bottles customized with their company logo, branded power banks, branded notebooks, and more. These items also have the advantage of being useful outside of work. 
To help you create a successful hybrid workforce, here are eight work from home essentials that will help you foster a sense of unity and teamwork, and will help you to keep your employees successful and engaged. 
With your hybrid workforce spending so much time juggling tasks at home and at the office, it's easy for them to forget to stay hydrated. Even mild dehydration can quickly lead to reduced levels of productivity. The 26 oz Tritan Sports Bottles is the perfect way to keep dehydration at bay and help your hybrid employees stay successful. The bottle comes in a variety of colors, is BPA free, and dishwasher safe. The back of the bottle can be imprinted with a guide to remind your employees to drink. You can customize the other side with a screen print of your company logo, ensuring that your brand will be seen anywhere your employee takes their bottle. The bottles can be produced with your imprinted logo and ready to ship in five business days.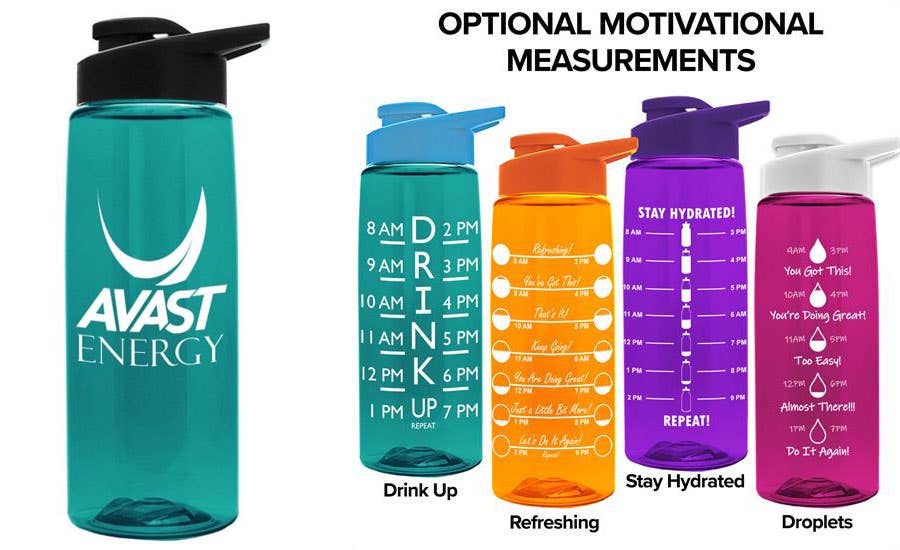 Modeled after the Japanese bento box, this set features both the Osaka Bento Box and the Bento Cooler in black and natural. For employees bouncing between offices, this set allows them to bring their own healthy meals so they don't need to invest in takeout. The box is microwave safe and BPA free, and includes utensils as well. The Bento Cooler itself has a PEVA heat-sealed lining, allowing it to keep food fresh for hours. Your company logo can be embroidered on the front of the cooler, or you can choose to use a full color imprint instead. You can also feature a screen print of your logo on the box itself.  It's the perfect way to give your hybrid workforce something that is fashionable and functional.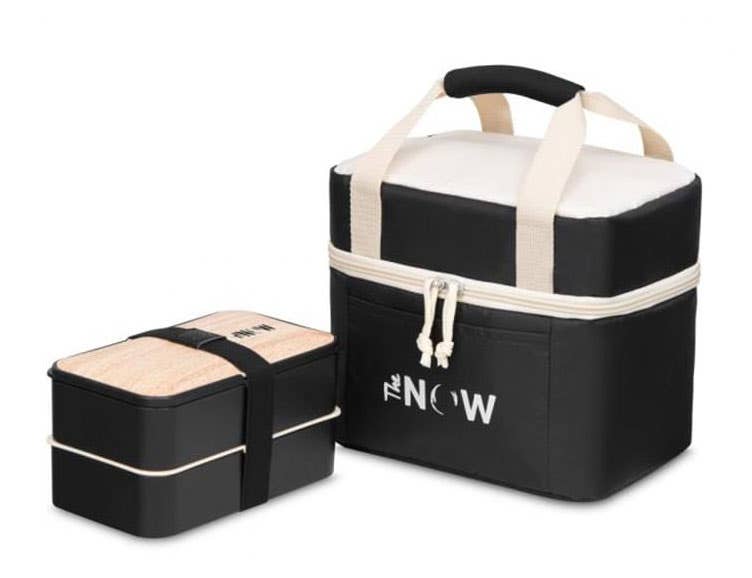 Your hybrid employees are likely glued to their electronics for the entire workday, and it's thanks to technology that hybrid workforces are possible at all. At least 43% of employees use tech like smartphones and laptops for work. That means making sure that their tech works when they need it is essential for their success. The Opus Wireless Charger & Power Bank allows your hybrid employees to always have enough power to keep their Qi-enabled devices going. It's extremely portable, making it easy for them to take it wherever they need to go. The Opus Wireless Charger & Power Bank comes in black, and your logo can be screen printed on the front.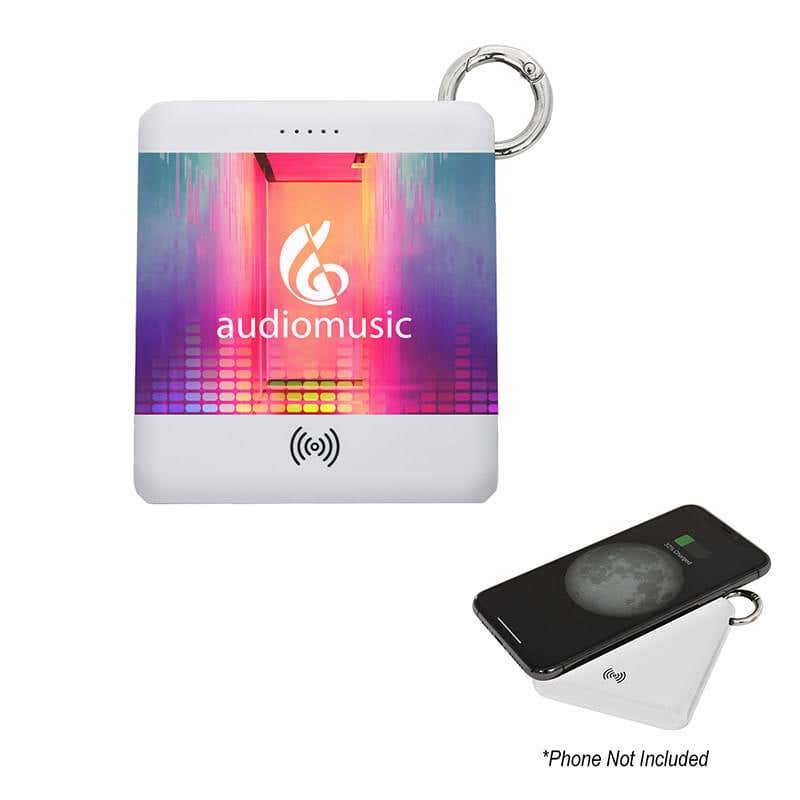 With coffee consumption increasing year after year, there's a pretty good chance that your employees are drinking coffee regularly. The Pelican™ 16 oz. Dayventure Tumbler is for hybrid employees taking their coffee on the go. Not only does it fit most cup holders, but it's leak proof, too. For those who don't drive, the tumbler can be tossed into a backpack without fear of it spilling, and it will remain in top shape even if it experiences a few knocks over time. Cold drinks will stay cold for 24 hours, while hot drinks will keep their temperature for 12 hours. This tumbler comes in seafoam, black, blue, red, and steel shades, and can be customized with your logo laser-engraved on the front. On public transit, the logo on your employee's bottle will stand out to help you spread brand awareness.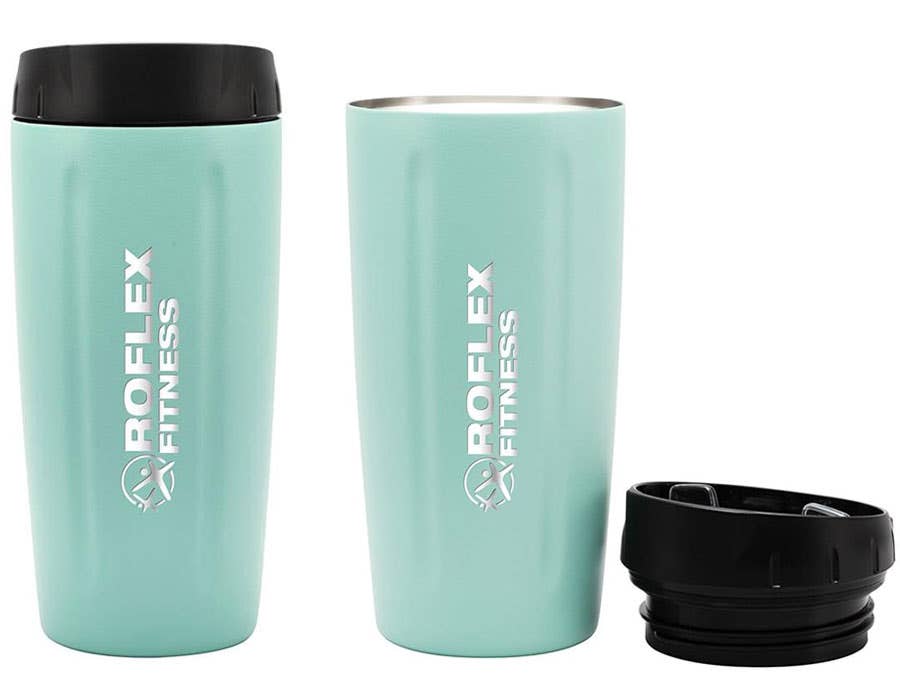 Extremely lightweight, moisture wicking, and antimicrobial, the Elevate Sira Eco Hoody with Built-in Gaiter is a perfect way for hybrid employees to show off their company pride, even when they're not in the office. The moisture wicking and anti-microbial properties will keep the hoody smelling fresh, and it even features UPF 15 to 24 sun protection. Your employees can enjoy wearing it outside with your logo visible even when they're not working. The hoody can go through the wash several times and still come out looking like new since it's snag resistant and anti-pilling. 
The customization options for this hoody are nearly endless. There are many places where you can place the logo, which can be embroidered on, screen printed (with or without color), or be heat-transferred on. The hoody can come in invictus heather, light grey heather, heather dark charcoal, and black, and can be produced in 7 to 10 business days. 
The Cloud makes working from home possible, and the Rocketbook Everlast Fusion Executive lets your hybrid employees successfully use the Cloud in a big way. Featuring seven different page templates that connect straight to your cloud service, the Rocketbook allows your hybrid workforce to share notes, to-do lists, calendars, and more. It's an easy way to foster teamwork between different members of your team, and to help everyone collaborate better. The Rocketbook can be customized with your logo screen printed on the front. Production time takes as little as 10 business days.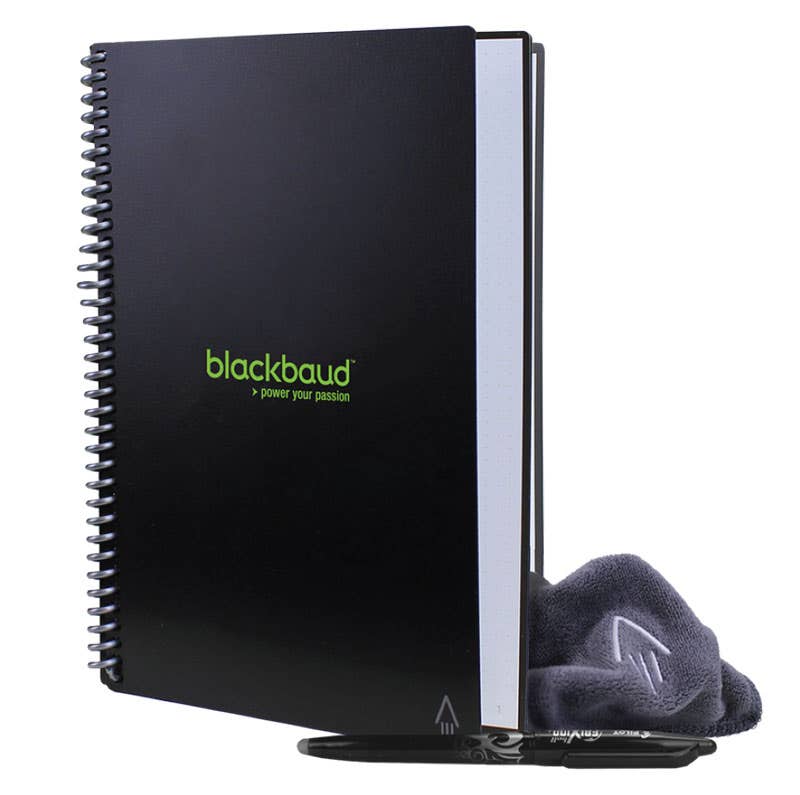 The Slow the Spread Kit allows you to keep your hybrid employees safe both in and out of the office. The kit includes a No-Contact Keychain, allowing your employees to push buttons for doors and elevators without touching surfaces directly. The kit also comes with five disposable face masks. Everything comes in an easy-to-carry travel pouch in black or natural, which can be used even after the original contents are used up. The front of the pouch can be customized with your company logo through screen printing (with or without full color). Have your company logo laser-engraved into the No-Contact Keychain for elevated branding.
About 1.3 million Americans travel for work in America, and they're bringing all their delicate electronics with them on their journey. The insulated computer backpack in The Hustle BRAGbox™ allows your traveling hybrid workforce to keep their laptop safe from bumps and scratches, giving them some peace of mind. The backpack comes in charcoal, and can be customized with your logo screen printed on the front. To ensure that their electronics never run out of battery, the BRAGbox™ includes a 5-in-1 charger with an antimicrobial additive in white, which can also be customized with a screen print of your logo.
The Hustle BRAGbox™ includes a 22 oz stainless steel bottle in white to keep your hybrid employees hydrated. It's spill resistant, and can be tossed right into a bag or backpack. The bottle can be customized with your logo screen printed across the front, ensuring that your logo will be seen every time your employee takes a sip of water during their commute.
Find Ways to Increase a Sense of Unity
While hybrid employees are extremely productive, companies should foster a sense of teamwork in their hybrid workforce to ensure continued success and engagement. Customized, branded company merch is one way to do this; it creates a sense of unity under one logo. Your logo will be visible to more people, and the products will be items that your employees can use regularly. If you're not sure which products are right for your team, or if you have questions about how you want your items customized, speak with our customer service team at iPromo.