The Ultimate Custom Drinkware Buying Guide: Trending Brands, Styles & Materials
Custom drinkware is a great way to generate brand awareness, with one study estimating the average piece of promotional drinkware generates nearly 1400 impressions over its lifespan. Even with the premium brands we're featuring here, custom drinkware is still less expensive than other traditional marketing campaigns, and its ubiquity shows that it gets results.
To help you get started, we've put together a guide on custom drinkware that you can be proud to hand out and that your recipients will appreciate and use for years to come. Since there is a vast number of drinkware options available, we've broken the them down by brand and style to help you in the drinkware selection process for your promotional needs.
Premium Retail Brands + Your Logo
Because quality is the leading reason that people keep promotional drinkware, we've started with highlighting some of the premier drinkware brands like YETI, S'well, Tervis, Camelbak, and Corkcicle that when combined with your logo make a great promotional item that will make a lasting impression. Without further ado: 
The YETI 20 oz Tumbler comes in a dozen different colors, so you'll be able to find one that matches your business's color scheme. More importantly, it keeps beverages ice cold or piping hot. Built to last, with a double insulated wall, the YETI will have your drink at the right temperature no matter what. Equally useful during the morning commute or backwoods camping, its shatter-resistant see-through lid allows you to check your drink status in an instant. 
When it comes to water bottles, the Corkcicle 16 oz Canteen is the gold standard. Proven to keep beverages cold for over 25 hours, or hot for 12, the S'well is stylish but tough. Its shatterproof stainless steel interior doesn't retain taste, so you can switch liquids easily and don't have to spend too much time trying to clean it out. It also comes with an industry-leading three layers of insulation which eliminates condensation and makes sure you won't burn your hand on the exterior. Last but not least, it has a no-leak screw top, side grips, and a wide mouth for adding ice cubes. Oh, and did we mention that with a 16-ounce capacity it can hold an entire bottle of wine?
The S'well 17 oz Vacuum Insulated Stainless Steel Water Bottle is another great option. It's BPA and condensation free and keeps beverages cold for up to 24 hours. It comes in a variety of colors to match any branding color scheme.
Billed as the world's first temperature-controlled smart mug the Ember Travel Mug allows you to set your ideal temperature which it will maintain for up to two hours. All you need to do is adjust the temperature with a dial in the mug's base and your coffee will be perfect from the first to last sip, no matter where you are. To really take things to the next level have your logo laser engraved into the Ember itself. Despite how advanced the Ember is, we can ship out your order in only 7 business days.
There are almost infinite decoration options for the Tervis 16 oz Tumbler. Manufactured from clear TRITAN® plastic for clarity and strength this tumbler has double-wall insulation to keep hot drinks hot and cold drinks cold. Includes a 4-color wraparound, embroidery, or dye-sublimation emblem imprint. 
Rounding out the bunch is the CamelBak Eddy 20 oz. Made with durable Tritan™ material, the Eddy is shatter-, stain- and odor-resistant and is great in the office, at the gym, or on an outdoor adventure.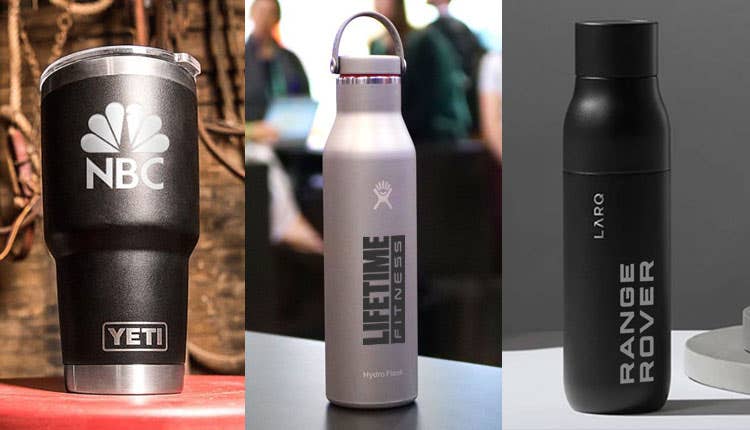 Materials
You might be wondering what material is the best for your custom drinkware? Glass? Plastic? Aluminum? Stainless Steel? Well, there is no simple answer and they all have their pros and cons, so we have included a wide variety of materials and with the premium brands on this list, you can be assured that your branded drinkware will be of the finest quality.
Travel Drinkware & Tumblers
Since drinkware is one of the most popular promotional items across the world, we think it's appropriate to highlight travel drinkware. Even though global travel has shrunk due to the pandemic, many must still hop on flights, trains and buses to get to locations for work and other obligations. By adding your logo to these items and handing them out, you'll be sure to get the word out about your company far and wide.
When it comes to stainless steel water bottles, the YETI Rambler 26 oz Vacuum Bottle – Stainless steel, S'ip by S'well 16oz Vacuum Insulated Stainless Steel Travel Mug, and CamelBak Chute Mag VSS 20oz are all great options—although, be careful because the S'ip isn't dishwasher-friendly. 
The iconic 1.5 qt Stanley Legendary Classic Vacuum Bottle is an outdoor classic. Guaranteed to keep drinks hot for 28 hours and cold for up to 36, its lid doubles as a cup. This industry leader is guaranteed to be around for years to come.
If you want to give back, the Basecamp Denali Stainless Steel Tumbler – 16 oz is a great way to do it. Basecamp® donated $100,000 in 2020 to support the Wounded Warrior Project's mission to honor and empower wounded veterans.
The Zigoo Silicone Collapsible Bottle 18oz's collapsible design helps save up to 50% space, but it's foldable silicone design doesn't mean you won't be able to add your logo to it The S'ip by S'well 16oz Vacuum Insulated Stainless Steel Travel Mug are also great options.
Work From Home
Since it seems like working from home is here to stay, we decided to feature some products that work perfectly for your home office. You might think sending out swag to remote workers is not the best way to promote your business, but since 54% of promotional drinkware is passed on to someone else, those promotional items, like the YETI Rambler 14oz Mug, the Corkcicle® Coffee Mug – 16 oz or the YETI Rambler 12 oz Bottle with HotShot Cap, and MiiR® Vacuum Insulated Travel Tumbler will still be generating impressions for years to come. The 15 Oz. Campfire Bamboo Mug fits in perfectly in a home office or at the cottage.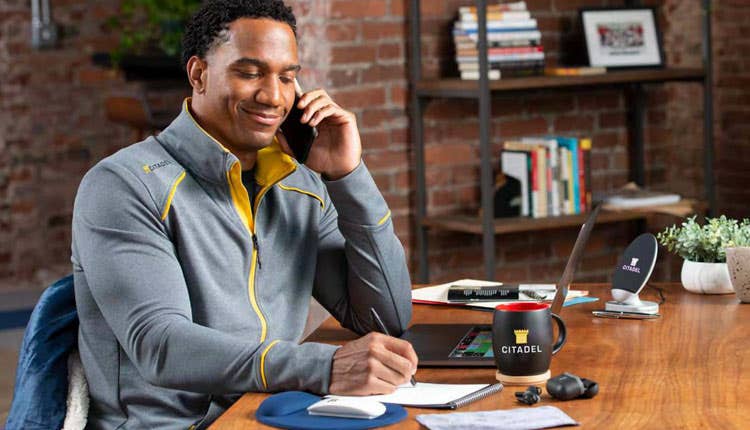 Customized Water Bottles
It's hard to go wrong with water bottles because, after all, everyone needs to drink water. The selections below are infinitely customizable and guaranteed to make a splash either in the office, at the gym, or on the hiking trail. With a variety of funky colors, from black licorice to purple gumdrop, the S'ip by S'well 15oz Vacuum Insulated Stainless Steel Water Bottle will be even more eye-catching once you have laser engraved your logo onto it. 
While the 20 oz contigo ashland chill is a little more conventional in looks and colorway, its AUTOSPOUT threaded lid, silicone spout and shield, one-touch push-button, carrying handle with carabiner, and locking mechanism make it ideal for outdoor activities, a great gift to hand out at your company softball game.
The TERVIS® 24 OZ CLASSIC SPORT BOTTLE includes a 4-color wraparound, as well as embroidery or dye sublimation emblem imprinting, while the 24 oz Tritan Salute Shaker Bottle – Drink-Thru Lid comes in six colors and has a mixing ball making it great for protein shakes, a great choice to promote your gyms or fitness brand. The spill-resistant Tritan Water Bottle with Carabiner – 28 Oz. with its flip-up spout and the copper-lined 17 oz Tote Powder Coated Water Bottle are also great options for any outdoor and fitness brands.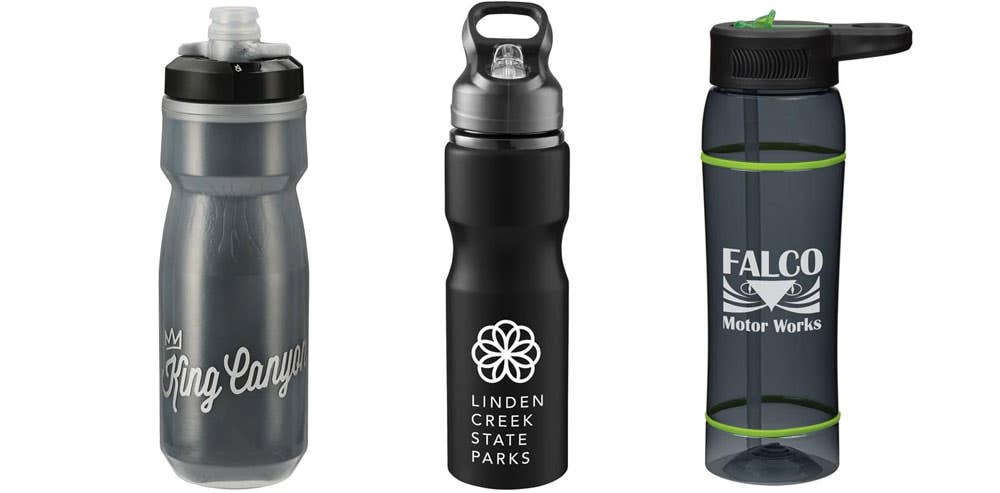 More Custom Drinkware
Whether you're giving these out to valued clients, or as a welcome aboard to new hires, these custom branded giftware sets will be a hit. The Corkcicle® Canteen & Stemless Wine Cup Gift Set,
Basecamp Icey and Corkcicle Special Collections Stemless Glass are sure to be popular at cocktail hour—whether it's virtual or in real life. These stylish options grab attention, so be prepared to let people know where you scored such cool statement glasses.
If your recipients are more into outdoor life, take your brand into the backcountry with the LARQ 25 oz Self-Cleaning Water Bottle and Water Purification System and the MiiR® Vacuum Insulated Camp Cup – 12 Oz. The LARQ contains a built water filtration system that eliminates up to 99.9999% of contaminants from your water in just 60 seconds.
Keep your cold drinks beastly cold and your hot drinks piping hot with either tumbler set. If you'd like to make a big hamper or gift basket for a special client, or even for promotional product giveaways, custom reusable straws make a great addition to almost any of the other products here.
We offer a huge range of styles, colors, and more custom drinkware. You can always get in touch with us for a free virtual mock-up of any of the designs in this piece with your logo on it, and we offer regular and rush shipping.